Vintage Luggage
WE BUY AND SELL VINTAGE LUGGAGE, AND WE SHALL HELP YOU FIND WHAT YOU ARE ARE SEEKING. PLEASE EMAIL FOR DETAILS.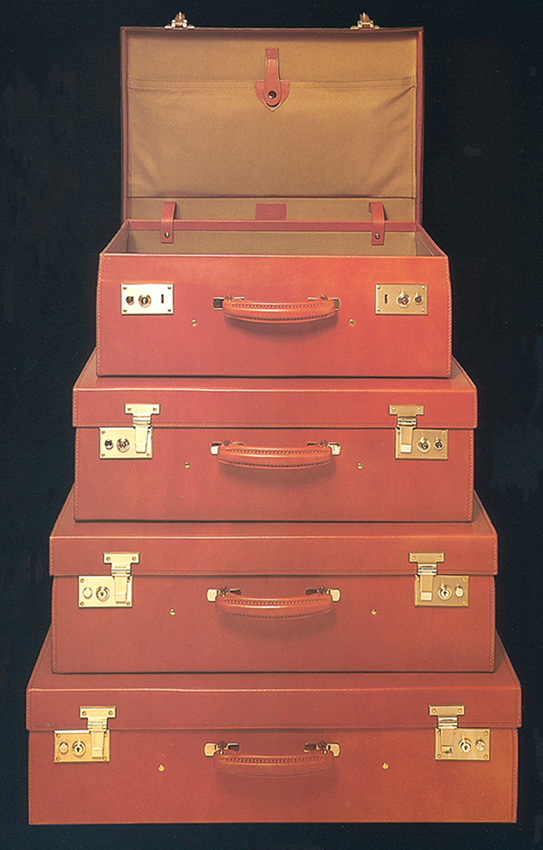 A HISTORY OF VINTAGE LUGGAGE
AN OVERVIEW OF VINTAGE LUGGAGE
The history of vintage luggage is closely related to the history of travel, and also the history of hotels.
As time passed from the 19th to 20th Centuries and the use of staff, both personal and professional declined, the need for more personal (and lightweight) luggage arose. This, combined with the advent of air travel and the associated weight restrictions begat a universal reduction in the weight, size and structure of luggage.
The use of motor car travel, the individual liberalisation of travel was also, in part responsible for this change in attitude to one's luggage. After all, without servants, who would want to lug an enormous trunk around with them? The days of the formalised groupings of structured and tiered heavy luggage and trunks was drawing to a close.
However, firms such as Louis Vuitton continues to produce such luggage groupings, now the sole preserve of those able to afford both the cost of such luxury luggage, and the associated costs of transporting the luggage itself.
With the advent of air travel a new generation of luggage materials were experimented with due to the avoidance of 'excess baggage' charges. These material included vulcanised fibre, raffia, wicker and lightweight alloys, all used to replace the heavier structured cases of leather and wood.
Many examples of vintage luggage bear witness to their travels, rather like a passport bears stamps and visas of exotic locations. With vintage luggage, a story can be gleaned, detective like, from the applied and attached history of its adventure labels.
One might find luggage with embossed or applied initials and crests, depending upon the previous owner's pedigree, and these might be gold blocked or applied silver tags. The luggage tag itself, generally of a similar leather to the case itself, might also bear additional witness to the history of the case's ownership, rather like the tax-discs of a car left in place behind the current disc.
The exotic and colourful applied labels for travel, destination and hotel can be a fascinating feature of a vintage case, individual cases bearing testament to the exotic travels, from Marrakech to Moscow, Berlin to Bermuda. These paper labels were used as a means of identifying the luggage's destination and also a quiet means of advertising the hotel or holiday destination. Collectible in their own right, the labels are an example of the ephemera of the great age of travel, and the romanticism of the Victorian and Edwardian eras.
A GUIDE TO QUALITY
The quality and condition of vintage luggage will have a direct relationship to its value, therefore for the dealer, collector, prop-master and decorator it might be useful to have a relative understanding of the factors of both quality and condition.
Aside from the applied clues to a case's history, as discussed earlier, the construction and materials used will be examined to determine the scale of desirability.
The most common material used in luggage is leather, tanned for preservation, and in the case of vintage luggage, worn and 'patinated', each small knock, dent and bruise adding to the charm, history and character of the case. Just as we might view an interesting old characterful face as bearing witness to that person's life, a case might partially reveal its history through its visual mapping.
For the collector and dealer of vintage luggage, condition is paramount - generally speaking, the better (untouched and original) the condition, the higher the price, rarity and collectibility.
Leather should be nourished and treated regularly to maintain its suppleness, colour and flexibility, there being many proprietary saddle soaps, waxes and creams. One should check the leather at its most vulnerable and heavily used areas, namely the seams, hinges and corners. These stress prone areas bear the heaviest wear and degradation.
Sometimes re-stitching might be suitable and perfectly acceptable solution to damage and wear, but beware of dry, perished and inflexible leather as generally speaking this cannot be repaired, hence replacement is the more expensive and less acceptable solution.
When judging quality there are several indications and pointers, and the most important of these is the maker's mark or stamp (see below for a directory of manufacturers of vintage luggage). These marks are generally found on the leading edge of the case, inside the leading edge, or perhaps applied to the internal fabric of cotton, silk or chamois.
The more superior suppliers and manufacturers were less discrete with their markings, companies such as Finnigan Ltd, Insall & Son, and Brachers made a virtue of their branding and advertising - early examples of the 'power of the brand'.
The locks too have an association with the quality, rarity and value of a case. Again, many of the more significant manufacturers would have locks stamped with their name/brand. Companies such as Finnigan Ltd, Barret & So, F. Lansdowne, John Pound & Co all had their name integrated into the lock plate, and Louis Vuitton would have both their name and serial number on each lock.
With case locks it can be read that a 4 lever lock implies a superior quality than that of a 3 lever lock, and so on to a single lever, and, as the country of origin might also indicate the location of the case's origin both in terms of country and city.
Ideally a case will be preserved in original fine condition, with minor wear, but bearing the patina of use and care. One might consider the analogy of getting into a fine old car, maybe a Jaguar or Rolls Royce, and rejoicing in the scent of 'wood and leather', but subliminally relishing the gentle wear and ageing of the interior.
Some cases of the finest hide, crocodile or rare skins might be found with a canvas cover - this indicates the initial quality and cost of the case was something worth preserving and caring for. These canvas slip cases also add a gentle polish to the case, each time it is slipped on and off, like a coin each time it is handled.
Consider the metal the lock is made of, the highest quality locks might be silver, and thereafter gun-metal, brass, iron and tin, in descending order. Many locks have been electroplated in nickel, and this has, in many instances, been polished away to reveal a more 'currently commercial' brass lock underneath. One pointer to avoid is rust and pitting of the locks, as this indicates a cheap and low quality lock, and by association a lesser quality case.
THE MANUFACTURE OF VINTAGE LUGGAGE
(WITH A BRIEF HISTORY OF LEATHER AND SKINS)
Generally hide luggage was made over a timber frame, often of oak, mahogany but generally pine. This timber framework was sometimes externalised, resulting in 'wood banded' or 'hooped' luggage.
These wooden banded cases were often interspersed with brown or green canvas and occasionally, leather. Some larger trunks were constituted over a wicker foundation.
Generally cases were made of cowhide, of many varieties of grade and thickness. Perhaps the highest quality leather used in case manufacture is Connolly Leather.
Prior to practical use leather has to undergo a process called 'tanning', which involves the leather being stripped of both its external and internal layers, leaving the central layer, called 'derma'.
Tanning can be achieved by using animal, vegetable or mineral means, the oldest method being the vegetable tanning. This involves tannic acid or 'tannin' often derived from oak, hemlock or chestnut, whilst non-European tanning processes use local materials. Also a synthetic was developed in the 1920's. The process, which can take 3 moths, involves soaking and draining the leather in subsequently stronger tannin solutions. Mineral tanning involves the use of the chemical alum.
The finishing of leather produced many of the common and lesser known effect found in vintage luggage, from the chromium pickling process which produce glace kid leather to currying and glazing with a 'glassing jack'.
Commonly used cowhide was often stamped with a warrantee or 'genuine cowhide' mark. A particularly rare method of treating leather is that of 'Norfolk Hide' and unusual process whose finished articles belie their leather origin by appearing to have been pressed from a single sheet, with no seams or joins.
The 'Gladstone Bag' named after the British Prime Minister, William Ewart Gladstone, became popular and is often mistaken for the doctor's bag. These were generally made of hard-wearing and durable cowhide.
Morocco leather was produced by rolling out the leather using leather tanned with sumac and sometimes stamped with a cross grain, and also used in the interior of many cases. Shagreen (shark skin) was rarely used and occasionally described as such when actually using sting-ray skin.
The use of crocodile skin, so frowned upon today, was ubiquitous in the use of luxury and 'gentleman's ranges' of vintage luggage, suggesting exoticism. The species decimated in the search of usable leather were the Common Crocodile, the Nile Crocodile, the Indian Crocodile and Marsh Crocodile, and also species of alligator.
Occasionally walrus and elephant leather was used for heavyweight cases, whilst ostrich, lizard and snake-skins were reserved for rarer and light items such as handbags.
There was a period where white luggage, also known as 'rawhide' or 'vellum' was used in vintage luggage manufacture.
This clean looking and glamorous luggage was generally made from a bleached cowhide 'rawhide'. Goat, sheep, pigskin and synthetic material were sometimes used, but these are less desirable to the collector and dealer. Materials such as vulcanised fibres and compressed vegetable fibres were frequently used, and two common manufacturers were 'Orient Make' and 'Pukka'.
INTERIOR LININGS, FITTINGS AND DETAILS
The interior of vintage luggage can reveal much about the quality and ownership of the case. One can understand that earlier cases might be lined with dark green, deep blue or black morocco leather, whilst later models might have a purple or striped ticking lining. Also cases might be lined with silk, velvet or plain canvas.
Velvet lining an indicate usage as a jewellery case, or even Masonic bag, with compartments and storage spaces indicating the designed use for the case.
Occasionally paper linings, or water-marked paper lining are found, and also synthetic materials such as rexine. Often fabric lined cases have bunched pockets to secure loose items.
The luxury end of the market would find a dressing case, for both men and women, fitted with lidded bottles and various dressing equipment, sometimes fitted with silver or even gold fittings. Clues can be found in the interior as to the orientation of the owner, the masculine fittings being more substantial, and even captioned with shaving indications.
It is quite rare to find cases with all their contemporary and original fittings, bottles and equipment, and the assiduous collector should check for matching dates on the silver fittings.
LUGGAGE MARKINGS
(A VINTAGE LUGGAGE IDENTIFICATION GUIDE)
Whilst a signed piece of luggage might initially seem more valuable, to the experienced dealer and collector, there are a significant number of indicators that lead one to a correct attribution, but this takes great experience and detailed study and examination. For the new collector, I might suggest finding an experienced and respected dealer whose integrity is established.
Some items might bear both a manufacturers and retailers label, and indeed some retailers had their own manufacturing plants. For instance, many manufacturers were happy to place 'Harrods' on their products, pleased with the association with the famous firm. Many other departmental stores would attach their own labels, firms such as Selfridges, Army & Navy, Peter Robinson, Debenham and Freebody, and Whiteleys. Asprey frequently marked their cases with the words 'ASPREY LONDON' or simply 'ASPREY'.
Companies that held the Royal Warrant, such as Mappin and Webb or A. Barrett and Sons would also feature the embossed symbols, proudly displayed in a highly visible part of the interior. With the firm of Finnigans the lock might be stamped with the city of origin, Manchester, London or Liverpool.
In the later 20th century, brands such as Revelation and Crescent began to overtake the smaller individual and idiosyncratic makers, and these firms also pioneered the use of 'expanding luggage', by the use of ratcheted fittings.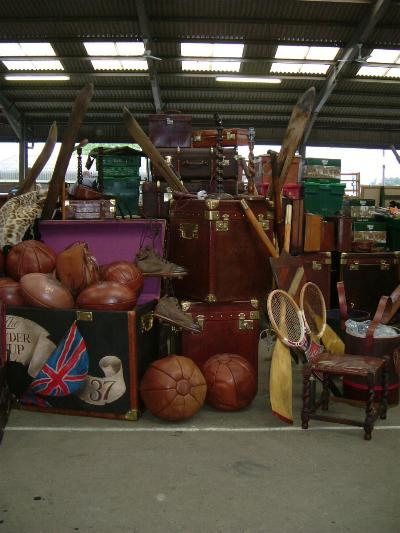 DIRECTORY OF VINTAGE LUGGAGE MANUFACTURERS AND RETAILERS
PLEASE EMAIL US WITH ANY NAMES, MAKERS OR RETAILERS WE HAVE MISSED, WE WILL PUBLISH YOUR NAME ALONG WITH A THANK YOU!
ABERCROMBIE AND FITCH
New York circa 1920
AIRPORT LUGGAGE
1930's lightweight alloy luggage
ALEXANDER CLARK CO. LTD
19th Century dressing case makers
ANTLER
Early brand, still in production
ARCTIC LEATHER GOODS CO LTD
1930's school leather equipment
ARMY AND NAVY CO-OPERATIVE SOCIETY LTD
Trading today, from Victorian times
ARTISTIC BAG CO
1930's maker
ALFRED ASKEW
1930's maker
ASPREY AND CO LTD
Founded in 1871 and still trading
ASTRAL
Mid 20th century maker
EDWIN ALEX ATKINS
1930's maker
FREDERICK WALTER ATKINS
1930's trunk maker
J.E. ATKINSON
Early 20th C maker
ATTACHE CASE MANUFACTURING CO
1930's maker
AVAITION LUGGAGE CO
Mid 20th C maker
JOHN BAGSHAW
Late Victorian maker
THE BAG STORES
Maker of vulcanised cases
CHARLES GEORGE BAILEY
Trunk maker of 1920's and 30's
THOMAS WILLIAM BAILEY
Maker of medical bags
BAINBRIDGE AND CO
Early trunk makers
KARL BAISCH
Makers of motoring luggage
HENRY M BAKER
Trunk and portmanteau maker
ARTHUR BARBER
Classic suitcase maker
JOHN FREDERICK BARBER
1930's maker
ALBERT BARKER LTD
Royal warrant holders
JOHN BARKER AND CO LTD
Departmental store, retailer and manufacturer
BARR OF BRISTOL
19th Century maker
A BARRETT AND SONS
Highly regarded Victorian maker
W BARRETT AND SON LTD
1920's dressing case maker
EDWARD BEAUMONT
1930's case maker
BELFORD TRUNK STORES
1920's maker
BENJAMIN BROTHERS
Victorian makers
BENJAMIN, HOLLAMS & CO
Attaché case specialists
NATAHNIEL BENJAMIN
1930's trunk and portmanteau makers
JAMES BENSON LTD
1920's makers
J W BENSON
Travelling case makers
E E BERRY
Classic case makers
F BEST & CO
Trunk and portmanteau makers
G BETJEMANN & SONS
1920's makers
JOHN BIFFEN & SON
Interwar maker
R A BLAIR LTD
1930's maker
A BOSWELL
Scotland's premier makers
H BOSWELL AND CO LTD
Medium grade makers
BRACHERS
Leading Welsh makers
BRAMAH & CO
Premier suitcase and lock makers
R BRANKER & SON
1930's dressing case maker
W S BREWER & SON
Early 20th Century makers
BREXTON
Mid 20th Century makers
W W BRIDGE
Portmanteau makers
THOMAS BRIGG & SONS LTD
Royal warrant holders
C & R BRINSLEY
Attaché case makers
ROBERT P BRISTOW
Dressing bag makers
WILLIAM BROCK & CO LTD
Leather bag maker
GEORGE WILLIAM BROOKS
Portmanteau makers
J B BROOKS
Motoring case makers
ALEX BROWN
Trunk and portmanteau maker
BROWN BEST & CO
Suitcase makers
CYRIL BROWN
Trunk and portmanteau makers
BRUSS & CO
Wholesale bag maker
ROBERT BRYANT LTD
Motoring and golf bag makers
DAVID BRYCE & SON
Interior suppliers
BURNE
Canvas trunk makers
CAPLIN HARRIS
Trunk and portmanteau dealers
CARMICHAEL'S OF HULL
Classic case makers
H J CAVE & SONS
Royal warrant holders
R CHADWICK LTD
Early 20th Century makers
M CHAPMAN, SON & CO LTD
Dressing case makers
J CHAURET
Royal warrant holders
CHENEY
Lock maker
CHUBB & SONS LTD
Royal warrant holders
E J CHURCHILL
Gun makers
CLARK & SON
1930's makers
ALFRED CLARK
Royal warrant holders
FREDERICK C CLARK
1930's maker
A R CLARKE LTD
1930's maker
S CLARKE & CO LTD
1930's maker
T CLEAVES & SON
Dispatch bag maker
CLEGHORN
Top quality maker
JABEZ CLIFF & CO LTD
Oldest golf bag maker in the World
JACOB COHEN
1930's maker
COLE BROTHERS
1930's maker
RICHARD COLLINS
1930's makers
CORACLE
Picnic set maker
W S COWELL
Bag repairer
CRESCENT
Expanding case maker
ALBERT CROSS
1930's maker
MARK CROSS
London maker
CROWN BRAND
Early 20th Century maker
GEORGE SANDERSON CROWTHER
1930's maker
CRUZER
Vellum luggage maker
DALTON & YOUNG
1930's reptile bag maker
H F DALTREY
1930's maker
AUGUST DAMS
Attaché case maker
DARNBOROUGH & SONS LTD
Medium quality makers
HARRY EDWARD DAVIES
1930's maker
DAVIS & CO
Royal warrant holders
A DAVIS (PICCADILLY) LTD
1930's maker
D DAVIS & CO
1930's maker
DAY & SON
Victorian maker
HENRY DAVID DEAN
1930's maker
THOMAS WALTER DEAN
1930's maker
ARTHUR WILLIAM DEAR
Trunk and portmanteau maker
G T DEARBERG & SONS LTD
Writing case maker
DEBENHAM & FREEBODY
Department store and suitcase makers
JOHN S DEED & SONS LTD
Reptile skin merchants
MALLE DELION
Early 20th Century makers
DENTY LUGGAGE
Early Victorian maker
DERRY & TOMS
Departmental store and maker
EDWIN ALFRED DILNUTT
1930's maker
DIRECT HANDLE CO
Suitcase fittings maker
DIRECT SUIT CASE SUPPLIES LTD
Suppliers of parts and components
DIXON & Co
Trunk and Portmanteau makers
DOBSON & ROBINSON
1930's maker
EDWARD DOHERTY & SONS
Medical bag makers
A D DORMER & SON
Satchel maker
A L DOWNES
Dressing case makers
DREW & SONS LTD
Legendary case makers
W DUKE
Suitcase makers
HENRY DULIGALL & SON
Early 20th century makers
ALFRED DUNHILL LTD
World famous makers
PERCY DUNKER
Attaché case makers
DUPONT
Classy Parisian makers
EAGLE LOCK CO
American lock makers
SYDNEY CHARLES EBERT
1920's makers
ECLIPSE
1920's makers
EDWARDS
Victorian quality case makers
EDWARDS & SONS
Royal warrant holders
ELDRID, OTTOWAY & CO LTD
Early 20th century makers
ELLENGER & CO
Late Victorian makers
EMPIRE TRUNK AND BASKET WORKS
1930's makers
WALTER ENGLISH
Trunk and portmanteau dealers
ERSKINE & SONS LTD
Late Victorian makers
WILLIAM (WILLIAM CORRIE) EVANS
Gun and rifle makers
EXCELSIOR FIBRE CO LTD
Suitcase makers
FARRINGDON LEATHER GOODS MANUFACTURERS LTD
Early 20th century makers
ARNOLD FALTHROP
1920's makers
FEATHERLITE
Famous brand name
JOSEPH FELLNER
Early 20th century makers
WILLIAM FERGUSON
Trunk makers
F O FESCHE
Early 20th century makers
THE FIACO TRUNK
1920's makers
FIBRE CASE CO LTD
1930's makers
FICHET
Imitator of Louis Vuitton
FINNIGANS LTD
Amongst the finest makers
FISHER
Dressing case maker
FITZROY LEATHER WORKS
Dressing case makers
FLASHMAN F W
Early 20th century makers
ALEXANDER FORBES
Early 20th century makers
FORSYTH
Rare Edinburgh maker
FORTNUM & MASON LTD
Classic retailers and makers
FRANCIS
Dispatch bag makers
FRANKLIN, IDDINS & CO LTD
Leather case makers
JAMES FRASER
Early 20th century makers
FRENCHES LTD
1920's maker
H FUNSTON BENSTON
Trunk and bag makers
A W GAMAGE LTD
Royal warrant holders
A J GARNETT LTD
Wholesale trade supplier
R & S GARRARD & CO LTD
Royal warrant holders
GARRISON
Picnic set makers
A GARSTIN & CO LTD
Wholesale suppliers
ERNEST GEMS
Trunk makers
GIBAUD & HIGLEY LTD
Dressing case makers
CHARLES WALTER GILBERT
1930's makers
GILDESGAME BROS LTD
Reptile skin merchants
ARTHUR GILMORE
American maker
GLOBE-TROTTER
Early 20th century maker
S GOFF & CO
1920's makers
GOLDPFEIL
Superb German makers
GOLDSMITHS & SILVERSMITHS COMPANY LTD
Exceptional London makers
CHARLES GEORGE GOORD & SONS
Attaché case makers
ALFRED GOUGH
1920's makers
GOUGH KIDSTON & CO
1920's makers
GOYARD
Mid Victorian makers
GRAHAM
Victorian coaching bag makers
LECKIE GRAHAM
Cowhide case makers
GRAY'S INN TRUNK STORES LTD
1930's makers
H GREAVES
Early makers
HERBERT GUTTERIDGE
1930's maker
GUY & SON
19th century maker
GEORGE W HALL
Early 20th century maker
J B HALLEY & CO LTD
Leather golf bag maker
T HANFORD
Victorian maker
HARDY BROS (ALNWICK) LTD
Fishing bag maker
HARMAN & SON
Early 20th century maker
ALFRED HARRISON
Leather case makers
HARRODS LTD
Top quality retailer
HARTMANN TRUNK COMPANY
Canvas bound bag makers
W HARVEY
Saddler and bag maker
GEORGE EDWARD HASLAM
Attaché case maker
HAYDON
West country maker
HEDGES
Travelling bag maker
HEPBURN & COCKS
Dispatch box makers
HERCULES MAKE
Early 20th century maker
OSKAR HERMANN
Wooden hoped canvas case makers
HERMES
One of thE World's leading bag makers
M & A HESS LTD
1930's maker
THE HESTON AIRCRAFT CO LTD
Lightweight aviation bag maker
LESLIE HEYNEMANN & CO
Reptile skin merchant
HILL & MILLARD
19th century military bag maker
TOM HILL (SLOANE SQUARE) LTD
High quality luggage maker
HINDMARCH BROS LTD
Trunk and portmanteau makers
J HODGES
Probably lock maker
HOLLAND & HOLLAND LTD
Gun makers
W HONEGGER
19th century Swiss maker
HOUGHTON & GUNN
High class leather bag makers
W HOUGHTON
Early 20th century maker
HYDE, WILLIAM & CO
Early 20th century makers
INNOVATION
Wardrobe trunk makers
W INSALL & SONS
Highly regarded West Country maker
IRVING BROTHERS
Victorian makers
WILLIAM IVES
Early to mid 20th century makers
W E JACKSON
Early 20th century makers
ALBERT JACOBSON & CO LTD
1920's makers
ISIDORE JACOBSON
1920's makers
G H JAMES & CO LTD
Early 20th century dressing bag maker
RICHARD ATTENBOROUGH JAY & CO LTD
1930's makers
JENNER & KNEWSTUB LTD
Fine dispatch box maker
JONES BROTHERS (HOLLOWAY) LTD
Departmental store and retailer
B JOSEPH & SON
Early 20th century makers
GUSTAVE KELLER
Dressing case maker
PERCIVAL H KIDSON
Writing case maker
W A KIERNAN
Fine quality makers
EDWARD KING
1930's makers
HENRY GORGE KING
1930's maker
ALFRED ERNEST KINGSMAN
1920's makers
R & A KOHNSTAMM LTD
Reptile skin merchants
F LANSDOWNE
Fine quality makers
THE LANE TRADING CO LTD
Reptile skin merchants
S LAST
Leather trunk makers
LAVINO (LONDON) LTD
Retile skin merchant
ARTHUR J LAWRENCE
Early 20th century makers
LAWRENCE & SONS
Retailer
GAVIN LAWSON
Reptile skin merchants
JOHN LEADER LTD
Retailer
JOHN LECKIE & CO LTD
Suitcase makers
G H LEE & CO
Makers of large suitcases
LEGGE
Lock makers
L A LEINS & SONS
Dressing case makers
N LESSOF LTD
1930's makers
W LEUCHARS
Early and fine makers
LINCOLN BENNETT
Hatbox makers
HENRY JAMES LOWE
1930's makers
McBRINE BAGGAGE
Mid 20th century makers
F McMILLAN & CO
1930's attaché case makers
T MABANE & SONS
Medium grade maker
MACY'S
Famous New York retailer
MORITZ MADLER
Crocodile bag maker
F J MALLIA
Reptile skin merchant
W MANSFIELD
Royal warrant holders
MAPLE & CO
Departmental store
MAPPIN & WEBB LTD
Famed silversmiths and case makers
MARRIS'S LTD
Sirram brand producers
MARSHALL & SNELLGROVE
Case and trunk makers
A MARSHALL
1930's makers
MARSH'S TRUNK MAKERS
Attaché case makers
J MASON & CO LTD
1930's makers
A L MARTIN
Reptile skin merchant
WILLIAM HENRY MATTHEWS
School bag makers
G MAUDE
Hand made bag makers
MAWSON SWAN & MORGAN
Early 20th century makers
MIGRATOR
Patent brand
ALFRED MILLER
1920's maker
J C MOODY
Medium quality maker
H MOORES
Standard quality makers
S MORDAN & CO
19th century makers

H MOSS JN
1930's makers
MOYNAT
20th century French maker
J MULLINS LTD
1920's maker
MURRAY & SON
Dressing case makers
MURRELL & SON
1930's makers
HENRY A MURTON LTD
Early 20th century makers
NATIONAL TRUNK CO
1930's trunk makers
NEWBURY & JOHNSON LTD
Motoring bag makers
J NIGST & SOHN
Superb heavy bag makers
NORFOLK HIDE
Rare and valuable makers
JOHN NORRIS
1930's makers
S NOTON LTD
Suitcase makers
OLD ENGLAND
Early 20th century makers
ORIENT MAKE
High quality brand name
OSH KOSH TRUNK CO
Brass bound trunk makers
OSSILITE
Early 20th century brand
PAKAWA
Brief case makers
PARKER, WAKELING & CO LTD (WARDROBE)
1930's makers
T PARRY & SON
Leather goods makers
PARSONS J N & SONS
1920's makers
PATTERSON & STONE
Golf bag makers
PAXMOR
Early luggage brand
PAXWELL
Mid 20th century brand
PEAL & SON
Royal warrant holders
PEARSON & PEARSON
Classic cowhide case makers
E J PEARSON & SONS LTD
Early London makers
JOHN PECK& SON
Early 20th century maker
PEEL & CO
Bootmakers
PENDRAGON
Medium quality maker
EDWARD PENTON & SON
1920's maker
GEORGE PERRY & CO
Fine canvas and leather bag maker
PESCOTT
Dispatch bag maker
G G PETERKIN
1920's trunk maker
PHILLIP SON & NEPHEW LTD
Motoring bag makers
S D PIRACHA & CO
Reptile skin merchant
PITTWAY BROS
Dressing case makers
PIXIE
Lightweight post-war case maker
PONTINGS
1930's retailers
ARTHUR PORTER
1930's makers
A POTTERTON
Motoring nag makers
JOHN POUND & CO LTD
Amongst the finest makers
W POWELL & SONS
Gun case makers
PREEDY
Mid Victorian maker
PUKKA LUGGAGE
1930's brand of fibre luggage
JAMES PURDEY & SONS LTD
Gun makers
PYTHON
Mid 20th century brand
RAILWAY CLEARANCE DEPOT
1930's makers
REID & TODD
Travel-ware makers
S REID LTD
Motoring luggage maker
REPTILE TRADING CO LTD
Reptile skin merchant
REVELATION SUIT CASE CO LTD
Famous London brand
REYNOLDS
Mid 20th century makers
J & A N RICHARDSON LTD
Picnic set suppliers
DAVID RICHENBERG
1920's suitcase makers
A RIPPENGALE & CO
Attaché case makers
PETER ROBINSON
Early 20thy century makers
PAUL ROMAND
Late 19th century Parisian makers
J W ROSE & SON LTD
1920's makers
THOMAS A ROWSE & CO
1930's makers
RYAN & SONS
Saddlers and case makers
SAKS FIFTH AVENUE
New York retailer
SAMSONITE
Famous British brand
MONTAGU ARTHUR R SAXBY
1930's makers
SCOTT'S HATTERS
Hat box makers
G W SCOTT & SONS LTD
Motoring luggage makers
SAM SEGAL
Mid 20th century dealer
SELFRIDGE & CO LTD
Famous London department store
SHUTTLEWORTH & SONS
Late Victorian maker
M I SIEGENBERG
1930's dealer
SIRRAM
Picnic set brand
SMITH, ENGLEFIEND & CO
Early 20th century maker
MORITZ TILLER & CO
Late 19th century maker
ALFRED HENRY TOMKINS
Leather case maker
PAUL TONNEL
Royal warrant holder
TRAVAIR
Mid 20th century cardboard case makers
MARK UTAL
1930's maker
VAILIJEE & SONS
Royal warrant holders
J C VICKERY
Fine quality London makers
VICTOR
Brand name of Pearson & sons
VICTORIA TRUNK STORES
Early 20th century dealers
LOUIS VUITTON
Famed French maker (see biography below)
MAURICE WALKER
1920's maker
GEORGE HENRY WARD
Early 20th century makers
WARING & GILLOW LTD
Departmental store
WATAJOY
Vellum suitcase brand
WATERLOO TRUNK STORES
1930's makers
WATSON PICKARD
Classic hide suitcase makers
WATT & SONS
Saddlers
WEBB & BRYANT
19th century suitcase makers
WEBB & SON
Victorian case makers
OLIVER WEBB & CO
Dressing case makers
WEBB'S
Early 20th century trunk makers
C P WEBER
19th century quality bag makers
T J WEEKS
1930s' attaché case makers
WESTERN TRUNK STORES
1930's trunk makers
WHEARY
1950's brand
WHIPPY STEGGALL & CO
Saddlery and harness makers
WILLIAM WHITELEY LTD
Famous London department store
WHITE'S STORES
1930's dealer
WHITMORE'S
Fine dressing case makers
WICKWAR & CO
Dispatch box maker
W W WINSHIP & SONS
Early 20th century secure box makers
CHARLES J WITHNELL & SONS
Leading Victorian maker
S B WOLFSKY & CO LTD
1930's dressing case maker
W WOOD & SON LTD
Wholesale manufacturers
ERNEST WRIGHT
1930's dealer
R S WRIGHT & SON
1930's tea basket maker
M WURZL & SOHNE
1920's pigskin case maker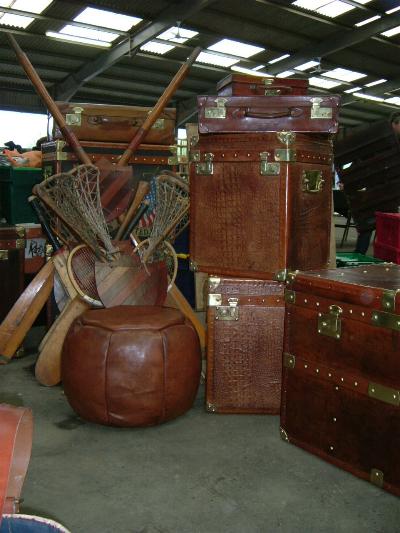 A HISTORY OF LOUIS VUITTON LUGGAGE
Louis Vuitton (August 4, 1821-February 27, 1892) designed and manufactured luggage in Paris during the second half of the nineteenth century. One hundred years later, Vuitton's signature leathergoods are now a status symbol around the globe and are highly regarded in the fashion world. The Louis Vuitton "Monogram Canvas" design can be considered the very first "designer label" on a product (the first in the contemporary sense), as it was created in 1896 with the intent of preventing counterfeiting. Unfortunately, Louis Vuitton has become the most counterfeited brand in fashion history: just over 1% of all "Louis Vuitton"-branded items are not counterfeit. Ironically, the Monogram Canvas that is so counterfeited and famous was not created until after Louis Vuitton's death, when it was created by his son, Georges. Vuitton was born in Anchay, Jura, France (now part of the commune of Lavans-sur-Valouse). He moved from his hometown of Anchay in 1835 at the age of fourteen. Two years later, he arrived in Paris and apprenticed for luggage- and trunk-maker Monsieur Marechal. In 1854, he opened his own store in Paris. The modern Louis Vuitton company has carefully cultivated a celebrity following and has used famous models and actresses in its marketing campaigns, most notably Uma Thurman whose "sophisticated yet unpredictable image" was a supposed reflection of the Vuitton brand. Other models and actresses who have lent their name to the Louis Vuitton line include Jennifer Lopez, Scarlett Johansson, Chloe Sevigny, and Christina Ricci and more recently, models Gisele Bundchen, Kate Moss and Naomi Campbell. All have appeared in ads and commercials for the line. Hayden Christensen has also appeared as model for the company's luggage and prêt-à-porter lines.
Vuitton bags and purses have a considerable list of celebrity adherents who proudly display their Monogram Canvas items. Asia's songbird Regine Velasquez, Ashley Tisdale, Vanessa Anne Hudgens, Lindsay Lohan, Jessica and Ashlee Simpson, Paris and Nicky Hilton, Nicole Richie, Angelina Jolie, Siti Nurhaliza, Ayumi Hamasai, Anna Kournikova, Pamela Anderson, Carmen Electra, Denise Richards, Katharine McPhee and Amisha Patel can all be seen with multiple Vuitton accessories. The Vuitton collection of bags and purses has also created a cult-like following among consumers. Owners of the bags and purses proudly display the logo and designs and refer to the products as "Louis". The cult following by both celebrities and ordinary consumers has elevated the Louis Vuitton brand to the foremost position in accessory design alongside houses such as Gucci, Prada and Hermès.
The Louis Vuitton Company
Early Days (1854-1892)
1854 - Vuitton opened his first store in Paris on Rue Nueve des Capucines, founding Louis Vuitton, "Malletier à Paris" .. "a Trunk-Maker in Paris". Before Vuitton's quality trunks, French philosopher, Denis Diderot & Jean Le Rond d'Alembert makes mention of a Malletier and his techniques about 140 years earlier. (1713-1784)
The word, "Malletier" ("Trunk Maker") has been synonymous with fine craftsmen such as Maison E.Goyard Paris, "Malletier de luxe" most famous for his Voyage trunks, Goyard founded in 1853, now currently the oldest trunk maker in existence. Famous Artisan and Malletier, "La Malle Bernard" cited as one of the oldest trunk maker depuis 1846, it was Vuitton who was the first to create a flat-topped trunk. Vuitton began by selling flat-topped trunks that were lightweight and airtight. All trunks before this had rounded tops for water to run off, and thus could not be stacked. Vuitton's very first piece was the gray Trianon canvas flat trunk. In the same year his goods were purchased by France's Empress Eugénie
.
1860 - Vuitton opened a larger factory in Asnières-sur-Seine to accommodate increased demand.
1867 - Vuitton entered the Universal Exhibition at the World's Fair in Paris, winning the bronze medal.
1872 - Creation of the red and beige striped canvas.
1876 - Creation of the wardrobe trunk, which contained a rail and small drawers for storing clothing.
1880 - Georges gets married and (on the same day) is given control of the business. Georges is credited with developing the unique five-number combination lock found on Vuitton trunks.
1883 - Georges' son Gaston-Louis is born.
1885 - The first Louis Vuitton store in London opens.
1888 - The Damier Canvas pattern is created by Louis Vuitton in collaboration with Georges, and bears a logo that reads "marque L. Vuitton déposée" (which literally means "mark L. Vuitton deposited" or roughly "L. Vuitton trademark").
1889 - Vuitton wins the gold medal at the World's Fair in Paris.
1892 - Vuitton dies; the Vuitton company begins selling handbags.
Golden Age of Louis Vuitton (1893-1936)
After Vuitton's death, Georges amazingly made Louis Vuitton a worldwide corporation.
1893 - Georges displays Vuitton products at the World's Fair in Chicago.
1894 - Georges publishes his book "Le Voyage".
1896 - Georges designs the 'Monogram Canvas'. Its graphic symbols were based on the trend for Japanese/Oriental designs in the late Victorian Period. This can be considered the first "designer logo", since Georges was driven to create this pattern to prevent further copying of Vuitton patterns (counterfeiting had already begun by this point). Georges then sailed to the United States, in which he toured various cities such as New York, Philadelphia, and Chicago. He sold Vuitton products during the visit.
1899 - Georges exhibited Vuitton products at the maiden Paris Auto Show.
1900 - Georges Vuitton was given the honor to set up the "Travel Items and Leather Goods" section of the 1900 Paris World Fair.
1901 - The Louis Vuitton Company introduced the 'Steamer Bag', a small handbag to be kept inside Vuitton luggage trunks.
1904 - Georges chaired the jury for the St. Louis World's Fair. In the same year, the Louis Vuitton company introduced a new line of trunks that have special compartments for items such as perfumes, clothing, and other goods.
1906 - Georges' son Gaston-Louis married Renee Versille, and Louis Vuitton introduced trunks for automobiles.
1914 - The Louis Vuitton Building opens in Champs-Elysees. The building was the largest travel-goods store in the world at that time. Store locations open in New York, Bombay, Washington, London, Alexandria and Buenos Aires as World War I begins.
1924 - Only eight years after the end of World War I, the 'Keepall' is invented. This bag foreran the duffel bag in a travel bag for light travel to keep necessities in.
1929 - The seventy-fifth anniversary of Louis Vuitton, a toiletry case is introduced specifically for opera singer Marthe Chenal. It could fit bottles, brushes, mirrors, powder boxes and more toiletries.
1931 - Louis Vuitton introduced exotic bags such as a handbag of crocodile skin, as well as elephant hide handbags for the Colonial Exhibition.
1932 - Louis Vuitton introduced the Nóe bag. This bag was made for champagne vinter to transport bottles.
1933 - The Louis Vuitton Speedy bag was introduced.
1936 - The golden age of Louis Vuitton ends as Georges Vuitton passes away. Estimates attribute Georges Vuitton with over 700 new Vuitton designs. Gaston-Louis Vuitton assumes control of the company. The secretary trunk is introduced for Leopold Stokowski, a conductor.
Modern Age of Louis Vuitton (1937-1996)
1959 - The company revamps it signature Monogram Canvas to make it more supple, allowing it to be used for purses, bags, and wallets.
1977 - Annual sales reach 70 million French francs (around US$10 million).
1978 - Vuitton opens its first stores in Japan, in Tokyo and Osaka. (Sales in Japan would come to account for nearly half of the company's total revenue by the 1980s.)
1983 - The Louis Vuitton company joins with America's Cup to form the Louis Vuitton Cup, a preliminary competition (called an eliminatory regatta) for the world's most prestigious yacht race.
1984 - Vuitton expands its presence in Asia by opening its first store in Korea, in Seoul.
1986 - The company introduces its Epi leather line.
1987 - Moët et Chandon and Hennessy, leading manufacturers of champagne and of brandy, respectively, merges with Louis Vuitton to form the world's largest luxury goods conglomerate, LVMH. The group is partly owned by the Christian Dior group, and Bernard Arnault is Chairman and CEO of both companies.
1988 - Vuitton reports profits up 49% from the prior year.
1988 - The company hosts its first Louis Vuitton Classic car show in Paris.
1989 - The company's stores total 130 worldwide.
1990 - Yves Carcelle is named president of the company.
1992 - The first store in China is opened at the Palace Hotel in Beijing.
1993 - The Taiga leather line is introduced.
1996 - The centennial of the Monogram Canvas is celebrated in seven cites across the world, marked by parties at stores and the release of limited-edition items bearing the signature design.
Millennium Age of Louis Vuitton (1997-present)
1997 - Louis Vuitton hires designer Marc Jacobs to be the label's artistic director. The same year, he designed and introduced the company's first Prêt-à-Porter line of clothing.
2001 - Stephen Sprouse, in collaboration with Marc Jacobs, designs a limited edition line of Vuitton bags that feature graffiti written over the monogram pattern. The graffiti says Louis Vuitton and, on certain bags, the name of the bag. The graffiti appeared in green and white. Four pieces with the graffiti over the monogram included the Keepall, the Speedy, the Pochette Accessories and the Pochette Porte-Monnaie Crédit Wallet. A few handbags, which were even more limited in number than the four regular graffiti pieces, featured the graffiti design in peach or black on top of a solid white or black background. These were only available to the customers on Vuitton's "V.I.P." list.
2003 - Takashi Murakami, in collaboration with Marc Jacobs, masterminds the new "Monogram Multicolore" canvas range of handbags and accessories. This range includes the monograms of the standard Louis Vuitton Monogram Canvas, but in 33 different colors, on either a white or a black background. (The classic monogram canvas features gold monograms on a brown background.)
2004 - Takashi Murakami creates the "Cherry Blossom" pattern, in which smiling cartoon faces (which resemble anime cartoons) in the middle of pink and yellow flowers are sporadically placed atop the Monogram Canvas. This pattern appeared on a limited number of pieces, which sold out quickly. Certain pieces featured a pink version of the Monogram Canvas.
2005 - Takashi Murakami creates the "Monogram Cerises" pattern, in which cherries with faces on them (again, resembling anime cartoons) are placed over Monogram Canvas on select pieces. The line was being sold on LVMH's official retail website, eLUXURY, in the spring of 2006, but was no longer available by the end of May of 2006.
2006 - Louis Vuitton opened its 9th UK store in the upmarket Leeds Victoria Quarter on September 19. The store is the first Louis Vuittion store outside London that has its own VIP area. The store will sell most of Louis Vuitton's lines, with the exception of its prêt-à-porter lines.
2006 - Mario Carlos Romero J.R Was Seen At The Galleria In Dallas,Tx At The Louis Vuitton Boutique And Was Buying A Monogram Canvas Unisex Bag. From Wikipedia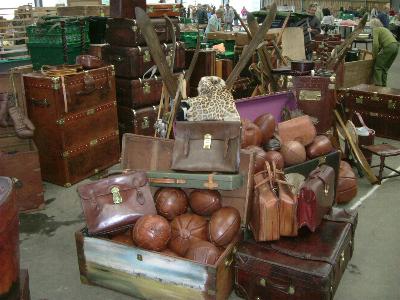 VINTAGE LUGGAGE GAZETTEER
Brief Case: Briefcases were originally bags to hold a lawyer's 'brief' (a summary of the legal facts of a case). These, as well as attachés, portfolios and so on, usually held only papers and the occasional lunch; now it's more likely cell phones, palm pilots, CD's and the occasional lunch. We begin seeing the term 'attaché case' appear about 1905, referring to a briefcase that had hard sides and sized to accommodate larger document formats.
Cabin Trunks: The classic vintage suitcase will have straps, and labels, a good brass lock, and capped corners. It will also weigh a ton empty, which is why today's luggage has those little wheels.
Campaign Bag: The campaign or kit bag has its roots in the military: a large unstructured bag, with a metal frame which opens to a large open mouth, and is secured by straps.
Carpet Bag: The carpet bag, originally an inexpensive bag made from remnants of imported Oriental hand-made (Turkish or 'turkey') rugs and carpets and later from fabric specifically produced for bag making, lent its name to a group of war-profiteers and scavengers, 'carpetbaggers', who rushed to the ravaged south at the close of the American Civil War in order to make a fast and easy profit during reconstruction. Because they were often cheaply made, and due to their hard use and susceptibility to moth attack, not many survive in good condition.
Coach Bag: In the days before transcontinental rail, the coach bag was used on coach or carriage. Usually a small ironbound trunk or bag covered in leather or skin as well as a smaller bag similar to a club bag for carry-on. The term 'carriage bag' persists in catalogues until about the First War.
Dressing Case: The Dresser Case contained all that was needed to make a Lady or Gentleman presentable to society when they travelled. Not only items for personal grooming, combs brushes etc. but also pen, paper and inks for letter writing, matches for smoking, lighting of candle and heating of sealing wax, glove stretchers, curling irons and so on.
Gladstone Bag: While most suitcases and other valises have a shallow lid and deep body, the Gladstone bag is easily identified by equal separation between its two halves, as well as rounded shoulders, and often, straps.
Hat Box: The paper hat box is prized and collected for its graphics. While much packaging was destroyed, boxes that survive did so because they were either pretty enough that they were considered decorative, or useful after the original purpose: hatboxes have survived because well, people kept their hats in them.
Hat Case: Most men's hat cases were for the tall hat: the top hat, the stovepipe etc. Some cases accommodated more than one hat, either nested within each other, or folded into the lid. With the advent of the "picture hat" hat cases grew in size to accommodate the larger brims.
Instrument Cases: Musical, scientific, and other delicate instruments have always been a challenge to the art of the case-maker.
Knapsacks: Knapsack, rucksack, haversack, backpack, book-bag: all various names for a soft unstructured (except perhaps for a frame) canvas (or more recently nylon) bag for carrying on the back. Once only used by military, hikers, or impoverished students, but now worn by practically everybody, taking many different forms and materials. Other items in this category include sporting and leisure activities cases.
Medical Bags: The style and size of bag carried by doctors and other practitioners varied with type and location of practice: doctors and nurses who served a large rural population would need to carry more with them than their city colleagues.
Steamer Trunks: Steamer or wardrobe trunks were used during the voyage as portable closets, keeping necessities close at hand; some even came with fold out ironing boards.
Suitcases: The classic vintage suitcase will have straps, and labels, a good brass lock, and capped corners. It will also weigh a ton empty, which is why today's luggage has those little wheels.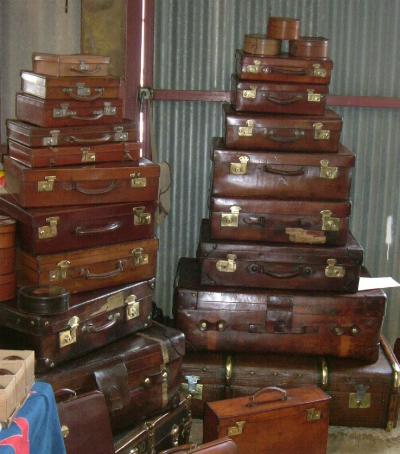 Een GESCHIEDENIS VAN UITSTEKENDE BAGAGE
De geschiedenis van uitstekende bagage is dicht verwant met de geschiedenis van reis, en ook de geschiedenis van hotels. Aangezien de tijd van negentiende aan 20ste Eeuwen en het gebruik van persoonlijk personeel overging, zowel als de beroeps daalde, deed de behoefte zich aan persoonlijkere (en lichtgewicht) bagage voor. Dit, gecombineerd met de komst van luchtreis en de bijbehorende gewichtsbeperkingen begat een universele vermindering van het gewicht, de grootte en de structuur van bagage. Het gebruik van autoreis, de individuele liberalisering van reis was ook, voor een deel verantwoordelijk voor deze verandering in houding tegenover zijn bagage. Toch zonder bedienden, zou wie een enorme boomstam met hen willen rond trekken? De dagen van de geformaliseerde groeperingen van gestructureerde en tiered zware bagage en boomstammen trokken aan het sluiten. Nochtans, blijft de firma's zoals Louis Vuitton dergelijke bagagegroeperingen, nu het enige domein van die veroorzaken bekwaam om zich zowel de kosten van dergelijke luxebagage, als de bijbehorende kosten te veroorloven om de bagage zelf te vervoeren. Met de komst van luchtreis werd een nieuwe generatie van bagagematerialen geëxperimenteerd met gepast aan het vermijden van ' bovenmatige bagage ' lasten. Dit materiaal omvatte gevulcaniseerde vezel, raffia, rieten en lichtgewichtlegeringen, allen gebruikt om de zwaardere gestructureerde gevallen van leer en hout te vervangen. Vele voorbeelden van uitstekende bagage bewijzen hun reizen, eerder als een paspoort draagt zegels en visa van exotische plaatsen. Met uitstekende bagage, kan een verhaal worden verzameld, detective als, van de toegepaste en in bijlage geschiedenis van zijn avonturenetiketten. Men zou bagage met in reliëf gemaakte of toegepaste initialen en kammen kunnen vinden, afhangend van de stamboom van de vorige eigenaar, en dit zouden gouden geblokkeerde of toegepaste zilveren markeringen kunnen zijn. De bagagemarkering zelf, over het algemeen van een gelijkaardig leer aan het geval zelf, zou extra getuige aan de geschiedenis van de eigendom van het geval, eerder zoals de belasting-schijven van een auto ook kunnen dragen op zijn plaats verlaten achter de huidige schijf. De exotische en kleurrijke toegepaste etiketten voor reis, bestemming en hotel kunnen een fascinerende eigenschap van een uitstekend geval zijn, individuele gevallen die testament dragen aan de exotische reizen, van Marrakech tot Moskou, Berlijn aan de Bermudas. Deze document etiketten werden gebruikt als middel om de bestemming van de bagage te identificeren en ook stil middel om de hotel of vakantiebestemming te adverteren. Inbaar in hun eigen recht, zijn de etiketten een voorbeeld van de efemere verschijnselen van de grote leeftijd van reis, en romanticism van Victorian en de era's Edwardian.
Een GIDS VOOR KWALITEIT
De kwaliteit en de voorwaarde van uitstekende bagage zullen een directe verhouding aan zijn waarde hebben, daarom voor de handelaar, de collector, de steun-meester en de decorateur zou het nuttig kunnen zijn om een relatief inzicht in de factoren van zowel kwaliteit als voorwaarde te hebben. Opzij van de toegepaste aanwijzingen aan anamnese, zoals vroeger besproken, de gebruikte bouw en de materialen zal worden onderzocht om de schaal van wenselijkheid te bepalen. Het gemeenschappelijkste materiaal dat in bagage wordt gebruikt is leer, dat voor behoud wordt gelooid, en in het geval van uitstekende versleten bagage, en ' patinated ', elke kleine slag, deuk en kneuzing toevoegend aan de charme, de geschiedenis en het karakter van het geval. Enkel aangezien wij een interessant oud characterful gezicht zouden kunnen bekijken zoals bewijzend het leven van die persoon, zou een geval zijn geschiedenis door zijn visuele afbeelding gedeeltelijk kunnen openbaren. Voor de collector en de handelaar van uitstekende bagage, is de voorwaarde primordiaal - in het algemeen, (onaangeroerd en origineel) beter de voorwaarde, hoger de prijs, zeldzaamheid en collectibility. Het leer zou moeten worden gevoed en worden behandeld regelmatig om zijn soepelheid, kleur en flexibiliteit te handhaven, daar die vele merkgebonden zadelzepen, was en room is. Men zou het leer bij zijn kwetsbaarste en intensief gebruikte gebieden moeten controleren, namelijk de naden, de scharnieren en de hoeken. Deze beklemtonen de naar voren gebogen gebieden de zwaarste slijtage en de degradatie dragen. Soms zou re-stikt geschikte en volkomen aanvaardbare oplossing kunnen zijn, maar beware van droog, omgekomen en onbuigbaar leer als in het algemeen niet dit te beschadigen en te dragen kan worden hersteld, vandaar is de vervanging de duurdere en minder aanvaardbare oplossing. Wanneer het beoordelen van kwaliteit zijn er verscheidene aanwijzingen en wijzers, en het belangrijkst hiervan is de het teken of zegel van de maker (zie verder voor een folder van fabrikanten van uitstekende bagage). Deze tekens worden over het algemeen gevonden op de voorrand van het geval, binnen de voorrand, of misschien toegepast op de interne stof van katoen, zijde of gemzen. De meer superieure leveranciers en de fabrikanten waren minder afzonderlijk met hun noteringen, bedrijven zoals Finnigan Ltd, Insall & Zoon, en Brachers maakte een deugd van hun het brandmerken en reclame - vroege voorbeelden van de ' macht van het merk '. De sloten hebben ook een vereniging met de kwaliteit, de zeldzaamheid en de waarde van een geval. Opnieuw, zouden veel van de significantere fabrikanten sloten hebben die met hun naam/merkbedrijven zoals Finnigan Ltd, Barret worden gestempeld & zo, F. had Lansdowne, John Pound & Co allen hun naam die in de slotplaat wordt geïntegreerd, en Louis Vuitton zou zowel hun naam als serienummer op elk slot hebben. Met gevalsloten kan men dat een 4 hefboomslot een superieure kwaliteit dan dat van een 3 hefboomslot impliceert, en zo op één enkele hefboom lezen, en, aangezien het land van herkomst op de plaats van de oorsprong van het geval zowel in termen van land als stad ook zou kunnen wijzen. Ideaal gezien zal een geval in originele fijne voorwaarde, met minder belangrijke slijtage, maar het dragen van het patina van gebruik en zorg worden bewaard. Men zou de analogie van het krijgen in een fijne oude auto kunnen overwegen, misschien Jaguar of Broodjes Royce, en het verheugen zich in scent van ' hout en leer ', maar subliminally smakend de het zachte slijtage en verouderen van het binnenland. Sommige gevallen van de fijnste huid, de krokodil of de zeldzame huiden zouden met een canvasdekking kunnen worden gevonden - dit wijst op de aanvankelijke kwaliteit en de kosten van het geval waren iets waard het bewaren en het geven voor. Deze gevallen van de canvasmisstap voegen ook een zacht poetsmiddel aan het geval toe, elke keer is het aan en uit uitgegleden, als een muntstuk elke keer wordt het behandeld. Overweeg het metaal het slot van wordt gemaakt, zouden de hoogste kwaliteitssloten zilveren kunnen zijn, en daarna kanon-metaal, messing, ijzer en tin, in dalende orde. Vele sloten zijn gegalvaniseerd in nikkel, en dit, in vele instanties, is opgepoetst weg om een ' meer momenteel commercieel ' messingsslot onderaan te openbaren. Één wijzer om te vermijden is roest en het kuiltjes maken in van de sloten, zoals dit op een goedkope en lage kwaliteitsslot, en door vereniging een kleiner kwaliteitsgeval wijst.
DE VERVAARDIGING VAN UITSTEKENDE BAGAGE
Over het algemeen werd de huidenbagage gemaakt over een houtkader, vaak van eik, mahonie maar over het algemeen pijnboom. Dit houtkader externalised soms, ' hooped ' het resulteren in ' gestreept hout ' of bagage. Deze houten gestreepte gevallen werden vaak gestrooid met bruin of groen canvas en nu en dan, leer. Sommige grotere boomstammen werden gevormd over een rieten stichting. Over het algemeen werden de gevallen gemaakt van zweep, van vele verscheidenheden van rang en dikte. Misschien gebruikte het hoogste kwaliteitsleer voor het geval dat de vervaardiging Leer Connolly is. Voorafgaand aan praktisch gebruik moet het leer een proces ondergaan genoemd ' looiend ', dat het leer impliceert dat van zowel zijn externe als interne lagen wordt ontdaan van, verlatend de centrale laag, genoemd ' derma '. Het looien kan worden bereikt door dierlijke, plantaardige of minerale middelen te gebruiken, de oudste methode die het plantaardige looien zijn. Dit impliceert looizuur of ' tannine ' die vaak uit eik, hemlock of kastanje wordt afgeleid, terwijl non-European het looien processen lokale materialen gebruiken. Ook werd synthetisch ontwikkeld in de jaren '20. Het proces, dat 3 motten kan nemen, impliceert het doorweken van en het afvoeren van het leer in later sterkere tannineoplossingen. Het minerale looien impliceert het gebruik van de chemische aluin. Het beëindigen van leer veroorzaakte veel van het gemeenschappelijke en minder bekende effect dat in uitstekende bagage, van het chromium het inleggen procédé wordt gevonden die glace jong geitjeleer produceren aan het met kerrie kruiden en het verglazen met een ' glassing hefboom '. Werd de algemeen gebruikte zweep vaak gestempeld met een warrantee of ' echte zweep ' teken. Een bijzonder zeldzame methode om leer te behandelen is dat van de ' Huid van Norfolk ' en ongebruikelijk proces de waarvan beëindigde artikelen hun leeroorsprong door van één enkel blad, zonder naden logenstraffen te schijnen gedrukt te zijn of treedt toe. De ' Zak Gladstone ' die na de Britse Eerste Minister, William Ewart Gladstone wordt genoemd, werd populair en is vaak verkeerd met de zak van de arts. Deze werden over het algemeen gemaakt van hard-wearing en duurzame zweep. Leer van Marokko werd geproduceerd door het leer te ontwikkelen gebruikend leer dat met sumac wordt gelooid en dat soms met een dwarskorrel wordt gestempeld, en dat ook binnen vele gevallen wordt gebruikt. Shagreen (haaihuid) werd zelden gebruikt en werd nu en dan beschreven als dusdanig toen eigenlijk het gebruiken van steek-straal huid. Het gebruik van krokodilhuid, dat zo op vandaag wordt gefronst, was alomtegenwoordig in het gebruik van luxe en ' van de heer waaiers ' van uitstekende bagage, die exoticism voorstelt. De soorten die op zoek bruikbaar leer worden gedecimeerd waren de Gemeenschappelijke Krokodil, de Krokodil van Nijl, de Indische Krokodil en de Krokodil van het Moeras, en ook soorten alligator. Nu en dan walrus en olifants werd het leer gebruikt voor zwaargewicht gevallen, terwijl ostrich, de hagedis en de slang-huiden voor zeldzamere en lichte punten zoals handtassen werden gereserveerd. Er was een periode waar de witte bagage, die ook als ' ongelooide huid ' of ' velijn ' wordt bekend in uitstekende bagagevervaardiging werd gebruikt. Dit het schone kijken en betoverende bagage werden over het algemeen gemaakt van een gebleekte zweep ' ongelooide huid '. De geit, de schapen, het varkensleer en het synthetische materiaal werden soms gebruikt, maar deze zijn minder wenselijk aan de collector en de handelaar. De materialen zoals gevulcaniseerde vezels en samengeperste plantaardige vezels werden vaak gebruikt, en twee gemeenschappelijke fabrikanten waren ' Oosten maken ' en ' Echt '.
BINNENLANDSE VOERINGEN, MONTAGE EN DETAILS
Het binnenland van uitstekende bagage kan veel over de kwaliteit en de eigendom van het geval openbaren. Men kan begrijpen dat de vroegere gevallen met het donkergroene, diep blauwe of zwarte leer van Marokko zouden kunnen worden gevoerd, terwijl de recentere modellen een purpere of gestreepte tikkende voering zouden kunnen hebben. Ook zouden de gevallen met zijde, fluweel of duidelijk canvas kunnen worden gevoerd. Voeren van het fluweel wijst op gebruik als juwelengeval, of zelfs Masonic zak, met compartimenten en opslagruimten die op het ontworpen gebruik voor het geval wijzen. Nu en dan document worden de voeringen, of de van een watermerk voorziene document voering gevonden, en ook synthetische materialen zoals rexine. Vaak hebben de stof gevoerde gevallen zakken gebundeld om losse punten te beveiligen. Het luxeeind van de markt zou een het kleden zich geval, voor beide mannen vinden en vrouwen, worden de gepast die met lidded flessen en divers het kleden zich materiaal, dat soms met zilveren of zelfs gouden montage worden gepast. De aanwijzingen kunnen in het binnenland in verband met de richtlijn van de eigenaar worden gevonden, de mannelijke montage die wezenlijker, en zelfs getiteld met het scheren aanwijzingen zijn. Het is vrij zeldzaam om gevallen met al hun eigentijds en origineel montage, flessen en materiaal te vinden, en de volhardende collector zou de aanpassing van data op de zilveren montage moeten controleren.
Een UITSTEKENDE GIDS van de IDENTIFICATIE van de BAGAGE
Terwijl een ondertekend stuk van bagage aanvankelijk, voor de ervaren handelaar en de collector zou kunnen waardevoller schijnen, is er een significant aantal indicatoren die tot een correcte toewijzing leiden, maar dit neemt grote ervaring en gedetailleerd studie en onderzoek. Voor de nieuwe collector, zou ik kunnen voorstellen vindend een ervaren en geëerbiedigde handelaar de van wie integriteit wordt gevestigd. Sommige punten zouden zowel fabrikanten als detailhandelaarsetiket kunnen dragen, en inderdaad hadden sommige detailhandelaars hun eigen productieinstallaties. Bijvoorbeeld, waren vele fabrikanten gelukkig om ' Harrods ' op hun producten te plaatsen, pleased met de vereniging met de beroemde firma. Veel andere departementale opslag zou hun eigen etiketten, firma's zoals Selfridges, Leger & Marine, Peter Robinson, Debenham en Freebody, en Whiteleys vastmaken. Asprey merkte vaak hun gevallen met de woorden ' ASPREY LONDEN ' of eenvoudig ' ASPREY '. De bedrijven die de Koninklijke Waarborg hielden zouden, zoals Mappin en Webb of A. Barrett en Zonen ook de in reliëf gemaakte symbolen kenmerken, die trots in een hoogst zichtbaar deel van het binnenland worden getoond. Met de firma van Finnigans zou het slot met de stad van oorsprong, Manchester, Londen of Liverpool kunnen worden gestempeld. In de recentere 20ste eeuw, begonnen de merken zoals Revelatie en Halve maan de kleinere individuele en eigenaardige makers te overvallen, en deze firma's bereidden ook het gebruik van ' uitbreidende bagage ' de weg, door middel van ratcheted montage.
Eine GESCHICHTE Des WEINLESE-GEPÄCKS
Die Geschichte des Weinlesegepäcks hängt nah mit der Geschichte des Spielraums und auch der Geschichte der Hotels zusammen. Als Zeit, die von den 19. bis 20. Jahrhunderten und vom Gebrauch des Personals, persönlich und des Fachmannes geführt wurde, sank, die Notwendigkeit am persönlicheren (und Leichtgewichtler) Gepäck entstand. Dieses, kombiniert mit dem Aufkommen des Flugzeugverkehrs und des verbundenen Gewichtbeschränkungen begat eine Universalverringerung des Gewichts, der Größe und der Struktur des Gepäcks. Der Gebrauch von Automobilspielraum, die einzelne Liberalisierung des Spielraums war auch, im Teil, das für diese Veränderung der Haltung zu irgendjemandes Gepäck hin verantwortlich ist. Schließlich ohne Bedienstete, würde wer einen enormen Stamm mit ihnen herum zerren wollen? Die Tage der formalisierten Gruppierungen des strukturierten und tiered schweren Gepäcks und der Stämme zeichneten zu einem Ende. Jedoch fährt Unternehmen wie Louis Vuitton fort, solche Gepäckgruppierungen, jetzt die alleinige Konserve von denen, die, sich fähig sind beide zu leisten die Kosten solchen Luxuxgepäcks, und die verbundenen Kosten zu produzieren vom Transportieren des Gepäcks selbst. Mit dem Aufkommen des Flugzeugverkehrs wurden ein neues Erzeugung der Gepäckmaterialien mit wegen der Vermeidung der Aufladungen ' des überschüssigen Gepäckes ' experimentiert. Dieses schloß Material die vulkanisierte Faser, Raffiabast, Flechtweide und kompakte Legierungen mit ein, ganz benutzt, um die schwereren strukturierten Kästen des Leders und des Holzes zu ersetzen. Viele Beispiele des Weinlesegepäcks bestäten ihre Spielräume, eher wie Stempel Bären eines Passes und Visa der exotischen Positionen. Mit Weinlesegepäck kann eine Geschichte aufgelesen werden, Detektiv wie, von der angewandten und angebrachten Geschichte seiner Abenteueraufkleber. Man konnte Gepäck mit geprägt finden, oder angewendete Initialen und Kämme, abhängend nach dem vorhergehenden Stammbaum des Inhabers und diese konnten Goldblockierte oder angewendete silberne Umbauten sein. Der Gepäckumbau selbst, im Allgemeinen eines ähnlichen Leders zum Fall selbst, konnte zusätzlichen Zeuge zur Geschichte des Besitzes der Schachtel, eher wie der Steuer-Scheiben eines Autos nach links im Platz hinter der gegenwärtigen Scheibe auch tragen. Die exotischen und bunten angewandten Aufkleber für Spielraum, Bestimmungsort und Hotel können eine faszinierende Eigenschaft eines Weinlesekastens, die einzelnen Fälle sein, die Testament zu den exotischen Spielräumen, von Marrakech nach Moskau, Berlin nach Bermuda tragen. Diese Papieraufkleber wurden als Mittel des Kennzeichnens des Bestimmungsortes des Gepäcks und auch ruhige Mittel des Annoncierens des Hotels oder des Feiertagbestimmungsortes benutzt. Sammelbar in ihrem eigenen Recht, sind die Aufkleber ein Beispiel der Eintagsfliegen des großen Alters von Spielraum und die Romantik von Viktorianisch und Edwardian Ären.
Ein FÜHRER Zur QUALITÄT
Die Qualität und der Zustand des Weinlesegepäcks haben ein direktes Verhältnis zu seinem Wert, folglich für den Händler, den Kollektor, den Stütze-Meister und den Dekorateur konnte es nützlich sein, ein relatives Verständnis der Faktoren der Qualität und des Zustandes zu haben. Neben den angewandten Anhaltspunkten zu einer Vorgeschichte, wie früh besprochen, zum Aufbau und zu den Materialien, die benutzt werden, wird überprüft, um die Skala von Erwünschtheit festzustellen. Das allgemeinste Material, das im Gepäck benutzt wird, ist das Leder, gebräunt für Bewahrung, und im Kasten des Weinlesegepäcks, getragen und ' patinated ', jedes die kleinen Klopfen, Einbuchtung und Quetschung, die dem Charme, der Geschichte und dem Buchstaben des Falles hinzufügen. Gerade während wir ein interessantes altes characterful Gesicht als Lagerzeuge zum Leben dieser Person ansehen konnten, konnte ein Fall seine Geschichte durch sein Sichtdiagramm teilweise aufdecken. Für den Sammler und den Händler des Weinlesegepäcks, ist Bedingung - im Allgemeinen sprechen, das bessere (unberührt und ursprünglich) die Bedingung paramount, das höher der Preis, Rarität und Einloesbarkeit. Leder sollte regelmäßig ernährt werden und behandelt werden, um seine Geschmeidigkeit, Farbe und Flexibilität beizubehalten, viel dort seift sein eigener Sattel ein, wächst ein und sahnt. Man sollte das Leder an seinen verletzbarsten und stark beanspruchtesten Bereichen, nämlich die Nähte, die Scharniere und die Ecken überprüfen. Diese betonen vornübergeneigten Bereiche Bären die schwerste Abnutzung und die Verminderung. Manchmal Re-nähen konnte verwendbare und tadellos annehmbare Lösung zur Beschädigung und zur Abnutzung sein, aber paßt vom trockenen, umgekommenen und unbiegsamen Leder auf, da dieses im Allgemeinen sprechen nicht repariert werden kann, folglich ist Wiedereinbau die kostspieligere und weniger annehmbarere Lösung. Wenn Sie Qualität dort beurteilen, seien Sie einige Anzeigen und Zeiger, und das wichtigste von diesen ist des die Markierung oder Stempel Herstellers (sehen Sie unten für ein Verzeichnis der Hersteller des Weinlesegepäcks). Diese Markierungen werden im Allgemeinen auf dem führenden Rand des Falles, innerhalb des führenden Randes gefunden oder angewendet möglicherweise am internen Gewebe von Baumwolle, von Seide oder von Sämischleder. Die überlegeneren Lieferanten und die Hersteller waren mit ihren Markierungen, Firmen wie Finnigan Ltd., Insall u. Sohn und Brachers, das eine Tugend ihres Einbrennens und des Annoncierens - frühe Beispiele der ' Energie der Marke ' gebildet wurde weniger getrennt. Die Verriegelungen haben auch eine Verbindung mit der Qualität, der Rarität und dem Wert eines Falles. Wieder würden viele der bedeutenderen Hersteller Verriegelungen mit ihrem name/brand stempeln lassen. Firmen wie Finnigan Ltd., Trog u. so, F. Lansdowne, John Zerstoßen u. alle hatte Co ihren Namen, der in die Verriegelungsplatte integriert wurde, und Louis Vuitton würde ihren Namen und Seriennummer auf jeder Verriegelung haben. Mit Fallverriegelungen kann es, daß eine Verriegelung mit 4 Hebeln eine bessere Qualität als die einer Verriegelung mit 3 Hebeln andeutet, und so weiter zu einem einzelnen Hebel gelesen werden und, wie das Ursprungsland die Position des Ursprung der Schachtel in Land und Stadt ausgedrückt auch anzeigen konnte. Ideal wird ein Fall in ursprünglichem feinem Zustand, mit kleiner Abnutzung, aber dem Tragen der Patina des Gebrauches und der Obacht konserviert. Man konnte die Analogie des Erhaltens in ein feines altes Auto, möglicherweise ein Jaguar oder eine Rolls Royce und Freuen im Geruch ' des Holzes und des Leders ', aber die leichte Abnutzung und das Altern des Innerens subliminally relishing betrachten. Einige Kästen des feinsten Fells, des Krokodils oder der seltenen Häute konnten mit einer Segeltuchabdeckung gefunden werden - dieser zeigt an, daß die Ausgangsqualität und die Kosten des Falles etwas wert das Konservieren und das Interessieren für waren. Diese Segeltuchbelegfälle fügen auch ein leichtes Poliermittel dem Fall, jede Zeit, die er an und weg geglitten wird, wie eine Münze jede Zeit hinzu sie angefaßt wird. Betrachten Sie das Metall, welches die Verriegelung von gebildet wird, konnten die höchste Qualitätsverriegelungen silbern und danach Gewehr-Metall, Messing, Eisen und Zinn, in absteigender Folge sein. Viele Verriegelungen sind im Nickel galvanisiert worden, und diese ist, in vielen Fällen, weg poliert worden, um eine ' z.Z. kommerzielle ' Messingverriegelung darunterliegend aufzudecken. Ein zu vermeiden Zeiger ist Rost und Lochfraß der Verriegelungen, wie dieser eine preiswerte und niedrige Qualitätsverriegelung und durch Verbindung ein weniger Qualitätsfall anzeigt.
DIE HERSTELLUNG DES WEINLESE-GEPÄCKS
Im Allgemeinen wurde Fellgepäck über einem Bauholzrahmen, häufig der Eiche, Mahagonibaum aber im Allgemeinen Kiefer gebildet. Dieser Bauholzrahmen war externalised manchmal, und das resultiert ' im mit einem Band versehenen Holz ', oder ' hooped ' Gepäck. Diese hölzernen mit einem Band versehenen Kästen wurden häufig mit braunem oder grünem Segeltuch und gelegentlich, Leder vermischt. Einige größere Stämme wurden über einer Korbgrundlage festgesetzt. Im Allgemeinen wurden Fälle vom Rindleder, vieler Vielzahl des Grades und der Stärke gebildet. Möglicherweise verwendete das höchste Qualitätsleder, falls Herstellung Connolly Leder ist. Vor praktischem Gebrauch muß Leder einen Prozeß durchmachen, der ' das Bräunen ' benannt wird, das das Leder miteinbezieht, das von seinen externen und internen Schichten abgestreift wird und die zentrale Schicht verlassen, genannt ' derma '. Das Bräunen kann erzielt werden, indem man Tier, Gemüse oder Mineralmittel, die älteste Methode verwendet, die das Gemüsebräunen ist. Dieses bezieht die gerbstoffartige Säure oder ' Gerbsäure ' häufig abgeleitet von der Eiche, vom Schierling oder von der Kastanie mit ein, während außereuropäische bräunende Prozesse lokale Materialien benutzen. Auch ein Chemiefasergewebe wurde in den zwanziger Jahren entwickelt. Der Prozeß, der 3 Motten nehmen kann, bezieht, das Leder mit ein in den nachher stärkeren Gerbsäurelösungen zu tränken und abzulassen. Das Mineralbräunen bezieht den Gebrauch des chemischen Alauns mit ein. Das Vollenden des Leders produzierte viele des allgemeinen und weniger bekannten Effektes, der im Weinlesegepäck, aus dem in Essig einlegenden Prozeß des Chroms gefunden wurde, die glace Ziegenleder zum Currying und zum Glasieren mit einer ' glassing Steckfassung ' produzieren. Allgemein benutztes Rindleder wurde häufig mit einer warrantee oder ' des echten Rindleders ' Markierung gestempelt. Eine besonders seltene Methode des Behandelns des Leders ist die ' des Norfolk Fells ' und des ungewöhnlichen Prozesses dessen Fertigfabrikate ihren ledernen Ursprung widerlegen, indem sie scheinen, von einem einzelnen Blatt, ohne Nähte betätigt worden zu sein oder verbindet. Der ' Gladstone Beutel ', der nach dem britischen Premierminister, William Ewart Gladstone genannt wurde, wurde populär und wird häufig für den Beutel des Doktors verwechselt. Diese wurden im Allgemeinen von hard-wearing und haltbarem Rindleder gebildet. Marokko Leder wurde produziert, indem man aus dem ledernen verwendenden Leder rollte, das mit sumac gebräunt wird und manchmal mit einem Kreuzkorn gestempelt ist und auch innerhalb vieler Fälle benutzt ist. Shagreen (Haifischhaut) wurde selten verwendet und beschrieb gelegentlich als solcher, als Stich-ray Haut wirklich, verwendend. Der Gebrauch der Krokodilhaut, so auf heute die Stirn gerunzelt, war im Gebrauch von den Luxus- und ' Herrstrecken des Weinlesegepäcks überall vorhanden und schlug exoticism vor. Die Sorten, die in der Suche des verwendbaren Leders dezimiert wurden, waren das gemeine Krokodil, das Nil Krokodil, das indische Krokodil und Sumpf-Krokodil und auch Sorten des Krokodils. Gelegentlich Walrus- und Elefantleder wurde für heavyweight Fälle benutzt, während Ostrich, Eidechse und Schlange-Häute für die selteneren und hellen Einzelteile wie Handtaschen reserviert waren. Es eine Periode in der weißes Gepäck gab, wurden alias ' ungegerbte Schlachthaut ' oder ' Pergament ' in der Weinlesegepäckherstellung benutzt. Dieses saubere Schauen und bezaubernde Gepäck wurden im Allgemeinen von einem gebleichten Rindleder ' ungegerbte Schlachthaut ' gebildet. Ziege, Schafe, Schweinehaut und synthetisches Material wurden manchmal benutzt, aber diese sind zum Sammler und zum Händler weniger wünschenswert. Materialien wie vulkanisierte Fasern und zusammengedrückte Gemüsefasern wurden häufig benutzt, und zwei allgemeine Hersteller waren ' Orient bilden ' und ' Pukka '.
INNENFUTTER, BEFESTIGUNGEN UND DETAILS
Das Innere des Weinlesegepäcks kann viel über die Qualität und den Besitz des Falles aufdecken. Man kann verstehen, daß frühere Fälle mit dunkelgrünem gezeichnet werden konnten, tief blaues oder schwarzes Marokko Leder, während neuere Modelle einen Purple oder ein striped tickendes Futter haben konnten. Auch Fälle konnten mit Seide, Samt oder normalem Segeltuch gezeichnet werden. Samt, der einen Anzeigeverbrauch als Schmucksachekasten zeichnen, oder sogar Freimaurerbeutel, wenn den Fächern und Speicherplätze den entworfenen Gebrauch anzeigen, für den Fall. Gelegentlich Papierauskleidungen oder mit Wasserzeichen versehene Papierauskleidung werden und auch synthetische Materialien wie rexine gefunden. Häufig haben Gewebe gezeichnete Fälle Taschen gebündelt, um lose Einzelteile zu sichern. Das Luxuxende des Marktes würde einen Kosmetikbeutel, für beide Männer finden und die Frauen, gepaßt mit lidded die Flaschen und verschiedene ankleidende Ausrüstung, manchmal gepaßt mit Silber- oder sogar Goldbefestigungen. Anhaltspunkte können im Inneren hinsichtlich der Lagebestimmung des Inhabers gefunden werden, die männlichen Befestigungen, die, und mit erheblicher sind Rasieranzeigen sogar, geuntertitelt werden. Es ist ziemlich selten, Fälle mit ihren ganzen zeitgenössischen und ursprünglichen Befestigungen, Flaschen und Ausrüstung zu finden, und der eifrige Sammler sollte auf zusammenpassende Daten an den silbernen Befestigungen überprüfen.
Een UITSTEKENDE GIDS van de IDENTIFICATIE van de BAGAGE
Während ein unterzeichnetes Gepäckstück, zum erfahrenen Händler und der Sammler wertvoller zuerst scheinen konnte, gibt es eine bedeutende Anzahl von Anzeigen, die ein zu einer korrekten Zuerkennung führen, aber diese nimmt große Erfahrung und genau geschilderte Studie und Prüfung. Für den neuen Kollektor konnte ich das Finden eines erfahrenen und respektierten Händlers vorschlagen dessen Vollständigkeit hergestellt wird. Einige Einzelteile konnten Hersteller und Einzelhändleraufkleber tragen, und in der Tat hatten einige Einzelhändler ihre eigenen Produktionsanlagen. Zum Beispiel waren viele Hersteller glücklich, ' Harrods' auf ihren Produkten zu setzen, gefallen mit der Verbindung mit dem berühmten Unternehmen. Viele andere Abteilungsspeicher würden ihre eigenen Aufkleber, Unternehmen wie Selfridges, Armee u. Marine, Peter Robinson, Debenham und Freebody und Whiteleys anbringen. Asprey kennzeichnete häufig ihre Fälle mit den Wörtern ' ASPREY LONDON ' oder einfach ' ASPREY '. Firmen, die die königliche Ermächtigung hielten, wie Mappin und Webb oder A. Barrett und Söhne würden auch die prägeartigen Symbole kennzeichnen, stolz angezeigt in einem in hohem Grade sichtbaren Teil des Innerens. Mit dem Unternehmen von Finnigans konnte die Verriegelung mit der Stadt von Ursprung, von Manchester, von London oder von Liverpool gestempelt werden. Im neueren 20. Jahrhundert fingen Marken wie Enthüllung und Halbmond an, die kleineren einzelnen und idiosynkratischen Hersteller zu überholen, und diese Unternehmen gingen auch mit dem Gebrauch ' des erweiterngepäcks ', durch den Gebrauch ratcheted Befestigungen voran.
A HISTORY OF VINTAGE HANDBAGS
Handbags are the latest descendant in a long line of historical bags, pouches and purses. They were for carrying valuables, money, jewellery, documents and writing implements, and of course the private necessaries…
Some early bags exist within the context of museums and private collections, but the purpose of this site is to help identify the 'findable' handbags for the collector of vintage handbags. So, good hunting!
Early in the 17th century women would keep their valuables and private items hidden beneath their skirts in pockets, which would be tied around the waist by a cord, rather like the current money purses used by travellers. As fashions changed, and the need for a sleeker and less 'lumpy' outline became the vogue, the trend for concealing their bags became less popular, and later in the century, a new means of carrying 'hand bags' was developed and the current 'handbag' was evolved.
THE MISER'S PURSE
A highly derogatory term today, but the 'miser's purse', or 'stocking' as it was sometimes called, was developed as a safe means of carrying money whilst travelling. So called due to the difficulty of removing the coinage, the overall shape is that of a figure 8, with the coins inserted in the centre, and slid towards either end, the central section being closed with rings. Made of leather, textiles and even mesh, the miser's purse was sued until the early 1900's.
OWNER MADE BAGS
Women could easily obtain the frames and clasps for making their own handbags, and the more skilled, industrious and creative could design and create their own imaginative and unique handbags. Often created for a single event, these might commemorate a dance, wedding or seasonal occasion. Treasured within the lives and families of their creators, these special and personal handbags are generally on fine condition.
NANTUCKET STRAW BASKETS
Straw and natural materials have been used for carrying and transport for several millennia, from their early history in Africa, Egypt and India, and their early history in the US reflects the designs and creations of the Native American culture. Later these developed into the famous 'Nantucket' baskets or handbags still made today, and also in other areas of the country these straw baskets are decorated.
BEADED BAGS
The most desirable and collectable of the vintage handbags, this desirability is a reflection of their craftsmanship and beauty. The use of beads retains a brightness and freshness, thus ensuring their value retention. Venetian and Bohemian beads have been used for the exterior of these beautiful bags, whilst the interiors can often be lined with silk which may well have deteriorated, this can however be replaced.
MESHED BAGS
Early in the 19th century handbags were sometimes made of precious metals, and inspired by the Mediaeval Revival a fashion for steel and 'chain mail' handbags developed. In 1908, A.C. Pratt of Newark, New Jersey invented a mesh machine which vastly increased the availability of mesh for use in handbags. Two major manufacturers, Whiting & Davis (who still produce bags today) and the Mandalian Manufacturing Co. of North Attleboro, Massachusetts produced vast numbers of mesh bags. Later bags were screen printed and decorated with enamels and pearl finishes.
WHITING & DAVIS
This company has been producing mesh designs since 1876, where they were based in Plainville, Massachusetts. Originally mesh bags were hand soldered, but due to technical innovation mass productions and mechanisation was developed. The rise in popularity of Art Deco designs ensured their integration in to handbag design, and the simple means of translating the geometric Art Deco designs on to the grid-like mesh material was used with great popularity in the 1920' and 1930's.
ARTS & CRAFTS HANDBAGS
The traditional early use of leather, in both plain and decorated form, became popular with the rise of the Arts & Crafts movement, which emphasised the re-establishment of quality and craftsmanship in the early 1900's. The best, often made of English or Spanish leather, embossed with Arts & Crafts or Art Nouveau designs, tolled into the leather are highly collectable today. Firms such as the Roycrofters in East Aurora, New York, Frederick Kranz and H.E. Kaser Leather Corporation made such hand tooled leather bags.
FRE-MOR
Fre-Mor were famous for their beaded bags, produced during the 1940's in a variety of shapes, the most desirable being round or rectangular bags. They also produced bags with bakelite frames or beaded with iridescent glass beads (similar bags were also produced by DuBonnette). Fre-Mor later merged with The Llewellyn company, most famous for its 1950's Lucite handbags.
ANNE MARIE
Anne Marie of Paris produced a somewhat surreal range of handbags, which are highly desired by today's collectors. Many of the strangest designs of the time were produced by Anne Marie, forms such as a bottle of champagne, a mandolin, all associated with glamour and playfulness.
SCHIAPARELLI
Elsa Schiaparelli (1890-1973) was known for her unusual designs of clothing and accessories, but perhaps most famous for her crazy handbag designs. Her imaginative use of modern materials (such as plastic and cellophane) and her inspired use of unusual designs such as a telephone, snail or balloons. Schiaparelli produced many ranges of bags until the 1950's.
ALLIGATOR HANDBAGS
As discussed in our 'Vintage Luggage' pages, the use of exotic animal skins was very popular prior to our more politically correct times. In some instances the entire animal was used to create the bag, with head, eyes and teeth, as well as feet and tail. Not to everyone's taste! Hermes produced alligator handbags into the 1950's.
LUCITE HANDBAGS
In the 1930's a plastid called 'Lucite' began to be commonly used for handbag production. This enabled a mass production of inventive and exciting designs, executed by companies such as Myles Originals, Gill Originals, Wilardy Originals, Llewellyn Inc., Tyrolean Inc., Rialto, Dorset Rex, Charles S Khan, Maxim, Majestic, Miami and Florida Handbags, these are often identifies by their labels.
CHARLES S KHAN
This company was based in Miami, Florida and used a system of many shapes and interchangeable colours, sometimes with cut designs, or even clear Lucite.
DORSET REX
This company used mixed media with their handbag designs, using plastics, mesh or basket-ware. They also pioneered the use of plastic flowers integrated into the body of the handbag.
LLEWELLYN INC.
This company was based in Madison Avenue, New York, and often used luxury materials such as rhinestones or stain in their production. One famous bag was the 'Beehive' bag engraved with bees and flowers.
MYLES ORIGINALS
Recognisable by their unusual 3 ball catch, these modernist design handbags also used clear plastics, sometimes engraved with floral designs.
PATRICIA OF MIAMI
Named after Patricia, wife of Morty Edelstein, these handbags are characterised by single colour bodies, or even with Lucite moulded around gold threads.
RIALTO
Rialto handbags are frequently found with cut or applied jewel designs, often in floral patterns, stars or geometric designs. They were based in New York.
TYROLEAN INC.
This New York company specialised in classic box or cylinder shaped handbags often graced with cut metal designs and feet. Generally built around tortoiseshell Lucite this range also produced standard colours and designs.
WILARDY
Wilardy of New York utilised the 'mouldabilty' aspect of Lucite to its full potential, creating exciting and geometric designed handbags. These hand finished handbags were expensive, and sometimes set with rhinestones.
ENID COLLINS
This company, based in Texas, specialised in wooden handbags, decorated in sequins, paint and imitation jewels. Always fun, they also produced a 'do-it-yourself' range of handbags.
WALBORG POODLE HANDBAGS
French poodle novelty handbags were produced by the Walborg company, in both black and white, made of beaded or looped wool.
JUDITH LEIBER
Initially working for many New York handbag makers, Judith Leiber established her own company, producing costly designs based on those of Van Cleef and Arpels, covered in many Swarovski crystals.
PUCCI
Emilio Pucci created a range of distinctive and unique geometric designed handbags in the 1960's and 1970's, eventually progressing into more psychedelic designs.
HERMES
One of the greatest handbag makers, Hermes have produced some classic designs for decades, continuing the tradition of naming handbags after iconic celebrities such as Grace Kelly.
NETTIE ROSENSTEIN
These handbags are made in Florence, Italy, and are signed in the interior edges of the handbag. These were originally designed to accompany her dress designs, but her reputation as a handbag designer has become legendary.
CHANEL
Opening in Paris in 1914, Coco Chanel is perhaps the most famous of our list of designers. In 1955 she launched her most famous handbag design, the 2.55, with its diagonal diamond stitching.
FENDI
This famous handbag company, with its FF logo has become one of the most desired handbags for today's modern woman. Created by Edoardo and Adele Fendi in Italy in 1925, they became a greater force by employing designers such as Karl Lagerfeld.