Bamboo Furniture
WE BUY AND SELL VINTAGE BAMBOO, AND WE SHALL HELP YOU FIND WHAT YOU ARE ARE SEEKING. PLEASE EMAIL FOR DETAILS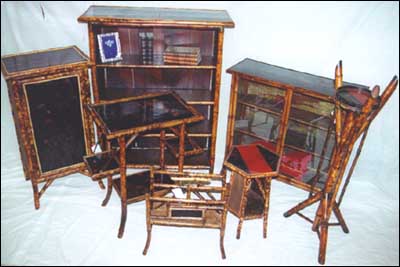 VICTORIAN BAMBOO FURNITURE MANUFACTURERS

ABBOT, E. C. & CO., 10 Clerkenwell Green, London, E.C. (1898)
AIDZU BAMBOO CO., 204 New North Road, & 93 Rivington St, Curtain Road, E.C. (1884)
ANTIQUE & FOREIGN FURNITURE CO. (CAWLEY & CO.), 4 New Inn Yard, Gt Eastern St, E.C. (1882)
ARDWICK WICKER CHAIR MANUFACTURING CO., Tiverton Grove, Tiverton St, Manchester (1922)
ASTON BAMBOO FURNITURE CO., 50 Bracebridge St, Aston Road & 6 Brook St, Birmingham (1899)
ATKINS, THOMAS EDWARD, 32A Euston. Square, N.W. (1899)
AUSTRIAN BENTWOOD FURNITURE CO., 85 Gt Eastern St & 3 Newgate St, E.C. (1892)
B. & WICKER FURNITURE CO. LTD, 34 Gt Eastern St, E.C. (1909)
BAMBOO ART WORK CO., 44 Sun St, Finsbury, E.C. (1893)
BAMBOO COMPANY, Star Works, Gt Sutton St, E.C. (1894)
BAMBOO FURNITURE MANUFACTURING COMPANY, I46A & 152 Offord Road, Barnsbury, N. & 6 I Poole St, New North Road, N. & 103 George St, Croydon (1895)
BAMBOO & UPHOLSTERY CO., LTD, 34 Gt. Eastern St, E.C. (1908)
BAKER, SAMUEL, 7 Mott St, Birmingham (1903)
BANKS, GEORGE, 100A Shakespeare Rd, Stoke Newington, N. (1907)
BASS, MATTHEW, Rheidol Mews, Rheidol Terrace, Islington, N. (1906)
BASTENDORFF, JOSEPH & CO., 9 & 11 Essex Rd, 5 Charles Place, Euston Square, N.W. & 77 Chenies Mews, W.C. (1891)
BASTENDORFF, PETER & CO., 4 Euston Square, N.W., 23 Harrington St, Hampstead, N.W. & I S Edward St, Hampstead Rd, N.W. (1885-1893)
BASTENDORFF, SIDNEY, Rheidol Mews, Rheidol Terrace, Islington, N. (1903)
BATH, F. & CO., 49 Skinner Lane, Birmingham (1899)
BEETLES. C. C., 93 Herbert St, New North Rd, Hoxton, N. & 45 Essex Rd, N. (1894-1900)
BEAUMONT, G. & CO., 158 High Holborn (1881)
BELSCHNER, F. & CO., 41 Moor Lane, E.C. (1901)
BETHELL, T. H., St Mary Axe, & Bevis Marks (1894)
BILL, HUBERT, 14 & 15 Little Camden St, Camden Town, N.W., 24 Margaret St, W., 101A Dean St, Soho, W., 330A Holloway Road, N., I78A Oxford St, W., 43 Warren St, W., 42Whetstone Park, Holborn, W.C., 12 Duck Lane, Soho, W., 131 Wardour St, W. (1869-1905)
BONELL, THOMAS JOHN, So Bracebridge St, Birmingham (1899)
BRAUN & FRANCIS, 84 & 86 Tabernacle St, E.C., 372 Hackney Road, N.E., & 211 Hackney Road, N.E. (1898)
BREST, MRS GERTRUDE, 79 Tudor St, Canton, Cardiff (1906)
BROWN, FRANK, 278 & 292 Tabard St, Boro', S.E. (1898)
BURVILLE & CO., 239 Hackney Road, E.2. (1922)
CANE & CO., 1 Iremonger Row, E.C. (1903)
CARLO BENJAMIN & CO., 7 Cropley St, Hoxton (1898)
CASPAR & CO., 76 High Holborn, W.C. & 26 Red Lion Square, W.C. (1892)
CAWLEY & CO., 7 & 8 Charlotte St, Great Eastern St, E.C. (1882)
CLAYTON BROS, 22A Chappell Lane, Brownlow Hill, W. Liverpool (1894)
CLEMENTS, MRS ELIZABETH, 52 Russell St, W. Liverpool (1913)
CLOZENBERG, Messrs & SON, 119 Curtain Rd, E.C. (1906)
COHEN, B. & SONS, LTD, Curtain Rd, E.C. (1906)
COHEN, LEWIS, 69 Hare St, Bethnal Green, E. (1899)
COLLIER, HERMAN & CO., 66 Worship St, E.C. & 7 Vandy St, E.C. (1898)
COLLIER, J. & CO., 17 Devonshire Square, E.C. (1889)
CORBLUTH, JOHN & CO., 33 Curtain Rd, E.C. & 17 Holywell Row, Finsbury, E.C. (1895)
COULSON, JAMES, 34 York St, Westminster, S.W. (1902)
CRAWLEY MORRIS & CO., 64 City Road (1876)
CULLUM, JOHN THOMAS, 217 Hackney Road, N.E. (1896)
ELLMORE, W. T. & SONS LTD, Leicester & 16 City Road, London (1886-1926)

EMPIRE BUILDERS LTD, 329 Hoxton St, N. I. (1919)
ENGLANDER, ADOLPH, 76 Luke St, Curtain Rd, E.C. & 34 Gt Eastern St, E.C. (1898)
ENGLANDER & SEARLE, 24, 31 & 33 Mare St, & 34 Gt Eastern St, Hackney (1904)
EVANS, WALTER GAMON & SON, 23 Netley St, N.W., & Eden St, Hampstead Rd, N.W. (1888)

FALET, F., 10 Grays Inn Rd (1889)
FALET, WALKER & CO., Worship St, E.C. (1905)
FORTIER, URSIN, 65 Charlotte St, Fitzroy Square, W. (1885)
FRAMPTON, ELI, Upper Brook St Works, 68 Temple St, Manchester (1907)

FRANK, MICHAEL & CO., 68 Old St, Luke's, E.C. (1892)
FREDERICK, JAMES (LONDON BAMBOO & WICKER FURNI TURE MANUFACTURING CO.), 59 & 61 Wigmore St, W. (1884)
FRYER & CO., 19 Archer St, Camden Town, N.W. (1895)
FRYER, FRANK & CO., Little King St, N.W. (1893)

GARRET, CHARLES GEORGE, Bath Place, Euston Rd, N.W. (1898)
GEMS, ERNEST, 78 Wigmore St, W. (1885)
GEMS, JULIUS & CO., 94 East, Manchester Square, W. (1885)
GOODWIN, THOMAS JOHN & SON,185 Old Kent Rd, S.E. (1906)
GOTLIEB & HACKER, 22, New St, Bishopsgate, E.C. (1900)
GOTLIEB, NATHANIEL & CO., 66 Valance Rd, E. (1897)
GRAY, GEORGE ALFRED, 2 8 Cowper St, E.C. (1898)
GREIFENBERG, LOUIS, 47 Rounton Rd, Bow, E. (1898)

HARDSTAFF, T., Carrington St, Nottingham (1886)
HARLEY, FREDERICK & CO., 82 Mary St & 92 Steward St, Birmingham (1899)
HAROSKE, FRANZ, 28 Well St, Wellclose Square, E. (1895)
HAYWARD, WILLIAM, 2 St Thomas's Yard, Ben Jonson Rd, E. (1898)
HEINRICHS & CO., I33 & I35 Old St, 1 & 2 New St, Old St, E.C. & 123 Central St, St Luke's, E.C. (1888)
HODSON, B., I3 Wrentham St, 182 Sherlock St, Birmingham (1910)
HURLES, W. & CO., So Hurley Rd, Kennington (1906)
HUTCHINGS, E. & SONS, Weymouth (1893)
IREMONGER, J., Romsey (1887)
IVERSEN & EIDAM, 6 Tottenham St & 14 Little Howland St, W. (1881)
IVERSEN, JACOB, 14 & 15 Little Howland St, W. (1898)
JACOBS, DANIEL & SONS, 75, 80, 102 & 109 Hackney Rd, N.E. (1892-1935)
JAMES, THOMAS & CO., 111 Speedwell Rd, Hay Mill, Yardley, Birmingham (1905)
JONES & CO., 16 Queens Rd, Bayswater, W. (1897)
JUST, 0., 1 Gloucester St, Camden Town, N.W. (1883)
KAHLOW, CARL, 13 Goldsmith's Row, N.E. (1899)
KENDAL, MILNE & CO., Deansgate, To Police St, 8 Ann St, & King St, Manchester (1907)
KESTERTON, ALFRED, 14 & 16 Chapman St, Manchester (1907)
KOHN, BAPTIST, 18 Drummond Crescent, N.W. (1885)
KOHN, J. B., 170 Pentonville Rd, N. (1983)
KRIS, L., 42 Hanbury St, E.1 (Lawrence & Son) (1928-1935)
LACEY, HENRY JAMES, 19 Archer St, Camden Town, N.W. (1905)
LAMBERT & CO., 12 Furnival St, E.C. (1895)
LANGER, HUGO, 39 Clipstone St, Great Portland St (1881)
LARNER, ARTHUR, Anchor Yard, Old St, E.C. (1894)
LAUDENBACH, BERNHARDT, z 5 High St, Camden Town, N.W. (1898)
LAUDENBACH & SELF, 249 & 251 High St, Camden Town, & 49 Wilson St, Finsbury Town, E.C. (1896)
LEWIS, MRS HANNAH, 25 Liverpool Rd, Manchester (1907)
LEVY, MORRIS, 9 Holywell Lane, E.C. (1903)
LIGHT, C. & R., 140, 142 & 144 Curtain Rd, E.C. (1881)
LINES, GEORGE & JOSEPH, 457 Caledonian Rd, N., 27 Hackney Rd, N.E. & North Rd, Cattlemarket, N. (1894)
LUCKETT, THOMAS, Mark Lane, Pershore St, Birmingham (1895)
MACHELL, ALEXANDER, 306 Vauxhall Bridge Rd, S.W. (1903)
MAJAKI & SON, 57 Bridport Place, N.I (1920)
MARCO, CHARLES & CO., 6 New Zealand Ave, Barbican, E.C. (1905)
MARSTOW, EDWARD & CO., LTD, 34 Barbican, E.C. (1890)
MATTHEWS & CLARK, 93 Rivington St, & 11 Pownall Rd, Dalston, N.E. (1896-1905)
McGII.L, JOHN THOMAS, 71 Barnsbury Rd, N. (1893)
MEER, CHARLES, 4 Great Arthur St, E.C. (1899)
MERRIFIELD & CO., address unknown (1900)
MIKADO COMPANY, Gooch St, Birmingham (1893)
MILNER, JOHN, John Bright St, Birmingham (1898)
MIMMS, WILLIAM, 26 & 27 Rheidol Mews, Rheidol Terrace, Islington, N.1 (1922)
MODEL & CO., 26 Tottenham St, W., 4 North St, Charlotte St, Fitzroy Square, W., & 9 & 10 Charlotte Mews, Tottenham St, W. (1881-1900)
MONTGOMERY'S, address unknown (1926)
MORRIS, WILLIAM, 24 Freeman St, Birmingham (1887)
NEEDHAM, W. F., (William Frederick), 69 Camden St, Branston St, Works, Gt Hampton St, & Newhall Hill, Birmingham (1888-1901)
NEWBY, VALENTINE & CO., Boston Yard, North St, Pentonville N.1 (189 6)
NEWMAN, ISADORE, 5 & 7 West Derby St, E., & Metley St, E. Liverpool (1917)
NORRIS, HENRY, 36 Charles Square, Hoxton, N., 25 Christopher St, Finsbury, E.C., & Crown & Shuttle Court, Shoreditch, E. (1898)
NIXON, WILLIAM, 356 Summer Lane, Birmingham (1899)
NORRIS & WHITE, 32 Hoxton St, N. (1901)
PAYNE, R. C. & CO., 6 Lloyds Ave, E.C. (1906)
PEAKE BROS, 50 Summer Hill Rd, Birmingham (1899)
PERLMAN, AARON, 32 Cannon St Rd, E. (1899)
PIERCE WILLIAM, 151 Stanhope St, Euston Rd, N.W. (1890)
PLESSER, REUBEN, 44 Hanbury St, E.1 (1922)
PRATT, WILLIAM THOMAS DAVID, 136 High St, Bordesley, Birmingham (1899)
PRIEST, MARIANS & CO., LTD, St Mary Axe, E.C. & 30 Bevis Marks (1905)
REISDORF, CHARLES, 3 & 4 Little Howland St, W. (1898)
REINOLD, F., 3 Hanover Court, Milton St, E.C. (1906)
REUBEN & ISAACS, 44 Hanbury St, E. (1916)
RICHARDS, JOHN BEDDOW, 1A Stafford St, H. Manchester (1907)
RODGERS, WILLIAM, 44 Hanbury St, E. (1914)
ROSENTHAL & CO., 7 St John St, Bethnal Green, E. (1898)

SAYERS, SON & CO., Maville Basket Works, Basford, Notts. & Beech Ave, Nottingham (1905)
SCHOFIELD & BURVILLE, 239 Hackney Rd, E.2 (1919)
SCHNEIDER, HENRY, 6 Shacklewell Lane, High St, Kingsland, N.E., 27 Mildmay Park, N., 105 Balls Pond Rd, N., & 66A Stean St, Haggerston, N.E. (1898)
SCOTT, G. W. & SONS, 43 Old Compton St, W., & Charing Cross Rd (1889)
SCRIVING & GALE, 101 Popest, Birmingham (1904)
SEARLE & LEAKIN, 55 Church St, Bethnal Green, E. (1926)
SEIDEL, HANS, 85 Chiswell St, E.C. (1899)
SELF, HERBERT HENRY, 49 Wilson St, Finsbury, E.C. (1898)
SHAPIRA, WOOLF, 91, Chicksand St, Brick Lane, E. & 90 Buxton St, Mile End, E. (1898)
SHULNICK, ISAAC, 14 Virginia Rd, E.2 (1923)
SPENCER, ALFRED ERNEST, 1 Carver St, Birmingham (1895)
STANLEY & CO., 237 Vauxhall Bridge Rd, S.W. (1907)
STEPTOE, JAMES, 11 Leopards Yard, Wilmer Gardens, Hoxton, N., 23 Harrington Rd, N.W.1, & Regents Park Studios, Park Village East, N.W. (1899)
STOCKWELL, S. J. & CO., Swan Buildings, 20 Swan St, & 36 Berry St, London Rd, Manchester (1907)
SULLIVAN, DANIEL, 233 Stanhope St, N.W., & Park Village East, N.W. (1899)

TAYLOR, W. H., 27Mildmay Park, N. (1916)
VASS, JOSEPH, 26 & 27 Rheidol Mews, Rheidol Terrace, N.1 (1924)
VOYCE, THOMAS, 18 Broom St, Birmingham (1897)
WEAVING, FRANK, 41 Charterhouse Square, E.C., 70 & 71 Chiswell St, E.C., 32 Culford Rd, Kingsland, N. & 51 Floral St, Covent Garden, W.C. (1891)
WEAVING & HEYMANN, 32 Culford Rd, Kingsland, N. (1908)
WHEELER, ELIJAH & SON, George's Row, York Rd, City Rd (1894)
WHITE, C., 1 Northdown St, Pentonville, N.1 (1925)
WHITE, JAMES, 10 Horsefair, Birmingham (1896)
WILFORD, THOMAS & CO., 27 Colmore Row, Birmingham (1894)
WILLIAMS, J. & SONS, 46 Curtain Rd, E.C. (1894)
WOLFSON & SONS, LTD, address unknown (1926)
Y., ED. J. & SON, 9-1O Kingsland Green, E.8 (1924)
YEARLEY BROS., Alpha Place, Caledonian Rd, N. (1900)
YEARLEY, EDWARD JAMES, 32A Euston Square, N.W., 81 Hampstead Rd, N.W. & 3 St Philip St, New North Rd, N. (1898)
ZUREICH, JOSEPH, 31 Mortimer Market, W.C. (1896)

Addresses are in London unless otherwise stated. The dates at the end of each entry are the approximate years when the manufacturer produced bamboo furniture. (Information from Antique Bamboo Furniture by Gillian Walkling)
A HISTORY OF BAMBOO FURNITURE
Early Chinese

It is difficult to estimate accurately the date at which bamboo furniture was first made in any quantity. Pictorial and literary sources prove its existence in India as early as the second and third centuries A.D. and it was undoubtedly made in other countries to which the plant is indigenous at a similar date. A bamboo chair is first recorded in China in the Sung dynasty (96o-1279) and since the chair during this period was an indication of authority and therefore an important article, it may be assumed that bamboo, either in its natural state, or dyed and lacquered, had become acceptable as a cabinet wood during this period. The earliest extant piece of furniture almost entirely constructed from bamboo dates from the 15 th century. Beneath the rectangular frame supporting a black lacquer panel is a straight stretcher composed of four uniform pieces of bamboo. Each leg is formed of eight bamboo lengths terminating in bronze-capped feet. (This piece is in a private collection.) In the Palace Museum, Peking, is a set of chairs of Hsiang Fei (speckled bamboo) with black lacquered seats and backs, of early Ch'ing date (1644 onwards). A Ch'ing woodcut from a volume of Imperial Edicts, dated 1681, shows a reclining chair in tear bamboo with an extension platform and an apparently caned back and seat. This type of chair was destined to be reproduced many times for the Chinese export trade to Europe and America.

Chinese bamboo can be divided into two categories dependent on style and quality. The first, that of the type mostly seen in Europe, is of elaborate, tightly packed latticework construction, with canework or lacquer surfaces, the ends tipped with ivory, bone or metal. Sofas, tables, beds, stools and armchairs appear frequently in illustrations of Chinese domestic interiors. It is interesting to note in 19th-century drawings how far European forms of furniture lead filtered into China, the reverse process of European furniture made in imitation bamboo. The second type is far coarser and simpler in design and in the past formed the basic household furniture of the poorer sections of the community. Such pieces are made from single, stout pieces of bamboo, the ends left open and the tops of both tables and chairs of thin bamboo strips. Today this type of furniture is universal in China.

Unfortunately the number of early surviving examples of bamboo furniture is extremely small, a fact which can be attributed to two principal causes. First, the organic form of bamboo limited its uses as a woodworking material. Its rigidity and its fibrous texture prevented cabinet makers from attaining the high standards applied to Chinese furniture generally. The Chinese craftsman's reverence for the intrinsic nature of a material prevented him from using those woods he held in low esteem, and its common use as veneer, a technique seldom used by respected makers except in cheaper ranges of furniture not intended to last, indicates this attitude. Secondly, bamboo lacks durability under damp conditions; its general appearance and light weight make it eminently suitable for out-of-door use and consequently the effects of weather considerably shortened its life-span.

Although impractical as a high quality cabinet wood, the appearance of the plant itself provided an unusual and attractive basis for design and it was extensively imitated in hardwoods as early as the z 6th century. Such pieces tended to copy the form of the wood itself rather than the pattern of the chair as a whole, so unfortunately very- little can be learnt from them about early bamboo designs.
However, despite its shortcomings, it is certain that be the end of the i8th century the production of bamboo furniture was well established, satisfying mostly domestic demand, but also the growing export trade to Europe and America.
Chinese Trade

Western imagination had been captivated by the East long before the establishment of direct Sino-European relations at the beginning of the 16th century. As early as the 9th century we hear of communities of foreign merchants, mostly Persians and Arabs, settling in Canton, and by the middle of the l6th century the Canton Inspectorate of Maritime Trade was reorganized to cope with the increasing volume of commerce. The founding of the Mongol dynasty with the conquest of Northern China by Jenghiz Khan in 1215 and its consolidation soon after by the Great Kublai Khan, presented new opportunities for traders by opening previously inaccessible routes across land.

Before the Portuguese made the first successful commercial venture into China in 15 14 by sailing directly to Canton, Eastern goods could only reach Europe through mediation with the countries of the Middle East. Until this time Venice held the monopoly over Oriental products through advantageous trade agreements with Egypt and hence exotic spices, luxurious jewels and porcelain were distributed throughout the West.
The account of Marco Polo's long sojourn in China in the 13th century and the later Travels of Sir John -Mandeville, with their highly imaginative, if not wholly accurate, descriptions of the fantastic court of Kublai Khan, helped to produce in Europe a fascination for `things Oriental' that was later to reach the level of obsession.

Encouraged by growing demand, the Portuguese went on to establish permanent trading relations with China and in 1563 their merchants were granted permission to settle in Macao, a small peninsula below Canton. Their supremacy over the Indian Ocean was not seriously threatened until the end of the century when British and Dutch traders decided to sail East themselves. The British East India Company, chartered by Elizabeth I, set sail for China on 31 December 1600 and by 1617 had succeeded in establishing no less than twelve Oriental factories. A further charter granted by Cromwell in 1657, strengthened their position, and for the remainder of the 17th century, Britain traded successfully with both China and India. The Dutch East India Company, however, formed in 1602, at first met with less success and turned its attention more towards Japan. It was not until late in the century that they were conceded factories in Canton. The British founded their first factory there in 1715 and it became the principal, and after 1757, the only port of foreign trade in China.

Despite the large numbers of skilled craftsmen drawn to the trading ports to cope with expanding commerce, the quantities of Eastern goods produced for the European market were still insufficient to meet the now insatiable demand. Oriental porcelain, silks, lacquer, paper-hangings and prints had become so popular by the beginning of the 18th century that European makers began to produce goods in direct imitation of Chinese designs to supplement imports. The delicate and lively lines of the Chinese style were admirably suited to Rococo taste and Chinese motifs gradually infiltrated into basic English forms. Labour and material costs were so low and the Chinese craftsmen so skilful that many Canton factories began successfully producing goods to designs sent direct from Europe purely for the export market. This interchange of designs and the fanciful ideas of Chinese life generally held by Europeans, combined to produce a primarily superficial and highly stylized form of decoration.
The cult of Chinoiserie reached its peak in the 1750s and 60s. The year 1754 saw the publication of two important works, Thomas Chippendale's Gentleman and Cabinet-Maker's Director and Edwards and Darly's New Book of Chinese Designs. Their contents include a vast cross-section of Chinoiserie designs from the most formal to the most flamboyant and indeed some of them were so extravagant that they could never have been executed.

Until this time little Chinese furniture had been considered suitable for the European market. Most commonly found were brass-hinged rectangular lacquer chests mounted on English-made stands, and lacquer folding screens which were frequently dismantled and then incorporated into other pieces of furniture. Lacquer had become increasingly in demand throughout the 17th century and John Stalker and George Parker's Treatise of Japanning and Varnishing, published in 1688, popularized the art of Oriental lacquer not only as a cabinet making process, but as an elegant accomplishment for young ladies. The first illustrations of Oriental bamboo furniture to appear in Britain were those in Sir William Chambers' Chinese Designs, published in 1757. Chambers, Architect and Surveyor-General to George III, always maintained that his sketches, made during his visits to Canton in the 1740s while in the service of the Swedish East India Company, were chiefly to satisfy his own curiosity and were never intended for publication. However, persuaded by his friends and other lovers of Chinoiserie, in May 1757 he produced a superb folio, dedicated to George, Prince of Wales, with twenty-one plates engraved by Poudrinier, Rooker, Grignion and Sandby. The work was to some extent published in an attempt to illustrate the more scholarly aspects of Chinese design and in the accompanying text Chambers writes, `it might be of use in putting a stop to the extravagances that daily appear under the name of Chinese, though most of them are mere inventions'. In the face of much criticism he states, `I can not conceive why it should be criminal in a traveller to give an account of what he has seen worthy of notice in China, any more than in Italy, France or any other country.' The folio covers a fairly extensive variety of subjects. In his own words: `to my designs of Chinese buildings I have added some of their furniture, utensils, machines and dresses. Those of the furniture were taken from such models as appeared to me the most beautiful and reasonable: some of them are pretty and may be useful to our cabinet-makers.' He goes on to give a description of a `common house'. 'The movables of the saloon consist of chairs, stools and tables made sometimes of rosewood, ebony or lacquered work and sometimes of bamboo only which is cheap and nevertheless very neat.'

Although Chambers asserted that his illustrations could be used as prototypes for English cabinet-makers, there is no evidence that they produced any furniture in bamboo at this date. Its extremely low cost in China must have prevented production in England from being economically viable, and it seems likely that Chambers' drawings were used merely as a basis for simulated bamboo designs.

Brighton Pavilion

Undoubtably the best known Chinese bamboo furniture in England is at Brighton. Although Chinoiserie had faded in popularity during the 1780s and 90s it was suddenly brought back into the fore of public taste at the turn of the century by George, Prince of Wales, with the creation of the Royal Pavilion. The building that began its life as a `gentlemanly' farmhouse was to be transformed over a period of forty years into the most resplendent and bizarre royal fantasy. During its history designs were contributed by such accomplished architects as Henry Holland, his assistant P. F. Robinson, William Porden, Humphrey Repton and John Nash. The gardens were laid out by two pupils of Capability Brown, Lapidge and Hooper. From the beginning, the interior of the Pavilion was in the hands of the firm of John Crace & Sons, the principal designer being John's son, Frederick, admirably assisted by two remarkable designers, Robert Jones and Lambelet. Between them they created a new form of Chinoiserie with brilliant colours and exuberant decoration far removed from the earlier more restrained and delicate style.

The first steps towards this fantastic Oriental creation were taken in i8oz when the gift of a set of wallpapers prompted the Prince to originate a Chinese gallery specifically to accommodate them. In the same year an interior was contrived with painted glass to give the impression of a Chinese lantern. Although a Chinese room had been created for him previously at Carlton House, this new vision was to be more realistically Chinese and to surpass all others in splendour and richness.

Soon after the completion of the first Chinese gallery, William Porden succeeded Holland as the Prince's architect and produced a scheme for an entirely new pavilion, completely in the Chinese style. Although his plans were never fully realized, his subsequent designs in the Indian style for the Royal Stables and Riding House were carried out and remain unchanged today. The Prince's enthusiasm for building now turned towards the architecture of India and in 1805 he commissioned Humphrey Repton to design a new pavilion entirely Indian in concept. These designs too were never executed, perhaps because of their over-strict adherence to Indian principles, too far removed from the Prince's romantic spirit.

For the next ten years the rebuilding project lapsed. In 1811 the Prince became Prince Regent and in 181 5 appointed John Nash as his Surveyor-General. Alterations and additions to both exterior and interior decoration began immediately. Although not fully completed until 1822, in January 1821, exactly one year after the Prince's succession to the throne as George IV, the Royal Pavilion was finally occupied.
The first part of the interior to be remodelled was the Corridor or Chinese Gallery. It was originally furnished in I802 with real bamboo acquired by Crace, possibly through the cargoes of Dr James Garrett, an agent employed previously by the Prince at Carlton House to buy Oriental objects and decorations of all kinds direct from China. At the same time, the London firm of Elward, Marsh and Tatham were commissioned to make a large amount of furniture in beech simulating bamboo, in some cases incorporating Chinese lacquer panels and real bamboo and rattan fretwork into their designs. The alterations, which began in 1815, were completed in 1822, with additional imitation bamboo furniture and far more exuberant Chinoiserie detailing. The gallery has now been restored to its original state with its furniture, as far as is possible, placed in the correct positions. The wallpaper, unfortunately overpainted in the 1870s, has been reconstructed and the carpet recently rewoven to its original pattern.

Among the Chinese bamboo pieces in the Corridor are three armchairs with arched backs and straight arms, another two armchairs from a set of four with traditional `horseshoe' backs, and a small hexagonal table with a marbled wooden top and lower shelf. Perhaps the most unusual piece is a small folding table with a rectangular detachable top inset with a fine canework panel. It is possible that this and several bamboo chairs were transferred to the Pavilion in about 1802-4 from Carlton House where they may have been part of Dr Garrett's first shipment from China in 1795.

The imitation bamboo furniture includes many superbly executed pieces from Elward, Marsh and Tatham, amongst them a pair of open cabinets, both with two yellow marble shelves, the top surrounded by a brass and gilt gallery, and several chairs taken from two large sets, one with a pierced Gothic quatrefoil back, the other with a tablet splat. A pair of pedestals made from both simulated and real bamboo enclosing Spode porcelain panels were made between 1818-20 to support two large Chinese figures. They can be seen in their present positions in Plate 15 of Nash's Views of the Pavilion, engraved in 1821.
The King's bedroom too contains many pieces of Chinoiserie lacquer and bamboo furniture, including a small hexagonal table with a canework top, another arch-backed chair and an hexagonal three tiered stand with ebonized shelves. Placed next to the King's desk is a small Regency wastepaper basket of tightly woven bamboo ringed with a brass band and two small brass handles, of English workmanship. Amongst the simulated bamboo pieces are several beech chairs from a set of thirty-six made for the Pavilion in 1802, and a pair of bed-steps, fitted with a small locker.

The North Gallery, once brilliantly decorated with blue bamboo trellis-patterned wallpaper, woodwork painted in `imitation of the pink Tea wood' and painted skylights, is now principally used to display prints and pictures concerned with the Pavilion's history. Also displayed are a pair of extremely high quality imitation bamboo wash-stands with rosewood tops and shelves, a large octagonal bamboo stand with a marbled wooden top and two similar small stands, the tops surmounted by brass galleries. A bamboo settee of Nash's aquatint as being in this room, has unfortunately been missing for some time. However there are a pair of bamboo sofas in the Queen's Cottage at Kew Gardens identical to that in Nash's aquatint. Since they, as many of the Pavilion's contents, are part of the Royal Collections and since their reason for being at Kew has so far remained a mystery, it is possible that they do actually belong to this room.
Off the North Gallery, in the lobby leading into Mrs. Fitzherbert's apartments, are a pair of mirrors with elaborate bamboo frames and small wooden finials, bought for the Pavilion by Garrett on a further visit to China in 1810.

The original bamboo is on the whole representative of general export types; the chairs have the conventional elaborate cane latticework decoration and finely woven cane seats supported by a plain wooden board, but in some cases the marbled wooden tops of the tables and stands have replaced the more usual lacquer panels. These and the brass and gilt galleries, a typical Regency feature, may have been an English addition. Many of the imitation pieces, particularly the cabinets in the Corridor, incorporate bamboo and cane latticework panels identical to those seen in the real bamboo furniture. It seems likely that these panels were removed from bamboo pieces (which after all were inexpensive) specifically for this purpose. The pieces made by Elward, Marsh & Tatham are of particularly high quality and show an extremely close attention to detail, even in the irregular spacing of the nodes of the wood.
Three from a series of paintings (in Princess Charlotte's bedroom) made in China for the European market, show items of similar bamboo furniture and one of Robert Jones' wall paintings in the Banqueting Hall includes a small bamboo table almost identical to that in the King's bedroom.

Throughout the entire building bamboo has been used as a decorative motif. The cast-iron staircases, the numerous wallpapers, the huge curving canopies at either end of the Music Room, the proliferation of bamboo mouldings along cornices and wall niches, all indicate the importance attached to the plant form as being highly representative of the Oriental spirit.

If the finished building was not truly `Chinese', it was, without doubt, a spectacular achievement and represents perfectly the aura of Romanticism which surrounded the Prince throughout his life.
Imports to Europe and America

Unfortunately very little documentary evidence exists to show the quantity or price of bamboo furniture imports. It is also difficult to date accurately, as both design and methods of construction have remained constant throughout the centuries and are still being employed in China today. It was certainly most popular in England between i8oo and t83o, but its continuing appearance in the Chinese Courts at the International Exhibitions after 1851 indicates that the market was still open towards the end of the century. A Chinese watercolour dated about 1830 of the interior of a Chinese bamboo furniture shop illustrates clearly the type of sofas, tables and chairs that have survived in this country. The East India Company, the largest importers, sold their cargoes by auction at East India House in Leadenhall St Mary, while a large number of independent merchants specializing in the sale of Eastern goods had wholesale warehouses, often advertising their wares in newspapers and journals.

To whom and where the furniture then went is yet another problem. The 4th Earl of Poulett furnished the Long Gallery at Hinton House, Hinton St George, Somerset, with over one hundred bamboo chairs, sofas and tables. Having been on friendly terms with the Prince of Wales, he had probably seen and admired the bamboo at the Brighton Pavilion and possibly even acquired it through the firm of Crace & Sons. Their acquisition suitably complemented the Chinese lacquer and English japanned furniture bought for the house by the first Earl a century earlier in 1706. The Chinese room at Claydon House, Buckinghamshire, still displays its original bamboo bought by the 2nd Earl Verney in about i8oo specifically for its present position. Completed in 1769 the decoration of this room was for some time attributed to Chippendale but has now been proved to be the work of the carver and mason, Lightfoot. The delicate appearance of the furniture perfectly off sets this masterpiece of Rococo and Chinoiserie decoration.

Undoubtedly there were other similar collections, with bamboo seen as highly representative of genuine Chinese interiors. Pieces now occasionally appear for sale with no known provenance-their fragile appearance combined with the death of Chinoiserie as a fashion, must have rendered most pieces obsolete. Those with records of purchase all seem to be post-1800 and although William Chambers had introduced the idea of bamboo in 1757, he had merely advocated that cabinet-makers use the designs, not the material or the furniture itself. It is tempting to suggest that the real beginning of the fashion lay in the Brighton Pavilion which, after all, was a building very much in the public eye. Chambers' work for George III, particularly at Kew Gardens, was obviously a well-known domain of the Prince of Wales and his knowledge of Chambers' bamboo furniture drawings may have later prompted him to commission their purchase for the Pavilion. As previously mentioned, the sofas at the Queen's Cottage at Kew Gardens are not believed to have originated there. However, it is possible that the set of six armchairs accompanying them may have been acquired for the cottage during its redecoration for Princess Elizabeth in I8o6. They are particularly interesting in that their design is similar to imitation bamboo chairs made in England in the I77os and 8os, while the workmanship is definitely Chinese. They are probably a good example of pieces made in China for the export trade following designs sent from Europe.

In the Chinese Pavilion at Drottningholm Palace near Stockholm, Sweden, are two bamboo tables positively identified as Chinese and entered in an inventory of the Pavilion's contents in 1777. The Pavilion was originally a birthday gift to Queen Lovisa Ulrica from her husband Adolf Fredrik in 1753, but in 1777 she was forced to hand over Drottningholm and all its contents to the State, an action which produced a complete inventory of its interior at that date; one table is rectangular, the other octagonal with folding legs. Both have plain lacquered tops and ornate friezes and are typically constructed with wooden pegs supporting the joints. William Chambers had become particularly well-known in Sweden as an amateur sinologist due to his service with the Swedish East India Company, and his enthusiasm for China may have had greater influence there than in England, resulting in an earlier and more extensive rate of trade. Examples of bamboo furniture of the same date can be seen in other Swedish houses such as Godegard and Ovedskloster. It is interesting to note the difference in quality of the reclining chairs from both houses. That at Ovedskloster is far superior to its counterpart at Godegard, while at the same time the stools or small tables are almost identical.

America too received its share of imported bamboo although it did not enter the China Trade until 1784. A most attractive extending chair now belonging to the Rhode Island Historical Society was among a large private collection of Chinese furniture brought back from Canton by Edward Carrington, U.S. Consul there from 1802-11. It is of a type apparently commonly seen in American East Coast towns during the 19th century. A long settee similar to those at Kew is in the collection of the Museum of the American China Trade. In the Peabody Museum, at Salem, Massachusetts, is a rare child's push-chair made in the second quarter of the 19th century. With it is a child's chair almost identical in style to the most common design of household chair in China today. The same type of chair appears again in the 1830 watercolour of a bamboo furniture shop.

Osmond Tiffany Jr, an American visitor to China in the 1840s, published in 1849 The Canton Chinese, or an American Sojourn in the Celestial Empire, an extremely detailed account of his observations there. His copiously recorded notes include a description of his visit to a furniture shop. `The furniture of the Chinese is of two kinds, the bamboo and the rosewood. The first is exceedingly light, pretty and adapted for a warm climate, withal very cheap. The stouter parts or framework is coloured dark and the ends of the stalks tipped with ivory or horn. The young shoots of the plant are interwoven with those of stouter growth in pretty windings and book cases, tables, sofas and chairs, are thus produced at small cost.' His descriptions can generally be applied to all bamboo export furniture, although very little was in fact stained. Panels, seats and table tops were usually plain black lacquer; more elaborate pieces were decorated with birds and flowers. The decorative friezes were made either of split bamboo or cane and rattan. Seats to chairs and stools, and small tables and stands were sometimes of finely woven canework supported beneath by wooden slats. The legs were generally composed of several lengths of bamboo pinned together, rather than one thicker growth. All joints were, and still are, made with simple wooden pegs. Stretchers on both chairs and tables consisted of single lengths of bamboo wrapped around the outside of the legs, with small wedge-shaped pieces cut out to facilitate bends. The wood was then held over heat to make it pliable and cooled at the correct angle. Small lengths of bamboo could be grown in moulds to the required shape and used for decorative purposes. The two halves of the mould were bound with grass thongs which would break open when the plant was fully grown in the grooves.

It seems strange that these apparently fragile, but actually sturdy methods of construction which are still employed in China today, were not adapted by Victorian manufacturers in the West. Had they been, bamboo furniture might have avoided its reputation for being `flimsy'.
Imitation Bamboo

Thomas Sheraton in his Cabinet Dictionary, 1803, described bamboo as `a kind of reed, which in the East is used for chairs. These are, in some degree, imitated in England, by turning beech into the same form, and making chairs of this fashion, painting them to match the colours of the reeds and cane'. This practice had become common in the i77os and 8os, not only for chairs and settees, but also for `occasional' furniture and bedroom suites. Sheraton himself illustrates a set of quartetto tables and a supper Canterbury with the legs turned to represent bamboo. The majority of pieces were of beech, painted and decorated, but occasionally satinwood or other woods were used. In some cases real bamboo mouldings were applied as surface decoration to pieces of higher quality woods, as on those made by Elward, Marsh & Tatham for the Brighton Pavilion. Other well-established firms such as Gillows and Howard & Sons of Berner Street, were producing fine quality pieces for their clients, mostly washstands, small chairs and other bedroom furniture, but also dining chairs, desks and tables.

One of the most unusual examples of simulated bamboo is the set of chairs from the actor David Garrick's bedroom suite, designed by Thomas Chippendale in about 1770. They are painted cream to match the rest of the suite, with green decoration and rush rather than cane seats. A more typical example of `bamboo' decoration, which belongs, like the Garrick chairs, to the Victoria & Albert Museum, is a child's correction chair of the type recommended by the eminent surgeon Sir Astley Cooper to prevent children from adopting a stooping posture when seated. It is painted yellow and decorated with green lines and columbine blossoms in red and blue.

Although the vogue for simulated bamboo furniture had begun soon after publication of Chambers' Chinese Designs in 1757, it is more commonly associated with the Regency period, being the only real contribution of Chinoiserie to the Regency style. The imitation bamboo in the Brighton Pavilion reinforced the popularity of the style after i8oo and the motif continued to be used well into the 19th century, becoming particularly popular in France and America.

In I859 a Parisian cabinet maker, Joseph Cavoret, applied for two patents to produce imitation bamboo `taking in mind that the cost of natural bamboo dictates that it shall be used only in exceptional cases'. His applications included drawings of a bed, a dressing table, a child's cradle and a small stool to be made in `indigenous woods-elm, ash, etc. turned and coloured like bamboo'. He also states that he `can make piano legs in bamboo and tables on four or six legs'. Strangely enough the decorative details of his designs are based on Greek forms of ornament, not Chinese, or even Japanese, as might be expected at this date.
In 1809 a Boston chairmaker, Samuel Gragg, was advertising for sale `bamboo fancy and common Chairs and Settees made in the most faithful manner'. The fashion lasted in America until the z 87os and 8os. In New York at that time several firms were in business producing attractive imitation bamboo in maple, but, as in Europe, the style remained Western despite its Oriental inspiration. The largest firms were George Hunzinger, C. A. Aimone and Kilian Brothers. It was at this date in England that real bamboo took the place of imitation although large quantities of gilded chairs, styled in a very vague interpretation of bamboo, continued to be produced for hotels and salons and are in fact still made today for the same purpose.
General 19th Century

The Industrial Revolution and a large rise in population combined to produce a new level and distribution of national wealth and with it a revolution in the social structure. The emergence of the `bourgeois' class with new tastes and aspirations created a demand for consumer products which the old system of craftsmanship was unable to meet.

The furniture industry benefited in a relatively small way from advances in mechanical processes during the first part of the 19th century. A certain amount of woodworking machinery had been invented by Samuel Bentham before i8oo aimed at improving the quality of work as well as the efficiency of the craftsman. Unfortunately that developed by Victorian manufacturers had the prime purpose of vastly increasing the level of production and reducing the costs to an absolute minimum, often at the expense of both good finish and good design.

The weakness in the industrial mechanized system lay in its ability to mass-produce goods of dubious quality at low enough prices for an indiscriminating public to support. The establishment of the wholesale-retail trade severed the link between designer and client and gave little opportunity for the buyer to exploit his personal ideas. The Great Exhibition of 1851 substantiated growing public opinion that, although many firms were producing goods of extremely high quality, the general level of industrial art was terrifyingly low. The situation was little helped by vast improvements in transport which made possible a wider distribution of products. Advances in communications particularly in the printing field meant the dissemination of poor-quality material to an even larger public and by the 1850s there was a glut of `art' periodicals on the market, nearly all of them bearing some relation to home decoration. Furthermore, the illustrated catalogues, press reports and criticisms accompanying the various international exhibitions succeeded in advertising their contents almost as effectively as the exhibitions themselves.

In the latter half of the 19th century, ardent attempts by William Morris and his followers to re-establish the craft system and return to `pure' art, were unfortunately ill-fitted to cope with middle class demand. Their lack of success was due not only to their inability to produce the quantities required but to their strong belief that machine made objects were by their very nature lacking in quality. Had they attacked the problem at the other end and turned their designs towards, rather than away from mechanization, the Victorian furniture industry may have acquired a better name. The superb results of the Arts and Crafts Movement unfortunately reached only a small elitist public.

Although they sometimes lacked taste, it can never be said that the Victorians lacked ingenuity. They seized upon and exploited to the full every idea that came their way and their particular aptitude for reviving past styles produced one fashion after another Grecian, Egyptian, Medieval or Gothic, Elizabethan, Rococo and Japanese. If not always completely successful they did at least provide variety. The prevailing feeling towards the end of the 19th century can be summed up by the following excerpts from an article in Furniture and Decoration and the Furniture Gazette x895, entitled `The Advance of Fashion Towards Eclecticism'. `We are gradually approaching a new era-the era of eclecticism the era when all and every style of art will be joined in the formation of a fashionable medley. When the association of Japanese cabinets, Louis Quinze sofas, Chippendale screens, Jacobean gate tables, Moorish lattice work and Sheraton secretaires will be permissible all in the same apartment ... the achievement of this idea is to be the culminating point of our present day artistic restlessness ... Soon, probably before the end of the century, the true and oft-spoken-of fin de siecle art will develop itself, phoenix-like, from the ashes of our past and present efforts, and we shall discover just how very delightful and edifying eclecticism may become.'

Bamboo enters the field of Victorian furniture with the emergence of the Japanese style. Although the Dutch had been trading with Japan since the I7th century it had remained virtually a closed country until the 1860s. The first substantial collection of Japanese art to be shown in England appeared in the 1862 Exhibition, contributed by the ambassador to Japan, Sir Rutherford Alcock. William Burges, reviewing the exhibition in the Gentleman's Magazine, made particular mention of the Japanese Court, pointing out the similarities of Japanese principles of design to that of the Medieval style prevalent in England.
General enthusiasm for Japanese art soon began to spread and by the end of the decade imported lacquer wares, bronzes and prints began to flood the market while English manufacturers adopted the style in all fields of design. Unfortunately lack of understanding of the true qualities of Japanese art led to a recognized `Anglo-Japanese' style which in fact bore very little relation to the real thing. Hack furniture designers applied decorative Japanese details to basic forms to conjure up the Oriental spirit, but very few succeeded in capturing it. Established London firms such as Jackson and Graham produced some fine examples, often incorporating imported lacquer panels in the design, but the chief exponents of the style were undoubtedly Christopher Dresser and E. W. Godwin. Dresser visited Japan in 1876 and made copious records of his travels. In I88o he became editor of the Furniture Gazette and founder of the Art Furniture Alliance and his writings and his designs for many different materials did much to stimulate interest and understanding. Godwin studied Japanese art extensively and although he never produced furniture true to original Japanese design, he at least adhered to its basic underlying principles.

It is at this point that general confusion arose over the origins of bamboo. During the I87os large quantities of bamboo furniture began to be produced in Britain under the name of `Japanese'. An article appeared in the Furniture Gazette, July 1876, entitled `Japanese Furniture' advertising a `collection of elegant drawing room furniture, consisting for the most part of Japanese bamboos, artistically rendered at Messrs. Cawley, Morris & Co's Warehouse, 64 City Road' . . . `It would be quite impossible to give an accurate idea of the elegance of which bamboo is capable, either by description or illustration ... tables, reticules, what-nots, hall lamps, gueridons, jardinieres, and even beds, are here exhibited which will rank among high-class furniture, while the cheapness of the material enables it to be sold at a very moderate price ... the proverbial strength too of the bamboo is a great advantage for articles of a delicate nature, such as light drawing room furniture, frequently gives cause for fear lest the usage to which they must of necessity be occasionally subjected should cause injury or breakage, whereas the difficulty would be rather to break than to preserve well constructed bamboo work'.

The impression given by such advertisements that bamboo furniture was actually produced in Japan, created a misapprehension which still exists today. The Japanese did not traditionally use bamboo for the construction of furniture although they produced many small articles in the material and often moveable screens and blinds. An article in the Japan Society Journal, 1892, by Charles Holme, suggests that they produced some furniture, but for export only, after 1860. chairs and couches being a superfluity where the people sit upon their heels and lie upon the floor, the Japanese have had no occasion to imitate their neighbours, the Chinese, in making use of the bamboo in the construction of those articles for which it is so well suited; but in the demand which has sprung up in Europe of objects of Japanese manufacture, including many articles of furniture, foreign to their own requirements, they have not been slow to adopt it in many ingenious novelties'. In the Cabinet Maker, July I889, small worktables, wall brackets and gongs on bamboo stands, were advertised by the firm of Mawe & Co., Japan, China and East India merchants. This and similar advertisements suggest that only small articles of furniture were manufactured in Japan-very different from the substantial and practical furniture produced to suit all requirements in this country.

China too continued to export bamboo furniture and it was invariably displayed in the Chinese courts at the International Exhibitions throughout Europe. However, while the Chinese still produced it in traditional forms, British manufacturers generally applied bamboo as they might any other wood, to very European types of furniture, merely adding small decorative details to give a Japanese 'air', a process which often produced a most incongruous result. Despite what may now seem an extraordinarily eccentric style, bamboo was produced in this country in ever-increasing quantities for more than fifty years.
Victorian Bamboo
During the years 1869-1935 there were well over 250 registered bamboo furniture producers in Britain. The earliest recorded firm was Hubert Bill of 14 Little Camden St, London N.W., who claimed to have been `the original makers, established 1869', while Daniel Jacobs & Sons of Hackney Road, London, were still in business in 1915, after 45 years of production. Design, quality, price and methods of construction were fairly consistent throughout the whole period, but it was the imaginative and often eccentric choice of subject matter that marked a differentiation between the various firms. While most produced standard tables, stands and fire-screens, the more adventurous offered for sale such delights as `Cosy Corners', charcoal barbecue grills and musical tea tables. It could easily be said that some designers became over-enthusiastic and a writing-desk-cum-jardiniere-cumstandard-lamp complete with frilled and fringed shade was probably too much for even the most acquisitive Victorian householder. Although most pieces were relegated to the bedroom, hall or conservatory, some extremely fine 'drawing-room' pieces were produced and the low prices emphasized in manufacturers' advertisements did not reflect a quality too low for use in more formal rooms.

The majority of firms were based in North and East London where considerable numbers of furniture manufacturers had congregated by the last third of the 19th century. Other producers were in major provincial industrial towns such as Birmingham, Leicester and Nottingham. Most firms advertised their goods wholesale, selling in bulk to general furniture retailers.
The materials used for making bamboo furniture came almost solely from Japan. Several firms were importing bamboo poles alone, which, when considering their cheapness, gives an indication of just how great demand must have been. Lacquer panels were imported in various sizes and appear to have been of two major types, the most common having predominantly gold and red decoration in high relief on a black ground, and the less usual being black and gold designs on a red and yellow ground. Most panels were divided diagonally into two sections, one portraying birds and flowers and the other a star design. The second red and yellow type is often sharply divided by a wide black diagonal line. Lacquered trays, commonly of a deep red colour, were used for removable table tops and plant stands. A more unusual form of decoration seen frequently on small boxes and cabinets made in Japan for export to Europe, but only rarely on furniture, consists of thin panels of marquetry veneer with a random geometric pattern. Sometimes these appear on upper surfaces of furniture with a lacquer panel set in the centre. Lacquer was generally used for the most important parts of a piece of furniture, the less noticeable areas, shelves etc., being covered with embossed `leather' paper. This was originally imported from Japan in large rolls and then cut to suit requirements. When it became particularly popular for wall hangings, English manufacturers began to produce it.

Next to lacquer, woven grass matting was the most common form of covering and was imported in various colours and weaves not only from Japan, but also from China, India and Madagascar. Pieces covered in matting were generally less expensive, and indeed costs must have been kept at an absolute minimum, for frequently, underneath the covering, the basic carcase of the furniture consists of old orange boxes or any piece of wood that came to hand. A relative of the producer Herbert Henry Self of Percy Street, can remember the odd-job man of his family's firm being employed to fetch empty bacon boxes for this purpose. Apparently this wood, imported from South America, was good quality timber, with smooth planes and free from knots.

Some firms incorporated the knobbly roots of the bamboo stems into their designs, generally to form feet. Occasionally handles to drawers and cupboards were made with these roots although they were more commonly carved in imitation of them. Handles were mostly of cheap metal or brass. The ends of the bamboo canes were capped with stamped metal or turned bone, ivory or wooden discs.
A fair quantity of pieces, particularly tall plant and flower stands and jardinieres, have tiled shelves or side panels. The smaller green tiles are generally unmarked but the more elaborate decorative tiles are invariably stamped WEDGEWOOD.

Methods of construction fall into three categories. First and most common is that of pegging. Bamboo stems being hollow, thick dowels can easily be glued into the joints. Some firms farmed out this work of `plugging' the ends of the canes to part-time workers at home. The second method, that of pinning, was far less satisfactory as bamboo tends to split lengthwise and therefore the jointed pieces eventually disintegrated. The most efficient method was that patented in 1888 by the firm of W. F. Needham in Birmingham. It consisted of metal shoes and covers for all joints which were made by wrapping a metal strip around the stems and soldering the overlapping ends. Some joints were further strengthened by a small pin or screw. Needham's were by far the largest and most successful manufacturers and their individual and superior method of construction undoubtedly gained them their reputation. For some considerable time they advertised their wares under the name 'Ferrumjungo'.

The bamboo poles and the finer cane used for lattice decoration were bent under a gas flame. An article in House, 1898, giving instructions for making small bamboo articles, also tells how to bend the bamboo canes. `Have a round iron loop about 2in. in diameter fixed to the edge of the work table or bench. The loop projects horizontally beyond the edge. Pass the end of the rod to be bent through the loop, and underneath the top of the bench. Heat the cane where it is to be bent by means of a Bunsen's burner or spirit-lamp, and at the same time strain the projecting end of the cane over the iron loop until sufficiently bent. The flame must be kept moving backwards and forwards so as to heat about 8" of the cane to prevent burning. When sufficiently bent, with the right hand rub the bend with a wet rag until cool, using the left hand to hold the cane in its bent position. When possible let the bend be between knots. If however, it be found necessary to bend at a knot, a notch with a saw on the side of the bend which is to come inwards should be cut through the knot, about one third the thickness of the cane. The canes to be bent should be heavy, as the more substantial are less liable to bulge or split in the process. When a sharp bend is required it will be better to cool down as described when it is only half done, and resume the heating and bending after sufficient time has been allowed for the cane to cool. A too quickly bent cane is liable to split.'

Heat was also used to apply small decorative burn marks. On close inspection these can easily be distinguished from the dark patches on `tortoiseshell' bamboo which they were presumably intended to imitate. In very few cases the `tortoiseshell' effect was gained by application of a varnish. Several firms were making fine quality and generally more delicate furniture from thin bamboo with a thick dark brown varnish applied and the nodes ringed finely in gold paint.

Unfortunately in the majority of cases only the registered name of the producer remains. Very few firms stamped or labelled their products. However, 19th and early 20th century furniture and decorators' journals published a wealth of designs in the form of advertisements and reports on furniture and trade exhibitions. It appears from these that many firms frequently moved premises or amalgamated with one another and it is sometimes difficult to trace their movements. Their advertisements provide the facility for identifying and dating a fair number of pieces. The following accounts of various firms are intended to reflect their intentions and the general atmosphere under which they were trading.

The Aizdu Bamboo Co. Of 93 Rivington St, Curtain Road, London E.C., and 204 New North Road, London N., claimed in the 1896 issue of the Cabinet Maker arid Art Furnisher, to be producing `bamboo furniture of a medium class ... for those people who abstain from buying bamboo furniture because they can not afford the most expensive, and will not trust that offered at a lower figure ... that is to say that on the one hand they do not cultivate the very best qualities, and on the other will not allow the reliability of their goods to suffer in order to bring them out at lower prices than are consistent with honest workmanship'. In December 1894 they were advertising special preparations for the Christmas season in the form of `novelties and knick-knacks in bamboo'. They soon became better known by the name Matthews & Clark.
The Austrian Bentwood Company in 1892 were offering for sale bamboo and cane alongside bentwood furniture. They, like many other firms, stated that `any design in tables, overmantels, music cabinets, what-nots, chairs, etc., can be carried out by us'. It is impossible to determine just how many pieces were made to the customer's own design, but this practice was common in most fields of commercial furniture production at this date.

Messrs. Bastendorff & Co. at 4 Euston Square, London, W1, had a distinctive individual style of design generally with a Chinese rather than Japanese feel. They recommended their `most useful assortment of bamboo goods' for use in `bungalows, boathouses, rustic and garden houses, smoking room fittings etc.'
C. C. Beetles of Herbert St, New North Road, Hoxton, London, N., seems to have specialized mostly in library furniture in the form of a large variety of writing desks and bookcases. An advertisement in the journal Furniture and Decoration and the Furniture Gazette, May 1894, shows revolving bookcase described as a `dainty little article, and as it is made of the very best materials, is suitable for a high class drawing room'. In 1895 he was also making a `leading feature of bamboo bedroom suites, very dainty ... at the same time useful .. . Construction is by no means neglected, for they are as strong as their hardwood competitors'. There appear to be no illustrations of bamboo beds at all and it seems that the suites consisted of a wardrobe, wash stand, chest of drawers and generally two chairs, while the bed itself was only made to special order.

Messrs. F. Belschner & Co. of 47 Moor Lane, London, E.C., made a special feature in 1901 of glass and leather fire screens painted with floral subjects. The vogue for potted plants, particularly ferns and palms, towards the end of the lath century, coincided well with the vogue for bamboo which was considered ideal for their display. Hence the emphasis from many firms on its suitability for conservatories and halls. It is worth mentioning that Belschners were at the same time advertising a good selection of artificial palms and other plants. Other, but more expensive, screens were glass on both sides, containing butterflies and stuffed birds.

Hubert Bill & Co., with showrooms at 43 Warren St, London, were important in that they were the first registered firm to produce bamboo furniture in this country. They were certainly still in business in 105 and their furniture covers a wide and interesting range. In the January 105 issue of the Cabinet Maker and Complete House Furnisher they particularly recommended bamboo for tea rooms and smoking rooms and as an example of their `power of overcoming difficulties' cite `the bandstand at Crystal Palace, which they fitted up in the middle of ornamental water'. Unfortunately there is no further description of this. They also recommended `folding card tables and progressive whist tables, many with lac tops' and a great variety of chairs and settees `many upholstered in jijim kelims, with Eastern colours'. All these goods were ironically considered `suitable for warm climates, and being light and easily packed, can be commended to Colonial as well as home buyers'.

J. T. Collier & Co. Of 17 Devonshire Square, London, advertised themselves as 'Direct Importers and ti7anufacturers of Art Furniture and Baskets in Willow, Rush, Cane and Bamboo' with catalogues containing over 1,000 designs. Several other firms were producing both bamboo and wicker and the two are frequently confused. The history of cane and wicker furniture is quite divorced from bamboo up until the late 19th century when they were simultaneously popular. This type of wicker was in fact first in favour at an earlier date and the vogue really began in America. Mr. Topf from New York was the sole contributor of one wicker chair to the Great Exhibition at the Crystal Palace in 1851i and from that date onwards wicker and cane furniture was produced commercially in this country in vast quantities.

W. T. Ellmore & Sons were a large firm specializing predominantly in cane and willow furniture with bamboo as more of a sideline. Although based in Leicester, an article in the Cabinet Maker and Art Retailer 1887, stated that it was only a few years since they had opened `wholesale only' showrooms at 16 City Road in London with over 4,500 feet of floor space containing `samples of all that Messrs Ellmore produce in bamboo, willow, cane and rush, together with workpeople producing such things on the premises'. Their goods were aimed at `every buyer who has to cater for the lighter side of popular furnishing'. Two years later, again in the Cabinet Maker and Art Furnisher, the writer stated that `among the various branches of Messrs Ellmore's business this one has, during the last year, been brought to a very high degree of perfection ... we were especially struck with some of the novelties mounted in carved bamboos of very elegant style. The proportions of the articles and the taste and judgement displayed in the designing are worthy of great promise. We append a sketch of a porcelain umbrella spill mounted in bamboo; and we learnt that only hardwood dowels are used in the construction of articles manufactured by this enterprising firm'. An identical umbrella stand appears in an illustration from an article in the Decorator and Furnisher, published in New York in 1890, on `The Bamboo' by P. Horden. Also included in the sketches is a brass gong in a bamboo frame identical to that in another i889 advertisement for Ellmore's in the Cabinet Maker and Art Furnisher, and it is obvious from this that they were one of the firms exporting their goods to America. Indeed, in 1886 they had stressed that their London branch had been established for the convenience of `Wholesale and Shipping Trades only'.

This firm seem to have been particularly imaginative in their range of designs. In the May 1886 Cabinet Maker and Art Furnisher a detailed description is given of some of their more unusual items, and the writer confesses `we can not profess to admire all these eccentricities, but there is no doubt that many such other ideas catch the popular fancy just now' . . . `Among a score of other clever contrivances in bamboo, we notice, just being dispatched to an eminent firm in the West-end, some smoking tables, which contained pipe and cigar racks, tobacco jar, spittoon, and all the appliances which the use of the weed demand. The greatest novelty of all in this direction was, however, a structure in bamboo intended to go at the back of a piano or in a fireplace. A combination of glistening bevelled plates, flower dishes framed in with bamboo, is made to fill the desired space, but the special feature is that in the base of the article a pretty fountain plays when desired. The whole thing makes a union of glass, flowers and refreshing water, which will please many who desire to gracefully hide the vacant-looking grate or the ugly back of the cottage piano, when placed across the room. Some little gypsy-kettle stands, with the flowers placed in the kettle, are also among the latest of these fancy items. Speaking of the bamboo work, we can not refrain from expressing our high opinion of the way in which the ingenious and energetic manager of the London branch of this business is combining real Japanese panels etc. with many of the articles. Well-selected trays and plaques of all kinds are made up in a very felicitous manner, and at prices that may well astonish those who are not familiar with this class of trade. The uses to which some of these Japanese works of art are applied may be gathered from the two preceding illustrations. Such decorated accessories as stained glass and tapestry painting are now used by Messrs Ellmore in association with cane and bamboo, and, in most cases with best effect. They are also mounting on bamboo stands trophies of fancy glasses and birds to serve as fine ornaments. Oriental pots are also mounted on appropriate stands, bronzes find fitting supports and lacquer work is made really useful. These enterprising manufacturers have done well to supplement their great place at Leicester by these London workshops, because any little idea can be immediately carried out to the wishes of their metropolitan friends.'

Six years later their success was still apparent. An article in Furniture and Decoration, October 1892, states that in the objects in their catalogue the `spirit of originality and daintiness seems to prevail. The peculiar quaintness of Japanese art is here admirably allied to the requirements of tasteful English people. Many of the contrived pieces are ingenious and express a freshness of fancy that is far too seldom met with in the generality of British production.'

A. Englander & Searle of 34 Gt Eastern St and 31 Mare St, Hackney, London, were a firm particularly concerned with methods of construction. Although they seem to have entered the bamboo furniture market at a comparatively late date, about 1898, they produced `inexpensive' bamboo, aimed particularly at the export trade. An entry in the Cabinet Maker and Complete House Furnisher, January 1904, states that `in the early days of this branch of the furniture trade, there were not wanting those who predicted that bamboo furniture would never find favour with buyers. Recent experience, however, shows that this is far from being the case, and, as far as this firm, at least, is concerned, the trade has enormously increased during the last three or four years. There is no doubt that, even if only for its lightness, bamboo furniture has a future in the shipping trade'. To the question of export `we may say that bamboo furniture may be sent out either "fixed", in which case the drawers and carcases are filled with soft goods, or it can be exported in pieces and put together again. The fixing up is much facilitated by a system of marking and numbering. Further, no glue is required for putting together as the screw system only is applied'. In the same article they stated to have `special machinery for the process of bending bamboo, and claim that this machinery gives it an everlasting strength after it is bent'. A year later in the February Furniture Record and the Furnisher they advertised that they had `now laid down machinery for cutting joints, mitres and for properly filling up and plugging the bamboo, a process that makes the articles very strong and rigid'.
E. Hutchings & Sons of Maiden St, Weymouth, were another firm producing bamboo as secondary to wicker, but their `originality of designs and the skill shown in manipulation' was so successful that they followed in the wake of many others and in 1893 opened showrooms for both products in London. London was obviously still considered the commercial centre of the country and most successful firms established premises there. The attitude towards provincial designers is evident in an article referring to Hutchings in Furniture & Decoration, 1893, which regards them with astonishment and says `from the samples shown one could see that they are not behind our London manufacturers ... and the designs are quite up to date'.
The firm Iversen & Eidam, well established by 1881, specialized particularly in floral screens, jardinieres and window blinds. Blinds were one of the few bamboo items which were also imported directly from Japan. An article from House, 1898-9, entitled `The Domestic Workshop', gives detailed `do-it-yourself' instructions of how to make them. Another firm producing them in 1883 was the `Art Bamboo Work & Cane Window Blind Manufactory of O. Just', Camden Town. Their advertisement, showing a blind and a jardiniere, is so similar to that of Iversen & Eidam that it is likely to be in fact the same firm.

Messrs Matthews & Clark, who started out as the previously mentioned Aizdu Bamboo Co., were one of the most important and successful producers. Initially they particularly promoted the sale of flower stands, but their range was equally as wide as that of W. T. Ellmore previously described. An advertisement in the Cabinet Maker and Art Furnisher, October 1896, gives a `special offer' of the `Excelsior' crate, containing four dozen stands, `one dozen of pattern iii, two dozen of pattern 111 and one dozen of pattern 222'. -Many of their stands incorporated ceramic `-Majolica' pots which were produced at their own potteries at Ayrford, Longton, Staffs. Matthews & Clark were another firm who undertook to make bamboo furniture to customers' own designs. In 1897 they claimed to `undertake to supply furnishers with any article they may require in bamboo that is capable of being carried out in that material'. By 1903 they had become known as `among the leading houses for bamboo furniture of all kinds'. `livery article capable of being produced in bamboo from the tiny wall bracket to a bedroom suite-is made by this firm, and the usual accompaniment of Japanese matting, leather paper, lacquer panels and pottery are effectively introduced'. In that year their furniture took `the form of a new art green matting. This introduced into bamboo work has a singularly artistic and beautiful effect'. This green matting was combined with `green tortoise' bamboo. Also in 1893 they promoted the sale of screens `ranging from handsome four-fold 5 ft 8 ins screens, silk embroidered with coloured sateen, sunk panels and heavy carved frame, to some dainty little four-fold 4 ft 6 in screens, gold embroidered on black cotton with cotton backs'.
The Mikado Bamboo Company of Gooch St, Birmingham, seemed to have specialized in the unusual, perhaps in an effort to keep up with their London competitors. In the April issue of Furniture and Decoration, 1893, they advertised a very large stock of `occasional chairs enamelled in various colours, chaste and elegant in design'. This is the only mention of coloured bamboo in this country, although in France the bamboo canes were commonly stained or varnished in bright primary colours. The following month, in the same magazine, they advertised `everything conceivable, from a wall bracket to a bedstead'. Among their newer articles of this year was `a very pretty photo screen, the top part of which could be utilized for photographs. The panels were covered in dark green plush, in the centre of which were fastened porcelain pictures, while the shelf in the centre could be utilized for ferns, or at afternoon tea, would be very handy for placing the cup when not in use. The greatest novelty was a saddle-shaped reading chair, the like of which we venture to state has never before been seen. The frame is made of bamboo, and upholstered in green plush, and John Hilner's of John Bright St, Birmingham, were not furniture producers but well-established manufacturers of perambulators, mail carts, etc. They claimed to have produced bamboo carts `at once artistic, light and strong, and the exceptional machine facilities which the firm possesses, guarantees their being put together in an unusually secure style'. Unfortunately no illustrations exist of their bamboo varieties.

Messrs Model & Co. Of 4 North St, Charlotte St, and later of 26 Tottenham St, Tottenham Court Road, London, were one of the earliest important firms. Although Hubert Bill & Co. were in business in 1869, there is very little mention of other firms being active in the 1870s. Indeed, in an article referring to Model & Co. in the Cabinet Maker and Art Furnisher, December 1882, it is said `the idea of utilizing the bamboo cane for articles of fancy furniture is a very happy one, and although the trade in such goods is of recent origin, the amount of business done in these pretty adjuncts to the drawing room is most extensive'. Their earlier designs were particularly attractive and they obviously went to great trouble to combine more interesting materials within a bamboo framework than did most other firms, as is exemplified in their fire screens. `The fire screens decorated with ferns, stuffed birds etc., or filled with stained and leaded glass, are especially good. Some of the screens filled with Japanese and Oriental embroidery are really works of art.' They were also one of the firms who utilized Wedgwood tiles for jardinieres, etc.
By 1897 they had become known as one of the very best manufacturers. An article in the Cabinet Maker &' Art Furnisher of November that year described them: `while in every way capable of doing the cheaper class of trade, they have preferred, and still do prefer, to be known as specialists in the best-one might almost term it the aristocracy of bamboo'.

Model & Co. were taken over in about zoo by Messrs Merrifield & Co. who successfully continued their tradition of high quality products. Among their contributions to the firm's established repertoire was the use of small strips of bamboo pinned to the matting to break up the larger spaces. In addition to furniture they also supplied `split bamboo, of all shapes and dimensions, for the decoration of walls'. They seem to have taken particular interest in the production of bedroom suites and in the Cabinet Maker and Art Furnisher, October 1900, advertise that `the bedstead is not shown, but it may be had in bamboo if desired, also folding cots of simple and reliable construction which may be packed away in a very limited area'.
William Morris of 24 Freeman St, Birmingham, was primarily a manufacturer of wicker furniture and perambulators, but he also advertised `speciality bamboo furniture'. He is not to be confused with the William Morris of the Arts and Crafts Movement, although several firms assumed the Tatter's name, presumably in the hope of promoting their wares in the wake of his popularity.

Herbert Henry Self of Peru St and 49 Wilson St, Finsburv, London, produced a large quantity of standard items, bedroom suites, hall stands, cabinets, etc. and a variety of smaller pieces including shaving cupboards with spaces for the weekly rota of razors and the strop, brush, comb, etc. A relative can remember the production of a special Boer War jingo appeal item, a group of painted tiles framed in bamboo, illustrating five of the British military leaders-Redvers Buller, Baden-Powell, and Generals French, White and MacDonald. Unfortunately no illustration of this has been found.

An advertisement for the firm of Elijah Wheeler & Son in the Cabinet Maker and Art Furnisher, July 1894, shows a most attractively designed bedroom suite, but what is more interesting, an illustration of one of their bamboo workshops, showing some fairly elaborate pieces of furniture. Lastly, and without doubt the most important producer, was W. F. Needham of 69 Camden St and Branston St Works, Great Hampton St, Birmingham. Three separate accounts of his factory and its products in contemporary journals give such a comprehensive view of his works that it is worth reproducing them here. The first, in the Furniture Gazette, February 1889, includes a detailed description of his enormously successful method of construction, patented on February 7th, 1888, patent no. 2383.

'We have realized the usefulness of the bamboo, though its applications are of a more limited character, being mainly confined to the making of furniture of an ornamental and decorative character. This branch of industry has attained to a remarkable state of development in recent times, and among those who have contributed in advancing the manufacture is Mr W. F. Needham of 69 Camden St, Birmingham. His factory consists of a large building three storeys high, and here is brought into requisition every appliance adapted to expedite production and to insure good workmanship. The several floors are connected by a lift, and every other needful provision is made to facilitate the carrying on of a large business. Stocks of raw materials, such as bamboo, canes and timber, are kept on hand in considerable quantities, so that the works are equal to even the heaviest requirements. The various classes of bamboo furniture here manufactured are noteworthy alike for their lightness and elegance as well as for their substantial workmanship; and despite increased competition, Mr Needham has for several years made it his object to produce only work which should have both novelty in design and strength of wear to recommend it. Not content with past achievements he has lately completed and patented a new method of construction, which we believe will insure for bamboo furniture a still greater amount of public favour than it has enjoyed in the past. Two methods have hitherto been adopted by different makers. Those making inferior goods have merely nailed the bamboo together, an altogether faulty and "ferry" system, alike fatal to the maker's credit and to the retailer's reputation; to say nothing of the certainty of the ultimate condemnation of, and disuse by the public. The other and more effective method has been to fill the hollow bamboos with round dowels, and then to mortice all the principal joints together; sprigs being used only in the slight ornamental parts. Mr Needham's patent consists in the use of metal sockets, firmly soldered, into which the bamboo is closely fitted and shaped, the whole being further secured with pins. By this means all the character and lightness of the furniture is retained; while absolute strength in every part is secured; and lastly the price of the goods made under this patent is even lower than of those produced by the old process, which, sound enough in principle, still rendered the goods liable to deterioration under climatic influences or from shrinkage. The feet also of Mr Needham's furniture are all fitted with his patent "shoes" which prevent any splitting or "ragging" of the bamboo. The flaps on the tables too, are fitted with his patent clips, which prevent them from swaying or slipping down when carried about. Some slight idea of this ingenious patent may be gathered from the first three illustrations given above. The name given to these novelties is Needham's Patent "Ferrumjungo" Bamboo Furniture. These sensible and highly practical improvements will doubtless secure for Mr Needham's goods a long continued run; in fact, there is no reason why bamboo furniture should not become permanently used in every household, seeing that it combines lightness, elegance, usefulness, and cheapness. Having largely extended his works and increased their productive capacity, he is now able to introduce a constant supply of novelties in tables, chairs, settees, overmantels, lamp and flower stands etc., thus enabling purchasers to completely furnish with bamboo goods alike drawing-rooms, boudoir and other apartments.'

The second article, in the Cabinet Maker and Art Furnisher, April 1893, describes his attention to the potential of bamboo for the export trade. `The requirements of the export trade are thoroughly understood and fulfilled by this business; indeed, Mr Needham makes a speciality of goods for transport. The patent metal-joint brass shoes and the method of securing flap tables, are points which impart to bamboo furniture that solidity, durability and finish requisite to articles intended for daily or even occasional use. Before leaving the manufactory, all tables are accurately fitted and the bamboo bars marked with numbers corresponding to those on the sockets, so that accurate and satisfactory fitting up is ensured ... With a view to assisting merchants and shippers who have hitherto not traded in bamboo furniture, and who in placing a first order may not exactly know the most saleable items and those most economical for packing and transit, five sample cases have been made up, each case containing a selection of furniture always commanding a speedy sale. Estimates or designs will always be prepared upon necessary particulars being supplied.'

Finally, the trade notes in the May 1896 issue of Furniture & Decoration and the Furniture Gazette tells in detail of the efficient and progressive structure of his most successful business. `Probably few of our readers think of Birmingham as the centre of the bamboo trade; the majority associate the town with the manufacture of bedsteads and cabinet brass work; but it is true, nevertheless, that far more bamboo articles are made in and sent from Birmingham to all parts of the world than from London. A representative of this journal recently paid a visit to the extensive factories of Mr W. F. Needham; who is the largest maker of bamboo goods in the country. The works, situated in Branston St and Camden St, comprise respectively 37,500 and 15,000 square feet of shopping, while the showrooms are at Newhall Hill; in the first-named factory all the better class of bamboo goods are made, and here are continuously employed some zoo hands, male and female. Our representative first visited the rough warehouse, where is kept an enormous quantity of the thousand and one materials that go to make up a perfect bamboo article; there were crates of pots and cases of lacquer tops in their original Japanese packing, and bales of bamboo canes ready for distribution in the various shops; yet everything was in perfect order, and no matter what article was required, whether a special screw or tiny mirror for a wall bracket, it could be found by the warehouseman at a moment's notice. Mr Needham has a special agent in Japan, who is continually consigning fresh goods to him, a considerable saving thus being effected in the purchase of bamboos, lacquers etc., so that all goods emanating from the Branston St works are the best possible value for money. Passing on through the counting house, our man went through the various shops, which are so systematically arranged that no time is lost or any material wasted, each shop being governed by a foreman, having a certain number of hands under him for certain work. In the first shop the hands were busily employed in bending certain parts of the bamboo for flower stands, legs for tables etc.; there are shops for big work, such as bookcases, cabinets, etc., and others for flower stands, tables and so on. Mr Needham is a great believer in specialization, and therefore the hands are employed uponn specific articles and do nothing else; the materials used are of the very best, and the latest machinery is employed. All the shops are well ventilated, light and lofty, and cleanliness reigns supreme throughout the entire factory. The hands employed are exceedingly expert, as may be judged from the fact that in the bending shop 1,700 to 2,000 canes are bent in one day; these canes are bent for the flower stands, and are done in the old-fashioned way over a gas flame, while adjoining this shop is the mill for cutting-up and planing wood for table tops, bookcase shelves, etc., and also the wood-cutting machinery and appliances. Before going to the Camden St Works, our representative gleaned a few interesting facts from Mr Needham. The business was commenced ten years ago by Mr Needham himself and one man; today it is the largest concern of its kind in the world; little by little the business grew, but when Mr Needham invented his Patent -Metal joints the progress was very rapid; by the addition of these joints bamboo goods are as strong as hardwood, and are everlasting. The output each week is enormous, the weekly average we were informed, being 4,000 pieces of furniture and some 3,000 bamboo cornice poles; these goods find their way, not only throughout England and the Continent, but to all parts of the world, South America at the present moment taking the largest share. A feature is made of bamboo goods for export (to which the Patent Metal joint especially lends itself, and so careful is the method of packing that a complaint as to damage in transit is unknown). The lines selling best this season are flower-pot stands, ranging from is 6d to I8s, the demand being greater than any previous season; brown bamboo and tortoiseshell are the two popular colours. Mr Needham's trade having largely increased, a large additional factory was, three years ago, acquired in Camden St, which now gives constant employment to about sixty hands; this factory is confined entirely to the cheaper class of bamboo goods; the same method of manufacture being in vogue there as in Branston St; in the basement of these (Camden St) works, the canes are stocked just as they are imported, and here are literally hundreds of bales of bamboo. In each of the two factories every spare foot is taken up with the work of manufacturing the goods. The showrooms are situated at 45 Newhall Hill, where the visitor will find one of the finest and varied assortment of bamboo and Japanese goods in the country; pots, vases, and jars of every description; bamboo bedroom suites, cabinets, tables, flower stands, what-nots, brackets, etc., almost innumerable. Another speciality of Mr Needham's is the patent resonating gong or musical carillon, which is a vast improvement on the old cumbersome and somewhat mournful gong. Hand-painted plaques, all done upon the premises, adorn the walls of the showrooms in every direction ... Large as is the business now, it will, we feel sure, continue to increase year by year, as Mr Needham, yet a young man, possesses all those capabilities which are essential to make a business successful.'

Among retailers one of the first successful `department stores', Liberty & Co., was an important factor in establishing the vogue for objects of Japanese design, bamboo furniture amongst them. The shop was opened in 1875 by Arthur Lazenby Liberty, an energetic young man who had been manager of the Oriental Warehouse at Farmer & Rogers Great Shawl and Cloak Emporium in Regent Street for ten years. Inspired by the Japanese exhibits at the 1862 International Exhibition, the year he joined the firm, and much influenced by close contacts with important artists who visited the store to buy Oriental draperies and porcelain, he built up the Oriental side of the business to a most profitable level. When he was refused a partnership his artist friends persuaded him to set up in business on his own. Although other Oriental Warehouses were later established no one had captured the imagination of the public as had Arthur Liberty, and as demand for Japanese goods increased, so did his success. Although initially furniture played a small part in the firm, bamboo and other `Japanese' furniture was soon introduced. The bamboo sold at Liberty's came from a Monsieur Ursin Fortier of 65 Charlotte St, Fitzroy Square, London, an eccentric character much loved by the Liberty staff, who had enough custom from the firm for them to be his sole clients. Apart from his 'Japanese-style' bamboo, he also produced bamboo in conjunction with `Moorish' accessories, brass pots etc., another style heavily promoted by Liberty's in the 1880s.

Gradually, as bamboo became more popular, other department stores followed in selling it and Debenham & Freebody's and the Army & Navy Stores catalogues, for example, show sizeable quantities for sale. Although, as has been seen, bamboo furniture was exported to America from England, the level of production there was considerably lower. Imitation bamboo was really more popular, George Hunzinger, the Kilian Bros and C. A. Aimone, all in New York, being the best known makers. However, some firms did set up in business, attaining a fair degree of success. An article in the Furniture Gazette, October 1890, reports that `bamboo is becoming a staple product in the American furniture and upholstery trades. Easels are being made in large quantities and the bamboo, split, is used for mouldings and for a hundred and one other decorative purposes'. Some unusual split decoration appears on a chest of drawers made by the Nimura & Sato Company, Japanese Bamboo Works, in New York. Instead of the usual geometric patterns, the split bamboo is pinned on the background of matting, in floral patterns with curving stems and star-shaped flowers. Two framed prints on the back section are identified as 'Kiba' and 'Taiko Bridge' from the series `Hundred Views of Yedo' by Hiroshige. Nimura & Sato were probably in business from about 1915 although Mr Sato was working alone in the late 1880s.

Bamboo was also exported to America from France. French bamboo furniture was quite different from that made in England. It was frequently coloured with a wide range of stains and was generally heavier in appearance and more richly decorated and upholstered. A report on `Bamboo and Rattan Furniture in Paris' by Ada Cone in the Decorator & Furnisher, New York, 1892, describes the furniture of
Perret & Fils & Vibert, the best-known producers. `The great bulk of French summer furniture is bamboo and rattan, which comes from the East, but only the materials. It is made up in Paris, and the French furniture novelty of the summer for halls, piazzas and gardens is very heavy bamboo, the sticks being some five inches in diameter. These enormous sticks are said to require a hundred and fifty years to grow. I have seen these novelties and also some of the newer rattan designs at the house of Perret and Fils and Vibert, specialists in country house decoration, and these gentlemen have had the kindness to furnish some pictures to illustrate this article. This bamboo is in three different colors-white, red and black. The red bamboo is a rich brown and very beautiful. A large chair made of it, with seat and back of zanzibar matting in colors, with mountings of little Japanese dragons in carved teak, seen at this house, was most artistic and satisfactory. The black bamboo also is beautiful. It is mottled black and yellow and looks well as a framework for yellow matting and also colored matting. Other chairs of large bamboo are upholstered with Japanese leather with stamped figures in colored bronze; still others are upholstered with tiger skin. Zanzibar matting combines very well with these great bamboo frames. It is used for table tops as well as for chairs, stretched over wood with exceedingly good effect. Umbrella stands made in several sizes of bamboo combined have a row of short lengths of the larger bamboo ranged side by side like organ pipes to hold the umbrellas. Among the very successful pieces are square and oblong seats, without backs, though sometimes with sides, after the Greek manner, very solidly made of the large cane, in a Greek fret pattern. These are a great artistic success. They have matting tops and are completed by a cushion of Oriental silk. Nothing could be more satisfactory. Hall lanterns of bamboo in octagonal form, with stained glasses, are particularly successful in the black wood; and bamboo bird cages formed like Chinese pagodas rest on stands made of delicate ladders of fine bamboo, as frail looking as lace.

'In rattan designs there is a considerable variety in the forms and in the weaves. A very good style has a square framework of bamboo strapped ornamentally on the angles with rattan, with very fine damask woven rattan stretched smoothly between. It is strong, simple, elegant; the legs are well placed and firm; it is supple and comfortable. The rattan is in mingled colors, red predominating. There are rattan wound frames, with the star-woven cane centres, with which Americans are familiar, and there are elaborate frames formed of several small canes, each rattan wound, with centres like lace work. There are bamboo frames and backs, with lacquered panels or painted tiles, and seats of matting. They make also very comfortable and pretty chairs of masked matting, colored in plaids, stretched smoothly over the frame, the seat and back in one piece. Chinese forms are in the market also, very intricately woven, with astonishing outlines, and very hideous, and finally there are the French curved frame designs, very intricate, with wheel and spiral decoration. These are not ugly like the Chinese, and yet they seldom possess as much character as they should. The square forms are best; perhaps the material does not admit of good curves. Some bamboo and rattan, and matting tables which I saw ... should have a special word. They are well proportioned, have solid but elegant legs, and the under framework joining the legs is particularly good in design. One so seldom sees a good table that these are worth remarking. Bamboo seems to lend itself well to table making. Richer furniture for chateau bedrooms is made of Japanese lacquer, with inlays and incrustations of ivory and pearl. These materials come from the East and the pieces are built in Paris. An exquisite bamboo bedroom set ... has Japanese lacquered panels with figures in color.'

The Chinese were apparently little concerned with the export of bamboo furniture to Europe and America after about 1830. They made no attempts to adapt their designs to now-changed Western demand and although they continued to export furniture and to include bamboo in their sections at the great International Exhibitions, it did not sustain its former popularity.

The use of bamboo was never limited to furniture only, but applied to entire decorative schemes. Interior decorators in the 1880s and 90s were very keen to produce 'Japanesque' rooms and found wide scope in the Oriental Warehouses in London, where Japanese goods of all kinds could be obtained in large quantities at very little cost. Walls could be covered in matting and divided up into panels with split bamboo tacked on to hold it into position. Split bamboo could also be applied to mantelpieces, dados, cornices, curtain pelmets and the smell of tobacco. Some furniture producers specifically extended their field to cover entire decorative schemes, for example, Walter G. Leans who claimed to specialize in decorating halls and staircases. Many firms such as Needham's, Merrifield's and Model & Co., found a large demand for bamboo cornice poles and in 1899 A. Englander patented a bamboo stair-rod `fitted with brass caps at each end, and brass stair-eyes made to secure it. It is claimed for this novelty that it is cheap, neat in appearance, and quite does away with the necessity for polishing consequent upon the employment of brass rods'.
The vogue for bamboo furniture will probably never again reach such heights as it did at the turn of the 19th century, but it has undoubtedly been revived in recent years. The surprisingly vast quantity of bamboo furniture produced between 1870 and 1930 is reflected in the amount about today, and, on top of this, yet more is being imported, newly made, from abroad. Although the past fifty years have seen bamboo relegated again to the garden or conservatory, designs and quality are now improving greatly and for anyone looking for bamboo furniture today for any room in the house, the range is never-ending.