FOR SALE
A COLLECTION AMERICAN ARTS & CRAFTS ORIGINALS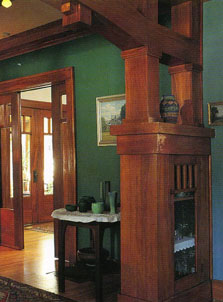 These American Arts & Crafts originals are all guaranteed to be as described, and are located in the USA. Please email for further images, information and prices.
FURNITURE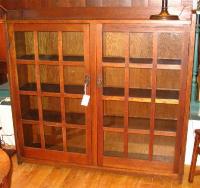 Gustav Stickley 60" Bookcase
Near mint, hard to find 60" wide Gustav Stickley two door bookcase with red decal and paper label.

Price $11,500.00 (JCF9)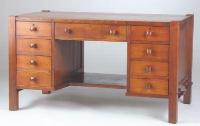 Gustav Stickley Office Desk
Early Gustav Stickley Office Desk with chamfered sides, keyed tenons, and large faceted square drawer pulls.

Price $5,800.00 (JCF8)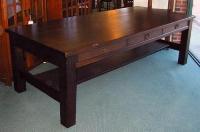 96" Gustav Stickley Library Table
Huge three drawer library table for a large office. Fine new finish. 96" x 42" x 30 3/8" high

Price $8,500.00 (JCF7)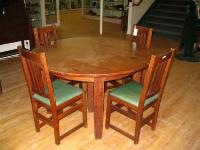 Gustav Stickley Dining Table
Gustav Stickley signed 54" diameter Round Oak Dining Table with four original leaves. Original finish.

Price $5,750.00 (JCF6)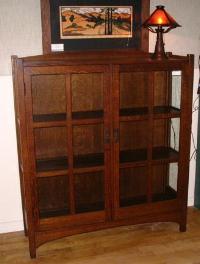 L & JG Stickley China Cabinet
L & JG Stickley China Cabinet in a fine original finish. Rare form.

Price $6,800.00 (JCF5)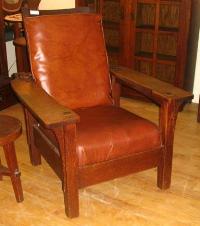 L & JG Stickley Paddle Arm Morris Chair
Rare L&JG Stickley Massive Paddle Arm Morris Chair in a very fine original finish. Decal signature.

Price $11,500.00 (JCF4)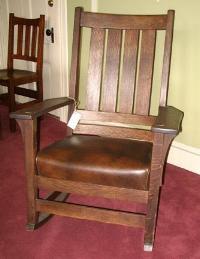 L & JG Stickley High Back Rocker
Model No. 836 Rocker by L&JG Stickley with new leather seat cushion.
Price $1,250.00 (JCF3)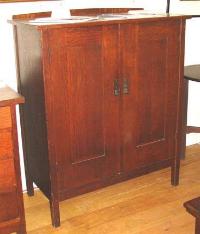 L & JG Stickley Chifferobe
Rare L & JG Chifferobe with fully drawered interior in excellent original finish.

Price $8,500.00 (JCF2)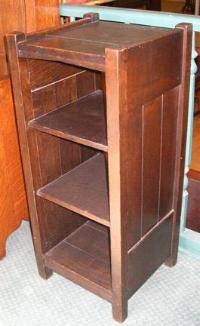 Gustav Stickley Early Magazine Stand
Unsigned circa 1901-02 original finish magazine stand. Some roughness.

Price $5,750.00 (JCF1)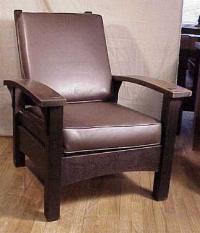 Gustav Stickley Bow Arm Morris Chair
This chair, though unsigned, is definitively by Gustav Stickley. It is, we believe, a fairly early model as the seat decking (redone) is caned and the dark color (fine original finish) is indicative of earlier pieces. Replacement cushions. A fine example of a scarce model morris chair.
Price on application (SW8)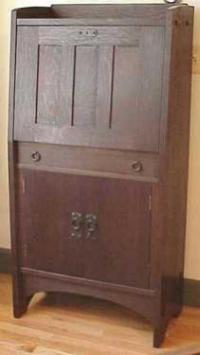 Gustav Stickley Cellarette
This signed Gustav Stickley cellarette is, by most accounts, a very rare model indeed. Looking similar to a Gustav drop front desk, this piece also has a drop front lid and a copper work surface (replaced) for mixing/serving libation. The lower two door cabinet provides a wine rack like arrangement for keeping bottles. Professionally refinished. 52"H x 26"W x 14"D
Price on application (SW7)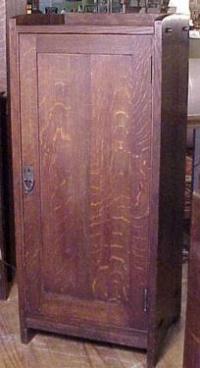 Gustav Stickley Music Cabinet
This twice signed (decal and paper label) Gustav Stickley music cabinet is offered in fine originacondition. In original finish as well, this piece is a medium brown color so indigenous to many mid-period pieces. Pictured as model #70 in the 1909 catalog, this cabinet measures: 46"H x 20"W x 16"D / adjustable shelves
Price on application (SW6)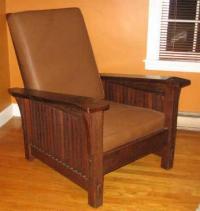 Gustav Stickley Spindle Sided Drop Arm Morris Chair
This scarce model morris chair has long been considered one of Gustav's better designed offerings. In excellent original condition/color but for minimal color added to the top of the arms where there had been wear from usage. Reupholstered in brown leather.
Price on application (SW5)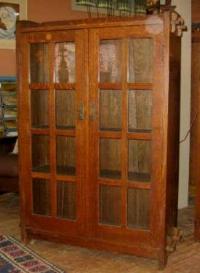 L & JG Stickley Two Door Bookcase
This signed L&JG Stickley bookcase is a scarcer model than most, measuring only 36" in width and thus rendering a sweet diminutive appearance. In fine original condition/color this is a great example of a rare model; and even the original key is present. Width: 36" / Height: 55" / Depth: 12"
Price on application (SW4)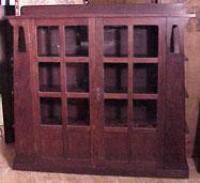 Limbert Two Door Bookcase
This bookcase is considered by many to be one of Charles Limbert's finest designs, having cutout spade patterns flanking each side; reminiscent of the Secessionist era. The splayed sides of this case along with the cutouts, the gentle arches supporting the top, and the simulated external bookshelves all complement each other to make a very pleasing visual experience. Fine original condition/finish but for the top of the bookcase which required professional conservation of finish due to stains present when we aquired this piece. Height:48" / Width 51 1/4" / Depth: 12 3/8"
Price on application (SW3)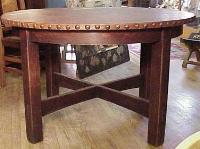 Mission Oak Table - Leather Top
This table we feel was probably done by the Onondaga Shops, though we make no such warranty. It came to us from a friend who found it with a very damaged top and only remnants of leather. He skilfully made a new top; and releathered it well enough that we decided it worth purchasing. The base is in fine condition with original finish. Diameter: 48" / Height: 29 1/4"
Price on application (SW2)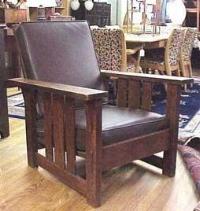 Stickley Brothers Morris Chair
Unquestionably one of the more stylish morris chairs made by Stickley Brothers, we offer this signed Quaint/Stickley Brothers morris chair in remarkably fine original condition and finish. Catalogued in the reference material as model 631 1/2, this model features three long extended slats on each side and exposed temoms on all four legs; and measures seat height of 17" and back height of 40"; and the seat itself measures 22" square. Replaced leather cushions.
Price on application (SW1)
LIGHTING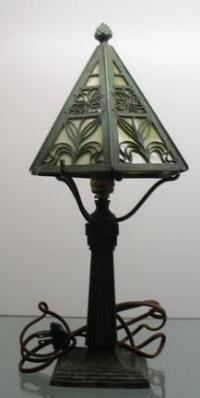 Bradley & Hubbard Boudoir Lamp
Unusual 14 3/4" boudoir lamp by Bradley & Hubbard, with floral metal overlay on shade.
Price $650.00 (JCL2)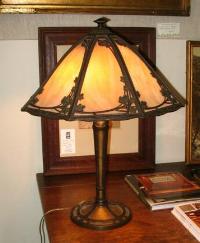 Bradley & Hubbard Lamp
Bradley & Hubbard 22" x 17" panel lamp with metal overlay. One glass panel replaced (excellent glass match).

Price $950.00 (JCL1)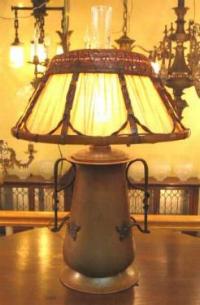 Gustav Stickley Table Lamp
This signed Gustav Stickley table lamp was originally crafted as a kerosene burning lamp, but has since been skilfully and sensitively (no drilling etc)converted to electric usage. Having a period Japanese wicker shade lined with an older yellow material, this lamp is quite original with only the copper having been gently cleaned some time ago. Wrought iron applied handles, and vivid signature on the body. Overall Height (including chimney): 28"
Price on application (SL8)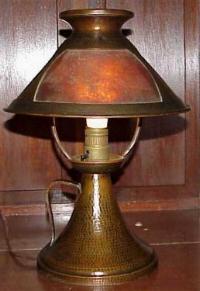 Benedict Studios Hammered Copper / Mica Lamp
This lamp, though unsigned, is assuredly by Benedict Studios of Syracuse N.Y. and is in extremely fine original patina and condition (with the minor exception of what might be a replaced socket). Ca 1912 Height: 14" approx / Shade diameter: 10"
Price on application (SL7)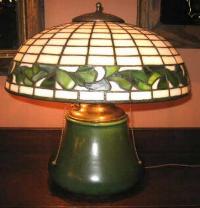 Bigelow & Kennard / Hampshire Pottery Table Lamp
This arts and crafts period lamp consists of a signed Hampshire Pottery (Keene, NH) base holding an unsigned Bigelow & Kennard (Boston, MA)leaded shade. This was a combination of companies known to collaborate at that period in time. The shade has a simple stylized border design; and the base has a complementary matte green color/glaze. Shade diameter: 16" / Overall height: 16" approx
Price on application (SL6)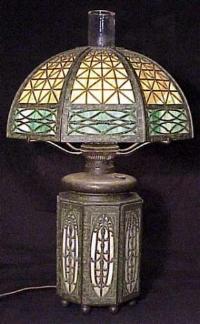 Bradley and Hubbard Table Lamp
This fine Bradley and Hubbard lamp has a fine "frogskin" finish indigenous to the higher quality B&H lamps produced ca 1910. Having original high quality Murano (Italy) glass throughout, this lamp was once a fuel burning lamp having the fuel tank (font) surrounded by like glass as the shade, though never intended to illuminate at the base. It has been electrified but does retain the original font and chimney holder. The original wick mechanism is, of course, absent. Height: 22 1/2" to top of chimney / Shade Diameter: 13 1/2"
Price on application (SL5)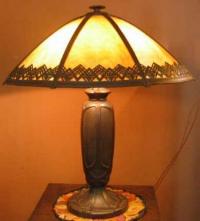 Bradley and Hubbard Table Lamp
This large Bradley and Hubbard Table lamp is in exquisite original condition, having a warm amber glass shade with a stylized metal overlay, and a cast metal base that complements the shade well. Signed Bradly & Hubbard. Shade diameter: 22" / Overall Height: 24"
Price on application (SL4)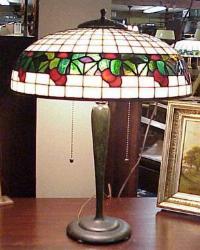 Leaded Table Lamp - Bigelow Studios
This completely original table lamp is signed on the interior of the shade "Bigelow Studios", and was sold by the firm of Bigelow and Kennard of Boston ca 1915. It is constructed of a white opalescent glass in brickwork pattern with a perimeter of stylized cherries and leaves in varying shades of green and red, set upon a three socket base constructed of bronze. In wonderful original condition but for a spider crack in one of the white brickwork pieces (shown). Shade diameter: 16" / Overall height: 21" approx.
Price on application (SL3)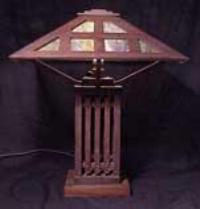 Prairie Style Table Lamp
This wood table lamp, constructed of black walnut, displays a strong and dramatic Prairie style with the overstated flat horizontal line of the shade held by elongated buttress style shade supports; and the strong vertical linear slatted base. Fine original condition. Ca 1915 Height: 22" / Shade Diameter: 17"
Price on application (SL2)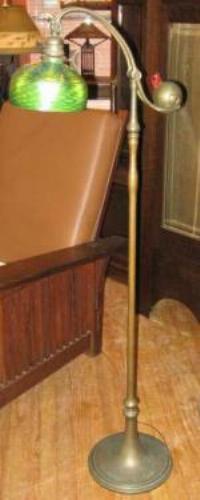 Tiffany Counterbalance Floor Lamp
This fully signed (shade and base) Tiffany floor lamp is in extremely fine original condition with no flaws to either the signed bronze base or this fine signed 7 inch damascene shade. Features an adjustable double arm bridge with a ratcheting shade tilt adjustment as well. Height @ apex: 55" approx.
Price on application (SL1)
POTTERY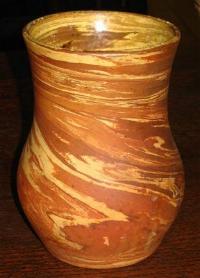 North State Pottery Vase
7" Tall North State Vase

Price $225.00 (JCP1)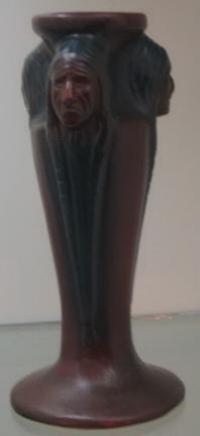 Van Briggle Vase
Van Briggle Vase circa 1920, with a repeating design of three Indian heads. 10 3/4" tall. Signed.

Price $775.00 (JCP2)

A BRIEF HISTORY OF THE AMERICAN ARTS & CRAFTS MOVEMENT
Thank you to Hewn & Hammered
GUSTAV STICKLEY AND CRAFTSMAN HOMES
At the turn of the last century a uniquely American tradition of home design and furnishing appeared: clean in line, solid in construction, choice in materials, and given to the aesthetic of a life lived in harmony with nature. The living room at Craftsman Farms nears full restoration to its original appearance. Many of the historic furnishings have been restored to their original locations during the Stickley era.
Gustav Stickley, the premier exponent of the movement in design and decorative arts called Arts and Crafts, built in 1908-1910 what was first to be a school, and later became his home, on a twenty-six acre site in Parsippany, near Morris Plains, in Morris County. Along what is now Route 10 West, the site, known as Craftsman Farms is a National Historical Landmark, and the log house Stickley called home is a center for the study of the American Arts and Crafts movement.
Stickley, having learned furniture making as a teenager, became disillusioned by the poor quality of mass-market furniture available in the late nineteenth century. Travelling in Europe, he was drawn to the products and ideas produced by Arts and Crafts designers internationally, which emphasized the natural beauty and durability of wood. Stickley also recognized that the expanding American middle class represented a reliable market for sturdy furniture and accessories. The eventual product from Stickley's Craftsman Workshops is known today as Mission furniture.
Stickley disseminated his products and ideas partly with the aid of his monthly periodical, The Craftsman. The publication contained articles about politics, industry, textiles and the economics of house design and decoration; all designed to promote the notion that Craftsman products, simple and functional, could help ease the lives of their owners.
The main Log House at Craftsman Farms is an example and repository of what Stickley himself called the 'straightforward' style. Influences on this then-revolutionary fashion is apparent in the furnishings and woodworking of Japanese, Shaker, and California Mission crafters. Originally constructed as the central meeting hall for a boy's farm school intended to inculcate the values he felt inherent in the simplicity and solidity of his designs, the interior was modified for use as his family living quarters. Logs used to build the house were cut from trees on the property, transported to the Stickley factory near his original home in Syracuse, New York for staining and finishing, then returned to the site for final construction. In what was an advocacy of family values in his day, Stickley had five fireplaces constructed in the home in the belief that a warm hearth would keep family members close. A hearth at one end of the living room is inscribed "The lyf so short, the craft so long to lerne."
Today, Craftsman Farms Foundation shares the Stickley vision by interpreting his house and its restoration to visitors from all over the world. Countless feet have crossed the threshold of the old log house as carpenters, electricians, and plumbers work their magic to return the residence to its 1911-1917 appearance. The changes are dramatic. The dining room and living room walls and chimneys have been stripped of the white paint used in later years to "brighten" the interior. Oxidized portions of the original wall finish remain, bringing the first floor one step closer to its original appearance, tantalizing the viewer to imagine the original sheen of the interior chestnut log walls. Also stripped of their white coating, the chimney stones' raw beauty is revealed, each stone carefully chosen for its hue of color. Each of the house's diamond-paned casement windows was built with its own interior framed screen, which have been replicated as storm windows with ultra violet light protection for the interior. Light glows from these windows. Artisans carefully replicated the first floor's missing interior and exterior hammered copper lanterns which hang again from their rightful places, generating warm lantern light from replica Edison light bulbs.
Upstairs, the Stickley daughters' bedroom also approaches it original character, described in 1911 as having "both delicacy and strength... appropriate to the ideal of the modern woman. The color scheme has a certain refinement. The walls are covered with gray Japanese grasscloth, and the hearth is of dull blue Grueby tiles with a brass hood". The walls and furniture of the room are decorated with prints, photographs of friends and family, and a Cornell pennant, probably from a beau. A racquet may have leaned in the corner, casually thrown aside after a tennis match. From this room visitors will gain a better understanding of the property as the Stickley family home.
GREENE AND GREENE
Charles Sumner Greene (1868-1957) and Henry Mather Greene (1870-1954) were brothers born in Brighton, Ohio, now part of Cincinnati. The boys spent part of their childhood living on their mother's family farm in West Virginia while their father, Thomas, attended medical school in St. Louis, Missouri. The brothers developed a love of nature during those West Virginia years that would be ever-reflected in their art.
By the time the boys were teenagers, their father, now a respiratory physician, had moved the family to St. Louis and enrolled the boys in the Manual Training School of Washington University. Here, beginning in 1883 and 1884, respectively, they studied woodworking, metalworking, and toolmaking. The family lived in a small, poorly ventilated apartment during those years, and their father's professional concern with the need for sunlight and freely circulating fresh air would come to influence them later in their work.
Their father decided for them that the two should become architects, and at his urging, enrolled at the School of Architecture of the Massachusetts Institute of Technology. They grudgingly studied the traditional classic styles, hoping only to gain certification for apprenticeships with architecture firms upon graduation, which they accomplished - Henry finally settling in with the H. Langford Warren firm, and Charles with Winslow and Wetherell, among others.
Then in 1893, their parents, who had moved to the "little country town" of Pasadena, requested that their sons move out to California and join them. The brothers did so, and the cross-country trip proved fortuitous: while passing through Chicago, they stopped at the World's Columbian Exhibition and for the first time saw examples of Japanese architecture. Their immediate admiration of the style would become a strong influence on their later designs.
Soon after their arrival in Pasadena, Charles and Henry set up shop together, and the architecture firm of Greene & Greene was born. Their art would culminate between 1907 and 1909 with the construction of the "ultimate bungalows" - one of which is the Gamble House in Pasadena.
The Gamble House
ROYCROFT
Roycroft is as much a state of mind as a place; this paraphrases what Elbert Hubbard had in mind when he founded the utopian craft community more than 100 years ago. The first Roycroft publication was printed in 1895.
Originally devoted to the making of beautiful books in the manner of William Morris, the Roycrofters soon developed a wide range of arts and crafts items for sale. What they made to furnish and decorate their expanding Roycroft Campus was soon being sold by catalog.
The unique combination of Hubbard family, artisans, and workers created a multi-level complex operation that included books, art, education, music, and magazines.
The Book "Images of America The Roycroft Campus" by Kitty Turgeon and Robert Rust explore the key factors that surround what made Roycroft Campus fascinating social experiment and made it eligible for a National Historic Landmark status. That designation was given in March 1986.
Elbert Green Hubbard was born June 19, 1856, the third child to a country doctor and his wife in Bloomington, Illinois. His parents had moved west after their sojourn in western New York on the Seneca Indian Reservation. Dr. Silas was from a large family from Mayville, New York, on Chautauqua Lake. Juliana Reed Hubbard, a young teacher, was from Buffalo, New York, the daughter of a bookbinder. Elbert's father was a phrenologist, having studied medicine at Castleton College in Vermont. Apparently, he was a good doctor who never earned much money because he often gave away his services.
With little formal schooling, Elbert Hubbard went to work selling soap for a cousin in Chicago. He married Bertha Crawford in 1879. They moved to Buffalo, where Elbert joined his sister Frances's husband, John Larkin, as a partner in the Larkin Co., another soap business. In 1883, the young Hubbard and their son Bert moved to East Aurora, New York, and for ten years he commuted by train to work in Buffalo.
His liaison with Alice Moore began in the late 1880s; she soon encouraged his writing and subsequent "dropping out" of the "establishment" or traditional world. After a six-week stint at Harvard, he travelled to England to research his Little Journeys to the Homes of the Great, soon to be published by J. P. Putnam & Sons. A daughter, Miriam, was born to Elbert and Alice in 1894, and only a year later, Katherine was born to he and his wife Bertha. The man was torn between his respect and love for the two women, but divorce and remarriage was the eventual result between 1902 and 1904.
Elbert Hubbard founded the Roycroft Press in 1895, and two years later, he began building what was to become the Roycroft Campus. The success of his essay "A Message to Garcia" (1899) catapulted him and the Roycroft to fame and enough fortune to build his Roycroft Campus bigger and better and eventually, to employ nearly 500 people.
After Alice and Elbert's death on the Lusitania in 1915, Elbert II (Bert) and his wife, Alta, ran the enterprise differently, but with a financial stability that was better than ever through the 1920s. Changing tastes and especially, the Great Depression dragged the Roycrofters into bankruptcy by 1938. Bert and Alta lived on as prominent citizens of East Aurora / he even served as mayor. Their children stayed in the area. Their only son, Elbert Hubbard III (known as John), became a doctor; he is now retired. Their youngest daughter, Nancy Hubbard Brady, was one of the founders of the RALA; she died in 1982. Here daughter Linda carries on the book business, "The House of Hubbards." Miriam's six children dispersed to several places around the East Coast. Here eldest daughter, Mary Roelofs Stott, became a noted author and musician; there is an award fund in her name. One of the Hubbard's farms, the Arden Farm, is still in Miriam's family; run by her youngest son, Mark, it provides organic produce for the western New York community.
The Roycroft Shops
BYRDCLIFFE
The Byrdcliffe Arts Colony was founded in 1903 in Woodstock, New York by a wealthy Englishman named Ralph Radcliffe Whitehead, along with his American wife Jane Byrd McCall and colleagues, Bolton Brown (artist) and Hervey White (writer). Whitehead, Brown and White searched the country looking for the perfect place to build their art colony and settled on Woodstock because of its natural beauty of the Catskill Mountains and its proximity to New York City.

When the colony first opened, it had a metalworking shop, a pottery, a woodworking shop, a large studio for Brown's art classes, a dairy barn, guest houses, a dormitory for students, and White Pines, the Whitehead's own house. The buildings resembled low rambling Swiss chalets with dark stained pine siding, sloping roofs with wide overhangs and ribbons of windows painted Byrdcliffe blue.

White Pines, the Whiteheads' house, was the center of the Byrdcliffe community. Many famous guests were entertained there including poet Wallace Stevens, authors Will and Ariel Durant, naturalist John Burroughs and dancer Isadora Duncan. Today, White Pines is open to the public with a permanent Byrdcliffe exhibition. This 15-room country house is recognized as one of the finest architectural examples of the American Arts and Crafts movement.

Over the years, Byrdcliffe has hosted celebrity visitors/guests including actors Helen Hayes, Joanne Woodward and Chevy Chase, painters Milton Avery, Philip Guston and George Bellows, sculptor Eva Hesse, writer Thomas Mann, educator John Dewey and musicians Bob Dylan and The Band.

The Byrdcliffe Arts Colony received its name as a combination of Ralph Radlciffe Whitehead's middle name and his wife's, Jane Byrd McCall Whitehead, middle name. The colony is still in operation today and is located on 300 wooded acres with 35 unique Arts and Crafts buildings on country pathways in Woodstock, New York. Byrdcliffe is the oldest continuing arts colony in America.
The Byrdcliffe Colony
LIMBERT
Charles P. Limbert started making "Dutch Arts and Crafts" style furniture and lighting at his Grand Rapids factory in 1902. He always used the phrase "Arts and Crafts," and never the word "mission" to describe his furniture. He was a student of European furniture designs, acknowledging the influence of the German and Austrian Secessionists on his work. British (particularly Charles Rennie Macintosh), Japanese, and American Prairie School influences are also evident in Limbert forms. Limbert visited Europe on more than one occasion, and studied examples of Dutch peasant furniture.
Limbert claimed that the original Spanish Mission Style was derived from Dutch furniture designs. He employed a designer of Austrian background, named Wm. Gohlke. Paul Horti, famous for Shop of the Crafters designs, also designed some furniture for Limbert. Of all American Arts and Crafts furniture makers, Limbert was perhaps the best known for his use of decorative cutouts, including squares, spades, hearts, etc. While Arts and Crafts enthusiasts may not find all Limbert designs aesthetically pleasing, the good designs are very good.
He emphasized high quality in materials and joinery techniques, but his line was diverse enough to include outdoor furniture in the Arts and Crafts style. Like Gustav Stickley, Limbert also produced a short-lived line of inlayed furniture, and like Stickley's the line was not a commercial success. That the Charles P. Limbert Company stayed in business during and after WWI is a tribute to the appeal and success of its products with consumers. Limbert's furniture was also chosen to outfit the Old Faithful Inn at Yellowstone National Park in 1906.
Charles P. Limbert was the son of a furniture dealer. He first joined the furniture industry as a salesman, and in that capacity he was highly regarded. In 1894 he started a Grand Rapids, Michigan manufactury making chairs, all the while continuing to act as a sales agent for other furniture makers. He is recognized for having popularized the rustic furniture of Old Hickory of Martinsville, Indiana.
He opened a factory in Holland, Michigan in 1906 where he produced furniture until 1922, when ill health prompted him to sell off his interest in the company. Limbert said that he wanted a more healthy and productive location for his workers. The Holland factory was a scenic site with indoor and outdoor recreational facilities for the workforce. It was also accessible by interurban trolley line from Grand Rapids.
Paul Kemner & Peggy Zdila
CHARLES ROHLFS
Drama in Design: The Life and Craft of Charles Rohlfs is the first comprehensive study of the personal life and creative career of Charles Rohlfs (1853-1936) and is the culmination of over a decade of interest in Rohlfs by author Michael L. James, an independent scholar in Buffalo, New York. This richly illustrated book, published in conjunction with the 1994 exhibition "The Craftsmanship of Charles Rohlfs" at the Burchfield Art Center, Buffalo, will prove to be an important reference work, even if some of its assertions about Rohlfs's place in the arts and crafts movement and the influences on his work are questioned.
In a 1900 address to an arts and crafts conference, Rohlfs explained that "the things produced in the glow of enthusiasm are the things that have stood the test of time because they have been natural to the producer"
(p. 93). His quotation aptly describes his own idiosyncratic furniture. It received wide recognition in his lifetime, but it was then left unexplored until the 1970s when scholars became interested in the American arts and crafts movement.1 James contends that lack of information about Rohlfs has caused his principles and motivations to be poorly understood and has consequently left him unrecognized by the general public. James states in his introduction that his goal is to elevate Rohlfs's status as an artistic furniture designer (p. 9)-a reputation once accorded him and still, the author asserts, entirely deserved.
Drama in Design presents a great deal of new information on Rohlfs.2 Each succinct chapter reveals previously unknown details of his life and knits a fascinating tale that well reflects his "glow of enthusiasm" for all his endeavors. The text follows a biographical format-the opening chapters detail Rohlfs's early life and career, the text then explores his creative nature as manifested in furniture, and it closes by outlining his personal and civic efforts.
James fully recounts Rohlfs's acting career and his collaboration with his wife, novelist Anna Katharine Green, topics only briefly mentioned in earlier published information. Rohlfs began his artistic career as a cast-iron stove and furnace designer in New York City while attending night classes at Cooper Union and pursuing his first true passion, acting. Rohlfs's 1877 stage debut was followed by a brief tenure with the Boston Theater Company. Unable to attain significant roles, however, Rohlfs retreated to a design career and continued his self-study in acting-a pattern that continued throughout his early career. By 1880, Rohlfs garnered some respectable reviews and consequently attained roles in traveling performances and held the lead role in several of his own productions. Critics responded equivocally to his later performances, citing his "peculiar interpretation" and display of "real dramatic power" (p. 29). The same assessment might be made of his furniture, which suggests the intimate and heretofore undocumented association between Rohlfs's theatrical and furniture-making careers; drama was essential to both.
James chronicles Rohlfs's cabinetmaking career from the earliest indications of his interest in furniture in 1887 through the development and growth of his company. Rohlfs initially made furniture for his own apartment, but interest in his creations resulted in numerous commissions. Rohlfs soon outgrew his modest attic work area and opened his first shop in Buffalo, where he and his family had settled in the late 1880s.
"The Sign of the Saw," the most extensive chapter in the book, explores the production of Rohlfs's furniture, its distinguishing characteristics, and the international recognition it achieved. When Rohlfs's business expanded, he no longer constructed the works but limited his role to designing furniture. He continued, however, to assert his artistic philosophy in the production process. He referred to his workmen as "fellow-laborers" and believed their sentiments were integral to the manufacture of the work: "to produce artistic furniture," he said, "they 'must be in sympathy and work with the feeling that they are part of the plan'" (p. 57). Unlike his contemporaries, Rohlfs maintained a close relationship with the fabrication of the object. After he completed the initial design, a scale model of the object was presented to Rohlfs for approval. The manufacturing process included hand and machine labor and resulted in aesthetically unusual, even whimsical, forms, distinguished by Rohlfs's sinuous motifs. Similar processes and enthusiasm were part of the production scheme for other wares by Rohlfs, such as lamps and chafing dishes.
Rohlfs's work found increasing favor among an international audience, as James's account documents. Rohlfs participated in numerous national and international expositions. His acclaim was so far-reaching that he received accolades from European royalty and numerous commissions for entire room suites. The most well-documented Rohlfs interior is the house he and his wife constructed in 1912. Drama in Design contains outstanding images of the house. They depict a diverse group of Rohlfs's objects in the setting for which they were intended-he also designed the interior of the home including wood and plaster work and light fixtures.
The book concludes with two chapters that summarize Rohlfs's participation in various arts-related organizations, the patents he developed during his lifetime, and the last decades of his personal life. These chapters are visually rich, and the images, combined with the wealth of details, lend insight into the personality of a designer who was, and is, often considered eccentric. The final section of Drama in Design reprints five speeches and interviews, including "True and False in Furniture" (an address given to a 1900 arts and crafts conference in Buffalo) and a 1902 speech given to an arts and crafts conference in Chautauqua, New York. These selections illuminate Rohlfs's beliefs and document that he never lost his flair for dramatic presentation. The closing pages contain a bibliography and a checklist of the exhibition at the Burchfield Art Center.
A closer look at some of the key assertions in Drama in Design reveals its limitations. The chapter "Sources of Rohlfs' Style" presents information on the stylistic influences on Rohlfs, a topic that has surfaced but has not been developed in prior publications. James suggests apparent "concessions to derivation" in Rohlfs's work, including assimilation of Moorish, medieval English, and Oriental motifs. He also acknowledges previously made connections between Rohlfs's work and that of architect Louis Sullivan and designer Edward Colonna but asserts them to have been unlikely; rather, James argues, Rohlfs drew on "ideas absorbed over a lifetime," which manifested themselves in a fresh and unique manner in his work. James also refutes the connection of the furniture to the mission (or arts and crafts) style; Rohlfs himself claimed to prefer "my own style (not 'Mission')"
(p. 44). James contends that "'the product of natural ideas' aptly summarizes Rohlfs' work, as nature was the primary inspiration for his craft." He supports this assertion with a thorough discussion of Rohlfs's "reverence for wood grain" as manifested in the arresting carved embellishment found on the furniture.
Although Rohlfs's work illustrates a persuasive naturalistic inspiration, combined with some of the aforementioned aesthetics, James too readily accepts Rohlfs's assertion that "natural ideas" and his own creative genius were the sources of his designs. James easily dismisses other potential effects, noting that "it is tempting to speculate on the possible influences and connections among the multitude of artists and craftsmen . . . [but] it is difficult to distinguish casual threads from a collective exchange and merging of ideas" (p. 44). Yet with such a great quantity of artistic activity in upstate New York, combined with Rohlfs's design training, New York City upbringing, and extensive European travels a decade earlier, it seems implausible that he could have worked so free of other influences.
In the introduction, James expresses his intent to place Rohlfs in the context of the arts and crafts movement, but by arguing so persuasively that Rohlfs's work is difficult to categorize, he undermines this goal. James maintains, "Although some of Rohlfs' work does resemble the Mission style, the majority of his furniture speaks for itself in disputing that connection" (p. 44). He contends that Rohlfs's work may be more appropriately "cited as an American expression of L'Art Nouveau, or . . . a hybrid of that style and American Arts and Crafts" (p. 44). He offers no support for these claims by references to individual works, however, and although the entire book is well illustrated with photographs of the period and the furniture, at no time does the text cite specific images. It leaves the interpretation of the works solely to the reader. References to Rohlfs's house are in the text, for example, but James does not discuss the specific images.
James claims in the introduction that Rohlfs's furniture relates to "the art furniture of today" and that he hopes greater understanding of Rohlfs's life and craft "will establish his place in the Arts and Crafts Movement." Unfortunately, the book leaves both tasks undone. James discusses Rohlfs's philosophy in the context of the arts and crafts movement, noting, for example, that Rohlfs "identified himself with the arts and crafts philosophy of the time" and that "his ideas strongly parallel those of John Ruskin." Readers would have been given a deeper understanding of Rohlfs's position in the movement, however, if James had incorporated this discussion into the text and had compared Rohlfs's work and philosophy with that of his arts and crafts colleagues integral to the thesis. Further, Rohlfs explained that he was not a reformer, yet his speeches to arts and crafts societies included in the appendixes strongly promote the rhetoric of the movement. He also adamantly distinguished his work from the mission style, yet later we learn that he drew on the aesthetics of the arts and crafts movement for the interior design of his own home. According to the introduction of the book, Rohlfs's "ideas, closely aligned with English Arts and Crafts principles, evolved over time" (p.10). To what extent Rohlfs influenced other reformers or designers, and to what degree he was influenced by the English or American stylistic vocabulary of the movement (in the use, for example, of natural materials and exposed joinery), are not completely addressed.
Despite these limitations, Drama in Design offers ample new information on the art and life of Charles Rohlfs. It is well presented, thoroughly researched, and abundantly illustrated. James's efforts represent the advancing scholarship initiated by earlier ground-breaking exhibitions and catalogues. This study should certainly help bring to light additional examples of Rohlfs's work. More importantly, however, James's text makes an enigmatic character, his arts, and his philosophy more accessible to a general audience through a judicious balance of personal information and art historical research.
Anna Tobin D'Ambrosio
Munson-Williams-Proctor Institute
WILL H. BRADLEY
Born in Boston, William Henry Bradley was largely self-taught as an artist. He began working in a printer's shop at the age of twelve in Ishpeming, Michigan, where his mother had moved in 1874 after the death of his father. This work experience would be important in introducing the young man to the many issues of typesetting, advertisements, and layout that would occupy him in the years to come.
Bradley executed a number of designs to promote The Chap-Book, a short-lived but important publication based in Chicago. His 1894 design for Chap-Book, titled The Twins, has been called the first American Art Nouveau poster; this and other posters for the magazine brought him widespread recognition and popularity. In 1895 Bradley founded the Wayside Press in Springfield, Massachusetts, and published a monthly arts periodical, Bradley: His Book. He remained an active and important member of the graphic arts world for the rest of his long life.
M. Lindsay
HARVEY ELLIS
Harvey Ellis is considered by many authorities to have been one of the United States' most talented and influential architects. In addition, he was known for his illustration work, his painting and his furniture designs for the Stickley firm.
However, the private nature of the man has proved a difficult barrier for researchers to surmount in documenting his work. Harvey Ellis seems to have been the type of individual for whom the desire for fame and fortune came in a distant second to his desire for creative expression.
In the words of author Eileen Manning, "In order to approach the work of Harvey Ellis, it is necessary to examine the relationships that existed between draftsmen and architects during the latter part of the nineteenth century…Harvey Ellis typifies the journeyman draftsman." Journeymen draftsmen often moved from city to city and from firm to firm. Ellis himself worked in Rochester, Utica and areas of the Midwest. Much of Ellis' work was credited to the supervising architects of the projects with which he was associated, although the designs were his. Ellis himself seemed uninterested in promoting his own name. In addition, personal problems, including alcoholism, dogged him throughout his life.
Today, Ellis' work is recognized and celebrated, not only in Rochester but also throughout the world.
Rochester Images
LOUIS H. SULLIVAN
Louis Sullivan was born in Boston, to an Irish-born father and a Swiss-born mother both of whom immigrated to the United States in the late 1850s. While attending high school Sullivan met Moses Woolson, whose teachings made a lasting impression on him, and nurtured him until his death. After graduating from High school, Sullivan studied architecture briefly at the Massachusetts Institute of Technology. Learning that he could both graduate from high school a year early and pass up the first two years at the Massachusetts Institute of Technology by passing a series of examinations, Sullivan entered MIT at the age of 16. After one year of study, he moved to Philadelphia and talked himself into a job with architect Frank Furness.
The Depression of 1873 dried up much of Furness's work, and he was forced to let Sullivan go. At that point Sullivan moved on to Chicago in 1873 to take part in the building boom following the Great Chicago Fire of 1871. He worked for William LeBaron Jenney, the architect often credited with erecting the first steel-frame building. After less than a year with Jenney, Sullivan moved to Paris and studied at the École des Beaux-Arts for a year. Renaissance art inspired Sullivan's mind, where he was influenced to relate his architecture to emulate.
Michelangelo's spirit of creation rather than replicate the styles of earlier periods. He returned to Chicago, not yet out of his 18th year. He began work for the firm of Joseph S. Johnston & John Edelman as a draftsman. Johnston & Edleman were commissioned for interior design of the Moody Tabernacle, which was completed by Sullivan. In 1879 Dankmar Adler hired Sullivan; a year later, he became a partner in the firm. This marked the beginning of Sullivan's most productive years.
With a string of triumphs such as the 1889 Auditorium Building in Chicago (where Adler and Sullivan reserved the top floor of the tower for their own atelier), the 1891 Wainwright Building in St. Louis and the 1899 on State Street in Chicago, Louis Sullivan was the first architect to find the right form for a steel high-rise. Louis Sullivan lived by the phrase "form follows function". The steel girder was the form for the steel high-rise. This new way of constructing buildings pushed them up rather than out. The steel frame allowed taller buildings with larger windows, which meant more interior daylighting, and more usable floor space. The technical limits of masonry had always imposed formal constraints; those constraints were suddenly gone. None of the historical precedents were any help, and this new freedom created a kind of technical and stylistic crisis.
Sullivan was the first to cope with that crisis. He addressed it by embracing the changes that came with the steel frame, creating a grammar of form for the high rise (base, shaft, and pediment), simplifying the appearance of the building by using ornament selectively, breaking away from historical styles and using his own intricate flora designs, using that ornament in vertical bands to draw the eye upwards and emphasize the building's verticality, and relating the shape of the building to its purpose. All this was revolutionary, appealingly honest, and commercially successful.
In 1890 Sullivan was one of the ten architects, five from the Eastern US and five from the Western US, chosen to build a major structure for the "White City", the World's Columbian Exposition, held in Chicago in 1893. Sullivan's massive Transportation Building and huge arched "Golden Door" stood out as the only forward-looking design in a sea of Beaux-Arts historical copies, and the only gorgeously multicolored facade in the White City. Sullivan and fair director Daniel Burnham were vocal about their displeasure with each other. Sullivan claimed that the fair set the course of American architecture back by two decades. His was the only building to receive extensive recognition outside America, receiving three medals from the Union Centrale des Artes Decoratifs the following year.
Adler and Sullivan broke their partnership after the Gauranty Building. Afterwards Sullivan went into a twenty-year-long financial and emotional decline, beset by alcoholism and chronic financial problems. He was awarded several commissions for small-town Midwestern banks (see below), wrote books, and in 1922 appeared as a critic of Raymond Hood's winning entry for the Tribune Tower competition, a steel-frame tower dressed in Gothic stonework that Sullivan found a shameful piece of historicism. He and former understudy Frank Lloyd Wright reconciled in time for Wright to help fund Sullivan's funeral after he died, poor and alone, in a Chicago hotel room. A modest headstone marks his final resting spot in Uptown's Graceland Cemetery.
Sullivan's legacy is contradictory. He is the first modernist. His stripped-down, technology-driven, forward-looking designs clearly anticipate the issues and solutions of Modernism. In his last years, Sullivan seemed willing to abandon ornament altogether in favor of honest massing; in fact, Adolf Loos, the author of the seminal manifesto "Ornament and Crime", had worked in Sullivan's office. But to experience Sullivan's built work is to experience the irresistible appeal of his incredible designs, the vertical bands on the Wainwright Building, the burst of welcoming Art Nouveau ironwork on the corner entrance of the Carson Pirie Scott store, the (lost) terra cotta griffins and porthole windows on the Union Trust building, the white angels of the Bayard Building. Except for some designs by his long time draftsman George Grant Elmslie, and the occasional tribute to Sullivan such as Schmit, Garden and Martin's First National Bank in Pueblo, Colorado (built across the street from Adler and Sullivan's Pueblo Opera House), his style is unique. A visit to the preserved Chicago Stock Exchange trading floor, now at the Art Institute of Chicago, is proof of the immediate and visceral power of the ornament that he used so selectively.
Wikipedia
GEORGE GRANT ELMSLIE
George Grant Elmslie was born in Aberdeenshire, Scotland on February 20, 1871 and emigrated to Chicago in 1884. He began his apprenticeship in the office of William LeBaron Jenney, who is known for being the originator of the steel frame skeleton used in modern building construction. In 1887 he joined Frank Lloyd Wright and George Maher in the office of Joseph Lyman Silsbee. After Wright left to go to work for Dankmar Adler & Louis Sullivan in 1887 he recommended Elmslie to Sullivan. And two years later he joined Wright at Adler & Sullivan. That recommendation led to a 20 year association between Elmslie and Sullivan. Elmslie was Sullivan's chief draftsman and ornamental designer. He detailed the ornamentation for Sullivan's Wainright building in St. Louis, the Schlesinger & Mayer (currently known as Carson Pirie Scott) Department store in Chicago and the National Farmers Bank in Owantonna, Minnesota.
In 1909, after declining an offer from Frank Lloyd Wright to take over his Oak Park studio, Elmslie left Sullivan's declining practice to join the firm of William Gray Purcell and George Feick Jr. in Minneapolis, Minnesota. Elmslie had met Purcell during Purcell's short stay in Sullivan's office in 1903. The firm was known for designing churches, residences and various types of civic and commercial buildings throughout California, Connecticut, Massachusetts and the Midwest. In 1913 George Feick Jr. left the firm, while Purcell and Elmslie continued their partnership officially until 1922. The new partnership of Purcell and Elmslie continued to design numerous banks across the Midwest as well as the Woodbury County Courthouse in Sioux City, Iowa in collaboration with former Sullivan protégé William L. Steele. Over the course of a decade the firm executed over 70 buildings along with numerous other unrealized designs, making them the most productive of the Prairie School architects.
In private practice Elmslie concentrated primarily on commercial designs. As his commissions began to dwindle he sought work with William S. Hutton and helped him with the design of the Washington Irving, the Oliver Morton and the Thomas Edison Schools in Hammond, Indiana, and also the design of Thornton Township High School in Calumet City, Illinois.
Elmslie was awarded fellowship status by the American Institute of Architects in 1947. He spent his last years writing articles and giving an occasional talk. Elmslie died on April 23, 1952 and was buried in Graceland Cemetery in Chicago.
Prairie Styles
GEORGE WASHINGTON MAHER
George Washington Maher was born in Mill Creek, West Virginia, on December 25, 1864. During his teens he apprenticed to prominent Chicago architects Augustus Bauer and Henry Hill. Maher joined the office of Shingle style architect J. L. Silsbee as a draftsman in 1887, where he worked with fellow draftsman Frank Lloyd Wright.
In 1888 Maher formed a short-lived partnership with Cecil Corwin. After Corwin left, Maher practiced alone until 1914, when his son Philip joined him for a brief period. After the war the firm became George W. Maher and Son.
During the 1890s Maher worked in a variety of styles. His Shingle and Queen Anne projects were widely reviewed in the journal Inland Architect during this period. Maher modeled his design for the Fresno Library and Water Tower (1894) on a Medieval Romanesque tower. By the late 1890s Maher's work began to reflect characteristics of the Prairie style. He was one of the pioneer Prairie style architects along with Frank Lloyd Wright, Purcell & Elmslie, and Walter Burley Griffin.
Maher's most important and productive period came after 1904. His bold and idiosyncratic residential interpretations of the Prairie ideal were built throughout Chicago's suburbs, including Oak Park, Evanston, Kenilworth, and Winnetka. He developed the campus plan for Northwestern University in 1907 and designed Swift Hall and Patten Gymnasium on that campus. He also did a great deal of work in Wausau, Wisconsin.
After World War I, Maher became a vocal proponent of community planning and prepared development plans for Glencoe and Kenilworth. He is also credited with forming the committee that launched the first efforts to restore the Fine Arts Building designed by Charles Atwood for the 1893 Columbian Exposition at Chicago.
Subject to bouts of depression all his life, Maher became despondent in 1925 and never fully recovered. He committed suicide on September 12, 1926.
John Edward Powell
FRANK LLOYD WRIGHT
The Frank Lloyd Wright School of Architecture was formally initiated in 1932 when twenty-three apprentices came to live and learn at Taliesin. The sources of this educational philosophy have roots that go back much further than the '30s. The program of the School, while remaining remarkably true to its heritage, has evolved through experience and the need to address changing times.
In 1931 Frank and Olgivanna Lloyd Wright circulated a prospectus to an international group of distinguished scholars, artists, and friends, announcing their plan to form a school at Taliesin in Spring Green, Wisconsin to "Learn by Doing."
"The fine arts, so called," they asserted, "should stand at the center as inspiration grouped about architecture . . . . (of which landscape and the decorative arts would be a division)." Education at Taliesin would emphasize painting, sculpture, music, drama, and dance "in their places as divisions of architecture."
Each of these elements of the fine arts, as the Wrights conceived them, would lead to broader learning: "Drama would be studied as the essential structure of all great literature;" while "Music would mean the fundamental study of sound and rhythm as an emotional reaction both as to original character and present nature." They anticipated a core faculty, "resident foremen", at Taliesin supplemented by "a guest-system of visitation, consultation and criticism" and faculty from the "nearest university" who would make philosophy and psychology and other disciplines available "by extension work." The "Wisconsin Idea" at the University of Wisconsin conceived of the entire State as a classroom, and the Wrights with close friends at the University proposed to make full use of it.
The students, or "apprentices," would round out their education in the spirit of Tolstoy's "What to Do." "The entire work of feeding and caring for the student body so far as possible should be done by itself . . . work in the gardens, fields, animal husbandry, laundry, cooking, cleaning, serving should rotate among the students according to some plan that would make them all do their bit with each kind of work at some time."
The ambitious plan for an endowed school exceeded the Wright's capacity to attract funds in the second full year of the Great Depression. So the next year, 1932, they issued a more modest circular announcing the formation of the Taliesin Fellowship and inviting young people to venture to Taliesin. The Fellowship would organize around the principles they had articulated in 1931, and the program now called the Frank Lloyd Wright School of Architecture, has generally evolved along these lines.
But the sources of these ideas go back much further than the early 1930s. They rested on the Wrights' own experience.
In 1886, Jane and Nell Lloyd-Jones, Frank Lloyd Wright's aunts, founded the Hillside Home School, a coeducational country boarding school dedicated to education of children, based on the principle of "Learning by Doing", a radical departure from most educational practices in those times. This philosophy made a profound impact on Frank Lloyd Wright, himself an indifferent student impatient with formal academic requirements and the rigid educational settings of his youth. After a brief stay at the University of Wisconsin, he left Madison to learn the profession of architecture in active Chicago offices. When he opened his own independent practice, Frank Lloyd Wright strongly supported the traditional training of architects in the apprentice system which he, himself, had experienced. Apprentice draftsmen and women always worked in his Oak Park Studio.
After the closing of the Hillside Home School in 1915, for which he had designed buildings and the Romeo & Juliet windmill, Frank Lloyd Wright continually pursued the idea of establishing a school for architects using the Hillside Home School buildings. By then he had built Taliesin on a nearby hillside and had taken up residence there. In 1926, he invited the internationally known architect H. Th. Wijdeveld to join him in establishing a school. Frank Lloyd Wright had observed educational experiments in the United States and abroad, and the Arts and Crafts movement had clearly influenced his thinking. During a visit to Taliesin, after observing the condition of the Hillside Home School buildings, Wijdeveld declared the idea impossible to achieve, especially because of the appearance of the old, abandoned and vandalized Hillside Home School buildings, then unused for over a decade.
In 1928, Frank Lloyd Wright and his new, dynamic wife, Olgivanna, decided to repair the damage at Hillside Home School and reopen it as an institution devoted to architecture and the allied arts. Olgivanna Lloyd Wright encouraged and broadened her husband's interest in education. The ninth and last child of an aristocratic Montenegran family, she grew up in a cultural and stimulating environment. Her mother, a crusading politician, served as a military leader, setting an example as a woman of accomplishment and serious purpose. Trained first in a progressive private school where Olgivanna learned both French and Russian, she eventually came under the tutelage of George Ivanovitch Gurdjieff. This charismatic mystic created the Institute for the Harmonious Development of Man at Fontainebleau, outside of Paris. Based on his philosophy of spiritual development, Gurdjieff's school stressed hard work, self-discipline, sacrifices and suffering, self-awareness, and conscious effort, often through performance. Olgivanna excelled in music and dance, and she came to the United States ready to put her learning into practice.
Frank Lloyd Wright readily accepted her ideas and adopted as his own her stress on the importance of the holistic development of mind, heart, and body as the essence of an educated person.
The first twenty-three apprentices who formed the Taliesin Fellowship in 1932 and other pioneers who joined them in the early 1930's included some remarkably talented men and women. At first, Frank Lloyd Wright had few commissions through which to teach the apprentices, and he put them to work in the construction, operations and maintenance of the school. The apprentices quarried the stone and burned limestone and sifted sand from the adjacent Wisconsin River to make mortar. They cut trees and sawed them into dimensional lumber, and along with the masonry, built the large studio, now on the National Register of Historic Places, that still serves as the center of learning on the Spring Green campus and as an active architectural studio. The apprentices worked on all aspects of life at Taliesin, developing a largely self-sufficient school and community that operated successfully with a very low budget.
Surrounded by bright, committed and energetic apprentices, Frank Lloyd Wright's career as an architect found new vigor, and soon the students could learn as they worked on some of the most innovative buildings in America. The celebrated master of the Prairie School had expanded his vocabulary, and apprentices under his direction created renderings, made models, did the engineering and produced construction drawings. They supervised construction on projects like the Johnson Wax headquarters (Racine, WI), Fallingwater (Bear Run, PA) and the first Usonian houses. They did the first perspectives of the Guggenheim Museum (New York, NY) and Monona Terrace (Madison, WI). The Taliesin Fellowship had with astonishing speed developed into an exciting architectural laboratory which attracted some of the nation's best work and hosted many of the world's great artists and great minds. In 1940 the Museum of Modern Art exhibited some of the models made by the students.
In the winter of 1935 Frank and Olgivanna Lloyd Wright moved the entire Fellowship to Chandler, Arizona, where they constructed the model of Broadacre City, Frank Lloyd Wright's concept of the integration of living and working in successfully planned communities. This first winter in Arizona inaugurated the tradition of moving the School between Wisconsin and Arizona that still continues. After the first two winters in temporary quarters, he purchased land in Scottsdale and, in 1937, with the apprentices, began the construction of a new kind of desert architecture at Taliesin West.
As the work of the architectural office expanded, some of the apprentices decided to stay at Taliesin, continue their professional development as practicing architects in Frank Lloyd Wright's "firm," marry and raise families. Others left Taliesin and began successful careers in architecture with other firms and on their own. New apprentices replaced those who left; the talented group who stayed became the Senior Fellowship. They also became the "resident foremen," the faculty that the Wrights had envisioned.

Following a hiatus during World War II when new construction all but ceased and rationing precluded the cross country excursions between Arizona and Wisconsin, the demand for Frank Lloyd Wright's services returned in force and accelerated until his death in 1959. The post-war influx of commissions reaffirmed the need for permanent members of the Fellowship to produce architectural work and to mentor the growing number of young men and women seeking to experience the concepts embodied in organic architecture. During these exciting years, the fellows and the apprentices worked on more than 100 houses, including the Usonian Automatics and other experiments with concrete blocks. They also worked on the Guggenheim Museum, the Price Tower (Bartlesville, OK), the Florida Southern College campus (Lakeland, FL), the Grady Gammage Auditorium (Tempe, AZ), the Annunciation Green Orthodox Church (Wauwatosa, WI), several planned communities (Pleasantville, NY and Kalamazoo, MI) and the expansion of Taliesin West.
Young men and women could come to Taliesin and get first hand training working with outstanding architects on some of the nation's most visible and important projects. With the growing life at Taliesin they would also participate in music, drama and other fine and performing arts. They interacted with the constant parade of the world's best minds who came to visit the Wrights and the Fellowship. When their skills developed and they had sufficient experience, some would stay and join the Senior Fellowship, but most would leave, pass the boards and become registered, practicing architects. In recent years, these former apprentices have organized as the Taliesin Fellows. They hold reunions, conduct meetings, publish a journal, and, in 1996, became the official alumni organization of the Frank Lloyd Wright School of Architecture.
After Frank Lloyd Wright's death, the Senior Fellows incorporated an architectural firm to continue the practice and to mentor the apprentices. These activities now took place under the umbrella of The Frank Lloyd Wright Foundation which Frank Lloyd Wright established in 1940 by deeding to it all of his personal and intellectual property. His will confirmed his gift to the Foundation, and after 1959 it became the governing entity for all of the activities at Taliesin with Olgivanna Lloyd Wright serving as its president until her death in 1985.
As with other professions, the practice of architecture has become increasingly structured. The American Institute of Architects (AIA), the National Architectural Accrediting Board (NAAB), the National Council of Architecture Registration Boards (NCARB), and other organizations which govern the standards of architectural practice, increasingly required graduation from an accredited institution of higher education and an accredited architectural program as a pre-requisite to sit for the Architectural Registration Examination (ARE). These exams have become the sole gateway to licensure and professional practice for the majority of the States. In response to this changing climate, the Foundation stepped forward to formalize the apprenticeship program into the Frank Lloyd Wright School of Architecture. Apprentices, however talented and well trained, could not become licensed architects in many states without the approved degree.
The educational program, under the direction of new academic administration positions, adapted most of the basic tenets of "Learning by Doing" and the educational philosophy that underlay the Taliesin Fellowship to the range of institutional characteristics required of an accredited institution of higher education. The new Frank Lloyd Wright School of Architecture expanded academic offerings and experiences, developed a library, added facilities, and placed the essential elements of student life - counseling and advising, admissions, and financial aid - on a much more formal basis. Both campuses, which have earned National Historic Landmarks status from the National Park Service, now have many of the elements of a small college. From 1985 until 1996 the School underwent a rigorous process of reporting towards accreditation, which was earned successfully at both the Institutional level and the Professional Architectural level (see accreditation). A School Endowment has been developed and is continuing to grow. An Alumni association, the Taliesin Fellows, provides graduates a vibrant professional and personal network.
The basic elements of life, learning, and work at Taliesin have remained in much the same relationship as they began and evolved under the leadership of the Wrights. The apprentices continue to learn experientially, and they do much of the work of feeding and caring for themselves and of maintenance and construction on their two campuses in Wisconsin and Arizona. Their learning laboratory requires the active, successful architectural practice of local architects to provide projects in many states and abroad.
The design and construction of houses, health care and recreational facilities, and major commercial and civic structures offer the apprentices a wide range of experience. In turn, professional architects mentor and teach young apprentices. As in the Wrights' lifetime, Taliesin continues to attract a steady procession of scholars, authors, artists, performers and others who come to teach and to interact with the life of Taliesin. With virtually 100 percent of its graduates actively practicing architecture, the Frank Lloyd Wright School of Architecture builds upon the foundation of the educational ideas of Frank and Olgivanna Lloyd Wright and successfully adapts them to changing external and internal conditions.
Taliesin
ROBERT R JARVIE
Robert Riddle Jarvie worked at the Chicago Department of Transportation in the late 19th century, and as a hobby began making lanterns and the tall, graceful candlesticks for which he is best known. In 1904 he left his job and started the Jarvie Shop in downtown Chicago. A premier metalsmith of the Arts and Crafts movement, he applied influences from Prairie School architecture and ornamentation and from Art Nouveau in recreating early American lighting fixtures, especially candlesticks. During seven short years from 1905 to 1912 Robert R. Jarvie produced an entire line of candlesticks that transformed a utilitarian article into a decorative work of art. Unfortunately, the World War One years took their toll on his business, and in 1920 he closed his shop.
Mackintosh Design
ERNEST A. BATCHELDER
Ernest A. Batchelder (1875-1957) was an artist and educator who made Southern California his home in the early 20th century. He is famous as a maker of art tiles.
Batchelder came to Pasadena, California, in the early 1900s to teach, and became director of the art department at Throop Polytechnic Institute, the predecessor of the California Institute of Technology.
His life took a turn in 1909 when, behind his house overlooking the Arroyo Seco, he built a kiln and entered the business of creating hand-crafted art tiles. The tiles were hugely popular, and by the 1920s, Batchelder's tiles could be found in homes and buildings across the United States. Batchelder's prominence in Southern California's art community included his involvement in the founding of the Pasadena Art Institute and his membership in the Pasadena Society of Artists.
The house that Batchelder built in Pasadena, California, in the early 1900s, and where he set up his first kiln, is listed on the National Register of Historic Places.
The current resident, Dr. Robert Winter, wrote the definitive Batchelder history, Batchelder Tilemaker (Balcony Press, 1999, 112 pp, ISBN 1890449032). Although the house is not open to the public, some Batchelder tiles, stamped with heraldic animals and figures, may be found on the walkway in front of the dwelling.
Answers
GEORGE OHR
George Ohr was born in Biloxi, Mississippi in 1857. In 1879, Joseph Meyer
offered to teach Ohr the potter¹s trade. Ohr¹s family knew potters Francois
and Joseph Meyer, a father and son from France who settled in Biloxi, but
later moved to New Orleans. In New Orleans, Joseph Meyer taught George Ohr
to use materials at hand, including local clays, to build rudimentary
wood-burning kilns, and the formulae for old-world lead glazes. They
produced utilitarian pottery wares and novelties for the tourist trade.
George said he "took to pottery like a duck takes to water." In 1882, Ohr
returned to Biloxi, to build his first pottery. In 1884, he exhibited over
600 pieces in the World¹s Industrial and Cotton Centennial Exposition in New
Orleans. He used state fairs, international expositions and trade fairs to
exhibit and sell his work.
In 1888, William and Ellsworth Woodward started the New Orleans Art Pottery
Company and asked Joseph Meyer to be the pottery¹s thrower. Meyer asked Ohr
to assist him. The New Orleans Art Pottery Company dissolved and became the
New Orleans Art Pottery Club, which engaged Ohr and Meyer for over two
years, until the Woodward brothers decided to form the art department of
Newcomb College (now part of Tulane University). Newcomb College Pottery
prided itself on producing "no two alike." Ohr used this philosophy to his
advantage. It became his mantra and described the unique quality of his "mud
babies." Ohr returned to Biloxi, but remained involved with the New Orleans
Art Pottery/Newcomb College endeavor through 1896.
George had married Josephine Gehring in 1888 and in 1890 created a new
pottery, the Biloxi Art and Novelty Pottery. With his long moustache and
offbeat sense of humor, George developed an eccentric persona. He and
Josephine had ten children, but only five survived to adulthood. Many of
Ohr's family remained in Biloxi, and today they make up a number of the
oldest families on the Gulf Coast.
George's new pottery buildings burned in 1894, and over 10,000 works were
destroyed. Ohr's life was a study in stamina and resilience; he always
persevered and started over. Despite his reputation for eccentricity, George
Ohr was a hard worker. In the later part of his life, he produced quality
art pottery that would be appreciated and remembered for centuries. George
cultivated the idea that he was crazy, calling himself "The Mad Potter of
Biloxi." He said that he was "unrivaled" or "unequalled" and was, by his
own estimation, the "world¹s greatest potter." His antics, self-promotion,
and playful spirit are what people remember, rather than what was more
likely the case, a determined artist who sought to create attention to his
creative production through his eccentric character.
Ohr's skills exploded when he became an "artist-potter." His claim there
were "no two alike" was true. The pinched, folded and twisted clay forms,
thinness of the clay wall, fluidity of form, tendril-like handles, and
freshness of Ohr's creations illustrate a technical skill that is still
unrivaled. One hundred years later, potters marvel at his skill and cannot
rightly say exactly how it was done. Critics of the day praised Ohr's
glazes, but as his admiration for pure forms executed in clay increased, he
left many pieces unglazed in bisque form. He believed only in this state
could the form be clearly perceived. Today we have a legacy of Ohr's bisque
pieces that act as a sampler of his pinches, folds, and fabulously
thin-walled clay creations.
Though he was recognized as an artist to some extent, it was only at the
1904 St. Louis World's Fair, that he received any official awards, the
Silver Medal. He felt he was unappreciated, misunderstood, and lacked a
lasting reputation. To combat the feeling of having no artistic
" immortality," in 1900 he addressed a box of work to the Smithsonian
Institution, with it an inscription, "I am the potter who was."
By 1907, Ohr's health began to fail. In 1910, he turned over the building to
his son for an auto repair shop, but in a final stroke of humor, Ohr named
it the "Ohr Boys Aut2 Repair Shop." George took to riding a motorcycle in
his last days, with moustache flying. He died in 1918.
In the late Sixties, Jim Carpenter, an antique dealer, came to Biloxi in
search of parts for antique cars and was directed to the Aut2 Repair Shop.
He was shown boxes of George Ohr's work. After negotiating for several
years, Carpenter bought the entire lot of work, took it home to New Jersey,
and started slowly selling it to the rising group of collectors interested
in the "Mad Potter of Biloxi." In 1973, Carpenter saw to it that the box
addressed to the Smithsonian was delivered. In a turn of events that would
have pleased George Ohr enormously, the museum bearing his name and
celebrating his genius became an affiliate of the Smithsonian Institution in
2002. The interest in Ohr's work that was rekindled with Carpenter's
purchase continues to escalate today, and now George Ohr is considered a
genius with pottery, "pushing the expressionistic limits of clay to its
limits."
George Ohr Museum
GRUEBY
William H. Grueby (1867-1925) founded the Grueby Faience Company in 1897 in Boston, Massachusetts. Grueby was a ceramic artist who had been experimenting with more traditional styles when he travelled to Chicago to attend the World's Columbian Exposition of 1893. At that venue, Grueby was exposed for the first time to the new matte glazes being introduced by French artisans around that time. Upon his return to his Boston home, Grueby founded the company and began a period of about five years during which he experimented and perfected his own matte pottery glazes.
Focusing mostly on art pottery vases, he introduced his first line of matte glaze wares in 1898; these were different than anything which had been on the market before, and colors of green, pink, aqua, and yellow were introduced in the new glazes. Of the new color glazes, the matte green most associated with Grueby pottery was the most unique and popular and to large degree remains so today. Soon thereafter, Grueby began working with other top artisans and manufacturers such as Gustav Stickley and Louis Comfort Tiffany. Stickley mission style Arts and Crafts furniture was a perfect complement to Grueby's pottery lines, and they were often displayed together in showrooms, expositions, and trade fairs. As further evidence of the synergies between these companies, Grueby lamps and vases were also featured in Stickley catalogues and in magazines devoted to mission style arts and crafts.
While less obvious artistically, it is also interesting to note the pairing of Grueby ceramic lamp bases with Tiffany Studios glass lamp shades, a combination that is quite rare and highly collected in today's market. Like many manufacturers entering the industrial age, Grueby works were frequently copied, and much less expensive works were offered to a mass market with similar but admittedly inferior glazes. Nevertheless, the competition represented by the mass market production of similar glazes and styles had a major financial impact on Grueby's fortunes, leading to the bankruptcy of the company in 1909. Grueby emerged from bankruptcy shortly thereafter, and they continued to offer limited production runs of ceramic pottery, statuary, and tiles for another ten years before closing the doors in 1920.
Collectics
FULPER POTTERY
The company that became the Fulper Pottery Company was originally founded as the Samuel Hill Pottery of Flemington, New Jersey in 1815, where Fulper founder Abraham Fulper worked. Through talent and hard work, Abraham soon became a partner in the firm with its original founder and ultimately purchased it in 1860 following Samuel Hill's death in 1858. Upon Abraham's death, his sons reincorporated the company in 1899 under the name of Fulper Pottery Company. Abraham Fulper's grandson, William H. Fulper II, began producing art pottery with the Vasekraft line in 1909, and the company soon became known for its creativity in design and its experimentation with new and unique glazes. Moving well beyond vases, Fulper began making a wide variety of household items including bookends, jugs, bowls, beer mugs, candleholders, lamps, perfume and boudoir lamps, desk accessories, and tobacco jars.
Whimsical pieces of fancy were created in the form of people, animals, and objects both real and imaginary, many with thick, rich glazes that seemed to blend colors and run into new shapes and patterns. Fulper was created in the midst of the arts and crafts movement, but they were concerned that production techniques reflecting the values of the American arts and crafts movement of hand craftsmanship would make their production unaffordable for the general population. As such, Fulper made their pottery in molds versus being hand thorwn on a wheel by a master pottery. They envisioned their market differentiation in the uniqueness and creativity of their glaze lines. In about 1910, Martin Stangl of later individual fame joined Fulper in even more radical glaze experimentation and new forms, raising the profile of the company to a national market and winning various awards at art ware exhibitions such as the San Francisco Panama/Pacific exposition of 1915.
The Vasekraft line remained popular right through World War I, and its designs retained an aura of innovation. Nevertheless, Fulper never received the critical acclaim that hand crafted arts and crafts potteries of the time such as Grueby and Rookwood achieved, and dependence on glazes ensured that no two pieces were identical, leading to inconsistent quality in production. Fulper did reasonably well in the market and expanded production in 1928, but just two years later in 1930 following a fire at the factory Stangl purchased the company as his base from which he continued producing kitchenware and other pottery. Nevertheless, Fulper production of art pottery never really recovered from the war years and their forays into mass production, and art pottery production ceased by about 1934.
Today, values are primarily determined by form and glaze, with the most rare and vibrant glazes bringing by far the most money in the marketplace. Fulper experimented with insets of stained glass and other materials into their pottery during the art production years, and these pieces of more unique design being especially well collected. Age is also important to Fulper value, and various marks were used over the years which help to date the production. A vertical FULPER in ink was the most common mark during the early Vasekraft years of 1909 until about 1915, a raised vertical FULPER in a rectangle was used from 1915 until 1922, a vertical FULPER in ink but with oriental style characters in a rectangle was used from 1922 until 1928, and an impressed horizontal FULPER along with most typically a model number was used from 1928 until art pottery production stopped in 1935.