ANTIQUES WITH A HISTORY
PHOEBE TRAQUAIR BED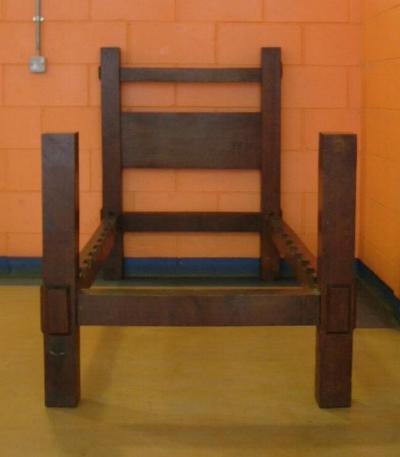 Willowwood: finished study for the decoration of the keyboard panel of the piano for Lympne Castle, Kent 1909
Watercolour on paper, 14.5 x 100.1 cm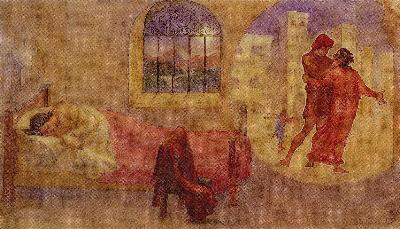 Collections: H. M. Traquair Private collection
A grand piano, now lost, was commissioned from Robert Lorimer by Frank Tennant for the Great Hall at Lympne Castle, Kent, in 1908. The Great Hall at Lympne Castle, acquired by him in 1906, was already furnished with mid-seventeenth century furniture and two fifteenth century Burgundian tapestries. Lorimer was entrusted with adding some new pieces of furniture, of which the most notable was a grand piano.
Frank Tennant, like Traquair's brother William, was a collector of paintings by Rossetti. He was later described by his sister Margot Asquith as 'the artist among the boys ... he was born with a perfect ear for music and eye for colour and could distinguish what was beautiful in everything he saw ...'. Traquair had
already, in 1905 painted a panel of 'babies, vines and grapes and birds' for Hyndford House, Tennant's home in North Berwick and was therefore chosen to decorate the piece. The legless piano case and works were shipped from Steinway's London depot to Edinburgh, arriving in early October 1909, by which date this design for the keyboard panel - but not the other nine preparatory studies was complete. Traquair was also to paint the outside of the lid with a decorative tree of life and the inside with a scene of Pan and Psyche.
Work on the decoration of the instrument began in November and continued until the spring of 1910. In October 1912 the Lorimer office finally settled accounts for the instrument: Steinway & Sons were paid £244, Scott Morton & Co. £76 15s for carving the case and 'Nuremberg' legs, Moxon & Carfrae £62 9s. for gilding and Traquair the handsome sum of £250 for her decoration. She retained all ten watercolour studies. The piano was photographed for the Lorimer office and a set of prints given to the artist. It achieved much favourable comment in the press, being acknowledged as a worthy successor to Alma-Tadema's painted instrument for Henry G. Marquand and above all Burne-Jones decorated 'Orpheus' piano for William Graham exhibited at the New Gallery, London, in 1892-3.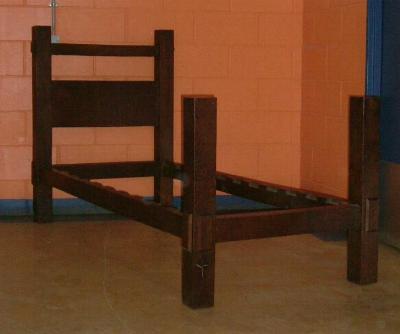 For the keyboard panel decoration Traquair reworked Rossetti's sonnet Willowwood, first illuminated almost twenty years before. The other 'musical' text she chose for the piano decoration was The Song of Solomon.
Further information on the Lympne Castle piano may be found in Kathleen Purcell, 'The Design of Grand Pianos' in The House and Its Equipment, 1911, pp.63:65; Kathleen Purcell, 'A Notable Piano' in Country Life, Architectural Supplement, 29 April 1911 (illustrated); Michael L Wilson, 'The Case of the Victorian Piano', in The V & A Yearbook, 1972, PP 149-50; and Peter D. Savage, Lorimer and the Edinburgh Craft Designers, 1980, ppp.82-3
The Song of Solomon: nine finished studies for the decoration of a piano for Lympne Castle, Kent 1909
(a) We will be glad and rejoice in thee watercolour and ink on paper, 25.5 x 54.5 cm signed in monogram and dated
(b) Behold thou are fair, my love; behold thou are fair watercolour and ink on paper, 25.5 x 40.5 cm
(c) While the King sitteth at his table, my spikenard sendeth forth the smell thereof watercolour and ink on paper, 25.4 x 44.5 cm
(d) The voice of my beloved. Behold he cometh watercolour and ink on paper, 22.5 x 44.3 cm
(e) By night on my bed I sought whom my soul Loveth watercolour and ink on paper, 26 x 44.5 cm signed in monogram and dated
(f) Who is this that cometh out of the wilderness like pillars of smoke watercolour and ink on paper, 25.5 x 37 cm
(g) Return, return 0 Shulamite; return, return, that we may look upon thee watercolour and ink on paper, 25.5 x 53 cm
(h) I am my beloved's, and his desire is towards me; let us go forth into the field watercolour and ink on paper, 25.5 x 56 cm
(i) Many waters cannot quench love, neither can the floods drown it watercolour and ink on paper, 26 x 54 cm collections: H. M. Traquair Private collection
Each watercolour study is framed in a gold-painted mount inscribed with the relevant text. All designs were completed after Traquair viewed the piano case in early November 1909. These scenes were the most successful part of the decoration, employing a lyrical use of colour and tone and delicacy of draughtsmanship. The medieval Italianate scenes have a sense of innocence also found in La Vita Nuova (cat.54) and designs for enamels of the 1904-8 period. For Traquair the decoration of the Lympne piano was one of the most satisfying pieces of painting she ever carried out. Writing to Percy Nobbs on 27 November she commented
….my piano gets on. I do honestly think it is the best painting I have ever done, wood is so delightful to work on ...
A detailed account of this part of the piano decoration was given in 1911 by Kathleen Purcell in her article, 'A Notable Piano':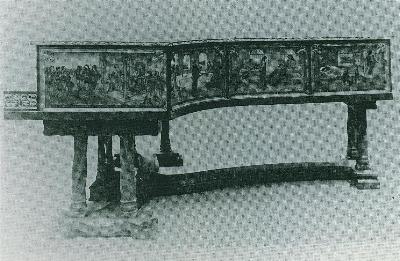 Round the outside of the case on its vertical surfaces is a series of nine panels which illustrate the greatest of songs - The Song of Solomon. In the first scene (which begins at the treble end of the instrument) the Shulamite is brought before Solomon, who sits in the porch of his palace. In the second panel ... she is with the King in his banqueting-hall. Next follows the picture of her in the Women's Rooms, with the shepherd stretching his hands through the bars of the windows, while an attendant plays the lyre. In the adjoining panel the Shulamite is asleep, and her dream is represented in the encircled corner picture. The fifth and sixth show Solomon returning from war, and pressing his suit with the Shulamite. These two panels are on the end of the instrument, and the remaining three on the straight side show the return of the shepherd lover, the release of the Shulamite and her return with him, and, finally, the wedding feast. This notable sequence of pictures incorporates, in a naive and delightful way, various features of Scottish scenery, and the progression of events is marked by the changes from dawn to midday, and through night to the brightness of another day.
When the piano was last exhibited in public, in 1952, it was in a fragile condition and the painted decoration had severely discoloured. The case of the grand piano for Lympne Castle photographed in the Murieston Road workshops of Scott Morton & Co. in the spring of 1910.
CHARLES SARGEANT JAGGER
A rare cast plaque by Charles Sargeant Jagger
Height 0.620, Width 0.440
The Sir W James Thomas Shield, dating from 1913-14
PROVENANCE
Jagger was working on this sculpture as war broke out.
Illustrated in 'The Sculpture of Charles Sargeant Jagger' by Ann Compton, and also mentioned in the text.
Jagger had kept this shield as itemised amongst his effects at his death.
There is a small amount of correspondence relating to the commission which was formerly in the hands of his son by his first marriage, Cedric Jagger.
Featured in 'The Studio' Volume 63 (October 1914) pp 84-99
The Sir W. James Thomas Shield for the Monmouthshire Congregational Union, inscribed 'Search The Scriptures, The Monmouthshire Congregational Union Sunday Schools Examination, Inaugerated 1913, Sir W James Thomas Shield, Cariad, Gobaith, Fydd.
Jagger probably secured this commission through Goscombe John. The County Medical Officer in Gwent, Dr Rocyn-Jones, managed the commission. Jagger sent him a design in early 1913 with an explanation of the iconography. He had chosen the Celtic Style because it 'is suitbale for any object definitely of Welsh interest and secondly because the Celtic is essentially a "religious art". The father and mother mourning a dead child recall human love and sorrow. They are 'overshadowed by the all embracing and Divine Love of Christ... symbolised by a crown of thorns, the dry prickles of which have bloomed with briar roses'. This imagery is similar to that used in Humanity. The Representation of 'Love Triuphs over pain..... is derived from Mantegna in the Bell Arts in Verona.' The full scale model was sent to Wurttemburg, Germany, to be cast in silver. On October 1914 Jagger offered his resignation to Dr Rocyn-Jones because, having enlisted, felt he could not complete the commission. The model sent to Germany is presumed lost, but a bronze cast was listed in the studio inventory at Jagger's death.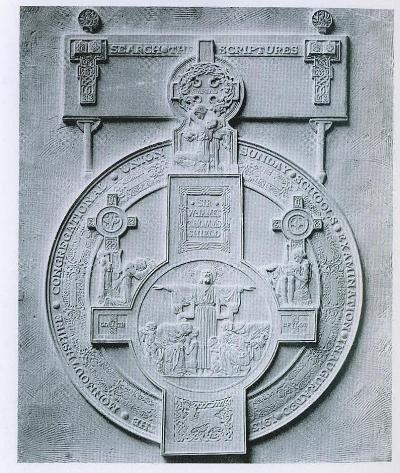 ILLUSTRATION, THE STUDIO, Volume 63, (October 1914), page 99
While his career was relatively short, it spanned just 16 years, Charles Sargeant Jagger (1885-1934) established himself as one of the leading war memorial sculptors in the years following 1918, and his contribution to the history of British sculpture should not be underestimated. After leaving the Royal College of Art in 1911, Jagger had little time before the outbreak of war to develop a personal style. However, on his return to Britain in 1918 the sculptor wasted little time in establishing his artistic identity: his sculptures of soldiers forming the foundation for his reputation. His military figures display Jagger's artistic motivations. In contrast to the fashion for idealism, the features of the models are rugged and workman-like: characteristics which created a 'realist' label for the artist. However, these pieces show more than realism at work. Uniform and equipment convey symbolic meaning and their strikingly symmetrical poses reflect the influence of primitive art. The combination of realism and primitivism is evident throughout Jagger's body of work, from the war memorials to his later creations that included religious works, portrait statues and decorative architectural schemes. Often criticised for not being modernist, Jagger's work is also consistently admired - his Royal Artillery Memorial is widely accepted as a true icon of early twentieth-century British sculpture. In this, the first study of the sculptor's entire career, Ann Compton seeks to place Jagger on the art-historical map. Comprising images of all his sculptures and including research from many unpublished sources, including the artist's private papers, The Sculpture of Charles Sargeant Jagger will provide an authoritative overview of a career that has been unduly neglected.
Charles Sargeant Jagger, who was wounded twice during the conflict and won the Military Cross for courage, knew better. When invited to produce the Royal Artillery Memorial on Hyde Park Corner, he told the Daily Express that "his experience in the trenches persuaded me of the necessity for frankness and truth". Defying the convention of using symbolic figures, Jagger placed bronze depictions of a gunner, an officer and a driver on three sides of his elaborate monument. Rather than signifying triumph, they all look lost in thought. Jagger also laid out a bronze body of a dead Tommy with a greatcoat shrouding his face. Displaying admirable boldness, he had defied the government edict that had banned images of dead British soldiers throughout the war years. By scorning censorship and gung-ho bombast, Jagger arrived at an accurate reflection of many ex-soldiers' views. They felt increasingly disillusioned with the post-war state of a country where chronic unemployment was exacerbated by niggardly pensions for men disabled by their wounds.
All information, courtesy of Ann Compton, author, 'The Sculpture of Charles Sargeant Jagger'

PRE-RAPHAELITE ART
The Pre-Raphaelite Brotherhood (also known as the Pre-Raphaelites) was a group of English painters, poets and critics, founded in 1848 by John Everett Millais, Dante Gabriel Rossetti and William Holman Hunt.

The group's intention was to reform art by rejecting what they considered to be the mechanistic approach adopted by the Mannerist artists who followed Raphael and Michelangelo. They believed that the Classical poses and elegant compositions of Raphael in particular had been a corrupting influence on academic teaching of art. Hence the name "Pre-Raphaelite". In particular they objected to the influence of Sir Joshua Reynolds, the founder of the English Royal Academy of Arts. They called him 'Sir Sloshua', believing that his broad technique was a sloppy and formulaic form of academic Mannerism. In contrast they wanted to return to the abundant detail, intense colours, and complex compositions of Quattrocento Italian and Flemish art.

The Pre-Raphaelites have been considered the first avant-garde movement in art, though they have also been denied that status, because they continued to accept both the concepts of history painting and of 'mimesis', or imitation of nature, as central to the purpose of art. However, the Pre-Raphaelites undoubtedly defined themselves as a reform movement, created a distinct name for their form of art, and published a periodical, The Germ, to promote their ideas. Their debates were recorded in the "Pre-Raphaelite Journal".

Beginnings of the Brotherhood

The Pre-Raphaelite Brotherhood was founded in John Millais' parents' house on Gower Street, London in 1848. At the initial meeting John Everett Millais, Dante Gabriel Rossetti and William Holman Hunt were present. Hunt and Millais were students at the Royal Academy of Arts. They had previously met in another loose association, a sketching society called the Cyclographic club. Rossetti was a pupil of Ford Madox Brown. He had met Hunt after seeing Hunt's painting "The Eve of St Agnes", based on Keats' poem. As an aspiring poet, Rossetti wished to develop the links between Romantic poetry and art. By autumn four more members had also joined to form a seven-strong Brotherhood. These were William Michael Rossetti (Dante Gabriel Rossetti's brother), Thomas Woolner, James Collinson and Frederic George Stephens. Ford Madox Brown was invited to join, but preferred to remain independent. He nevertheless remained close to the group. Some other young painters and sculptors were also close associates, including Charles Alston Collins, Thomas Tupper and Alexander Munro. They kept the existence of the Brotherhood secret from members of the Royal Academy.

Early doctrines

The Brotherhood's early doctrines were expressed in four declarations:
1. To have genuine ideas to express;
2. To study Nature attentively, so as to know how to express them;
3. To sympathise with what is direct and serious and heartfelt in previous art, to the exclusion of what is conventional and self-parading and learned by rote;
4. And, most indispensable of all, to produce thoroughly good pictures and statues.
These principles are deliberately undogmatic, since the Brotherhood wished to emphasise the personal responsibility of individual artists to determine their own ideas and method of depiction. Influenced by Romanticism, they thought that freedom and responsibility were inseparable. Nevertheless, they were particularly fascinated by Medieval culture, believing it to possess a spiritual and creative integrity lost in later eras. This emphasis on medieval culture was to clash with the realism promoted by the stress on independent observation of nature. In its early stages the Pre-Raphaelite Brotherhood believed that the two interests were consistent with one another, but in later years the movement divided in two directions. The realist side was led by Hunt and Millais, while the medievalist side was led by Rossetti and his followers, Edward Burne-Jones and William Morris. This split was never absolute, since both factions believed that art was essentially spiritual in character, opposing their idealism to the materialist realism associated with Courbet and Impressionism.
In their attempts to revive the brilliance of colour found in Quattrocento art, Hunt and Millais developed a technique of painting in thin glazes of pigment over a wet white ground. In this way they hoped that their colours would retain jewel-like transparency and clarity. This emphasis of brilliance of colour was in reaction to the excessive use of bitumen by earlier British artists such as Reynolds, David Wilkie and Benjamin Robert Haydon. Bitumen produces unstable areas of muddy darkness, an effect which the Pre-Raphaelies despised.

Public controversies

The first exhibition of Pre-Raphaelite work came in 1849. Both Millais' "Isabella" (1848-1849) and Holman Hunt's "Rienzi" (1848-1849) were exhibited at the Royal Academy and Rossetti's "Girlhood of Mary Virgin" was shown at the Free Exhibition on Hyde Park Corner. As agreed all members of the Brotherhood signed works with their name and "PRB". Between January and April 1850 the group published a literary magazine called The Germ. William Rossetti edited the magazine, which published poetry by the Rossettis, Woolner and Collinson, together with essays on art and literature by associates of the Brotherhood, such as Coventry Patmore. As the short runtime implies, the magazine did not manage to achieve a sustained momentum. (Daly 1989)

In 1850 the Pre-Raphaelite Brotherhood became controversial after the exhibition of Millais's painting "Christ in the House of His Parents", considered to be blasphemous by many reviewers, notably Charles Dickens. Their medievalism was attacked as backward-looking and their extreme devotion to detail was condemned as ugly and jarring to the eye. According to Dickens, Millais made the Holy Family look like alcoholics and slum-dwellers, adopting contorted and absurd 'medieval' poses. A rival group of older artists, The Clique, also used their influence against the Pre-Raphaelite Brotherhood. Their principles were publicly attacked by the President of the Academy, Sir Charles Lock Eastlake.
However, the Brotherhood found support from the critic John Ruskin, who praised their devotion to nature and rejection of conventional methods of composition. He continued to support their work both financially and in his writings.

Following the controversy, Collinson left the Brotherhood. They met to discuss whether he should be replaced by Charles Alston Collins or Walter Howell Deverell, but were unable to make a decision. From that point on the group disbanded, though their influence continued to be felt. Artists who had worked in the style still followed these techniques (initially anyway) but they no longer signed works "PRB".
Later developments and influence

Artists who were influenced by the Brotherhood include John Brett, Philip Calderon, Arthur Hughes, Evelyn De Morgan and Frederic Sandys. Ford Madox Brown, who was associated with them from the beginning, is often seen as most closely adopting the Pre-Raphaelite principles.
After 1856, Rossetti became an inspiration for the medievalising strand of the movement. His work influenced his friend William Morris, in whose firm Morris, Marshall, Faulkner & Co. he became a partner, and with whose wife Jane he may have had an affair. Ford Madox Brown and Edward Burne-Jones also became partners in the firm. Through Morris's company the ideals of the Pre-Raphaelite Brotherhood influenced many interior designers and architects, arousing interest in medieval designs, as well as other crafts. This led directly to the Arts and Crafts movement headed by William Morris. Holman Hunt was also involved with this movement to reform design through the Della Robbia Pottery company.
After 1850, both Hunt and Millais moved away from direct imitation of medieval art. Both stressed the realist and scientific aspects of the movement, though Hunt continued to emphasise the spiritual significance of art, seeking to reconcile religion and science by making accurate observations and studies of locations in Egypt and Palestine for his paintings on biblical subjects. In contrast, Millais abandoned Pre-Raphaelitism after 1860, adopting a much broader and looser style influenced by Reynolds. William Morris and others condemned this reversal of principles.
The movement influenced the work of many later British artists well into the twentieth century. Rossetti later came to be seen as a precursor of the wider European Symbolist movement. In the late twentieth century the Brotherhood of Ruralists based its aims on Pre-Raphaelitism, while the Stuckists have also have derived inspiration from it.

The Birmingham Museum and Art Gallery has a world-renowned collection of works by Burne-Jones and the Pre-Raphaelites which strongly influenced the young J.R.R. Tolkien while he was growing up in the city.

In the twentieth century artistic ideals changed and art moved away from representing reality. Since the Pre-Raphaelites were fixed on portraying things with near-photographic precision, though with a distinctive attention to detailed surface-patterns, their work was devalued by many critics. Since the 1970s there has been a resurgence in interest in the movement.

SIR JOHN EVERETT MILLAIS

Sir John Everett Millais, 1st Baronet, PRA (June 8, 1829-August 13, 1896) was a British painter and illustrator who was one of founders of the Pre-Raphaelite Brotherhood.

Life and Work

Millais was born in Southampton of a prominent Jersey-based family. His prodigious artistic talent won him a place at the Royal Academy schools at the unprecedented age of eleven. While there, he met William Holman Hunt and Dante Gabriel Rossetti with whom he formed the Pre-Raphaelite Brotherhood in 1848.

Pre-Raphaelite works

Millais' Christ in the House of his Parents (1850) was highly controversial because of its realistic portrayal of a working class Holy Family labouring in a messy carpentry workshop. Later works were also controversial, though less so. Millais achieved popular success with A Huguenot (1852), which depicts a young couple about to be separated because of religious conflicts. He repeated this theme in many later works.

All these early works were painted with great attention to detail, often concentrating on the beauty and complexity of the natural world. In paintings such as Ophelia (1852) Millais created dense and elaborate pictorial surfaces based on the integration of naturalistic elements. This approach has been described as a kind of "pictorial eco-system".
This style was promoted by the critic John Ruskin, who had defended the Pre-Raphaelites against their critics. Millais' friendship with Ruskin introduced him to Ruskin's wife Effie. Soon after they met she modelled for his painting The Order of Release. As Millais painted Effie they fell in love. Despite having been married to Ruskin for several years, Effie was still a virgin. Her parents realized something was wrong and she filed for an annulment. In 1856, after her marriage to Ruskin was annulled, Effie and John Millais married.

Later works

After his marriage, Millais began to paint in a broader style, which was condemned by Ruskin as "a catastrophe". It has been argued that this change of style resulted from Millais's need to increase his output to support his growing family. Unsympathetic critics such as William Morris accused him of "selling out" to achieve popularity and wealth. His admirers, in contrast, pointed to the influence of Whistler and Impressionism. Millais himself argued that as he grew more confident as an artist, he could paint with greater boldness. In his article "Thoughts on our art of Today" (1888) he recommended Velázquez and Rembrandt as models for artists to follow.

Paintings such as The Eve of St. Agnes and The Somnambulist clearly show the influence of Whistler, whose work Millais strongly supported. Other paintings of the 1860s can be interpreted as part of the Aesthetic Movement. Many deploy broad blocks of harmoniously arranged colour. Later works, from the 1870s onwards demonstrate Millais's reverence for Rembrandt. Notable among these are The North West Passage (1874) and the Boyhood of Raleigh (1871). These paintings indicate Millais's interest in subjects connected to Britain's expanding empire and world-wide explorations. His last project was to be a painting depicting a white explorer lying dead in the African veldt, his body contemplated by two indifferent Africans. This fascination with wild and bleak locations is also evident in his many landscape paintings of this period, which usually depict difficult or dangerous terrain. The first of these, Chill October (1870) was painted in Perth, near his wife's girlhood home. Many others were painted elsewhere in Perthshire, near Dunkeld, where Millais rented a house each autumn in order to hunt and fish. Millais also achieved great popularity with his paintings of children, notably Bubbles (1886) - famous, or perhaps notorious, for being used in the advertising of Pears' soap - and Cherry Ripe.

Illustrations

Millais was also very successful as a book illustrator, notably for the works of Anthony Trollope and the poems of Tennyson. His complex illustrations of the parables of Jesus were published in 1864. His father-in-law commissioned stained-glass windows based on them for a church in Perth. He also provided illustrations for magazines such as Good Words. In 1869 he was recruited as an artist for the newly founded weekly newspaper The Graphic.

Academic career

Millias was elected as an associate member of the Royal Academy of Arts in 1853, and was soon elected as a full member of the Academy, in which he was a prominent and active participant. He was granted a baronetcy in 1885, the first artist to be honoured with an hereditary title. After the death of Frederic Leighton in 1896, Millais was elected President of the Royal Academy, but he died later in the same year from throat cancer.

DANTE GABRIEL ROSSETTI

Dante Gabriel Rossetti (May 12, 1828 - April 10, 1882) was an English poet, illustrator, painter and translator.

The son of émigré Italian scholar Gabriele Rossetti, D. G. Rossetti was born in London, England and originally named Gabriel Charles Dante Rossetti. His family and friends called him "Gabriel", but in publications he put the name Dante first, because of its literary associations. He was the brother of poet Christina Rossetti and the critic William Michael Rossetti and a founder of the Pre-Raphaelite Brotherhood with John Everett Millais and William Holman Hunt.

At a very early age, he showed a strong interest in literature. Like all his siblings, he aspired to be a poet. However, he also wished to be a painter, having shown a great interest in Medieval Italian art. He studied under Ford Madox Brown, with whom he was to retain a close relationship throughout his life.
Following the exhibition of Holman Hunt's painting The Eve of St. Agnes, Rossetti sought out Hunt's friendship. The painting illustrated a poem by the then still little-known John Keats. Rossetti's own poem "The Blessed Damozel" was an imitation of Keats, so he believed that Hunt might share his artistic and literary ideals. Together they developed the philosophy of the Pre-Raphaelite Brotherhood. Rossetti was always more interested in the Medieval than in the modern side of the movement. He was publishing translations of Dante and other Medieval Italian poets, and his art also sought to adopt the stylistic characteristics of the early Italians.

Nevertheless Rossetti's first major paintings display some of the realist qualities of the early Pre-Raphaelite movement. His "Girlhood of Mary, Virgin" and "Ecce Ancilla Domini" both portray Mary as an emaciated and repressed teenage girl. His incomplete picture "Found" was his only major modern-life subject. It was to have depicted a prostitute, lifted up from the street by a country-drover who recognises his old sweetheart. However, Rossetti increasingly preferred symbolic and mythological images to realistic ones. This was also true of his later poetry.

Although he won support from John Ruskin, criticism of his paintings caused him to withdraw from public exhibitions and turn to watercolors, which could be sold privately. Subjects taken from Dante Alighieri's La Vita Nuova (which Rossetti had translated into English) and Sir Thomas Malory's Morte d'Arthur inspired his art in the 1850s. His visions of Arthurian romance and medieval design also inspired his new friends of this time, William Morris and Edward Burne-Jones.

Both these developments were precipitated by events in his private life, in particular by the death of his wife Elizabeth Siddal. She had taken an overdose of laudanum shortly after giving birth to a dead child. Rossetti became increasingly depressed, and buried the bulk of his unpublished poems in her grave at Highgate Cemetery. He idealised her image as Dante's Beatrice in a number of paintings, such as "Beata Beatrix".

These paintings were to be a major influence on the development of the European Symbolist movement. In these works, Rossetti's depiction of women became almost obsessively stylised. He tended to portray his new lover Fanny Cornforth as the epitome of physical eroticism, whilst another of his mistresses Jane Burden, the wife of his business partner William Morris, was glamorised as an ethereal goddess.

During this time, Rossetti acquired an obsession for exotic animals, and in particular wombats. He would frequently ask friends to meet him at the "Wombat's Lair" at the London Zoo in Regent's Park, and would spend hours there himself. Finally, in September 1869, he was to acquire the first of two pet wombats. This shortlived wombat, named "Top", was often brought to the dinner table and allowed to sleep in the large centrepiece of the dinner table during meals. Indeed, this is said to have inspired the dormouse from Lewis Caroll's Alice's Adventures in Wonderland.

During these years, Rossetti was prevailed upon by friends to exhume his poems from his wife's grave. This he did, collating and publishing them in 1871. They created a controversy when they were attacked as the epitome of the "fleshly school of poetry". The eroticism and sensuality of the poems caused offense. One poem, "Nuptial Sleep", described a couple falling asleep after sex. This was part of Rossetti's sonnet sequence The House of Life, a complex series of poems tracing the physical and spiritual development of an intimate relationship. Rossetti described the sonnet form as a "moment's monument", implying that it sought to contain the feelings of a fleeting moment, and to reflect upon their meaning. The House of Life was a series of interacting monuments to these moments - an elaborate whole made from a mosaic of intensely described fragments. This was Rossetti's most substantial literary achievement.

Rossetti also typically wrote sonnets for his pictures, such as "Astarte Syraica". As a designer, he worked with William Morris to produce images for stained glass and other decorative devices.
Toward the end of his life, Rossetti sank into a morbid state, darkened by his drug addiction and increasing mental instability, possibly worsened by his reaction to savage critical attacks on his disinterred (1869) poetry from the manuscript poems he had buried with his wife. He spent his last years as a withdrawn recluse. He died at Birchington-on-Sea, Kent, England.

WILLIAM HOLMAN HUNT

William Holman Hunt (born 2 April 1827 - died 7 September 1910) was a British painter. He was one of the founders of the Pre-Raphaelite Brotherhood.

Hunt's intended middle name was "Hobman", which he disliked intensely. He chose to call himself Holman when he discovered that his middle name had been misspelled this way after a clerical error at his wedding at the church of Saint Mary the Virgin, Ewell. Though his surname is "Hunt" his fame in later life led to the inclusion of his middle name as part of his surname, in the hyphenated form "Holman-Hunt", by which his children were known.

After eventually entering the Royal Academy art schools, having initially been rejected, Hunt rebelled against the influence of its founder Sir Joshua Reynolds. He formed the Pre-Raphaelite movement in 1848, after meeting the poet and artist Dante Gabriel Rossetti. Along with John Everett Millais they sought to revitalise art by emphasising the detailed observation of the natural world in a spirit of quasi-religious devotion to truth. This religious approach was influenced by the spiritual qualities of medieval art, in opposition to the alleged rationalism of the Renaissance embodied by Raphael.

Hunt's works were not initially successful, and were widely attacked in the art press for their alleged clumsiness and ugliness. He achieved some early note for his intensely naturalistic scenes of modern rural and urban life, such as The Hireling Shepherd and The Awakening Conscience. However, it was with his religious paintings that he became famous, initially The Light of the World (now in the chapel at Keble College, Oxford, with a later copy in St Paul's Cathedral), which toured Britain and the United States. After travelling to the Holy Land in search of accurate topographical and ethnographical material for further religious works, Hunt painted The Scapegoat, The Finding of the Saviour in the Temple and The Shadow of Death, along with many landscapes of the region. Hunt also painted many works based on poems, such as Isabella and The Lady of Shalott.

All these paintings were notable for their great attention to detail, their hard vivid colour and their elaborate symbolism. These features were influenced by the writings of John Ruskin and Thomas Carlyle, according to whom the world itself should be read as a system of visual signs. For Hunt it was the duty of the artist to reveal the correspondence between sign and fact. Out of all the members of the Pre-Raphaelite Brotherhood Hunt remained most true to their ideals throughout his career. He eventually had to give up painting because failing eyesight meant that he could not get the level of quality that he wanted. His last major work, The Lady of Shalott, was completed with the help of an assistant.

Hunt married twice. After a failed engagement to his model Annie Miller, he married Fanny Waugh, who later modelled for the figure of Isabella. When she died in childbirth in Italy he sculpted her tomb up at Fiesole, having it brought down to the English Cemetery, beside the tomb of Elizabeth Barrett Browning. His second wife, Edith, was Fanny's sister. At this time it was illegal in Britain to marry one's deceased wife's sister, so Hunt was forced to travel abroad to marry her. This led to a serious breach with other family members, notably his former Pre-Raphaelite colleague Thomas Woolner, who had married Fanny and Edith's third sister Alice.

Hunt's autobiography Pre-Raphaelitism and the Pre-Raphaelite Brotherhood was written to correct other literature about the origins of the Brotherhood, which in his view did not adequately recognise his own contribution. Many of his late writings are attempts to control the interpretation of his work.
In 1905, he was appointed to the Order of Merit by King Edward VII. At the end of his life he lived in Sonning-on-Thames.

JOHN RUSKIN

John Ruskin (February 8, 1819 - January 20, 1900) is best known for his work as an art critic and social critic, but is remembered as an author, poet and artist as well. Ruskin's essays on art and architecture were extremely influential in the Victorian and Edwardian eras.

Life

Ruskin was born in London, and raised in south London, the son of a wine importer who was one of the founders of the company that became Allied Domecq. He was educated at home, and entered the University of Oxford without proper qualifications for a degree. He nevertheless impressed the scholars of Christ Church after he won the Newdigate prize for poetry, his earliest interest. In consequence, he was awarded a degree.

He published his first book "Modern Painters" in 1843, under the anonymous identity "An Oxford Graduate". It argued that modern landscape painters - in particular J.M.W. Turner - were superior to the so-called "Old Masters" of the Renaissance. Such a claim was highly controversial, especially as Turner's semi-abstract late works were being denounced as meaningless daubs. Ruskin argued that these works derived from Turner's profound understanding of nature. He soon met and befriended Turner, eventually becoming one of the executors of his will.

Ruskin followed this book with a second volume, developing his ideas about symbolism in art. He then turned to architecture, writing The Seven Lamps of Architecture and The Stones of Venice, both of which argued that architecture cannot be separated from morality, and that the "Decorated Gothic" style was the highest form of architecture yet achieved.

By this time Ruskin was writing in his own name, and had become the most famous cultural theorist of his day. In 1848, he married Effie Gray, for whom he wrote the early fantasy novel The King of the Golden River. Their marriage was notoriously unhappy, eventually being annulled in 1854 on grounds of his "incurable impotency,"[2] a charge Ruskin later disputed. Effie later married the artist John Everett Millais, who had been Ruskin's protegé.

Ruskin had come into contact with Millais following the controversy over his painting Christ in the House of his Parents, which was considered blasphemous at the time. Millais, with his colleagues William Holman Hunt and Dante Gabriel Rossetti, had established the Pre-Raphaelite Brotherhood in 1848. The Pre-Raphaelites were influenced by Ruskin's theories. As a result, the critic wrote letters to The Times defending their work, later meeting them. Initially he favoured Millais, who travelled to Scotland with Ruskin and Effie to paint Ruskin's portrait. Effie's increasing attachment to Millais created a crisis in the marriage, leading Effie to leave Ruskin, causing a major public scandal. Millais abandoned the Pre-Raphaelite style after his marriage, and his later works were savagely attacked by Ruskin. Ruskin continued to support Hunt and Rossetti. He also provided independent funds to encourage the art of Rossetti's wife Elizabeth Siddal. Other artists influenced by the Pre-Raphaelites also received both written and financal support from him, including John Brett, Burne-Jones and John William Inchbold.
During this period Ruskin wrote regular reviews of the annual exhibitions at the Royal Academy under the title Academy Notes. His reviews were so influential and so judgemental that he alienated many artists, leading to much comment. For example Punch published a comic poem about a victim of the critic containing the lines "I paints and paints, hears no complaints...then savage Ruskin sticks his tusk in and nobody will buy".

Ruskin also sought to encourage the creation of architecture based on his theories. He was friendly with Sir Henry Acland, who supported his attempts to get the new Oxford University Museum of Natural History built as a model of modern Gothic. Ruskin also inspired other architects to adapt the Gothic style for modern culture. These buildings created what has been called a distinctive "Ruskinian Gothic" style.

Following a crisis of religious belief Ruskin abandoned art criticism at the end of the 1850s, moving towards commentary on politics, under the influence of his great friend Thomas Carlyle. In Unto This Last he expounded his theories about social justice, which influenced the development of the British Labour party and of Christian socialism. Upon the death of his father, Ruskin declared that it was not possible to be a rich socialist and gave away most of his inheritance. He founded the charity known as the Guild of St George in the 1870s and endowed it with large sums of money as well as a remarkable collection of art. He also gave the money to enable Octavia Hill to begin her practical campaign of housing reform. He attempted to reach a wide readership with his pamphlets Fors Clavigera, aimed at the "working men of England". He also taught at the Working Men's College, London and was the first Slade Professor of Fine Art at Oxford, from 1869 to 1879, he also served a second term. Ruskin College, Oxford is named after him.

While at Oxford Ruskin became friendly with Lewis Carroll, another don, and was photographed by him. After the parting of Carroll and Alice Liddell, she and her sisters pursued a similar relationship with Ruskin, as detailed in Ruskin's autobiography Praeterita.

During this period Ruskin fell deeply in love with Rose la Touche, an intensely religious young woman. He met her in 1858, when she was only nine years old, proposed to her eight years later, and was finally rejected in 1872. She died shortly afterwards. These events plunged Ruskin into despair and led to bouts of mental illness. He suffered from a number of breakdowns as well as delirious visions.
In 1878, he published a scathing review of paintings by James McNeill Whistler exhibited at the Grosvenor Gallery. He found particular fault with Nocturne in Black and Gold: The Falling Rocket, and accused Whistler of "ask[ing] two hundred guineas for throwing a pot of paint in the public's face."[4] Attempting to gain publicity, Whistler filed, and won, a libel suit against Ruskin, though the award of damages was only one farthing. The episode tarnished Ruskin's reputation, and may have accelerated his mental decline.

The emergence of the Aesthetic movement and Impressionism alienated Ruskin from the art world, and his later writings were increasingly seen as irrelevant, especially as he seemed to be more interested in book illustators such as Kate Greenaway than in modern art. He continued to support philanthropic movements such as the Home Arts and Industries Association
Much of his later life was spent at a house called Brantwood, on the shores of Coniston Water located in the Lake District of England.

WILLIAM MORRIS

William Morris (March 24, 1834 - October 3, 1896) was an English artist, writer, socialist activist and pioneer of Eco-socialism, one of the principal founders of the British Arts and Crafts movement, best known as a designer of wallpaper and patterned fabrics, a writer of poetry and fiction, and a pioneer of the socialist movement in Britain near London and the Eco-socialist movement of the later twentieth century.

His family was wealthy, and he went to school at Marlborough College, but left in 1851 after a student rebellion there. He then went to Oxford University (Exeter College) after studying for his matriculation to the university. He became influenced by John Ruskin there, and met his life-long friends and collaborators, Dante Gabriel Rossetti, Edward Burne-Jones, Ford Madox Brown and Philip Webb there as well. He also met his wife, Jane Burden, a working-class woman whose pale skin, languid figure, and wavy, abundant dark hair were considered by Morris and his friends the epitome of beauty.
These friends formed an artistic movement, the Pre-Raphaelite Brotherhood. They eschewed the tawdry industrial manufacture of decorative arts and architecture and favoured a return to hand-craftsmanship, raising artisans to the status of artists. He espoused the philosophy that art should be affordable, hand-made, and that there should be no hierarchy of artistic mediums.
Morris had two daughters, Jane (called Jenny) and Mary (called May).

Business career

Morris left Oxford to join an architecture firm, but soon found himself drawn more and more to the decorative arts. He and Webb built Red House at Bexleyheath in Kent, Morris's wedding gift to Jane. It was here his design ideas began to take physical shape. (In honour of Morris's connection with Bexleyheath, a bust of Morris was added to an original niche in the brick clocktower in the town centre in 1996.) He also built Standen House in Sussex along with Webb.

In 1861, he founded the firm of Morris, Marshall, Faulkner & Co. with Gabriel Rossetti, Burne-Jones, Madox Brown and Philip Webb. Throughout his life, he continued to work in his own firm, although the firm changed names. Its most famous incarnation was as Morris and Company. The company encouraged the revival of traditional crafts such as stained glass painting, and Morris himself single-handedly recreated the art of tapestry weaving in England. His designs are still sold today under licences given to Sanderson and Sons and Liberty of London

Poetry

Morris had already begun publishing poetry and short stories through a magazine founded with his friends while at university. His first independently published work, The Defence of Guinevere was coolly received by the critics, and he was discouraged from publishing more for a number of years. However, "The Haystack in the Floods", probably these days his best-known poem, dates from just after this time. It is a grimly realistic piece set during the Hundred Years War in which the doomed lovers Jehane and Robert have a last parting in a convincingly portrayed rain swept countryside.
When he returned to poetry it was with The Earthly Paradise, a huge collection of poems loosely bound together with the theme of a group of mediaeval wanderers who set out to search for a land of everlasting life and after much disillusion discover a surviving colony of Greeks with whom they exchange stories. The collection brought him almost immediate fame and popularity.
The last-written stories in the collection are retellings of Icelandic sagas, and from then until his socialist period Morris's fascination with the ancient Germanic and Norse peoples dominated his writing. Together with his Icelandic friend Eirikr Magnusson he was the first to translate many of the Icelandic sagas into English, and his own epic retelling of the story of Sigurd the Volsung was his favourite among his poems.

Due to his wide poetic acclaim, Morris was offered the Poet Laureateship, after the death of Tennyson in 1892, but declined.

Architecture

Although Morris never became a practising architect, his interest in architecture continued throughout his life. In 1877, he founded the Society for the Protection of Ancient Buildings. His preservation work resulted indirectly in the founding of the National Trust. Combined with the inspiration of John Ruskin - in particular his work in The Stones of Venice on The Nature of Gothic - architecture played an important symbolic part in Morris's approach to socialism.

Socialism

Morris and his daughter May were amongst Britain's first socialists, working directly with Eleanor Marx and Engels to begin the socialist movement. In 1883, he joined the Social Democratic Federation, and in 1884 he organised the breakaway Socialist League. Morris found himself rather awkwardly positioned as a mediator between the marxist and anarchist sides of the socialist movement, and bickering between the two sides eventually tore the Socialist League apart. This side of Morris's work is well-discussed in the biography (subtitled 'Romantic to Revolutionary') by E. P. Thompson. It was during this period that Morris wrote his best-known prose works; in particular A Dream of John Ball and the utopian News from Nowhere.

While pioneering socialism in the UK, Morris is also largely credited with developing Eco-socialism, a brand of socialism that merges Marxism, ecology and environmentalism, which became more influential in the later twentieth century with the rise of the environmental movement. During the 1880s and 1890s, Morris promoted his Eco-socialist ideas within the Social Democratic Federation and Socialist League
Morris and Rossetti rented a country house, Kelmscott Manor at Kelmscott, Oxfordshire, as a summer retreat, but it soon became a retreat for Rossetti and Jane Morris to have a long-lasting affair. After his departure from the Socialist League Morris divided his time between the Company, now relocated to Merton Abbey, the Kelmscott Press, and Kelmscott Manor, where he wrote a series of fantasy novels later to be a strong influence on J. R. R. Tolkien and C. S. Lewis. At his death in 1896 he was interred in the Kelmscott village churchyard

The Kelmscott Press

In January 1891, Morris founded the Kelmscott Press at Hammersmith, London, in order to produce examples of improved printing and book design. He designed clear typefaces, such as his Roman 'golden' type, which was inspired by that of the early Venetian printer Nicolaus Jenson, and medievalizing decorative borders for books that drew their inspiration from the incunabula of the 15th century and their woodcut illustrations. Selection of paper and ink, and concerns for the overall integration of type and decorations on the page made the Kelmscott Press the most famous of the private presses of the Arts and Crafts movement. It operated until 1898, producing 53 volumes, and inspired other private presses, notably the Doves Press.

Among book lovers, the Kelmscott Press edition of The Works of Geoffrey Chaucer, illustrated by Burne-Jones, is considered one of the most beautiful books ever produced. A fine edition facsimile of the Kelmscott Chaucer was published in 2002 by The Folio Society.

Morris today
The Morris Societies in both Britain and the US are active in preserving Morris's work and ideas.
The influence of William Morris lives on in modern interiors and architecture. Mass interest in the Arts and Crafts movement is cyclical as with any 'look' but companies such as The Arts & Crafts Home, can be credited with allowing on-going accessibility to period (looking) pieces.

EDWARD BURNE-JONES

Sir Edward Coley Burne-Jones (28 August 1833 - 17 June 1898) was an English artist, closely associated with the Pre-Raphaelite Brotherhood, and largely responsible for bringing the Pre-Raphaelites into the mainstream of the British art world, while at the same time executing some of the most exquisite and beautiful artwork of the time.

Burne-Jones was born in Birmingham, England, the son of a frame-maker at Bennetts Hill. His mother died within six days of his being born, and he was raised by his father and an unsympathetic housekeeper. He attended Birmingham's King Edward VI grammar school, and then studied theology at Exeter College, Oxford. At Oxford he became a friend of William Morris as a consequence of a mutual interest in poetry, and was influenced by John Ruskin. At this time he discovered Thomas Malory's Le Morte d'Arthur which was to be so influential in his life.

He studied under Rossetti, but developed his own style influenced by his travels in Italy with Ruskin and others. He had intended to become a church minister, but under Morris's influence decided to become an artist and designer instead. After Oxford, from which he did not take a degree, he became closely involved in the rejuvenation of the tradition of stained glass art in England.

In 1856 Burne-Jones became engaged to Georgiana MacDonald (1840-1920), one of the MacDonald sisters. She was training to be a painter, and was the sister of Burne-Jones's old school friend. The couple married in 1860, after which she made her own work in woodcuts and became a close friend of George Eliot. (Another MacDonald sister married the artist Sir Edward Poynter, a further sister married the ironmaster Alfred Baldwin and was the mother of the Prime Minister Stanley Baldwin, and yet another sister was the mother of Rudyard Kipling. Kipling and Baldwin were thus Burne-Jones's nephews).

In 1867 Burne-Jones and his wife settled in Fulham, London. William Morris later fell in love with Georgiana, but she rejected him. For much of the 1870s Burne-Jones did not exhibit, following a spate of bitterly hostile attacks in the press, and an affair with his Greek model Maria Zambaco which ended with her trying to commit suicide in public. But, in 1877, he was persuaded to show eight oil paintings at the Grosvenor Gallery (a new rival to the Royal Academy show). These included The Beguiling of Merlin. The timing was right, and he was taken up as a herald and star of the new Aesthetic Movement.
As well as painting, he also worked in a variety of crafts; including designing ceramic tiles, jewellery, tapestries, book illustration (the Kelmscott Press's Chaucer in 1896), and stage costumes.
In 1881 he received an honorary degree from Oxford, and was made an Honorary Fellow in 1883. In 1885 he became the President of the Birmingham Society of Artists. In 1894 he was knighted. In the last few years of his life, his popularity again waned. He is buried in Rottingdean churchyard, near Brighton, a place he knew through summer family holidays. Long out-of-fashion in the art world, due to Modernist art and Abstract Expressionism, it was not until the mid 1970s that his work began to be re-assessed and once again acclaimed.

Burne-Jones exerted a considerable influence on British painting, as detailed in the large exhibition in 1989 at the Barbican Art Gallery, London. (In book form as: John Christian, The Last Romantics, (1989)). Burne-Jones was also highly influential among French symbolist painters, from 1889. His work also inspired poetry by Swinburne - Swinburne's 1886 Poems & Ballads is dedicated to Burne-Jones.
His troubled son Philip (1861-1926) became a successful portrait painter. His adored daughter Margaret (1866-1953) married John William Mackail (1850-1945); friend and biographer of William Morris, and Professor of Poetry at Oxford from 1911-1916.

Burne-Jones' studio assistant, Charles Fairfax Murray, went on to a successful art career as a painter in his own right. He later became an important collector and respected art dealer. Between 1903 and 1907 he sold a great many works by Burne-Jones and the Pre-Raphaelites to Birmingham Museum and Art Gallery, at far below their market worth. Birmingham Museum and Art Gallery now has the largest collection of works by Burne-Jones in the world, including the massive watercolour Star of Bethlehem, commissioned for the Gallery in 1897. The paintings were a strong influence on the young J.R.R. Tolkien, then growing up in Birmingham.

FORD MADOX BROWN

Ford Madox Brown (April 16, 1821 - October 6, 1893) was an English painter of moral and historical subjects, notable for his distinctively graphic and often Hogarthian version of the Pre-Raphaelite style. While he was closely associated with the Pre-Raphaelite Brotherhood, he was never actually a member. Nevertheless, he remained close to Dante Gabriel Rossetti, with whom he also joined William Morris's design company, Morris, Marshall, Faulkner & Co., in 1861.

One of his most famous images is "The Last of England", a portrait of a pair of stricken emigrants as they sail away on the ship that will take them from England forever. It was inspired by the departure of the Pre-Raphaelite sculptor Thomas Woolner, who had left for Australia. The painting is structured with Brown's characteristic linear energy, and emphasis on apparently grotesque and banal details, such as the cabbages hanging from the ship's side.

Brown's most important painting was Work (1852-1865), which he showed at a special exhibition. It attempted to depict the totality of the mid-Victorian social experience in a single image, depicting 'navvies' digging up a road, and disrupting the old social hierarchies as they did so. The image erupts into proliferating details from the dynamic centre of the action, as the workers tear a hole in the road - and, symbolically, in the social fabric. Each character represents a particular social class and role in the modern urban environment. Brown wrote a catalogue to accompany the special exhibition of Work. This publication included an extensive explanation of Work that nevertheless leaves many questions unanswered.

Brown's major achievement after Work was the cycle of twelve paintings depicting the history of Manchester, England in Manchester Town Hall. These present a partly ironic and satirical view of Mancunian history.

His son Oliver Madox Brown (1855-1874) showed promise both as an artist and poet, but died of blood-poisoning.
He was the grandfather of novelist Ford Madox Ford and great-grandfather of Labour Home Secretary Frank Soskice.

ARTHUR HUGHES

Arthur Hughes (1831, London -1915) was an English painter and illustrator associated with the Pre-Raphaelite Brotherhood. His best-known paintings are April Love and The Long Engagement, both of which depict troubled couples contemplating the transience of love and beauty. They are imitations of John Everett Millais's earlier "couple" paintings but place far greater emphasis on the pathos of human inability to maintain the freshness of youthful feeling in comparison to the regenerative power of nature.

Like Millais, Hughes also painted an Ophelia and illustrated Keats's poem The Eve of St. Agnes. Hughes's version of the latter is in the form of a secular triptych, a technique he repeated for scenes from Shakespeare's As You Like It.

His works are noted for their magical, glowing colouring and delicate draughtsmanship.
Hughes was in close contact to the writer George MacDonald and illustrated some of his books.

JANE MORRIS

Jane Burden (October 19, 1839 - January 1914) was the embodiment of the Pre-Raphaelite ideal of beauty. She became the wife of William Morris and the inspiration, and possibly mistress, of Dante Gabriel Rossetti.

She was born in Oxford. At the time of her birth, her father Robert Burden was a stableman and lived with his wife (Jane's mother), Ann Burden (formerly Maizey) at St. Helen's Passages, St. Peter in the East, Oxford. Jane's mother, who was illiterate, probably came to Oxford as a domestic servant. Little is known about Jane's childhood but it was clearly one of poverty and deprivation.
In October 1857, Jane and her sister Elizabeth (known in the family as Bessie) were attending a performance in Oxford of the Drury Lane Theatre Company. Jane was noticed by the artists Dante Gabriel Rossetti and Edward Burne-Jones who were part of a group of artists painting murals in the Oxford Union based on Arthurian tales. Struck by Jane's beauty, they sought her to model for them. Jane initially sat mainly for Rossetti who needed a model for Queen Guinivere. After this, Jane sat to Morris who was working on an easel painting, La Belle Iseult (Tate Gallery). During this period, Morris fell in love with Jane and they were engaged.

Jane's education was extremely limited and she was probably intended to go into domestic service. After her engagement, Jane was privately educated. Her keen intelligence allowed her essentially to re-create herself. She was a voracious reader and became proficient in French and later Italian. She also became an accomplished pianist with a strong background in classical music. Her manners and speech became refined to an extent that contemporaries referred to her as "Queenly." Later in life, she would have no trouble moving in upper class circles and she appears to have been the model for Mrs Higgins in Bernard Shaw's play Pygmalion (1914).

She married William Morris at St. Michael's Church, Oxford, on April 26, 1859. Her father was at that time described as a groom, in stables at 65 Holywell Street, Oxford.

Jane Burden and William Morris lived firstly at the Red House in Bexleyheath, Kent. While at there, they had two daughters, Jane Alice (Jenny) born January 1861 and Mary (May) (March 1862 - 1938), who was the editor of her father's works. They then lived for many years at Kelmscott Manor, on the Oxfordshire-Wiltshire borders, which is now open to the public. Jane became closely attached to Rossetti and may, in addition to being his muse, have been his lover.
In 1884, Jane met the poet and political activist Wilfrid Scawen Blunt at a houseparty given by her close friend Rosalind Howard (later Countess of Carlisle). There appears to have been an immediate attraction between the two. By 1887 at the latest, the pair had become lovers.[1] Their sexual relationship would continue until 1894 and they remained close friends until Jane's death.
Jane Morris was an ardent supporter of Irish Home Rule.

William Morris died on 3 October 1896 at Kelmscott House, Hammersmith, London. Jane died on 26 January 1914 while staying at 5 Brock Street, Bath.

MAY MORRIS

May Morris (1863-1938) (Mary Morris) was a British craftswoman and designer. She was the younger daughter of the Pre-Raphaelite artist and designer William Morris and Jane Burden Morris.
May Morris was an influential embroideress and designer, although her contributions are often overshadowed by those of her father, a towering figure in the Arts and Crafts movement. May learned to embroider from her mother and her aunt Bessie Burden, who had been taught by William Morris. Morris himself is credited with the resurrection of free-form embroidery in the style which would be termed art needlework. Art needlework emphasized freehand stitching and delicate shading in silk thread, and was thought to encourage self-expression in the needleworker; this contrasted sharply with the brightly coloured Berlin wool work needlepoint and its "paint by numbers" aesthetic which had gripped much of home embroidery in the mid-nineteenth century.

May Morris was active in the Royal School of Art Needlework (now Royal School of Needlework), founded as a charity in 1872 under the patronage of Princess Helena to maintain and develop the art of needlework through structured apprenticeships.
May became the director of the embroidery department at Morris & Co. in 1885, when she was in her early twenties.

She edited her father's collected works in 24 volumes for Longmans, Green and Company, published 1910 to 1915, and also commissioned two houses, as had her mother Jane, to be built in the style that he loved after his death, and which are still standing in the village of Kelmscott in the Cotswolds in England.

JOHN WILLIAM WATERHOUSE

John William Waterhouse (April 6, 1849 - February 10, 1917) was a British Pre-raphaelite painter most famous for his paintings of female characters from mythology and literature. He belonged to the later phase of the Pre-Raphaelite Brotherhood.
He was born in Rome to the painters William and Isabela Waterhouse, but when he was five the family moved to South Kensington, near the newly founded Victoria and Albert Museum. He studied painting under his father before entering the Royal Academy schools in 1870. His early works were of classical themes in the spirit of Alma-Tadema and Frederic Leighton, and were exhibited at the Royal Academy, the Society of British Artists and the Dudley Gallery.

Later career

In 1874, at the age of twenty-five, Waterhouse submitted the classical allegory Sleep and His Half-Brother Death to the Royal Academy's Summer Exhibition. The painting was very well received and he exhibited at the RA almost every year afterwards until his death in 1917. In 1883 he married Esther Kenworthy, the daughter of an art schoolmaster from Ealing who had exhibited her own flower-paintings at the Royal Academy and elsewhere. They had two children, but both died in childhood.
In 1895 Waterhouse was elected to the status of full Academician. He taught at the St. John's Wood Art School, joined the St John's Wood Arts Club, and served on the Royal Academy Council.
One of Waterhouse's most famous paintings is The Lady of Shalott, a study of Elaine of Astolat, who dies of grief when Lancelot will not love her. He actually painted three different versions of this character, in 1888, 1896, and 1916.

Another of Waterhouse's favorite subjects was Ophelia; the most famous of his paintings of Ophelia depicts her just before her death, putting flowers in her hair as she sits on a tree branch leaning over a lake. Like The Lady of Shalott and other Waterhouse paintings, it deals with a woman dying in or near water. He also may have been inspired by paintings of Ophelia by Dante Gabriel Rossetti and Millais. He submitted his Ophelia painting of 1888 in order to receive his diploma from the Royal Academy. (He had originally wanted to submit a painting titled "A Mermaid", but it was not completed in time.) After this, the painting was lost until the 20th century, and is now displayed in the collection of Lord Lloyd-Webber. Waterhouse would paint Ophelia again in 1894 and 1909 or 1910, and planned another painting in the series, called "Ophelia in the Churchyard."

Waterhouse could not finish the series of Ophelia paintings because he was gravely ill with cancer by 1915. He died two years later, and his grave can be found at Kensal Green Cemetery in London.

JOHN WILLIAM GODWARD

John William Godward (August 9, 1861 - December 13, 1922) was an English painter from the end of the Pre-Raphaelite / Neo-Classicist era. He was a protégé of Sir Lawrence Alma-Tadema but his style of painting fell out of favour with the arrival of painters like Picasso. He committed suicide at the age of 61 and is said to have written in his suicide note that "the world was not big enough" for him and a Picasso.

His already estranged family, who had disapproved of him becoming an artist, were ashamed of his suicide and burned his papers. No photographs of Godward are known to survive.
Godward was born in 1861 and lived in Wilton Grove, Wimbledon. He exhibited at the Royal Academy from 1887. When he moved to Italy with one of his models in 1912, his family broke off all contact with him and even cut his image from family pictures. Godward returned to England in 1919, died in 1922 and is buried in Brompton Cemetery, west London.
One of his best known paintings is Dolce far Niente (1904), which currently resides in the collection of Andrew Lloyd Webber. As in the case of several other paintings, Godward painted more than one version, in this case an earlier (and less well known) 1897 version.

Works

Godward was a Victorian Neoclassicist, and therefore a follower in theory of Frederick Leighton. However, he is more closely allied stylistically to Sir Lawrence Alma-Tadema, with whom he shared a penchant for the rendering of Classical architecture, in particular, static landscape features constructed from marble. The vast majority of Godward's extant images feature women in Classical dress, posed against these landscape features, though there are some semi-nude and fully nude figures included in his oeuvre (a notable example being In The Tepidarium (1913), a title shared with a controversial Alma-Tadema painting of the same subject that resides in the Lady Lever Art Gallery). The titles reflect Godward's source of inspiration: Classical civilisation, most notably that of Ancient Rome (again a subject binding Godward closely to Alma-Tadema artistically), though Ancient Greece sometimes features, thus providing artistic ties, albeit of a more limited extent, with Leighton.
Given that Classical scholarship was more widespread among the potential audience for his paintings during his lifetime than in the present day, meticulous research of detail was important in order to attain a standing as an artist in this genre. Alma-Tadema was, as well as a painter, an archaeologist who attended historical sites and collected artefacts that were later used in his paintings: Godward, too, studied such details as architecture and dress, in order to ensure that his works bore the stamp of authenticity. In addition, Godward painstakingly and meticulously rendered those other important features in his paintings, animal skins (the paintings Noon Day Rest (1910) and A Cool Retreat (1910) contain superb examples of such rendition) and wild flowers (Nerissa (1906), illustrated above, and Summer Flowers (1903) are again excellent examples of this).
The appearance of beautiful women in studied poses in so many of Godward's canvases causes many newcomers to his works to categorise him mistakenly as being Pre-Raphaelite, particularly as his palette is often a vibrantly colourful one. However, the choice of subject matter (ancient civilisation versus, for example, Arthurian legend) is more properly that of the victorian Neoclassicist: however, it is appropriate to comment that in common with numerous painters contemporary with him, Godward was a 'High Victorian Dreamer', producing beautiful images of a world which, it must be said, was idealised and romanticised, and which in the case of both Godward and Alma-Tadema came to be criticised as a world-view of 'Victorians in togas'.

FREDERIC LORD LEIGHTON

Frederic Leighton, 1st Baron Leighton (3 December 1830-25 January 1896) was an English painter and sculptor. His works depicted historical, biblical and classical subject matter.
Leighton was born in Scarborough. He was educated at University College School London. He received his artistic training on the European continent, first from Edward von Steinle and then from Giovanni Costa. When in Florence, aged 24, where he studied at the Accademia di Belle Arti, he painted the procession of the Cimabue Madonna through the Borgo Allegri. He lived in Paris from 1855 to 1859, where he met Ingres, Delacroix, Corot, and Millet. In 1860, he moved to London, where he associated with the Pre-Raphaelites. He designed Elizabeth Barrett Browning's tomb for Robert Browning in the 'English' Cemetery, Florence, 1861. In 1864 he became an associate of the Royal Academy and in 1878 he became its president. His 1877 sculpture, Athlete Wrestling with a Python, was considered at its time to inaugurate a renaissance in contemporary British sculpture, referred to as the New Sculpture.
Leighton was knighted at Windsor in 1878, and was created a baronet eight years later. He was the first painter to be given a peerage, in the New Year Honours List of 1896. The patent creating him Baron Leighton, of Stretton in the County of Salop, was issued on 24 January 1896; Leighton died the next day of angina pectoris. As he was unmarried his Barony was extinguished after existing for only a day; this is an all-time record in the Peerage. His house in Holland Park, London has been turned into a museum, the Leighton House Museum. It contains a number of his drawings and paintings.

ALGERNON SWINBURNE

Algernon Charles Swinburne (April 5, 1837 - April 10, 1909) was a Victorian era English poet. His poetry was highly controversial in its day, much of it containing recurring themes of sadomasochism, death-wish, lesbianism and anti-Christian sentiments.

Swinburne was born in London, and raised on the Isle of Wight, and at Capheaton Hall, near Wallington, Northumberland. He attended Eton college and then Balliol College, Oxford but had the rare distinction (like Oscar Wilde) of being rusticated from the university in 1859. He was associated with the Pre-Raphaelite movement, and counted among his best friends Dante Gabriel Rossetti.
He is considered a decadent poet, albeit that he professed to perhaps rather more vice than he actually indulged in, a fact which Oscar Wilde notably and acerbically commented upon.
Many of his early and still admired poems evoke the Victorian fascination with the Middle Ages, and some of them are explicitly medieval in style, tone and construction, these representatives notably being "The Leper," "Laus Veneris," and "St Dorothy".

He was an alcoholic and a highly excitable character. His health suffered as a result, until he finally broke down and was taken into care by his friend Theodore Watts, who looked after him for the rest of his life in Putney. Thereafter he lost his youthful rebelliousness and developed into a figure of social respectability.

His vocabulary, rhyme and metre arguably make him one of the best poets of the English language; but his poetry has been criticized as overly flowery and meaningless, choosing words to fit the rhyme rather than to contribute towards meaning.
Works include: Atalanta in Calydon, Tristram of Lyonesse, Poems and Ballads (series I, II and III -- these contain most of his more controversial works), Songs Before Sunrise, Lesbia Brandon (novel published posthumously).

He also wrote poems in favour of the unification of Italy, particularly in the volume Songs before Sunrise. His work was very popular among undergraduates at Oxford and Cambridge, though today it has largely gone out of fashion. This, at least, is the current popular and even the academic view of the decline of Swinburne's reputation, but it contains some distortion.
In fact Swinburne's Poems and Ballads, First Series and his Atalanta in Calydon have never been out of critical favor. It was Swinburne's misfortune that the two works, published when he was nearly 30, soon established him as England's premier poet, the successor to Alfred, Lord Tennyson and Robert Browning. This was a position he held in the popular mind until his death, but sophisticated critics like A. E. Housman felt, rightly or wrongly, that the job of being one of England's very greatest poets was beyond him.

Swinburne may have felt this way himself. He was a highly intelligent man and in later life a much-respected critic, and he himself believed that the older a man was, the more cynical and less trustworthy he became. Swinburne may have been one of the first people not to trust anyone over thirty. This of course created problems for him after he himself passed that age.
After the first Poems and Ballads, Swinburne's later poetry is devoted more to politics and philosophy. He does not utterly stop writing love poetry, but he is far less shocking. His versification, and especially his rhyming technique, remain masterful to the end. He is the virtual star of the third volume of George Saintsbury's famous History of English Prosody, and Housman, a more measured and even somewhat hostile critic, devoted paragraphs of praise to his rhyming ability.

INFORMATION FROM WIKIPEDIA
A BRIEF DIRECTORY OF COTSWOLD SCHOOL FURNITURE MAKERS
PHILIP CLISSETT (1817-1913)
ERNEST GIMSON (1864-1919)
ERNEST BARNSLEY (1863-1926)
SIDNEY BARNSLEY (1865-1926)
HARRY PEACH (1874-1936)
PETER VAN DER WAALS (1870-1937)
ARTHUR ROMNEY GREEN (1872-1945)
ERIC SHARPE (1888-1966)
STANLEY WEBB DAVIES (1894-1978)
EDWARD BARNSLEY (1900-1987)
W. HARRY E. DAVOLL (1876-1963)
FRED GARDINER (1890-19630
GORDON RUSSELL (1892-1980)
HUGH BIRKETT (1919-2003)
He was trained by a former Edward Barnsley pupil and some-time employee Oliver Morel (1916 - 2003). Morel, was based in Moreton-in-Marsh about the same time as Hugh Birkett. Morel specialized in raised inlays, and was commissioned to make a cabinet in 1972 for Rodmarton Manor. The cabinet features 12 oval panels, each illustrating a different flowering plant. The pair were friends from 1947 until Birkett's death. Morel was also responsible for Eric Sharpe's work being represented at the Arts & Crafts museum in Cheltenham. Although not all are currently on display the Museum have some pieces by Birkett and a casket by Morel in their collection. Thank you to Peter Rushen for this information.
ALAN PETERS (1933 -)
JOHN MAKEPEACE (1939-)
TONY MCMULLEN (1942-)
Please let me know if I have omitted any designer or maker that should be included.