Background | FAQ | Press | Services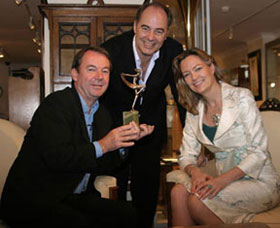 John and Chrissie Masters with Eric Knowles (left) of BBC Antiques Roadshow
WELCOME TO THE ARTS & CRAFTS HOME
The Arts & Crafts Home was set up 10 years ago and was the first website in Britain to stock a full range of replicas of this historic period. It was purchased by John and Chrissie Masters at the end of 2011 and is now being updated and redesigned to offer a broader range of periods. Furniture, lighting, fabrics, wallpapers, carpets, ceramics, clocks, mirrors, prints, paints, books, tiles and metalware will be added over the coming months, both of current manufacture and original pieces.
Information on shipping and ordering.
Click here for a list of Terms and Conditions and Frequently Asked Questions, and their answers.
John and Chrissie have run The Design Gallery in Westerham, Kent for nine years and have been shortlisted in the Homes & Antiques Magazine Awards' Best Specialist Shop Category (March 2012 issue). They have an academic interest in design and wrote Art Deco Furniture and Art Deco Ceramics for Judith Miller's book 20th Century Design.
The gallery stocks original pieces from the leading manufacturers and designers of the 1850-1950 period: Archibald Knox, Omar Ramsden, Liberty, Heals, Shapland & Petter, Wylie & Lochhead, Epstein, Hille, Rene Lalique, Emile Galle, Daum and many more.
For the Arts & Crafts Home, they aim to offer you high quality representative pieces of progressive design from these eras, as well as a wide range of originals.
Currently some of the prices have been updated but not all - please email us to check current prices and availability. You can also telephone The Design Gallery on 01959 561234 to place an order. Full E-Commerce facilities for ordering will be added as soon as possible.
The Design Gallery, 5 The Green, Westerham, Kent TN16 1AS 01959 561234
www.designgallery.co.uk Open 7 days.
The 2000 sq ft Furniture Warehouse in Edenbridge can be visited by appointment.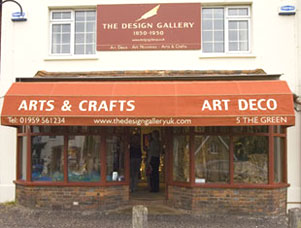 Press
Articles featuring, or about The Arts and Crafts Home and its products and services. For complete texts and images please visit our press section or email us for details.
The Revival of English Arts and Crafts Tiles by Mark Golding.

Published Fall 2001 American Bungalow Magazine.
William Morris Tiles by Mark Golding
Published Fall/Winter 2001 Style 1900 Magazine
Countries The Arts & Crafts Home has sold to include:
AUSTRALIA
CANADA
FINLAND
FRANCE
GERMANY
HOLLAND
JAPAN
LUXEMBURG
NEW ZEALAND
SPAIN
SWEDEN
SWITZERLAND
UNITED STATES OF AMERICA
NEWSLETTERS
To sign up for the Art & Crafts newsletter, please email us: theartandcraftshome@gmail.com