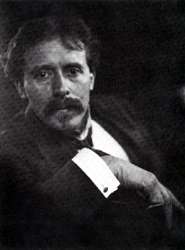 CHARLES ROBERT ASHBEE, 1863 - 1942
Son of a rich businessman and owner of a celebrated collection of pornography, Ashbee went to Cambridge, where he came under the influence of Edward Carpenter. He then went to Toynbee Hall, a philanthropic mission in the East End of London, where he set up the School and Guild of Handicraft in 1888. The Guild made woodwork, leatherwork, metalwork and jewellery, showing at the Arts and Crafts Exhibition Society from 1889. In 1898 the Guild executed the furniture for Baillie Scott's schemes for the Darmstadt Palace of the Grand Duke of Hesse. The Guild's work was shown at the 1900 Vienna Secession Exhibition. In 1901 Ashbee moved to Chipping Camden in Gloucestershire, taking some 150 people - Guildsmen and their families - with him. The Guild's finances were overstretched and the venture failed in 1907. Ashbee had made contact with Frank Lloyd Wright when he visited America in 1896, and kept up with him later. He also admired the architecture of the brothers Charles Sumner and Henry Mather Greene.
MACKAY HUGH BAILLIE SCOTT, 1865 - 1945
After serving his articles in Bath, Baillie Scott began his career in Douglas, Isle of Man. There he came into contact with Archibald Knox and collaborated with him on the design of stained glass and metalwork. He exhibited furniture, metalwork and wallpaper at the 1896 Arts and Crafts Exhibition, the year in which he deigned the 'Manxman' piano case. The commission from the Grand Duke of Hesse to decorate rooms in the palace at Darmstadt came in 1898. In 1901 he gained the highest award for his entry in Inmen-Dekoration competition for the 'House for and Art Lover'. He had moved to Bedford in 1901, and from there he conducted a successful practice in suburban homes, which gained greatly from his partnership with A. Edgar Beresford.
WILLIAM ARTHUR SMITH BENSON, 1854 - 1924
Educated at Winchester and Oxford, Benson served his articles in the office of Basil Champneys and remained in the practice until 1880. He had met with Morris through his friendship with Edward Burne-Jones, and was inspired to set up a metalworking workshop in that year. He expanded into a well equipped factory in Hammersmith and from 1887 had a retail shop in Bond Street. In 1896 he became chairman of Morris & Co., for which he designed furniture. He also worked for J.S.Henry and the Coalbrookdale and Falkirk iron foundries. Benson's simple well designed and utilitarian copper and brass tablewares, jugs and lighting equipment were praised by H. Muthesius. Bing chose his work for exhibition and sale at his Paris gallery, Maison de L'Art Nouveau. Benson was an active member of the Art Workers' Guild and in 1914 founder of the Design and Industries Association. He retired and the firm was bought by Allen-Liversedge Ltd, a lighting company, in 1920.

SIR EDWARD BURNE-JONES, 1833 - 1898
Burne-Jones met William Morris at Oxford and became his lifelong friend and longest collaborator. They set up house together in Red Lion Square and one of the earliest pieces of painted furniture, Morris' most conspicuous contribution to the early production of his firm, was a wardrobe designed by Phillip Webb and painted by Burne-Jones with an episode from Chaucer's 'Prioress' Tale'. In 1857 Burne-Jones started designing stained glass for Powell's of Whitefriars, he also worked for Lavers and Barraud; from the founding of the Morris firm in 1861 he was continually occupied with stained glass designs, tiles, gesso-work, embroideries and tapestries for them, which he consistently complained of as ill-renumerated. One of the last tasks for Morris was the fifty seven illustrations for the Kelmscott Chaucer (1895), completed when Morris was already mortally ill.
WILLIAM FREND DE MORGAN, 1839 - 1917
From 1861 De Morgan was involved with stained glass design; in 1863 he began concentrating on ceramics, designing tiles for William Morris, alongside Simeon Solomon and Albert Moore, his contemporaries at the Academy Schools. His orange House pottery at Cheyne Row in Chelsea started production in 1873; in 1882 he moved with Morris to Merton Abbey. He worked at the Sands End pottery in Fulham from 1888-98 in partnership with the architect Halsey Ricardo. He continued the Sands End pottery until 1907 when he turned to writing novels; his partners from 1898, Charles and Fred Passenger and Frank Iles, kept the pottery in production until 1911. De Morgan made a significant contribution to the Art Pottery movement with the revival of lustre techniques; among his contemporaries in this field he most admired the work of the Frenchman Clement Massier and the Cantagalli factory in Florence. Although De Morgan's wife claimed there was no commercial collaboration between Cantagalli and De Morgan, they did make pieces to each other's designs.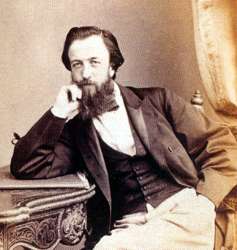 CHRISTOPHER DRESSER, 1834 - 1904
Dresser was born in Glasgow, and from 1847 to 1854 studied at the Government School of design, Somerset House, where he was awarded a prize for a fabric design which was put into production by Liddiard and Co. He lectured on botany at the school before going on as a lecturer to the Department of Science and Art at South Kensington, specialising in botany. In 1856 he supplied a plate depicting the 'geometrical arrangement of flowers' for Owen Jones' 'Grammar of Ornament'. The Art Journal published a series of his lectures on 'Botany as adapted to art and manufactures' in 1857 and 1858, and in 1859-60 he wrote several books on botany and plant morphology, gaining a doctorate from the University of Jena in 1860. By 1862 he had established a studio of pupils at Chiswick and supplied a number of designs at the London International Exhibition. Dresser made drawings and purchases from Sir Rutherford Alcock's collection of Japanese art, shown at the exhibition. In the same year his first design book was published: The Art of Decorative Design. Ceramics for Minton and Wedgwood, and carpets for Brinton's were shown in Paris in 1867, metalwork for Coalbrookdale at London in 1871, and designs for eleven wallpaper companies exhibited at Paris in 1878. In 1876 Dresser visited the Philadelphia Exhibition, en route to Japan at the invitation of the Japanese Government, to report on their art industries. He brought with him many gifts from the South Kensington Museum for the Emperor, and acted as a buying agent for Londos & Co. and Tiffany and Co. In 1879 he established Dresser and Holme, with the later editor of the Studio, importing Oriental goods; and Linthorpe Pottery, for which he provided radical new designs. His designs for metalwork for Hukin and Heath, first shown in 1879, James Dixon and Sons, and Elkington (for whom he had worked since the 1860s) reflected his Japanese experience in their simplicity. He established the Art Furnishers' Alliance in 1880; worked as art editor at the Furniture Gazette from January to December 1881; and in 1882 published 'Japan, It's Architecture, Art and Art Manufactures'. After the collapse of the Alliance in 1883 Dresser moved to Sutton, Surrey, before returning to Barnes in 1889. He supplied designs to at least fifty companies, both in Britain and overseas. An anonymous article in 'The Studio' (1899) described him as 'perhaps the greatest of commercial designers'.
Studies in Design by Christopher Dresser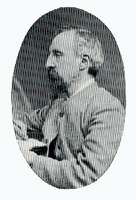 EDWARD WILLIAM GODWIN, 1833 - 1886
Born in Bristol, Godwin intended training as a civil engineer and was articled to William Armstrong, a local architect-cum-engineer and friend of Isambard Kingdom Brunel. He set up his own office in 1854 and travelled to Ireland to assist his brother, also a civil engineer, with a design for a railway bridge. He met Burges in 1858 and they became good friends, visiting Ireland together in the 1860s when Godwin began Dromore and Glenbeigh Towers. His first major commission, Northampton Town Hall (1861), was based on Ruskin's 'Stones of Venice'. His designs for furniture and decoration were carried out by Green and King, London, and stained glass was supplied to Heaton, Butler and Bayne. Godwin was among the group who made purchases of Japanese objects after the 1862 exhibition, and he became very influenced by Japanese culture. His designs for applied art included furniture for the Art Furniture Co. and later William Watt, W. Smee, Cox and Son, Gillow's, Waugh & Co., C. Greaves, James Peddle, and Collinson and lock, by whom he was paid a retainer from 1872 - 1874; wallpapers for Jeffrey & Co.; fabrics for Warner and Ramm; ceramics and tiles for Brownfield, Minton, Hollins & Co. and Wilcock & Co.; and metalwork for Messenger and Co. and Jones and Willis. During his affair with Ellen Terry, Godwin wrote a series of articles on theatrical scenery and costume, became increasingly interested in dress design, working at Liberty's dress department from 1884. Godwin also wrote articles on Japanese art, Celtic and Saxon architecture, and contemporary issues for the 'British Architect, the Architect and Building News' In 1875 Godwin left Ellen and their two children, and soon after married Beatrice Philip, who became a pupil of his friend Whistler, with whom he had collaborated on the furniture for Watt at the 1878 exhibition. After Godwin's death Beatrice married Whistler. He built Whistler's controversial White House on Tite Street, Chelsea, and helped Oscar Wilde decorate his house in the same street in 1884. William Burges, J.P.Sedding, Peter Paul Pugin, H.Crisp, R.W.Edis, M.B.Adams and J.M.Bryndon were amongst his circle of friends and partners.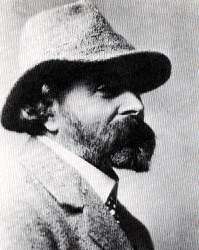 ARCHIBALD KNOX, 1864 - 1933
Born on the Isle of Man, Knox studied at the Douglas School of Art where he subsequently taught. He worked with H.M. Baillie Scott before coming to London in 1897, where he designed for the Silver Studio; in the following year he started his long association with Liberty's. Knox was principally responsible for the singularly original character of Liberty's two metalworking ventures, the 'Cymric' silver and jewellery and the 'Tudric' pewter wares, but he also designed carpets and textiles for them. The association lasted until 1912, but Knox's designs had already been sold to James Connell & Co. in 1909. From 1912 he designed carpets for Bromley & Co. of Philadelphia. After the First World War he painted and taught.
LIBERTY & CO., 1875 to present
Arthur Lasenby Liberty (1843-1917) established his firm as an Oriental warehouse, and soon built it into a household word for artistic decoration and furnishing. Much of the early furniture stock was imported or locally made 'Anglo-Oriental' bamboo furniture. From 1883 the Furnishing and Decoration studio was run by Leonard Wyburd. After the failure of the Art Furnishers' Alliance, of which he was a shareholder, Liberty took out patents for the two versions of the 'Thebes' stool, which was to become one of the most popular products of the furniture studio. Furniture was supplied by wholesale companies such as William Birch and J.S.Henry, who made designs by George Walton, and the firm also stocked chairs designed by the German Richard Riemerschmid (1868-1957). The dress department was under the direction of E.W. Godwin. From 1898 Liberty's started to import German pewter from J.P.Kayser und Sohn among others, and in the following year they began their own metalworking venture using such designers as Archibald Knox, Oliver Baker and john Pearson, who had worked with C.R. Ashbee, 1888-92. These along with C.F.A. Voysey, Walter Crane, L.F.Day and the Silver Studio put the firm into the mainstream of Art Nouveau. Textiles were supplied by Thomas Wardle, who had made Morris' early prints, and by G.P. Baker and Morton & Co. Liberty's stocked Donegal carpets by Voysey; enamels by C.J. Heaton; art pottery by Brannam, Doulton, Moorcroft, Compton and other European potteries such as Max Lauger, which made designs especially for Liberty; as well as amateur work by the Home Arts and Industries Association; and Clutha glass by Dresser and Walton. Many other 'Art Manufacturers' were represented and their products are illustrated in the gift and furniture catalogues from the 1890s.
Directory of Liberty Manufacturers
CHARLES RENNIE MACKINTOSH, 1868 - 1928
Born in Glasgow, Mackintosh was apprenticed in 1884 to a local architect, John Hutchinson. He entered the office of Honeyman & Keppie in 1889, and there became friendly with a fellow draughtsman, J. Herbert MacNair. From about 1896 Mackintosh was designing furniture for Messrs Guthrie & Wells of Glasgow. In 1897 he won the competition to design the new Glasgow School of Art. In the same year Mackintosh received the first of the Cranston Tea Rooms commissions, working on the decoration of the Buchanan Street premises in collaboration with George Walton, who made some of his early furniture. In 1900 he participated by invitation in the Vienna Secession Exhibition, and he was responsible for the Scottish section at Turin in 1902. He married Margaret Macdonald in 1900. Important individual projects included Windyhill for Walter Blackie (1899), the Warndorfer Music Room (1902), Hill House (1903) and the second stage of the Glasgow School of Art (1906), as well as a number of commissions from the Misses Cranston. Mackintosh left Glasgow in 1914. Apart form one or two architectural projects, including work for W.J. Bassett-Lowke, he concentrated mainly on watercolour painting and textile designs for Foxton's and Sefton's. His designs were well illustrated in European periodicals.
Charles Rennie Mackintosh: A Pictorial History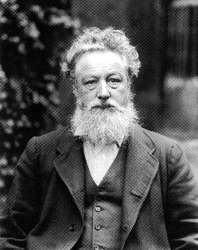 WILLIAM MORRIS, 1834 - 1896
Born into a wealthy family in Walthamstow and educated at Marlborough and Exeter College, Oxford, where he met his life long friend Edward Burne-Jones, Morris entered G.E. Street's architectural office in 1856 where Phillip Webb was senior clerk. He founded the co-operative firm of Morris, Marshall, Faulkner & Co. on the suggestion of Ford Madox Brown in 1861. It remained a partnership until Morris took sole proprietorship in 1875, changing the name to Morris & Co., and introducing an extensive range of textiles and wallpapers many of which he designed. In 1878 he moved his family to Kelmscott House in Hammersmith where he began the manufacture of hand knotted carpets. In the search to improve the quality of the firm's manufactures Morris moved his works from London to Merton Abbey Mills in 1881. Here there was now room to manufacture carpets and tapestries that had previously only been possible on an experimental scale. From 1870 Morris had been interested in illuminating manuscripts and planned publication of his own poems, but it was not until 1891 that he set up the Kelmscott Press for which he designed three typefaces. It produced 53 books before closing in 1898. Morris was a founder member of the Society for the Protection of Ancient Buildings in 1877. During the 1870s Morris became involved with politics and from 1883 with the Socialist Democratic Federation. He was a founder member of the Socialist League and editor and financier of the 'Commonweal'. Morris died in Hammersmith after a prolonged illness.
William Morris - A Pictorial History
MORRIS & CO, 1861 - 1940
Founded as Morris, Marshall, Faulkner & Co., by William Morris in 1861, the firm exhibited for the first time in London in 1862. Commissions followed for the South Kensington Museum and St. James's Palace, as well as for stained glass and private decorating work. Morris became the sole director in 1875, when the firm was renamed Morris & Co. Retail premises in Oxford Street were opened in 1877. With the acquisition of Kelmscott House in Hammersmith in 1878 Morris was able to set up carpet looms. In 1881 he expended into weaving and dyeing workshops at Merton Abbey. Morris' last venture, the Kelmscott Press, was also housed in Hammersmith. At Morris' death in 1896 W.A.S. Benson took over the directorship of the firm. In the 1920s the showrooms were transferred to George Street, and in 1940 the business closed.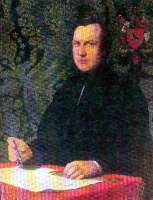 AUGUSTUS WELBY NORTHMORE PUGIN, 1812- 1852
Trained as a draughtsman with his father's pupils, Pugin embarked on a design career as early as fifteen years of age, with Gothic furniture to be made by Morel and Seddon for Windsor Castle and metalwork for the Royal goldsmiths Rundell, Bridge & Co. His numerous publications were highly influential; his Reformed Gothic ecclesiastical and domestic buildings set the pattern for the Gothic Revival in England for two decades; his work on the interior of the New Palace of Westminster initiated many patterns and techniques that found their way into the commercial repertory of domestic design. His early stained glass was made by Wailes but from 1845 he used Hardman & Co., who were already making his designs for metalwork, silver and embroideries. Pugin worked with his manufacturers, encouraging the introduction of new products and techniques. His closest allies, Hardman, Crace, Myers and Minton, began to plan their contribution to the Great Exhibition in March 1850. A number of their exhibits for the resulting Medieval Court were chosen by the purchasing committee for the new South Kensington Museum, on which Pugin sat with Henry Cole, and Richard Redgrave. His crowded career came to an end with his mental collapse and he died insane aged only forty.
Floriated Ornament by A.W.N. Pugin c.1849
CHARLES FRANCIS ANNESLEY VOYSEY, 1857 - 1941
Articled to J.P. Seddon, Voysey worked for G. Devey in 1880,but at the outset of his own career turned to decorative design while waiting for his architectural practice to gain momentum. He joined the Art Workers Guild in 1884 and exhibited with the Arts and Crafts Exhibition Society from 1888. He designed the cover for the first volume of 'The Studio' magazine in 1896. Voysey had a great talent for pattern making and designed wallpapers for Jeffrey & Co. and Essex & Co.; textiles for Alexander Morton; tiles for Pilkington's and later Minton's; and carpets sold through Liberty. From the mid 1880s he experimented with furniture, much of which was made by F.C. Nielson, in a severe, distinctive, vernacular influenced manner using oak. His large table clock, with versions in plain aluminium, painted wood and polished oak, is one of his most original pieces. Hi also designed tablewares, cutlery, metalwork and lighting made by Thomas Elsley & Co. Although Voysey carried out no public architectural commissions, publication of his designs gave him an international reputation.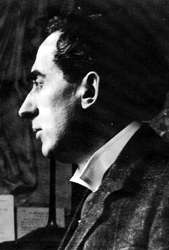 GEORGE WALTON, 1867 - 1933
Son of a painter, Walton initially worked as a bank clerk and attended evening art classes. His brother E.A. Walton was one of the 'Glasgow Boys'. George Walton & Co, Ecclesiastical and House Decorators, was established in Glasgow in 1888 as a result of a commission to decorate a new smoking room in one of Miss Cranston's Tea Rooms. Walton showed with the Arts and Crafts Exhibition Society in 1890, and in 1892 designed the frames and interior for his friend J.Craig Annan's second photography exhibition. Annan later bought shares in Walton's company. In 1896 Walton received a further commission from Miss Cranston, to decorate her Buchanan Street premises. His collaborator was C.R. Mackintosh, for whom Walton made some early pieces of furniture. In 1897 Walton moved to London and, as well as retaining his Glasgow showroom, opened a branch in York. Walton's decoration of Annan's home and exhibitions and his subsequent introduction to the Linked Ring - a group of photographers founded to promote photography as art - led to many commissions, including a design for the cover of 'Practical Photography'. Despite having no formal architectural training he built a number of houses including The Leys, Elstree, in 1901 for J.B.B. Wellington, the manager of Kodak at Harrow; and in 1907 the White House and a houseboat, the Log Cabin, for G. Davidson, the retired managing director of Kodak Great Britain. He was retained by the Kodak Company to decorate showrooms in London, Glasgow, Brussels, Milan and Vienna, and his designs were illustrated by Herman Muthesius in 'Dekorative Kunst'. Walton designed for James Couper's range of 'Clutha' glass, furniture made by J.S. Henry for Liberty, wallpapers for Jeffrey & Co., textiles for Alexander Morton, and carpets. The later years of his career were spent as architect to the Liquor Control Board.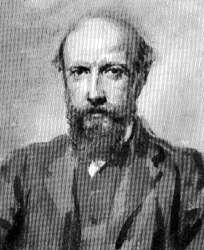 PHILIP WEBB, 1831 - 1915
Webb met William Morris in G.E. Street's office in Oxford. His subsequent architectural practice as well as his design career were bound up in the fortunes of the Morris firm. Commissions for both were interdependent, Webb specifying the Morris firm as decorators and Morris recommending Webb as architect. Webb was responsible for the decorative scheme in an early Morris commission, the 'Green Dining Room' at the South Kensington Museum (still intact and recently restored by the Victoria and Albert Museum) and drew almost all the birds and animal's in Morris' fabric, tapestry and wallpaper designs. He was commissioned by Morris to design table glass by Powell's and furniture for the Red House in 1859. Webb provided furniture designs for Major Gillum in 1860 and for the Morris firm in 1861 until the responsibility was taken over by his assistant George Jack in the 1880s. Metalwork for gates and fireplaces was executed by Longden, whose London premises were next to Morris & Co.'s showrooms. He used he distinguished carver James Forsyth, who had also worked for R. Norman Shaw, his successor in Street's office, and W.E. Nesfield among others. Webb retired in 1900, unable to come to terms with what he foresaw as the future of architecture. Shaw described him as 'A very able man indeed, but with a strong liking for the ugly'.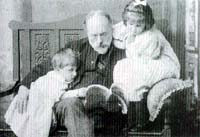 Frederick William Burton
Born in County Clare, Ireland, in 1816, Burton was the son of an amateur artist. He studied in Dublin and exhibited his first watercolour at the RHA in 1832. As a student he mixed with the leading intellectuals of the time, and developed an interest in the Irish landscape and the customs and dress of its people. In 1851 he left Ireland for Germany and spent the next seven years there employed by Maximillian II of Bavaria. During this time he became inspired by the work of the Old Masters. He then settled in London where he was appointed Director of the National Gallery, a post which he held for twenty years. In 1864 he painted his masterpiece The Meeting on the Turret Stairs an illustration of an episode from a Danish Ballad. On his death in 1900 he was taken back to Dublin to be buried.
W. G. TARRANT
'WG Tarrant: Master Builder and Developer' by Mavis Swenarton. First published as Monograph 24 by the Walton and Weybridge Local History Society.
Sir John Everett Millais

Born in Southampton, England 1829. With Hunt and Rossetti, Millais founded the Ore-Raphaelite Brotherhood. He had amazing technical virtuosity but he was not attached to intellectual dogma like Hunt and gradually drifted away from his early ideals. He started to create works for the popular market and by1875 was earning around £30,000 p.a. from his work. In Ophelia there is an intricate detail in every weed and flower and it is said that the model lay in the bath for hours on end with only candles to warm the water, and she later died of pneumonia. Millais became a baronet in 1885 and on the death of Lord Leighton became president of the Royal Academy in 1896, only to die a few months later in London, 1896.
John William Waterhouse

Born in Rome, Italy in 1849, Waterhouse s early work was influenced by Alma-Tadema, and he later became an associate of the Pre-Raphaelites, although his work differed widely from that of the original Brotherhood in its lack of moral seriousness. In particular he devoted his time to classical subjects and the femmes fatales of literature. His paintings were mainly of women: men were usually depicted as victims, as in Hylas and the Nymphs . The Lady of Shalott was one of his first successes, capturing a romantic, dreamy mood in a highly naturalistic setting. The Danaides , in Greek Mythology, were commanded to murder their husbands on their wedding night. All but one obeyed and they were punished by having to draw water from a well and pour it into a vessel from which it continually escaped. Penelope and her Suitors , commissioned by the Aberdeen Art Gallery, was an expensive and controversial purchase. This great Victorian romantic painter, a quiet and modest man, successfully pulled together the opposing late Victorian Subjects of the Pre-Raphaelites and Classicism. He died in London 1917.
Sir Lawrence Alma-Tadema

Alma-Tadema was born in Holland in 1836 and after studying art in Antwerp, worked for Professor Louis de Taye, a famous archaeologist, later studying Roman and Pompeiian ruins. Thus his re-creation of antiquity was based on profound knowledge. Finding a ready market amongst the English for his classical scenes, he settled in London in 1870 and became one of the most successful Royal Academicians. He was especially noted for his ability to reproduce the effect of sunlight on marble and the sparkle on water. He died in 1912.
Sir Edward Coley Burne-Jones

Burne-Jones was born in Birmingham. He enrolled at Exeter College, Oxford intending to enter the church (an idea he later abandoned) and there met William Morris. In 1856 he first met Rossetti who was to greatly influence him. In 1860 he was an active member of Morris and Co., for whom he produced many tapestry and stained glass designs. Both these and his paintings evoke a dreamy, romantic feel which is strongly associated with the second phase of Pre-Raphaelitism. Both The Sleeping Beauty and Cupid and Psyche feature sleeping women: sleep, dreams and states of trance like stillness are frequent in Burne-Jones work and must have exercised a compelling fascination for him. He was made a baronet in 1864.
Conrad Keisel

Born in Dusseldorf 1846. He lived and worked in Berlin, where he won gold medals in 1889-1890, and in Munich. He died in 1921.

Charles Rennie Mackintosh

Born in 1868 in Glasgow, Mackintosh trained as an architect at a local firm and took evening classes in art and design at the Glasgow School of Art. Here he met his wife, the artist Margaret Macdonald, and they formed a group of designers, developing a distinctive style reminiscent of Aubrey Beardsley and inspired by the Continental Art Nouveau movement. Mackintosh undertook several commissions at this time including the new Glasgow School of Art. However his style was never truly appreciated in Glasgow and the Mackintoshes left to enjoy great success and influence in Europe. They returned to England in 1914 and settled in Suffolk where Mackintosh painted many delicate flower studies, but a year later they moved to London. Here Mackintosh resumed work as an architect and designer producing some of his best and most original work, using geometric motifs and primary colours. However, this extraordinary output of work was scarcely recognised in the UK, and in 1923 they moved to the South of France, where Mackintosh gave up architecture and devoted himself totally to painting landscapes. He died in 1928.

Charles-August Mengin

Born in Paris in 1853. Mengin was a pupil of Cabanel and was a sculptor as well as a painter. Exhibited regularly at the Paris Salon from 1876-1927. Sappho was a much-admired Greek lyric poetess, who taught the arts on the Greek island of Lesbos. This dramatically sensual portrait shows Sappho with her lyre on the Leucadian rock, moments before she jumps to her death, according to legend. Died 1933.

Dante Gabriel Rossetti

Rossetti was a poet and painter, born in London 1828, the son of an Italian political refugee and the brother of Cristina Rossetti. In 1848 he formed the Pre-Raphaelite Brotherhood together with Holman Hunt and Millais, however, their association was short since Rossetti s romantic imagination set him apart from the more literal endeavours of the others. His subjects were mostly drawn from Dante and from a mediaeval dream world which was also reflected in his poems. Died 1882.

John Melhuish Strudwick

Strudwick worked as a studio assistant to both Spencer Stanhope and Burne-Jones and his style reflects the influence of both. His subjects are usually poetic and allegorical. He was an admirer of Italian Renaissance painting and his pictures reflect this. One of the first writers on Strudwick s work was the young Bernard Shaw who wrote an article on him in 1891 praising his transcendent expressiveness .