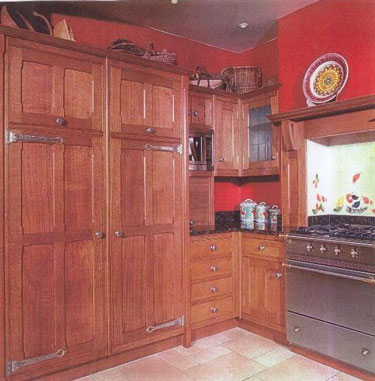 We can design and install kitchens in the arts and crafts style. We use fine oak and Voysey designed handles and pulls. We make site visits to measure and consult for fitted kitchen design.
WILLIAM MORRIS BATHROOM AND KITCHEN RANGE
A beautiful collection of fabrics suitable for the kitchen and bathroom, using William Morris designs. Available in Fruits, Green Willow Bough, Blue Willow Bough, Golden Lily, Chrysanthemum, Compton, Rose & Peony
VINTAGE KITCHENS
A collection of images of original Arts & Crafts kitchens found in many famous Arts & Crafts Homes, a great source of inspiration.
MODERN KITCHENS
A collection of images of contemporary Arts & Crafts Style kitchens that we can use for inspiration in your Arts & Crafts Home. Fitted by our experienced kitchen design and build team. Please email for details.
I have shown an image of a period kitchen and this shows a dresser and table, showing that the style comes principally from the architectural details, but the dresser design can be replicated both as a free standing unit and as built in cupboards.
To compliment an arts and crafts kitchen we supply a range of period design kitchen wares and utensils.
We also supply bathroom fixtures and fittings. We have our own range of soaps and shampoos made of fine natural ingredients and we adhere to strict ethical manufacturing techniques. The towels we supply are manufactured with finest cotton and are embroidered with exclusive arts and crafts designs.
Mackintosh Design Towels
A range of embroidered towels
for the bathroom.
Face cloth £5 0.330 0.330

Guest towel £12 0.650 0.400
Hand towel £16 0.900 0.500
Bath towel £18 1.270 0.600
A collection of sites that may be of interest to visitors, offering traditional groceries and kitchen services