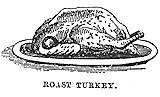 Turkey Soup
- a Seasonable Dish at Christmas (Mrs. Beeton's Recipe Number 188)
Ingredients:-
2 quarts of medium stock No. 105 (see below),
the remains of a cold roast turkey,
2 oz. of rice-flour or arrowroot,
salt and pepper to taste,
1 tablespoonful of Harvey's sauce or mushroom ketchup.
Method:- Cut up the turkey in small pieces, and put it in the stock; let it simmer slowly until the bones are quite clean. Take the bones out, and work the soup through a sieve; when cool, skim well. Mix the rice-flour or arrowroot to a batter with a little of the soup; add it with the seasoning and sauce, or ketchup. Give one boil, and serve.
Time:- 4 hours.
Sufficient for 8 persons.
Medium Stock (Mrs. Beeton's Recipe Number 105)
4 lbs. of shin of beef, or 4 lbs. of knuckle of veal, or 2 lbs. of each;
any bones, trimmings of poultry, or fresh meat,
ý lb. of lean bacon or ham,
2 oz. of butter,
2 large onions each stuck with 3 cloves;
1 turnip,
3 carrots,
ý a leek,
1 head of celery,
2 oz. of salt,
a teaspoonful of whole pepper,
1 large blade of mace,
1 small bunch of savoury herbs,
4 quarts and ý pint of cold water.
Method:- Cut up the meat and bacon or ham into pieces about 3 inches square; rub the butter on the bottom of the stewpan; put in ý a pint of water, the meat, and all the other ingredients. Cover the stewpan, and place it on a sharp fire, occasionally stirring its contents. When the bottom of the pan becomes covered with a pale, jelly-like substance, add 4 quarts of cold water, and simmer very gently for 5 hours. As we have said before, do not let it boil quickly. Skim off every particle of grease whilst it is doing, and strain it through a fine hair sieve.
This is the basis of many of the soups afterwards mentioned, and will be found quite strong enough for ordinary purposes.
Time:- 5 hours.