FRENCH ART POTTERY - CERAMIQUES FRANCAISES
We have assembled a collection of French Art Pottery (Ceramiques Francaises), from the reduction glazed porcelain examples of Taxile Doat to the Barbotine Ceramiques Impressionniste designs of Albert Boue.
Biographies of French Art Ceramicists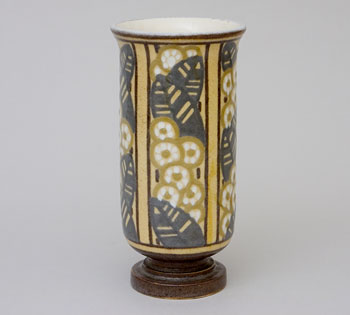 PIERRE PACTON (DIT ABBE PACTON) (1856-1938)
A parish priest of the town of Arquian, who discovered stoneware after his meeting with Jean Carriès. He learned this technique from the potters of Saint-Armand-en-Puisaye. Although the approach of Pierre Pacton may have been considered to be unusual by the religious authorities and led to several reproofs, he was well understood by the local potters and artists of the group with whom he had excellent relations.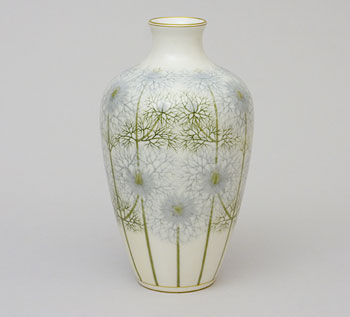 He installed a turning workshop in a disused pottery at "Noisette" in the village. Initially Jean Carriès and popular models influenced him, but the Japanese spirit inspired his later works, characterised by naturalism. He turned with artistry a number of small compact pieces, sometimes bilobated or misshapen, and several remarkable naturalistic jugs. Pierre Pacton produced little, did not sell, and was the only member of the group who never participated in exhibitions. He preferred to offer his creations to collectors who visited the small museum installed in his presbytery, where as an excellent connoisseur, he displayed works by Carriès side by side with excavated pieces and everyday stoneware objects from Puisaye.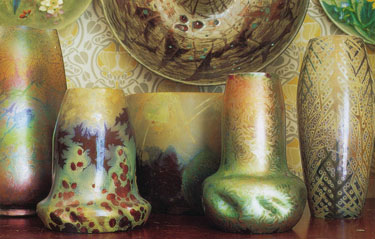 AIREBELLE
A factory. Alfred Rosselin bought the tile factory of Airebelle at Puget-sur-Argens in 1897 to make ceramics with metallic lustres. After working for Clément Massier, Marcel Chevalier installed himself in this factory and produced most of his works there. Although his shapes are heavily influenced by those of Massier, his techniques and decoration are different.
JOSEF LLORENS ARTIGAS (1896-1971)
A brilliant Spanish ceramist who settled in Paris in 1917. Thanks to his acute knowledge of the art of ceramics, he was able to work with leading artists like Francisco Durrio, Raoul Dufy, Albert Marquet, Joan Miro and George Braque. His own work was inspired by Chinese techniques. The forms are rich and the enamels meticulously studied.
CHARLES-JEAN AVISSEAU (1795-1861)
A ceramist considered to be the leader of the "Ecole de Tours." He was one of the most prominent promoters of modern artistic faience. Between 1825 and 1843 he wrote a treatise on colours for painting on enamel and porcelain entitled Traite de couleurs pour la peinture en émail et sur la porcelaine, aimed at discovering the secret of Pailssy's enamels. His success is due to his extensive savoir-faire, the experience he acquired at the traditional factories of Tours and, in particular, his capacities for adaptation, invention and creation. There are certain parallels in the lives of Palissy and Avisseau, and when their works are compared, it is quite often in favour of Avisseau. The 19th century declared these two potters, each one for each respective period, to be the driving force behind the revival of their art, thus enabling craftsmen to acquire the status of an artist. His works are enamelled with motifs of animals and exotic shells. His production, with its realism adapted to romantic expression, is on a par with the work of silversmiths and jewellers. Charles-Jean Avisseau died in 1860 as a result of enamel poisoning.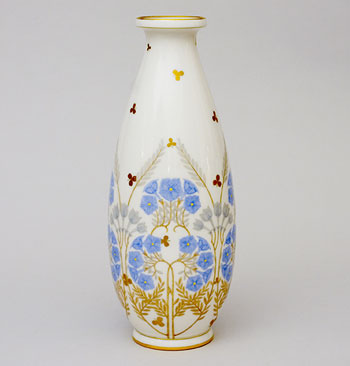 NILS IVAN DE BARCK (1865-1930)
A painter and sculptor of Swedish origin. He lived in Paris from early childhood and came into contact with the public by producing seascapes, which he exhibited at the Salon of 1897. The Museum of Stockholm has a few works by this artist.
JEAN BESNARD (1889-1958)
Ceramist who studied folk pottery and specialized in folk-inspired vessels with distinct glazes. Besnard is best known for his development of the "lace" glaze technique, in addition to his wares with boldly molded or incised animal and bird motifs with thick glazes.
ALEXANDRE BIGOT (1862-1927)
A ceramist who was fascinated by Far Eastern stoneware, which he had an opportunity to admire at the Exhibition of 1889, a passion that subsequently became a determining factor in his vocation. He founded a factory at Mer (Loir et Cher) around 1885, where he created pieces with a rustic appearance and simple form, mainly decorated with mat or semi-mat enamels, sometimes glazed, in yellow, green or brown tones. His ambition was to give stoneware a place of honour in architecture decoration, and this was to become his principal concern.
BOCH FRÈRES, KÉRAMIS
A factory founded in 1841. It participated in the exhibitions of 1925 and 1937, where it was able to display its dynamism. It supplied the art studio La Maitrise de la Samaritaine. Charles Catteau and Raymond Chevalier were its leading figures.
ERNEST BUSSIÈRE (1863-1913)
A sculptor and ceramist from a modest family from Nancy. He was admitted to the Ecole Nationale des Beaux-Arts in Paris on 7 December 1882, after apparently earning his living by working for Majorelle in Nancy. After carrying out a few orders (The Stations of the Cross for the Cathedral of Nancy,...) he again sculpted several ceramic models for Majorelle, which he claimed "relaxed him" and were certainly necessary to earn an income. His "flambé" vases and the plaster for the medal-lion of Takashima are appropriate illustrations of these two aspects of his brief career.
RENÉ BUTHAUD (1886-1986)
A painter, engraver and ceramist who only turned to ceramics after the war. He was trained when he was very young by an engraver on silver who taught him how to handle a burin. He won the Second Prize of Rome for engraving in 1914. After his military service, René showed an interest in other disciplines and learned the techniques of glass-making and ceramics. He soon concentrated on decorated ceramics. The vegetal patterns of the first years were soon replaced by geometric compositions and, above all, by nude figures adapted to the curves of his vases, as well as narrative scenes. By using his proven talents as a painter and engraver, René Buthaud was able to develop a highly personal style for his extremely successful ceramics. His works are displayed in many museums, including the Musée des Arts Décoratifs in Bordeaux, his adopted city, the Musée National de la Céramique in Sèvres, the Musée des Arts Décoratifs in Paris, and the Metropolitan Museum.
RUPERT CARABIN (1862-1932)
A sculptor, furniture designer and advertising artist. Rupert Carabin started learning how to engrave on fine stones at the age of eleven, and finished his training with sculpture on wood. Exercising a synchronism between the eye and the hand to seize a fleeting gesture, and seeking to obtain a spontaneous automatism to capture movement, he drew everywhere and very rapidly. Being obliged to support his parents, he needed a paid job while at the same time ensuring his freedom to create. An opportunity to have this freedom, without budgetary restrictions, was given to him when he was asked to produce a piece of furniture called the "bibliothèque Montandon," after the name of his patron. It was immediately praised and criticised, provoking astonishment and winning him fame. It was the starting point of his career as an artist. This work revealed the determination of the artist not to borrow from the past but to adopt an approach that was disconcertingly novel. This order was followed by a continuous production of furniture and art objects made in wood, silver, bronze and gold. As an advocate of uniting art and everyday life, he gave his creations a practical utility.
JEAN CARRIÈS (1855-1894)
After leaving Lyon, his native town, at the age of nineteen, the sculptor moved to Paris where his talents were soon appreciated. He moved to Saint-Germain-en-Puisaye (Nièvre) where craftsmen had settled in a traditional, rustic and functional pottery workshop, the only artistic research being the varnish effects produced by salt or slag, sometimes covering a modest incised decoration, or by cobalt blue glazes in the tradition of Saint-Vérain. He learned the techniques of stoneware and constantly perfected firing methods and mat enamels. He created pieces influenced by Japanese forms, retaining a rustic aspect or giving them a fantastic ornamentation. Carriès signed his name in full in the matter, preceded or followed by the numbers corresponding to complicated formulas.
CHARLES CATTEAU (1880-1966)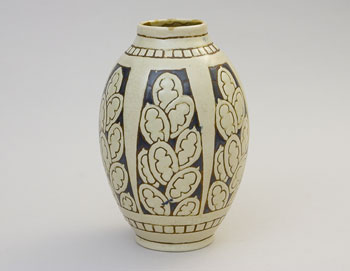 A master of Art Deco ceramics, Catteau renewed the forms, techniques and decoration of modern ceramics, creating an exceptionally original, new and decorative genre. Hired as a ceramic decorator in Sèvres from 1903 to 1904, he produced designs based on an observation of nature, showing the influence of Japonism, characterised by pure lines and meticulous details. From 1904 to 1906, he worked in Nymphemburg, a factory specialised in new painting procedures under a slip, as well as Art Nouveau, and he finally moved to Louvière where he worked as the head of the decoration department in 1907, before teaching it as a subject. This is where most of his extraordinary talent was revealed: nature and the simplicity of his forms and decorative patterns. The pieces are of a very fine, and even exceptional, quality, a sophisticated stoneware with stylized motifs inspired by flora and fauna. He earned an international reputation at the International Exhibition of the Decorative Arts in 1925. And finally, in 1945, he retired to Nice.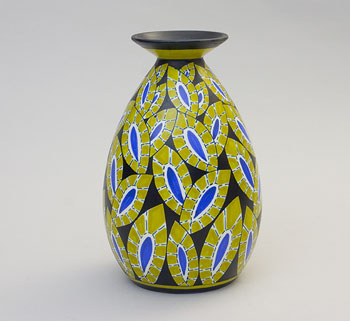 EDOUARD CAZAUX (1889-1974)
A sculptor and ceramist who learned his art when he was very young. After a few years in Paris, where he had access to the Manufacture de Sèvres, he established himself in La Varenne in 1920 where he built his studio. An excellent turner, Cazaux placed his talents at the service of the Lachenal ceramists before the war, but also of friends such as Jean Mayodon. The production of Cazaux is distinguished by his decoration with copper inlays and his original processing of oxides. He explored different techniques, such as the Norton stoneware or the "paste over paste" process. Being influenced by classic Greek sculpture, he gave preference to simple forms before allowing himself to be attracted to cubism and then developing his own style. His works are displayed in the Musée des Arts Décoratifs in Paris and the Museum of Saint Maur.
MICHEL CAZIN (1869-1917)
A ceramist, painter, engraver, sculptor and medal-maker. He was the son of Jean-Charles Cazin, and worked in the family workshop, assisted by his wife Berthe. Initially influenced by Japonism, like his father, he subsequently adopted the ornamental research of Art Nouveau. He was a sculptor through and through. His raised decorative motifs of plants, shells and cords merge harmoniously in compact forms, adorned with a mat enamel that is frequently monochrome.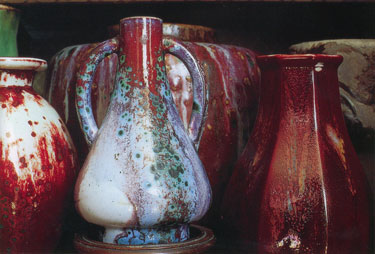 ERNEST CHAPLET (1835-1909)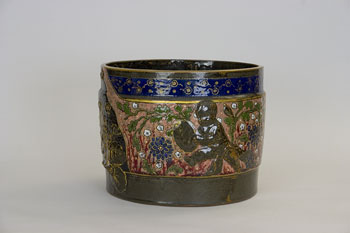 A ceramist who started his career as a decorator at the Manufacture de Sèvres in 1848. His first pieces, executed under the supervision of Lessore, were displayed at the Universal Exhibition in London in 1855. In 1856, he joined the faience works of Laurin where he painted decorations in the spirit of the Italian Renaissance. In 1875, Chaplet entered the Haviland-Auteuil workshop and six years later, he was appointed artistic director of the factory owned by Haviland in Rue Blomet, in the Vaugirard district. He was soon attracted to Far Eastern ceramics and carried out his first trials in stoneware, mainly with Albert Dammouse. His rough-textured brown stoneware pieces have a decoration of naturalistic flowers and fruit, with deeply incised outlines highlighted by enamels without brilliance and underlined in gold. His first essays in copper and red date back to this period and were initially made in stoneware and then in hard porcelain after 1885. He bought the workshop in Rue Blomet, subsequently sold it to Delaherche in 1887, and settled in Choisy-le-Roi to devote himself exclusively to producing flambé porcelain. After 1895, he achieved a high degree of perfection in his techniques. He earned a world-wide reputation at the Exhibition of 1900. From 1904 onwards, Chaplet became blind, the victim of his art. He handed over the workshop to his grandson Emile Lenoble. His signature is often in the form of a rosary (a reference to the French meaning of his name).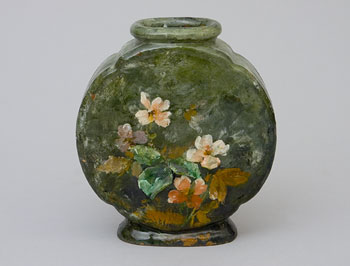 GUSTAVE JOSEPH CHERET (1838-1894)
A sculptor and the older brother of Jules Chéret, he started studying sculpture when he was thirteen years old. He later studied under Albert Ernest Carrier-Belleuse, Director of the Manufacture Nationale de Sèvres, and succeeded him in 1887. He started his career at the Salon of 1863, obtaining a distinction in 1883 and 1886. He was appointed a member of the Société Nationale de Beaux-Arts in 1894. He designed numerous models for the Cristallerie de Baccarat, as well as a few architectural sculptures. A forerunner of the Art Nouveau movement, he created small sculptures, wall lamps and other objects produced by Sèvres. A large number of vases and terracotta objects by Chéret are in the Musée des Arts Décoratifs.
DEMETER CHIPARUS (1888-1947)
Of Romanian origin, he was a sculptor of figures. He created statuettes typical of the years 1925-30. His favourite subjects were dancers, acrobats, comedians and oriental women. He was famous for his chryselephantine statuettes in bronze and ivory, and he also made a number of terracotta objects of high quality.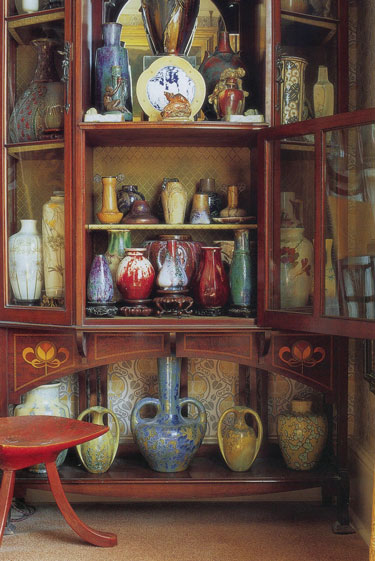 MAX CLAUDET (1840-1893)
A ceramist student of the Ecole des Beaux-Arts in Dijon, and then in Paris. He moved to Salins in the Jura where, from 1878 onwards, he devoted himself to ceramics and created original pieces in stoneware. After he died, his son continued his father's work until 1914, producing some fine flambé stoneware.
HENRI CROS (1840-1907)
A painter, watercolorist, sculptor, ceramist and one of the best glass artists in the second half of the 19th century, he rediscovered and applied the technique of glass paste. After spending some time at the Ecole des Beaux-Arts around 1855, he joined the studio of the painter Louis-Jules Etex, a former student of Ingres, where he found pure lines, natural and harmonious attitudes, and distinctive colours. Fascinated by the techniques of encaustic painting used in Pompeii, he succeeded in finding the process in an old text. As of 1867, he presented wax figures, most of them with historical or legendary themes.
Above all, he sought to express an idea, a symbol. He searched for a stronger and more durable material but having the same aspect. The idea came to him while reading Pliny to draw inspiration from the glass paste of Antiquity. His first trials go back to 1882. The Manufacture de Sèvres placed a studio and kiln at his disposal around 1892. All his works have an indefinable and mysterious charm, in which reminiscences of the past blend with his poetic sensitivity and "his taste for the allegory and the symbol." Although his works are usually signed, it is not a hard and fast rule in his case.
LOUIS DAGE
A Parisian ceramist, active in the years 1920-1930, who was nominated "Meilleur Ouvrier de France" in 1924. Lois Dage is at the origin of pieces with Art Deco shapes that are frequently enamelled using a yellow typical of this ceramist.
ADRIEN DALPAYRAT (1844-1910)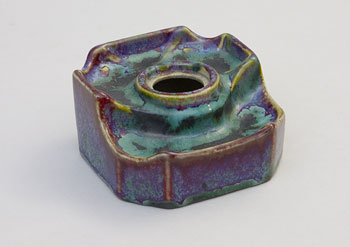 A ceramist born in Limoges and started his training as a painter on porcelain. He then worked in Bordeaux, Toulouse, Monte Carlo and finally in Bourg-la-Reine near Paris, where he settled in 1889. He soon devoted himself to stoneware but without completely neglecting earthenware and porcelain. He perfected the "Dalpayrat red" a deep and thick oxblood red, which he combined with marbled greens, blues and yellows, playing on contrasts between mat and brilliant effects. He used simple but also tortured shapes, sometimes sculpted with plants or animals. His creations are composed of more classical artistic stoneware, especially the unique pieces that were exhibited regularly.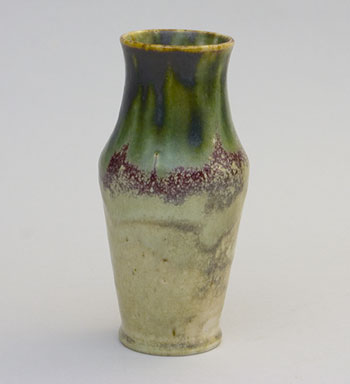 ALBERT DAMMOUSE (1848-1926)
A ceramist, painter and sculptor who specialized in stoneware with monochrome enamel. The son of a sculptor from Sèvres. Dammouse received his artistic training at an early stage. He exhibited his works in 1875, and obtained great success by presenting stoneware decorated with coloured enamels. As an outstanding technician, he worked with the leading porcelain manufacturers of Limoges, sending them models. In 1892, he established himself in Sèvres and ran his own stoneware factory while at the same time continuing his research with Chaplet. His first items of stoneware are of Japonese inspiration with solid and well balanced shapes, decorated exclusively with monochrome enamels. He subsequently adorned them, but without excess, with flowers, foliage and seaweed in melting tones, creating a general harmony without any strong contrasts.
THEODORE DECK (1823-1891)
A ceramist from Gubweller, he developed an interest in chemistry at a young age and was fascinated by the book written by the chemist Chevreul De la loi du contraste simultané des couleurs. He founded the Deck workshops in Paris in 1858, and in 1861 he won a medal at the Exhibition of Industrial Arts in Paris for his faience inspired by Saint-Porchaire. The following year, he was awarded another medal in London. In 1874, he presented his transparent and cloisonné enamels, including the famous "blue Deck," at the Exhibition of the Union Centrale. He was inspired by Assyrian, Hispano-Moorish, Chinese and Italian Renaissance art but also created a new type. From 1858 until his appointment as Director of the Manufacture de Sèvres in 1887, his production was prolific, assisted by painters, drawers and sculptors.
Thanks to the presence of designers in his workshop, he rejected the prevailing academicism and became one of the forerunners of Art Nouveau. Towards 1874, he applied the divisionism of Chinese cloisonné enamels. He took part in the general revival of the decorative arts through the spreading popularity of ceramics and the influence he exerted over many artists, especially his students Edmond Lachenal, Agnès de Furmerie and Emile Decoeur.
EMILE DECOEUR (1876-1953)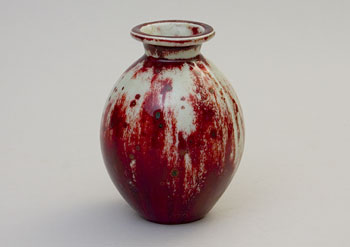 Ceramist who apprenticed to Edmond Lachenal at the age of fourteen for ten years, then worked briefly with Fernand Rumèbe before establishing his own studio. Throughout the 1920s Decoeur specialized in stoneware and porcelain vessels in the oriental style. His repertoire from the late 1920s and 30s became increasingly simple, favouring pure symmetrical shapes left almost entirely undecorated, each glazed in a rich single color of yellow, green, white, pink, blue or celadon.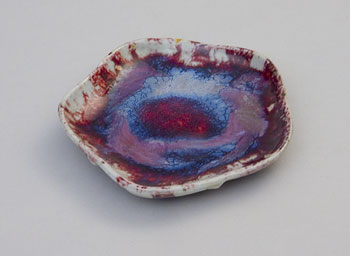 AUGUSTE DELAHERCHE (1857-1940)
A ceramist who made his first pieces of salt glazed stoneware as of 1883. He was particularly appreciative of the traditional ceramics of his native town of Beauvais. His work is unique and intimiste, and is devoted entirely to research, far from the exuberance that earned him the nickname of the "poet of stoneware." In 1887, he bought the Chaplet workshop at Vaugirard, where he perfected several firing processes in order to find the rich fluxes of enamel he admired so much on Japonese stoneware. He invented a method of obtaining enamels in a subtle degradation of tones. The public discovered him at the Exhibition of the Union Centrale des Arts Décoratifs in 1887. In 1889 he won a gold medal for a series of stonewares in robust and simple shapes. The decoration, in harmonious tones continued to be sober.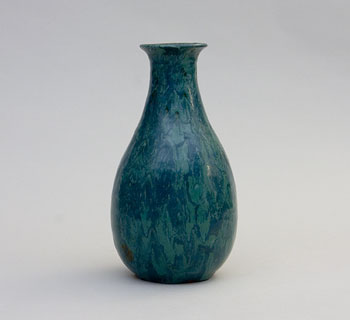 In 1894, he left Paris for Armentières near Beauvais. He gradually dropped all types of decoration: his forms and their simple lines were enhanced mainly by the colour of the background and the enamels. From 1904 onwards, he only made single models, rejecting the unexpected effects caused by firing. Between 1925 and 1930, he created delicate white porcelain, with an engraved and excised decoration. The influence of such pieces can be compared to the research found in certain Moslem ceramics.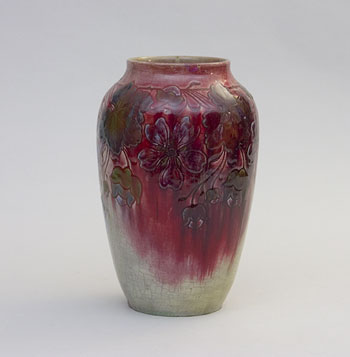 DENBAC
A factory with a name derived from a contraction of the surnames of its two founders, Denert and Balichon. It produced artistic stoneware in the purest Art Nouveau style as of 1910 in Vierzon.
TAXILE DOAT (1851-1938)
Even though he was of British origin, he is a major figure in the world of French ceramics and one of the ceramists who opened the Manufacture de Sèvres to Art Nouveau. He worked there from 1877 to 1905 despite the construction of his own kiln in Paris since 1892. After perfecting the process applied for the first time in Sèvres, he made porcelain pieces with a "paste on paste" decoration. This consists in partly covering the piece to be decorated by a layer of coloured paste. After it has dried, white paste is added and modelled into a shallow relief. These small reliefs are like veritable cameos thanks to the play between thickness and transparency. After being fired, this workmanship is visible through the enamel, thus accentuating the modelling in white, with the layers almost merging into the background colour. Using this technique, he produced some of the finest enamels with very personal forms. At the same time, he also made plastic figures in a variety of subjects, such as a gourd or colocynth, as well as finely decorated porcelain.
GEORGES DE FEURE (1869-1928)
A famous Dutch painter and draughtsman who worked in France, especially for Samuel Bing, he was the high priest of Art Nouveau in which he excelled.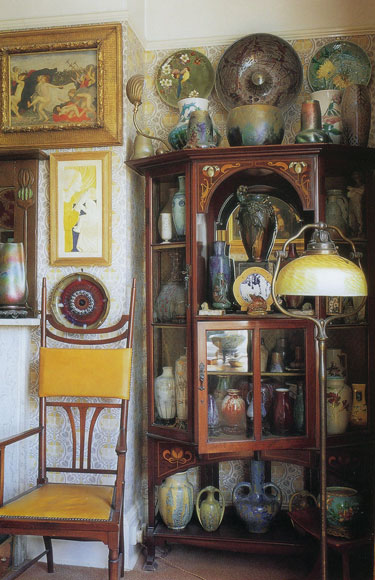 MARIUS FOURMONT (1876-1953)
A ceramist who must have certainly worked with the Massier dynasty around 1900. He carried out research similar to that of the Englishman, W. de Morgan. His production consists of various techniques, including precious metallic reflections similar to those produced by the Massier ceramists. He settled in Tours in the 1920s.
ROGER GUERIN
An artist specialized in stoneware. He worked for the stoneware company of Bouffioux in Belgium, and participated in exhibitions in Paris between 1925 and 1937.
GENO
A ceramist who worked from 1930 onwards with Pierre Motton in Montières-les-Amiens. His earthenware works have a powerful and contrasting decoration of stylized flat tints.
MAURICE GENSOLI (1892-1972)
Ceramist who started working as a decorator at the Sèvres porcelain factory in 1921, and was named director of the new faience department in 1924. This department produced a broad new range of vases and tablewares, with decorations supplied by artists from a variety fields including Robert Bobfils, Jean Dupas, Henri Rapin, Suzanne Lalique, Jean Dufy, Joel and Jan Martel, Eric Bagge, Jacques-Emile Ruhlmann, and Louis Jaulmes, Gensoli exhibited decorative porcelain panels at the 1925 Paris Exposition, and in 1928 was appointed head of the design studio at Sèvres, where he remained until 1959. Under Gensoli's creative influence Sèvres produced Cubist-style wares in the form of stylized waves, sea shells, exotic animals and human figures. His work explored contrasts inherent in the texture of the clay and the sheen of glazes, revealing the sculptural aspect of the porcelain's surface.
CHARLES GREBER (1853-1941)
A ceramist. He worked in Beauvais and was appreciated for his relief and reaction stoneware. His house, which is covered in architectural ceramics, and many others in Beavais, have been classified as historical monuments since 1979. During his thirty years of activity, Charles Greber followed Parisian trends closely. In the first years of the 20th century, his ceramics, originating from the academic style, became strongly marked by Art Nouveau. During this period, but also after the First World War, he produced stoneware decorated with reliefs of animals and plants.
MARCEL GUILLARD
An enameller and ceramist. He worked with André Fau, Le Jan, Delabassé, Wuillemier and Giraud-Rivière for the firm Editions Etling, which participated in the Exhibition of Decorative and Industrial Arts in Paris in 1925.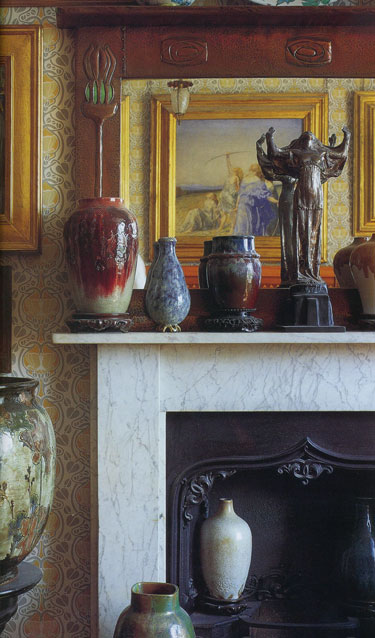 HECTOR GUIMARD (1867-1942)
An architect and sculptor who studied at the Ecole des Arts Décoratifs and the Ecole des Beaux-Arts. Guimard exhibited his plans and designs at the Salon des Artistes Francais and then at the Société Nationale. He also taught at the Ecole des Arts Decoratifs. Ceramics appeared very early in the architectural work of Guimard, especially with components in terracotta, enamelled or not, and in stoneware. Considered without dispute as the leading light of Art Nouveau in France, he adopted a complex creative approach, making the most of new metallic materials. At the time of his participation in the Exhibition of Ceramics in 1897, he developed his plastic vocabulary, initiated at Castel Béranger.
His art combines the Flamboyant Gothic and Rocaille styles with a modern choice of materials, in abundant and symbolic flowerings of plants in curves and counter-curves.
GEORGES HOENTSCHEL (1885-1915)
A ceramist and decorator famous for his refined taste. His friendship with Carriès was a decisive factor in his artistic career. Hoentschel participated in his research on stoneware and after Carriès died, he bought the Chateau de Montriveau, where he worked, assisted in turn by Grittel. His talents as a ceramist were revealed at the Exhibition of 1900, when the decoration of the pavilion of the Union Centrale des Arts Décoratifs was entrusted to him. His early works were influenced by Japan, and he soon perceived the interest of the new "Art Nouveau" tendencies. He continued to be one of the promoters of this style, characterized by floral or aquatic motifs cut out in the matter, of which they formed an integral part.
GEORGES HOENTSCHEL (1885-1915)
A ceramist and decorator famous for his refined taste. His friendship with Carriès was a decisive factor in his artistic career. Hoentschel participated in his research on stoneware and after Carriès died, he bought the Chateau de Montriveau where he worked assisted in turn by Grittel. His talents as a ceramist were revealed at the Exhibition of 1900, when the decoration of the pavilion of the Union Centrale des Arts Décoratifs was entrusted to him. His early works were influenced by Japan, and he soon perceived the interest of the new "Art Nouveau" tendencies. He continued to be one of the promoters of this style, characterised by floral or aquatic motifs cut out in the matter, of which they formed an integral part.
PAUL JEANNENEY (1861-1920)
Rich and talented, and influenced by the prevailing Japonism, he soon became a passionate admirer of Far Eastern art. He admired the work of Carriès, and learned the technique of stoneware at Saint-Amand-en-Puisaye. He was interested in creative pottery and used all kinds of techniques: turning, casting and modelling. Thanks to his agile hands, most of his stoneware displays a powerful equilibrium and rigorous simplicity. He created vegetal and symbolic pieces. Certain works show no influence at all, they are avant-garde and give a foretaste of the revival of the 1950s.
FRANCIS JOURDAIN (1876-1958)
A painter, graphic artist and designer of furniture, fabrics, wallpaper and ceramics. Francis, the son of the architect Frantz Jourdain, was basically a self taught man who studied painting and architecture.
From 1912 onwards, he devoted himself to the Decorative Arts, with the objective of fulfilling individual needs by designing objects that were mainly intended to be practical. His first functional ceramics included, in 1913, dining rooms that he presented at the Salon des Artistes Décorateurs in 1921 and again in 1923. His interest in functional ceramics led him to design the front of his own ceramic shop, where he displayed his tableware and vases in a modern way. Most of the pieces referred to as pottery were made in a glazed clay, decorated with coloured englobes. His shapes were simple and plain, enlivened by a painted linear or geometric decoration standing out against a plain background. His pottery reflects the influence of cubism in the Decorative Arts both in his use of a geometrically-inclined ornamental vocabulary and in his basic forms.
FREDERIC KIEFER (1894-1977)
A ceramist. The son and grandson of a potter, he started training in his father's studio in Diemeringen (Lower Rhine) where his family had exercised their trade since 1800. He was a turner at the stoneware factory of Beauvais, a caster-stamper for the Gentil & Bourdet firm, and a plaster modeller in the design department of the Renault company.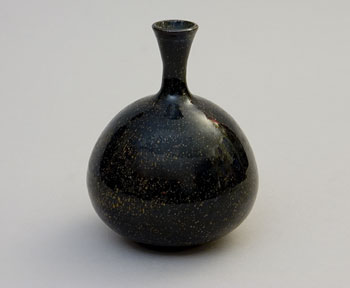 In 1936, he was nominated "Meilleur Ouvrier de France" (Best Worker in France) and in 1937 received the bronze Medal of Honour from the "Art-Sciences-Lettres" society. In 1936 he was employed by the Manufacture Nationale de Sèvres where he served as the praticien to the most famous ceramists of the period, including Dalpeyrat, Soubdinine, Decoeur, Gensoli and Beyer. In 1947, he was appointed technical professor at the Ecole Nationale Supérieure de Céramiste, where he taught until 1959.
In parallel with this official career, Frédéric Kiefer continued his personal research on the coloured effects of celadons and the flaming reds of copper, colours transmitted by the East, and their use on forms of Western conception. Starting from 1930, he participated in numerous national and international shows, and exhibited in several Salons and art galleries in Paris. The State acquired a number of his pieces on several occasions, and these can be seen in the collections of the Musée d'Art Moderne and the Musée de Sèvres. His works are made exclusively of high-temperature ceramic. All his pieces are in porcellaneous stoneware, a mixture perfected by Emile Decoeur in 1927. Each one is signed and numbered with a stamp.
EDMOND LACHENAL (1855-1930)
Taught by Théodore Deck, some of the greatest ceramists of the Art Nouveau period, including Henri Simmen and Emile Decoeur, became his students in their turn. Lachenal is one of the masters of the Art Nouveau style. He worked frequently with sculptors. His perfect technical mastery enabled him to try out a wide variety of ceramics. His decorations and subjects, always in a naturalistic spirit, are numerous. He produced a very fine enamel with an extremely silky appearance and texture, the effect of using a hydrochloric acid.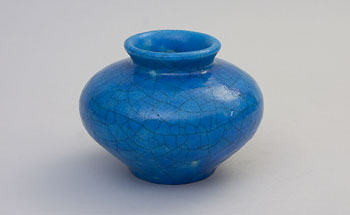 RAOUL LACHENAL (1885-1956)
A ceramist. He started his career under his father and succeeded him in 1904. He preferred the process of casting to the modelling or turning techniques. He set up a high-temperature porcelain factory in Boulogne-sur-Seine. His kilns allowed him to fire stoneware, porcelain or earthenware. In addition to ceramics in series, he signed original creations with sober forms, frequently ovoid or rectangular, sometimes evoking the Far East. His decorative patterns were simple, consisting of wide ribs, pastilles, flowers, or they were stylized. The enamels, an original and discreet palette, range from pure white to intense black, with highlights of green, brown or red.
ROBERT LALLEMANT (1902-1954)
A ceramist who trained at the Ecole des beaux-Arts in Dijon under the supervision of the sculptor Ovide Yencesse. Robert Lallemant came to Paris and worked without renumeration in a ceramic studio before setting up his own. He spent much time undertaking repeated trials to find forms to mirror the spirit of his time, and also to interpret the industrial sensitivity. His concerns were, first and foremost, centred on materials and forms, and although decoration interested him considerably, he eventually relegated it to second place.
PIERRE LEBASQUE
The son of the painter Henri Lebasque. Little is known about the work of this artist. He taught ceramics in Cannes where he had his own workshop. He worked with André Metthey. He made a complete reproduction of different fish, now scattered, for the Aquarium of Monaco, as well as the fašade of the maritime station serving the Lérins islands. He exhibited at the Granoff gallery, Place Beauvau, from 2 to 22 June 1964.
EMILE LENOBLE (1875-1940)
A ceramist with solid artistic training. He worked for Chaplet, his grandfather, at Choisy-le-Roi, his place of origin. His originality was to add a painted decoration of stoneware. He also excelled in engraved art, either removing the engobe with a pointed tool or hollowing out the material itself. His work is characterised by pure and simple forms, in tones of brown, turquoise, yellow, ochre or white, decorated with chevrons, interlaces, cables and spirals rolled out in tranquil and regular friezes. These pieces, with their sombre tones, give a strong feeling of plenitude and fulfilment. When he returned from the 1914 War, during which he was made a prisoner, he went back to his research and turned to enamelling, developing an entire range of blues. At that point, incised decoration became of secondary importance in his work. He perfected his enamels, diversified them and took every advantage of the effects produced by the reactions of fire and glazes.
JEAN LUCE (1895-1964)
An artist, designer dealer and ceramist who multiplied his modes of expression (glass, silver and ceramics). He designed a shop in 1923, which he ran in 1931. Like Géo Rouard, Jean Luce was a Parisian dealer who designed, produced and distributed his creations. He designed the models for his ceramics himself, and had them made in Limoges, Creil, Septfontaine and Montereau. His porcelain is elegant and has simple and logical shapes, and his faience is sometimes enamelled, and comes with matching sets of glasses. Their decoration is not excessive, and is made attractive by a few light and fresh tones which do not strain the eyes and create a feeling of good humour. He was capable of giving a warm touch to the coldness of the enamel through a colour, gold or platinum. In 1933, he founded his own studio, creating decorations in the purest spirit of Art Deco.
MARLOTTE (1902-1933)
A factory. In 1902, Aristide Bézard and Emile Mousseux set up a workshop for artistic ceramics in Marlotte, seeking to promote ceramics to the status of art works. The house chosen by Aristide Bézard and Emile Mousseux used to be occupied by the Union Artistique of Marlotte, the famout "Casserole". The former decorated the ceramics while the latter prepared them. Apart from a few landscapes, flowers were the principal motifs. Emile Mousseux contributed to giving a degree of originality to the production both through the shape he gave to the stoneware and through his constant research on glazes that were invariably of a high standard. After Aristide Bézard died in 1916 the potter remained alone in the studio. He stopped producing slip ware ceramics and concentrated instead on making artistic stoneware. Production ceased in 1933 when Emile Mousseux sold the factory and moved to Montigny-sur-Loing.
LES MASSIER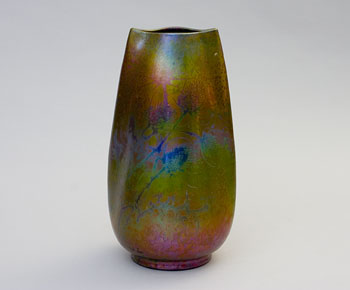 They formed a veritable dynasty because as far back as the 17th century traces can be found of potters bearing this surname in Vallauris. Jacques Massier, father of Clément and Delphin, is the precursor. Assisted by their cousin Jérome Massier, they focused their efforts on reviving the artistic ceramics of Vallauris, and therefore learned the art of enamels. Their research on high-temperature decorative processes helped them to develop a type of decoration under enamel for faience and stoneware with metallic "reflections" which established their reputation at the Universal Exhibition in 1889. As creators of a new art, supported by a flourishing industry, they surrounded themselves with excellent artists, such as the symbolist painter Levy-Dhurmer, who worked with Clément Massier for a long time.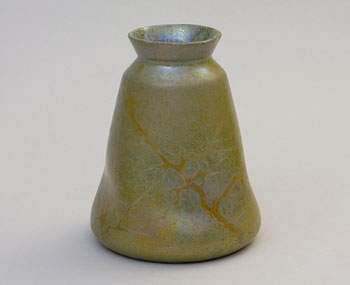 DELPHIN MASSIER (1836-1907)
A ceramist and brother of Clément Massier. He worked with Jérome Massier Fils (son), his cousin. Like his brother, Delphin lustred his stoneware and faience. His production was very varied both in form and decoration. He preferred delicate colours based on pink and purple, as well as harmonies of green.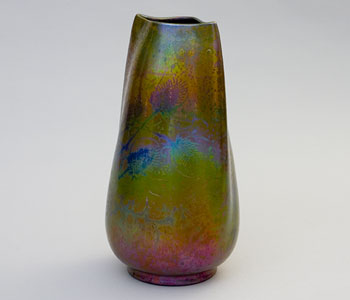 CLEMENT MASSIER (1844-1917)
A famous artist and kind-hearted man, he remained simple and modest. The main interest in his production lies in the use of metallic lustres or "reflections". His real originality is in his highly personal and harmonious combinations of greens and violets. These powerful and dull tones decorate pieces of an antique rigour as well as serpentine and contorted shapes with ornamental motifs drawn from the decorative repertory of Art Nouveau, but also inspired by the Far East. His work is highly diversified. Certain very elaborate pieces are reminiscent of the glass pastes that were in fashion at the end of the 19th century.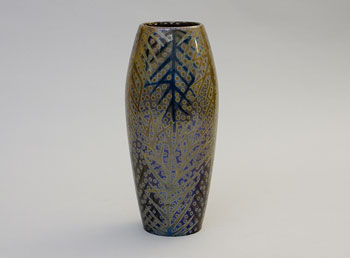 JEAN-BAPTISTE MASSIER DIT JÉROME FILS (1850-1916)
A ceramist. It was Delphin, Clément and Jérome Massier who gave birth to the ceramics of Vallauris. At the end of the Second Empire, Jérome was initiated into the art of enamelling. His research on high-temperature decorative procedures enabled him, together with his cousins, Delphin and Clément, to develop decoration under enamel for earthenware and stoneware with metallic reflections. The pieces he presented at the Universal Exhibition in 1889 were a tremendous success.
LUCIEN LÉVY-DHURMER (1865-1953)
A symbolist painter, sculptor and draughtsman, he did not follow the traditional teaching of the Beaux-Arts schools. He worked as an ornamental designer from 1887 to 1895 in a faience factory at Golfe-Juan, a technique that subsequently influenced the way he handled pastels. He participated in the Salon des Artistes Francais in Paris in 1882. He made portraits of Pierre Loti and Marguerite Moreno. Although he did not follow the teaching of either Puvis de Chavannes or Gustave Moreau, he seems to have been quite close to these visionaries who were "painters of the soul". After 1900, his aesthetics and style changed, leaving more room for landscapes. He constantly suggested feelings, interpretations and emotions without the help of traditional allegories, and therefore belonged to the "intimist" movement. In 1887, he worked with Clément Massier. He was appointed head of art works and played an active role in the discoveries and research relating to the creation of metallic lustres. He signed ceramics with metallic reflections that came out of the Massier studios. His work demonstrates the evolution of an unjustly underrated art trend, which had admittedly remained on the fringes of the major innovative currents of the 20th century but was nevertheless worthy of recognition.
FELIX MASSOUL (1872-1938)
A painter and ceramist concentrated on colours. His determination to capture the imperturbable brilliance of colour led him to the art of ceramics in1895. He preferred lustred faience in harmonies of blue, green and violet, in the Hispanic-Moorish tradition, the velvety black of Greek vases, and the siliceous pottery of Egyptian ceramic, with two blues that he called "male blue" in the case of a dark blue obtained from cobalt oxide, and "female blue" for the lighter blue made from copper oxide. His shapes are varied, with a sober profile, dictated by the consistency of a paste that was difficult to turn. He also made pieces with a stylized or geometric decoration in sparkling colours: dark blue, green or gold black.
JEAN MAYODON (1883-1967)
French ceramist who originally trained as a painter and transferred his passion for figural imagery to art pottery. Mayodon's tablewares and architectural fittings are best known for their unique painted figural decoration and crackled glazes. Many of his faience wares in the Art Deco style were designed by René Buthaud. From 1941-1942 Mayodon served as artistic director of the Sèvres porcelain factory.
MATHURIN MEHEUT (1882-1958)
A painter, watercolorist, ceramist, engraver, drawer and illustrator, who studied at the Ecole des Beaux-Arts in Rennes. His first notable exhibitions were held at the Pavilon de Marsan in 1913 and 1921, then at the Galerie Charpentier in 1931. He produced ceramics, as well as cartoons for mosaics and stained glass. He specialized in depicting scenes of the working life, flora and fauna of Britanny.
He decorated several liners and oil-tankers, and made several ornamental murals, especially for the Decorative Arts Exhibition in 1925. Finally, he worked for the Henriot Manufacture in Quimper, where he developed his talented views of Britanny.
ANDRÉ METTHEY (1871-1920)
A protagonist of Art Nouveau, with a brief but admirably fulfilled career. Following empirical trials, he made stoneware, modelling his shapes like a sculptor. His pottery, a little on the rustic side, is usually covered with an even brown or green enamel. It was only after 1900 that he succeeded in producing his flambé stoneware. Established in Asnières, he found his vocation by using stanniferous faience, and requesting his painter friends, Renoir, Redo, Bonnard and Maillol, to decorate his forms. Working on glazed clay covered by a light engobe, he used a palette of enamels that were even more diversified and he decorated his pieces with layers of gold. Towards the end of his life, he turned to the human face, which he used to decorate the sides of his vases. The influences of Persian ceramics can be seen in his work.
MONTIÈRES-LES-AMIENS
A small town in Picardy in the north of France where Désiré Borck took over a faience factory. He turned to Jean Barol, a ceramist from Golfe-Juan, trained by the Massier family, who brought with him the refinements of lustre. The decorative repertory was still inspired by flora at the beginning but gradually became more geometric. The expanses of cloisonné colours accentuated this process. The studio acquired its fame at the end of the First World War. Many artists worked at Montières, including Guy Arnoux and Géno.
GUY ARNOUX (?-1951)
A 20th century French drawer and illustrator. His graphic art, based on a highly accentuated black outline, was particularly suited to the arts of stained glass and ceramics, which enabled him to supply several models to various studios.
ETIENNE MOREAU-NÉLATON (1859-1927)
A painter, writer and ceramist. He followed in the footsteps of his mother, Camille Moreau-Nélaton, who was a famous ceramist. He acquired a taste for simple forms with rustic decoration, painted in muted tones of yellowish-grey or blue by the potters from the village near Chateau Thierry, where he frequently resided. His production consists of faience and stoneware. His style evolved under the influence of the decorative repertory of Art Nouveau, and his palette of colours gradually became lighter. He exhibited for the first time in 1899.
MOUGIN FRÈRES (JOSEPH (1876-1961) : PIERRE (1880-1955)
Sculptors and ceramists specialized mainly in stoneware. The history of the stoneware of Mougin started in 1897 with the first high-temperature firings of Joseph Mougin and Charles Lemarquier. When they settled in Montrogue, the latter turned to Pierre Mougin to design their kiln. The two brothers became partners after the departure of Lemarquier. They were asked to produce several pieces by artists such as Emile Wittman, Louis Majorell, Piere Roche and Victor Prouvé. On their return to Nancy in 1906, they took part in several exhibitions where their works received prizes and other distinctions. In 1925, Joseph won the prize for ceramic Art at the Decorative Arts exhibition. After his last firing in 1950, the workshop was taken over by Odile and Francois Mougin.
The works of the Mougin brothers is anchored stylistically in their period, with symbolism echoed by naturalistic elements, but also numerous representations of female figures, sometimes emerging from the body of the pieces. They are now displayed in the Musée de Saint-Jean-de-l'Aigle, the Musée de Luneville and the Musée de l'Ecole de Nancy.
EMILE MULLER (?-1889)
A ceramist. In 1854 he founded the "Grande Tuilerie" factory in Ivry near Paris, a stoneware centre that produced Art Nouveau ceramics. In 1884, he perfected enamelled terracotta for architectural decoration and the reproduction of artistic works. These ceramics were of a very high quality and made a significant contribution to building up his reputation.
THÉO PERROT (1856-1942)
A painter and potter. An enigmatic personality with an inconsistent career, who clearly belonged to the school of Carriès where he found a new mode of expression. An artist-painter in England, he settled in Arquian where he set up a workshop. It is only when he is 51 years old that he made an appearance as a ceramist by exhibiting a series of vases at the Salon of Nevers in 1907, where it was discovered that he had the title of master potter. The sources of his training are unknown but it is believed that he had worked with Emile Grittel and Georges Hoentschel.
Attracted by the decorative extravagances of Art Nouveau, his later creations were inspired by this movement, and he produced vases and jugs lavishly decorated with mannered floral motifs. He used the techniques of modelling and casting for his animal and plant figures. Despite his brief career as a ceramist, the formal repertory of Théo Perrot is very diversified. In 1912, he gave up his activity as a ceramist and retired in Lyons.
PIERREFONDS
A factory. In 1903, Halloz d'Arros worked as a ceramist here, creating pieces in flambé and crystallised stoneware under the label "La faience Héraldique".
JEAN-MARIE POINTU (1843-1926) and LÉON POINTU (1879-1942)
Ceramists. From 1879 to 1884 the production of Jean Pointu was composed mainly of slip ware. Already an elderly craftsman when Carriès arrived in Saint-Amand, a leading centre of traditional and artistic stoneware, he was conquered by Japanese stoneware which he discovered. It inspired him to create typical and compact forms with a fine grain and smooth mat enamel. He only made stoneware in this new workshop.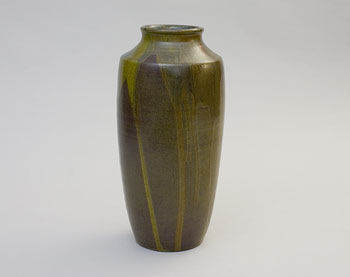 His son, Léon, was highly influenced by his father and took over his pottery works in 1918 where he produced ceramics using the same processes and that he developed by creating new shapes as well as new enamelling recipes. Although he had no ambition to be included in National Exhibitions, from 1921 onwards he nevertheless participated in the exhibitions organized in Nevers where he enjoyed great success.
PRIMAVERA
The brand of the luxurious Parisian shop "Le Printemps", which ordered ceramic pieces from various potters and factories. A wide variety of styles were produced under this brand until 1930.
ALFRED RENOLEAU
A ceramist from the School of Paris. He started his production in Roumazières. He then left for Angouléme well before 1880 where he produced some rather remarkable pieces - vases and plastic works - for Pineau. As of 1892, he seems to have set up his own workshop in Angouléme where he produced reaction stoneware.
ROBALBHEN (HENRI LAURENT-DESROUSSEAU) (1892-1906)
A painter and ceramist of the Art Nouveau period. He was the son of the painters Henri Adolphe Louis Laurent and Lydie Adèle Desrousseaux. He started studying in the painting department of the Ecole Nationale des Beaux-Arts in Paris. His works were presented to the public in 1883 and he won several awards, including one that enabled him to undertake a long study tour. On his return, he added his mother's name to his own and started signing with the double-barrelled name of Laurent-Desrousseau. The pictures he painted in the following years were very well received by art critics and buyers, and he became "one of the best loved painters of the public". In 1896, encouraged by the painter and ceramist Camille Moreau-Nélaton, he presented for the first time artistic ceramics made from models. The Salon exhibited them under the pseudonym of "Henri Léon Robalbhen". The Parisian gallery A la paix Jules Mabut sold his ceramics. Art critics reviewed these pieces very favourably. The painter Léon Nabour collaborated in his ceramic work during the following years. When Géo Rouard took over the gallery A la Paix, he continued to sell the ceramics of Robalbhen.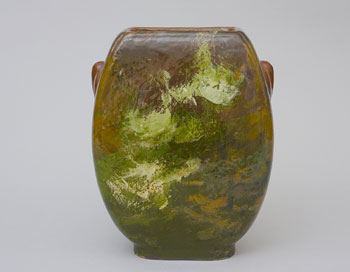 FERNAND RUMÉBE (1875-1952)
A ceramist and architect who was initiated into the art of ceramics by Emile Decoeur at the age of twenty-eight. The work of Fernand Rumèbe is influenced by his travels to the Mediterranean and Indo-China, where he discovered Moslem ceramics.
Rumèbe refused to sell his production, which he reserved for his personal relations. As a result, he did not produce many works but they are all of a very high standard. He designed his own forms. During his initial research phase, he learned the science of enamelling, which he pushed to a high degree of perfection. Although he did not neglect painted decoration, he perfected his enamels based on monochrome backgrounds, artfully superimposed layers, and abstract floral decoration.
ANNA QUINQUAUD (1890-1984)
A French painter and ceramist who was deeply inspired by the African continent, Anna Quinquaud started to manipulate clay from a very early age at her mother's side. In 1914, she received the sculpture prize for women painters and sculptors. In 1924, she obtained the First second Grand Prix of Rome. In return for the award, she preferred to discover Africa instead of staying at the Villa Médicis, and in 1925, she travelled to Mauritania, Senegal, Sudan and Mali. She returned to Niger in 1930 from where she brought back new sculptures and watercolours seen for the first time at the Galerie Charpentier. She collaborated with the Manufacture de Sèvres and continued her travels since they were an exhaustive source of influences.
EUGÉNIE O'KIN SIMMEN
Wife of ceramist Henri Simmen, and one of the premiere twentieth-century tabletiers working in France. In addition to furniture designer Jacques-Emile Rulhmann, she also furnished exquisite lids, finials, stoppers, and stands carved from ivory and rare woods for her husband's ceramics. Her tableterrie was exhibited with great success in the salons prior to the war, and later at the 1925 Paris Exposition in the Hotel d'un Riche Collectionneur pavilion.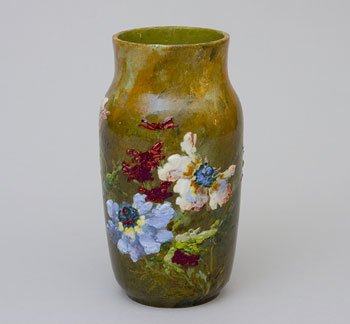 HENRI SIMMEN (1880-1963)
After training with ceramist Edmond Lachenal and developing a passion for French peasant pottery, Simmen established his own studio and began creating salt glazed pottery and experimenting with flambé glazes. Following the war he visited China, Korea and Japan to study Asian ceramics and techniques, which had a major impact on his work for the remainder of his career. Simmen's unique ceramics were modelled entirely by hand in shapes often inspired by nature. He worked exclusively with natural products such as rock, unrefined minerals, lavas, basalts, oak, cornelian and bamboo ash, and his vessels were fired unprotected and in direct contact with the fire, allowing him to achieve a broad range of rich colours and crackled glazes.
SERAPHIN SOUDBININE (1870-1944)
A native artist of Russia. When he moved to Paris, he was so impressed by the work of Auguste Rodin that he gave up singing in order to work with the sculptor. Later, on a trip to New York, he saw the Far Eastern ceramics at the Metropolitan Museum of Art and was persuaded to devote his talents to exploring the high technical and aesthetic standards he observed in the Japanese and Chinese wares. Many of his forms are simple, such as low, open bowls. Others are characterized by sculptural qualities, which sometimes took the form of distinctive, stylized animals. He liked to contrast thick, mat, dark glazes with white crackle glaze, and also mat and glossy surface treatments. His distinctive cipher is a six-winged seraph's head. After the death of his wife, he would often add the words "En souvenir de ma femme" to his pieces.
HENRI DE VALLOMBREUSE (1856-1919)
A ceramist and collector from Reunion, Henri de Vallombreuse had a deep admiration for Jean Carriés. He was closely associated with William Lee who introduced him to the potters of Saint-Amand-en-Puisaye. He learned the techniques of stoneware from Eugène Lion. He soon developed a passion for the aesthetics of Japanese artists and reaction works. He produced some interesting ceramics with bubbling, rough enamels, with gold layers, revealing a deliberate rustic simplicity that is reminiscent of the Japanese style.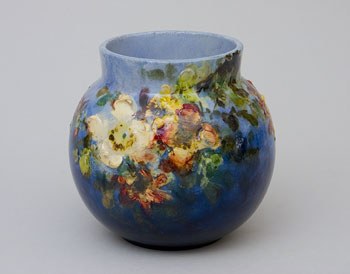 JAMES VIBERT (1872-1942)
A sculptor of Swiss origin. After studying at the Ecole des Beaux-Arts and the Ecole des Arts et Métiers in Geneva, James Vibert started to train as an artistic blacksmith in Lyons. He then worked as a sculptor in Geneva, and in 1891 joined the studio of Auguste Rodin in Paris. In 1900, he received a silver medal for his contribution to the Universal Exhibition in Paris. His work consists of small art objects, busts, statues, groups and monuments. They were executed in ceramic by Emile Muller, but also by Adrien Dalpayrat, Clément Massier and - what is less known - the workshop of Théodore Deck.
CHARLES VIRION (1865-1946)
A ceramist and sculptor. He trained at the Ecole des Beaux-Arts in Nancy in 1863, where he became a friend of Edmond Lombard, Emile Friant, Mathias Schiff, Louis Majorelle, Jacques Gruber and Charles Jacquot, all the artists who would form the Ecole de Nancy.
Enthusiastic about drawing and painting, he discovered modelling outside his classes and attended a sculpture studio regularly. In 1885, at the Ecole des Arts Décortifs in Paris, he was a student of Aimé Milet and Charles Gautier, before attending the classes of Paul Aubé at the Ecole de Beaux-Arts. He learned the art of ceramics while attending a course at the artistic faience earthenware of Hippolyte Boulenger.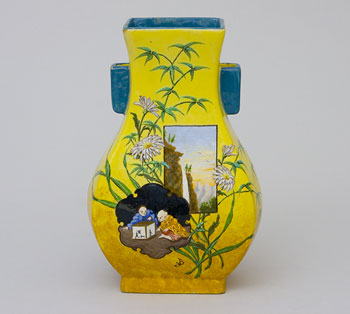 As of 1898, he made numerous models in stoneware for the studio of Boué & Petit. Working this material was more in line with his vocation as a sculptor, and he was able to give free rein to his inspiration. Charles Virion participated in the Universal Exhibition of 1900 and won a medal for his ceramics and for another sculpture. He presented stoneware, usually decorated with animals, at the Salons. Charles Virion is known mainly as a sculptor. From 1890 onwards, he specialized in portraying animals. He took part in the annual exhibitions of the Société des Artistes Peintres et Sculpteurs Animaliers until the end of his life.
MAURICE DE VLAMINCK (1876-1958)
A painter. It was on the initiative of Ambrose Vollard the famous art dealer, that painters started to frequent the studio of André Metthey. Vlaminck was interested in this artist's ceramic decoration and worked with him from 1906 to 1912. During these years, he made over three hundred pieces, many of which are now in the collections of the Musée d'Art Moderne of the City of Paris. These ceramics are interesting mainly for their thematic variety, stylistic skill and chromatic wealth. Although floral motifs predominate, they are sometimes replaced by animals, human figures and, above all, geometric patterns. Female figures can probably be classified as among the most constructed of his works. They have a primitive simplification of forms, ringed by a line emphasising the contours. The numerous figures painted by Vlaminck prove his talent for portraits. In his production of decorative ceramics, he found a fertile ground of expression that allowed him complete freedom in his lines and construction.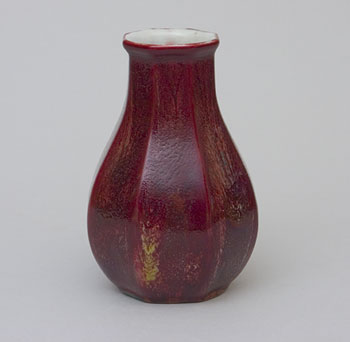 We are seeking to purchase examples of all designers listed in our website.
Images courtesy of Duncan McNeill Photography.