ARTS & CRAFTS MOVEMENT IN AUSTRALIA
ORIGINS & HISTORY OF THE ARTS & CRAFTS MOVEMENT IN AUSTRALIA
The Arts and Crafts movement originated in England (in the United Kingdom ) in the mid 1800s as a reaction against the mass-produced goods of the Industrial Revolution and the intricate and elaborate art forms of the popular Victorian style of art, architecture, furniture and design. The movement embraced a philosophy of handmade products and established a preference for simple forms and unadorned designs.
The Arts and Crafts Movement in Australia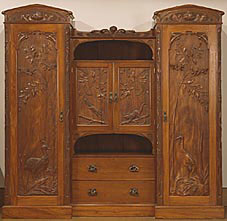 Robert PRENZEL wardrobe from 'The Mathias Suite' 1906-07
Image courtesy of the National Gallery of Victoria
The English pioneers of the Arts and Crafts movement, such as writer and designer William Morris and ceramicist William De Morgan , rebelled against the Industrial Revolution's mass production processes being used to create furnishings and architecture. They aspired to the handcrafted processes of medieval artisans. They believed that the work of skilled craftspeople should be respected and highly valued. They developed workshops and companies to produce their furnishings in their own style.
In England , furniture, jewellery, household items, ceramics, hand-decorated wallpapers and textiles, gardens and even entire houses were produced in the Arts and Crafts style.
The Arts and Crafts Movement in Australia
The Arts and Crafts movement spread internationally. It was significant in the United States of America and came to Australia towards the end of the 19th century.
Australian designers learned about the Arts and Crafts style from retail catalogues and art journals from England , such as Art Journal and The Studio. They also had access to American magazines displaying the style, such as Gustav Stickley's The Craftsman .
They were inspired by what they saw to create their own works in a similar style.
Arts and Crafts furniture in Australia . From 1900 to 1920, Australian furniture makers embraced the Arts and Crafts style. The designs featured strong lines with solid construction. Often joins and fixings were large and prominent and were the only embellishments on a piece.
Christobel Francis Rojo in Melbourne and Beard Watson Ltd in Sydney were highly regarded for the wooden Arts and Crafts furniture they produced during this period.
Use of Australian timbers
As is still common in Australian furniture, manufacturers of Arts and Craft furniture in Australia used European timbers, such as English Oak and Pine, as well as Australian hardwoods such as Blackwood , Queensland Maple, Mountain Ash, Silky Oak and Queensland Walnut.
Sometimes the Australian timbers were stained to imitate European timbers, but often they were used in their natural state. Used naturally, Australian timbers display unique characteristics in grain patterns and colour variations and they provided a distinctive touch to the Arts and Crafts pieces manufactured in Australia .
Arts and Crafts architecture in Australia
Architecture was an important factor of the Arts and Crafts movement in England , where distinctive houses were built in the Arts and Crafts style, including William Morris's The Red House , built by Phillip Webb in 1859.
The Arts and Crafts Movement had an influence on the architecture of Australia from the late 1800s, where the style of building was adapted to the Australian landscape and conditions. Arts and Crafts houses in Australia feature strong lines and some subtle gothic touches with a high level of attention to detail. Several Arts and Crafts style houses have been built in neighbourhoods around Canberra .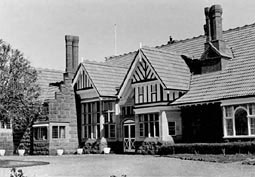 Blackwood House
Image courtesy of the State Library of Victoria
The house, Blackwood , in Melbourne was designed and built in an Arts and Crafts style by Butler and Ussher in 1891.
Redleaf is a large house in Sydney , built in 1899 to an Arts and Crafts style by Howard Joseland. After several alterations over the years that did not fit with the Arts and Crafts style, it was restored to its original style and is now heritage listed .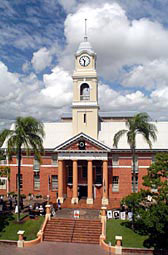 Maryborough Town Hall designed by Robin Dods
Image courtesy of the Maryborough City Council
Some Australian churches of the early 20th century designed by the architect Robin Dods also reflect the Arts and Crafts style.
The legacy of the Arts and Crafts movement in Australia today
Although the Arts and Crafts Movement did not dominate mainstream design and production practices in Australia from the beginning of the 20th century, the ideals of the movement have endured.
Today, there is even more mass production and mass marketing than at the time of the Industrial Revolution but there is also a great value placed on individually designed and handmade items. Organisations and associations, such as Craft Australia , are dedicated to promoting the economic and cultural benefits of crafts in Australia .
Handmade crafts and artworks are displayed and sold in galleries and markets across Australia . Quality hand crafted items are regarded as economically and culturally valuable . Many Australians are attracted to contemporary and antique items that reflect the hard work of a skilled craftsperson.
ARTS & CRAFTS IMAGE RESOURCES IN AUSTRALIA
Australian Arts & Crafts Image Bank
ARTS & CRAFTS EXHIBITIONS IN AUSTRALIA
Australian Decorative Arts at the Art Gallery of New South Wales
Deborah Edwards
c.200 items collected 1909-34, mostly work of members of Society of Arts and Crafts of NSW (formed 1906) in pottery, leatherwork, woodcarving and pyrography, metalwork, and needlework and weaving.
Beautiful and Useful: The Arts and Crafts Movement in Tasmania
Exhibition at Queen Victoria Museum and Art Gallery , Launceston, 5 February- 22 March 1987 .
BOOKS ABOUT THE ARTS & CRAFTS MOVEMENT IN AUSTRALIA
The Art Movement In Australia : Design, Taste and Society 1875-1900 by Andrew Montana. Miegunyah Press, $88.

This new book takes a long-overdue look at an important phase in Australian design history - the last quarter of the nineteenth century. "Australian" is perhaps too generous a word, as the concentration is firmly on Melbourne and Sydney. Montana 's main interest is in the decorative arts and interiors of the period, and the society and taste that brought them about. He gathers them up under the rubric of the "Art Movement", although his emphasis is primarily on the Aesthetic Movement.
He opens with an overview of some British post-Pugin design reformers such as Bruce Talbert and E. W. Godwin, and the development of aestheticism, the Anglo-Japanese and associated styles and the great nineteenth century trade exhibitions that promoted and displayed them. While this material is well known in a European context, its impact on Australian habits of production and consumption is less well understood. The second chapter focuses on the position of women who, largely confined at home, exercised their taste and will in the acquisition and display of ornaments and in the production of needlecraft, art pottery, tile painting and fashion. In my view the best portions of the book are the detailed and lengthy studies of some of the grand interior schemes of the decades under review. One of the most significant was the British firm Gillows' scheme for the Toorak mansion Mandeville Hall, and Montana spends some time tracing its genesis in the same firm's interior for G. G. Scott's Midland Grand Hotel in London 1876 and the 1878 Paris Exhibition. He then follows its impact on Melbourne 's boom houses - Kamesburgh, Villa Alba, Clivedon - and the decorating firms such as Patersons , in a fascinating study of taste in the late seventies and eighties. There are some wonderful colour reproductions of these interiors. He fills in the context by examining the emporia which sold the goods that filled these houses (Rocke's, Cullis Hill), their advertising outlets and their influence on metropolitan taste. The Sydney firm Lyon, Cottier & Co, with its British parent, has a chapter of its own and its interior of Wardell's E S & A Bank in Melbourne is rightly afforded a detailed discussion.
While the main thrust of the book is towards interior decoration and the decorative arts, with architecture as a necessary backdrop, the final chapter attempts to deal with architecture more closely and the development of the Arts and Crafts movement. This is the least successful part of Montana 's thesis, for the work discussed is still Queen Anne or aesthetic or at best transitional. He does not appear to have taken advantage of the scholarship available on this period, his bibliography in the area being very meagre and some of his observations muddled.
The key figure in Melbourne in the late 1880s was of course English-trained Walter Butler. By the late 1880s his strongly held views were widely known and hotly debated in architectural circles in Melbourne . By 1891 Butler and Ussher had designed Blackwood, one of the seminal houses of the Arts and Crafts movement in Australia and the whole discussion about interior design, from the architect's point of view, had changed. Given Montana 's evident interest in the social factors that propelled the reformist developments in art production in the nineteenth century, it is a pity a chapter was not spent exploring the role of technical education, schools of design and mechanics institutes in the creation of reformed taste, particularly Sydney Technical College and Melbourne 's Working Men's College. In spite of these reservations however, The Art Movement in Australia is a very valuable text on a still little understood period.
Harriett Edquist.
MORRIS & COMPANY IN AUSTRALIA
Morris & Co.
William Morris - the man behind the Firm Morris & Co., which bore his name for eighty years - remains a remarkable figure more than a century after his death. Many of his ideas, concepts and activities still seem relevant and modem at the beginning of the twenty-first century. The popularity of Morris's work endures, with many of his more popular designs for wallpapers, printed textiles and carpets available today as reproductions.
Morris had a taste for historical literature and medieval art early on in his life. He found Gothic and medieval art to be of great beauty, compared to the industrialised goods of mid nineteenth century Britain . His design sources are varied, but what is interesting and appealing about his best designs is the mixture of representational and patterned image. William Morris's greatest skill as a designer is his ability to create repeating patterns. Morris learned techniques himself in order to master the design and production process, which he subsequently taught to others, who would then execute the work. Directly related to this is Morris's socialist interest in the role of the artist-craftsman and the relationship between society and the objects it produced. He firmly established within his own company a philosophy based on hand-made quality and a return to individual workers completing all stages of an objects production.
Adelaide and the Art Gallery of South Australia have an association with the work of William Morris & Morris & Co., which goes back to the nineteenth century. From 1884 until 1929 the immensely wealthy Adelaide couple Robert and Joanna Barr Smith and their family were major clients of the Morris's London shop, furnishing many of their vast South Australian houses almost exclusively from the firm. As early as 1899 the Gallery's Honorary Curator, Harry P. Gill, was discussing his hopes of purchasing Morris objects of design, writing to the Barr Smiths and to Sir Samuel Way in Adelaide. However, no acquisitions came from this and the Gallery's first and finest purchase of a Morris & Co. tapestry, The Adoration of the Magi, came from George Brookman in 1917. It was not until 1982 that the first Barr Smith original Morris & Co. furnishings were donated, since that time a large quantity of the family's furnishings have been acquired through gift and purchase.
Morris & Co., curated by Christopher Menz, presents the Art Gallery of South Australia's complete and substantial holdings alongside items from other public and private collections. Included are important recent Gallery acquisitions of Morris objects directly from London that have not been exhibited previously.
William Morris must be considered one of the greatest pattern designers of all time. His dedication to research was coupled with a passion to test and physically create his own designs. Because of this, Morris & Co. consistently produced outstanding carpets, wallpapers, tapestries, ceramics, embroideries, furniture and textiles. Such is their superior quality that many have survived to the present day and are now highly sought after by art museums and private collectors alike. The Art Gallery of South Australia is fortunate in holding the most comprehensive collection of Morris & Co. furnishings outside Britain .
The abundance of material is due to the progressive taste of Adelaide 's wealthy Barr Smith family, members of which extensively furnished seven large houses with Morris & Co. goods from 1884 to 1929. In 1989, Christopher Menz, then Curator of European and Australian Decorative Arts, was given a brief to collect and preserve as much of the family's Morris & Co. material as possible. Since Menz's departure in early 2001, some works from local sources, and many more from London , have been acquired and will be displayed for the first time in the Morris & Co. exhibition. Due to the fragile nature of the Morris & Co. collection, which numbers in the hundreds, only a fraction have been displayed in the permanent Arts & Crafts Movement gallery.
The exhibition `Morris & Co.' is truly extensive, enabling a new understanding not only of Morris's genius, but of the Barr Smith's original combinations of Morris & Co. furnishings. For the exhibition, the Gallery has brought together furnishings from some of the Barr Smith's most opulent rooms, including the large Drawing Room at Torrens Park (now Scotch College ). The Gallery will be laying down its Morris & Co. carpets, with further magnificent examples from private collections, complete with Morris & Co. soft furnishings freshly conserved by Artlab Australia . Further embroideries have been conserved for display, including a large and stunning Hanging designed by May Morris, William Morris's daughter. The c1890s Hanging was supplied to either Joanna, or her daughter-in-law Mary Isobel Barr Smith, and depicts fruiting trees, birds and foliage in richly embroidered silks on a green silk ground.
Many new items have been acquired directly from London , including Trellis, Morris's first wallpaper design of 1864. A number of other newly acquired wallpapers will be displayed and, of course, so will the lovely Daisy tile panel, as featured in the Gallery's last newsletter. Another, and unusual, Morris & Co. item to go on exhibition will be the Eyebright dress c1898, which in their c1912 catalogue read: "the 'Eyebright' [etc] was originally designed by WILLIAM MORRIS as a cotton dress fabric, in the days of the so-called `Aesthetic' revival. For washable garden frock these are still hard to surpass." Few were made and even less survived, making this fine dress a remarkable recent addition to the Morris & Co. collection.
William Morris was always a great pamphleteer and a variety of Morris & Co. catalogues etc, have now been collected together from London for display. Late in life, Morris fulfilled his passion of publishing books with the establishment of his Kelmscott Press in the 1890s. A selection of these beautiful and elaborate books have been generously loaned to the exhibition by the State Library of South Australia and the Barr Smith Library, Adelaide University . To celebrate this remarkable man, the Gallery presents the Morris & Co. exhibition on a grand scale.
FURTHER INFORMATION AND LINKS ABOUT THE ARTS & CRAFTS MOVEMENT IN AUSTRALIA
Useful Links
The Minneapolis Institute of Arts - the American Arts and Craft Movement
Founders of the Arts and Crafts Movement - 1870-1900
Australian resources
Arts and Crafts Furniture in Australia
Queensland Art Gallery - Lady Woodcarvers of Rockhampton
ABC web site - The Comfort Zone - Arts and Crafts Movement
Craft Australia - Interview with Carol Sedestrom Ross - includes discussion of the effect of the Arts and Craft Movement on Australian craft
Anglican Church of Australia Archive - Images of Australian-made Arts and Crafts fittings
Architecture Australia Magazine
A brief history of the Society of Arts and Crafts of NSW
Australian Arts and Crafts organisations
Craft Australia - Australian guilds, societies and associations
Australia Council - Arts and Crafts
The Australian Association of Glass Artists
WoodLink - the Victorian Woodworkers' Association
Australian galleries
Australian Museums & Galleries Online
Australian Capital Territory
New South Wales
Wagga Wagga Regional Art Gallery
Northern Territory
Museum and Art Gallery of the Northern Territory (MAGNT)
Queensland
Toowoomba Regional Art Gallery
Victoria