A selection of Art Deco Hotels.
CENTURY HOTEL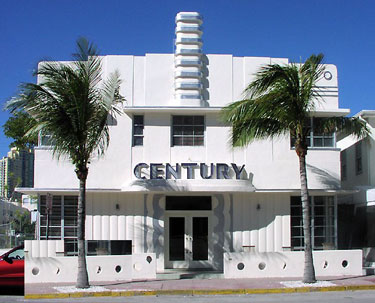 Designed in 1939 by the legendary Art Deco architect Henry Hohauser, The Century Hotel is highly regarded for its alluring charm and exceptional service. Conveniently located for the vacationer, this hotel is across the street from the public beach. The Century has received awards including the Miami Design Preservation Leagues award for outstanding facade preservation. Designed in a clean line desert tone style, the guest rooms are deluxe and equipped with every necessary amenity including remote control cd players, voice mail, safety deposit boxes, individual temperature control, hair dryer and a mini bar stocked with cold drinks and snacks. The Joia Restaurant, located downstairs, has been acclaimed by Ocean Drive Magazine for its outstanding and authentic Italian cuisine. While at Joia Restaurant do not be surprised to see the occasional celebrity. The restaurant has been described as the apex of Ocean Drive. The hotel staff is professional and friendly, catering to all your needs with unparalleled efficiency. The Century Hotel is minutes to dining, shopping and entertainment venues.
1400 Ocean Drive
Miami, Florida 33139
USA
305 674 885
info@centurysouthbeach.com
www.centurysouthbeach.com
THE LILY GUEST HOUSE

The Lily Guesthouse and the Hotel Leon have joined into one. The new incarnation known as the Lily Leon Hotel has its front desk located at 841 Collins Avenue inside the Leon. This merger has made an already classic and comfortable guesthouse into an even more spectacular South Beach jewel. New additions with this merger include 18 more luxurious rooms, a Bar and Cafe, and a beautiful garden courtyard to enjoy during your stay. The Lily Leon -All Suite- Hotel is located in the heart of the Art Deco District in South Beach, Miami, Florida. It is conveniently located just one block from the beach and within walking distance to all restaurants, nightclubs, and famous shopping in Miami Beach.
The Lily Guesthouse
835 Collins Avenue
Miami Beach, FL 33139
Manager: Chris Rollins
Tel. 305.535.9900
Fax 305.535.0077
www.lilyguesthouse.com
THE HOTEL SHELLEY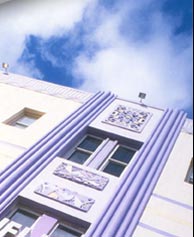 The Hotel Shelley, located at 844 Collins Avenue in South Beach, Miami, was originally built in 1936. This luxurious bed and breakfast hosts 49 rooms: Standard two double beds, King mini-Suite and one Suite that includes in-room jacuzzi and dvd player. Our hotel has been updated to include deco styled furniture, in-room safes, cable TV with free movie channels, 82 stations, Stereo system, free Internet capabilities and full marble bathrooms. Spend some time in our lobby - Watch sports, listen to music or enjoy the "buzz" on Collins Avenue from our veranda. Stick around in the evenings for the Only FREE Open Bar on the Beach - every night!




The Hotel Shelley
844 Collins Avenue
Miami Beach, Florida 33139
tel 305.531.3341
fax 305.535.9665
www.hotelshelley.com

chelsea.jpg

THE HOTEL CHELSEA

The Hotel Chelsea in Miami Beach is a 1936 Art Deco gem that sits in the centre of it all on Washington Avenue. Enjoy the South Beach Miami scenery from our patio while you have drinks from the bar, or a bite to eat from our restaurant. If you want to bath in the Miami sun, we are just 2 blocks from Ocean Drive and the sands of the beach. For all your nightlife needs, the Chelsea is a short walk up or down the street from most South Beach nightclubs. This South Beach boutique hotel has been updated with Fengshui accents for your comfort and pleasure. Our guest rooms greet you with soft amber lighting, bamboo floors, floating Japanese styled furniture, in-room entertainment centre to include Sony stereo/CD, cable TV, mini-bar, spa style bathrooms, down comforters, and full slate baths.
The Hotel Chelsea
944 Washington Avenue
Miami Beach, Florida 33139
Tel. 305.534.4069
Fax 305.672.6712
www.thehotelchelsea.com
WHITELAW HOTEL

The Hotel...
The Whitelaw Hotel o Lounge is a shining Pearl in the South Beach / Miami Beach area. This boutique Hotel is conveniently located right in Miami Beach's Art deco district. The slogan reads, "Clean sheets, hot water, stiff drinks". The clean sheets are Belgian, the hot water falls onto marble, and the stiff drinks... well, do we have to explain that?
The Vibe...
With black shag carpets, white vinyl sofas and groovy music in the air, Austin Powers would feel right at home in the lobby of the Whitelaw Hotel. This is a place where style doesn't translate into dollars. The Whitelaw is flooded by hipsters from around the globe who need not spend thousands in labels and still look Damn Cool and Stylish. The hotel as its recurring guest has a distinct personality a fierce sense of humour and some A-TI-TUDE... After all, what else can you expect from a place with a slogan like "clean sheets, hot water, stiff drinks"...
Whitelaw Hotel & Lounge
808 Collins Avenue
Miami Beach, Florida 33139
tel. 305.398.7000
fax 305.398.7010
www.whitelawhotel.com
THE CHESTERFIELD HOTEL

The Chesterfield is a new hip boutique hotel located in South Beaches historic Art-Deco district, one block west of Ocean Drive and the beach. The Chesterfield combines historical Art Deco Revival exteriors with a ultra-modern contemporary new interior design. We offers anything but ordinary rooms: accommodations combine the textures of 300 count Frette Linens, mahogany furnishings, aluminium accents, and free flowing raining showers with an industrial feel.
A modern lifestyle demands a long list of electronics: personalized business cards upon check-in, concierge and valet services, T-1 connections, stereo/CD players, and a complimentary internet station in the lobby; And, The Chesterfield delivers them with style. Whether you are travelling on business or pleasure, we invite you to visit The Chesterfield Hotel.
Bask in the Miami Beach sun on our private roof top sundeck or just relax on the veranda in our over stuffed lounge chairs. You can sip cocktails at the Safari Bar or dine al fresco at some of South Beach's famous restaurants like Gloria Estefan's Lario's or News Cafe which are located just steps away.
The Chesterfield Hotel
855 Collins Avenue
Miami Beach, FL 33139
Tel. (305)531-5831
Fax: (305)535-9665
Manager: Chris Rollins
www.thechesterfieldhotel.com